It's more important to understand someone than to judge them. We think the first step to understanding someone is asking them the fundamental questions about who they are and how they became the person they are today. Understanding and empathy are essential building blocks for a better, more compassionate world. We're incredibly fortunate to be able to ask these questions each week through our interview series. Below you'll find interviews from our community members and content partners – the folks who've been heavily involved with us, collaborating with us on content, sponsoring our mission and spreading the word about the work we do.
Dozie Oheri | Founder/CEO

My name is Dozie Oheri, I am the Founder/CEO of Choose to DO, Inc. and I am from Houston, TX. I established Choose to DO, Inc. to build healthier relationships between nonprofits and the communities they serve and to positively impact youth. Read more>>
Sergio Escalona | Art and Beauty

My name is Sergio Escalona; I am the founder of Artonit Cosmetics. From a young age, my love for the arts was evident, having my mother and Grandmother nourishing that talent. As I grow older, I realized I could translate my God-given talent from the canvas to a face. Then I start discovering the world of Makeup Read more>>
Brian Cloar | President/C.E.O.

My name is Brian Cloar. I live in the Katy area with my wife and son, where I work as a Houston Community College professor. I also operate a nonprofit organization with my wife, Christine, and a fantastic team of volunteers who want to see the world changed for the better. I am a bit different than most I read about on VoyageHouston in that my "business" is a nonprofit that I "work" at for free. When I share what we do, my goal is not to grow a typical business that brings an income. My purpose is to bring awareness to our work and inspire people to partner with us to change the lives of a unique group of kids. Read more>>
Zankeethia Mitchell | Caterer/Private Chef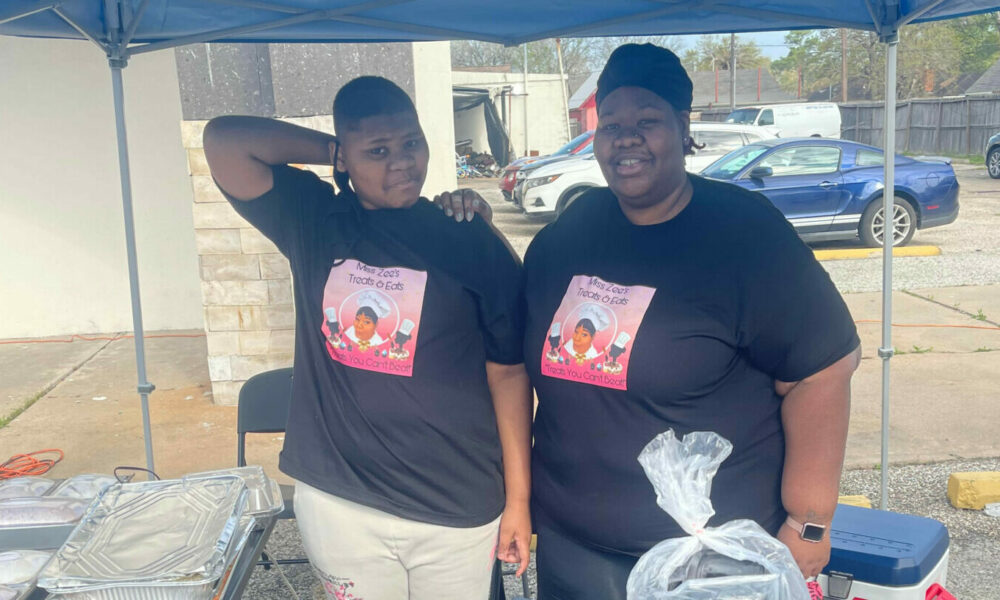 My name is Zankeethia Mitchell and I am an Event caterer and Private chef. I cook for everyone and no event is to small and it's all done with love fueled by family. Read more>>
Savannah Davis | Esthetics Professor/Business Founder

I Savannah Davis, am an educator/operator of esthetics. I attended a cosmetology program in high school, my Jr. & Sr years. I graduated in 1981, as a licensed operator/stylist. I became a licensed instructor in 1989. I've been teaching the cosmetology operator program as well as an esthetics program since 1989. I've owned and operated my own salons. I am a mother of 3 sons and a grandmother of 3 grandsons. I created TPKosmetics skincare line in 2001, starting with only six products. I began my skincare line for the sole purpose of helping others with age management and offering anti-aging, healthy skin care products. Read more>>
Ebony Starr | Travel Agent

Hello! My name is Ebony Starr and I am a Accredited Travel Agent based in Houston Texas. I have been in the travel industry for 5 years now! Not only am I a Accredited Travel Agent I am also an Experienced Traveler who knows the destinations I book for clients. My specialty is All Inclusive Mexico & Caribbean Vacation Packages. I have experience with booking Couples & Groups. Read more>>
Leslie Lerner | Broker & Owner of a Full-service Real Estate Brokerage

I am a fourth generation Houstonian. I entered the residential real estate industry in 1993 with the goal of providing consumers with the loyal, honest, knowledgeable experience they deserve when buying or selling real estate. Eight years ago, after noticing technology was changing the way buyers and sellers approached the real estate process, I combined my love of education, customer service and sales to open Leslie Lerner Properties, Houston's first full-service, flat-fee listing and rebated commission brokerage. Read more>>
Lauren Ashley | Interior Designer

My name is Lauren Ashley. I own and operate a full-service design firm based in Houston, TX called, 'LA Weddings & Interiors.' I also own a luxury pillow and throw collection called, 'LA Warm & Fuzzy'. I am an award-winning designer who loves to create memorable moments through design and events for each of my clients. I specialize in Weddings, Events, & Interior Design. Read more>>
Sandra Duran Wilson | Contemporary Acrylic Artist, Author and Inspirational Instigator

My curiosity drives my inspiration. Abstract scientific concepts in physics, biology and chemistry, along with the pure fun of exploring what paint can do keep me exploring. My love and fascination of the materials for making art have pushed me to expand the paintings beyond the flat surface. I have adapted my paintings into three dimensional sculptures which incorporate layers of acrylic paint onto cast acrylic. The pieces are fused together like glass. Light moves through them and they have multiple images depending on the angle of viewing. I will often insert these layered pieces into the wood panels that I paint on. The look is intriguing and will pull the viewer into the depth of the layers. I call them layers of light and color. Synesthesia plays a role in the color and composition because when I hear music, I see colors. Read more>>
Dr. Philip Cordova and Dr. Natalie Cordova | Chiropractors

I'm Dr. Philip Cordova and my wife, Dr. Natalie Cordova, and I own CORE Chiropractic. We have locations in the Galleria area and the Energy Corridor of West Houston. We've been in practice for more than 24 years and have been in the Houston area since 2000. Our offices see a lot of people that work on computers all day, so our practice has changed over the years to focus on chronic neck and back pain. Most people suffering with these problems are dealing with bad posture. That's led us to focus on helping people improve their posture as a part of a long-term solution to fixing and avoiding this problem completely. Our office has personalized chiropractic care plans (we utilize measurements we take from x-ray to determine direction of our adjustments), spinal decompression, and PEMF therapy. Read more>>
Sean Starr | Artist, Designer & Sign Painter

My name is Sean Starr and I have spent my entire working life as both an artist and commercial artist as a designer and sign painter. I currently operate two studios in the tiny Central Texas town of Calvert where my wife and I purchased an old historic building on Main Street that was built in 1869. We operate our commercial design studio, Starr Studios that I started in San Francisco in 2005, and in late 2020 we launched Double Dorje Studio which is focused on my original Buddhist and Hindu-themed artwork as well as restorations on antique statues and imported items from Nepal and India. Read more>>
Joanne Tang | Cosmetologist

My name is Joanne and I have over 20 years of experience as a Cosmetologist. I started doing hair at my parent's salon in Vietnam in my early 20's and continue the profession in the US. I've owned multiple nail salon across Houston. Read more>>
Taryn Shaffer | Life Coach

Hi hello! I'm Taryn, born/raised in Houston, and probably the biggest homebody you will ever meet. In fact, I never ventured outside of Texas until I was 27 years old. (I'll be 30 in May!) While most know me as a health/fitness guru my true passion is life coaching. See, I have made it my mission since coming out of my eating disorder back in college to give women their confidence back. The biggest motto I have is, "Aspire to inspire". & my purpose here is to help women feel great in their skin without all the fad trends that don't last. Read more>>
Sy Asad | Author, Songwriter, Entrepreneur

My name is Sy and I am an author, songwriter and entrepreneur. I wrote and released two books in one year, "A Swan Among Ducks" and "Saying Yes To No: Learning the Power of No". I wrote my third book, "Write Your Book in 24 Hours" to assist aspiring authors and my fourth book, "Light as the Day, Dark as the Night" is a children's book that will be released this year. I created a webinar for aspiring authors called the: Write A Book That Sells Webinar. Read more>>
Brad Crosby | Camera Store Owner

Hello, My name is Brad Crosby and I am the owner of Humble Camera Center. One of my many hoobies is wildlife and landscape photography, here at Humble Camera Center we offer printing, scanning, 35mm film development, custom framing, video transfers as well as camera sales, service and rentals. Read more>>
Lady Chante Prince | TV Network Producer & Broadcaster

I'm Lady C.Prince known as #theAdvertiseHER 45 years old, Wife, Mommy, Ministry Gift and Business Brand Owner. I always love to mention my dedicated service as a 6 year homeschool vet. Regional TV / Film network Producer in Houston, TX. Host and Execute Producer of The Virtuous Woman Show: " FaithTalk With Her". Read more>>
Chelsey Bolden | Illustrator, Tattoo Artist, Designer

My name is Chelsey, and I am a tattoo artist, illustrator, singer, dancer, actor and designer. I tattoo out of a private studio in Houston Texas. Read more>>