It's more important to understand someone than to judge them. We think the first step to understanding someone is asking them the fundamental questions about who they are and how they became the person they are today. Understanding and empathy are essential building blocks for a better, more compassionate world. We're incredibly fortunate to be able to ask these questions each week through our interview series. Below you'll find interviews from our community members and content partners – the folks who've been heavily involved with us, collaborating with us on content, sponsoring our mission and spreading the word about the work we do.
Miraily Reyes | Credit Restoration Consultant

Hello, my name is Miraily Reyes and I'm the owner of Clover Credit Solutions. I've been in the credit repair industry for 10 years now and I absolutely love it. I'm the youngest of 2, have 3 dogs (I'm an obsessed dog mom) and I'm extremely close to my family. Read more>>
Thanh Nguyen | CEO of Enchand Maison Candles

My name is Thanh Nguyen, CEO of Enchand Maison candles. I started making candles as a hobby during the pandemic, then it became a passion and eventually inspired me to officially form my business. At this stage in my life, I am currently working in the oil & gas industry as well as trying to grow my candle business into a full-time career. The things that I enjoy the most about my business is that it allows me to express my creativity, as well as the opportunity to share my passion for candles with the world. Read more>>
Avalon Stevens | Photographer, Model, & Artist

My name is Avalon Stevens and I am a 22 year old freelance creative based in Houston, TX. I specialize in film & digital photography, but I also model, paint, & write. Read more>>
Elizabeth Greever | Local Investor & Renovation Designer

My husband Andy and I own a local real estate investment company, EverSan Cooper. The "Ever" is the last part of Greever, our married name. The "San" is the first part of Santangelo, my maiden name, and "Cooper" was our 15 year old chocolate lab who used to keep us on task and working every day! We buy houses as is, working with homeowners who want to sell and don't do any repairs, worry about any inspection contingencies, or pay for any closing costs. Read more>>
Laura Brown | Co-owner of Pibborafi and Retail Manager

My name is Laura Brown. I have been in retail management most of my career, and also have been able to play a huge part in an amazing small business that helps rescue dogs. Not many people can say that they have a career that they love, and are also able to pursue their passion and something that has always been near and dear to my heart… helping rescue dogs. Read more>>
Sylvia Kampshoff | Kanthaka Trainers on Demand Kampshoff

I am Sylvia Kampshoff, The CEO and founder of Kanthaka. Prior to starting Kanthaka I worked as an M&A attorney at a top tier US Law Firm but always had a passion for health and fitness. Moving to the US and the entrepreneurial ecosystem gave me the courage to follow my passion to revolutionize the one on one health and fitness space with Kanthaka. We had an amazing journey sofar with great growth now available in 15 cities throughout the US with over 10000 sessions conducted with Kanthaka Trainers. Read more>>
Dina Torres | Lash Expert

I'm originally from Honduras. I'm passionate about beauty, style, food my passion and determination in the beauty industry especially in lashes has taken me on the position I am now and with the same passion I'm moving forward in my industry to get at the level I would like. Read more>>
Ariana Ford | Thrifter of Closets & Stylist

Hey guys, I'm Ariana – a dog mom and wife who turned her passion for fashion into a business. My consignment boutique, A.Fordable Fashions LLC began as The Diva Downsize in October 2017 before I got married that December. It's an online shop featuring new and pre-loved clothing and accessories for ladies of all sizes and styles. It exists to enhance true beauty by embracing personal style, promote and revolutionize sustainable fashion as well as commit to community involvement. Every woman deserves to feel their best and who doesn't feel great when they look fabulous, have a bit of extra cash or even just feel cared for? Read more>>
Michael Sneed II | Filmmaker and photographer

My name is Michael Sneed and I am a filmmaker, photographer, and content creator from Houston, Texas. Read more>>
Meredith Jurica | CEO/Owner

Hi I'm MJ, Founder and CEO of Makeup Junkie Bags! Before starting my business, I was a Speech Language Pathologist after obtaining my Bachelor and Masters degree in the field. I departed from my job as a Speech Language Pathologist to stay at home with my two young daughters. As an avid lover of makeup, I was tired of makeup bags not meeting my standards, and decided to get crafty in my spare time. It turns out I was solving a problem many people were having. A few short years ago, starting with one simple sewing machine at my kitchen table, I made an adorable lay flat cosmetics bag in my kitchen for personal use. I loved how the design housed all my modern day large cosmetic palettes. Read more>>
Yoselin Lara | Aspiring Paralegal

My Name is Yoselin Lara, I am currently a student at HCC obtaining an associate in paralegal technology, originally, I was going for nursing but after a life changing event I developed an interest in law. I found Diana from D&F Innovative Solutions, LLC, on Instagram and noticed a post on her story that mentioned an internship/mentoring program opportunity. I immediately jumped at the opportunity. During my internship I was able to assist two law firms Holland Law firm, PLLC and Jovel Martinez Law PLLC. I learned a lot during my time in the program such as, the process of new client intakes, translation of documents, legal document drafting, and social media management. Read more>>
Monserrat Gomez | Artist

I work in different mediums such as acrylic, watercolor, pen, oil and soft pastels. Acrylic paint is my favorite medium to use because it's easy to use and feel that I can be more expressive. I feel that acrylic paint demonstrates my talent and makes my work more realistic. Read more>>
Jennie Slaw | Health & Wealth Vlogger & Serial Entrepreneur

My name is Jennie Slaw and I will be turning 30 this year. I am what you would call a serial entrepreneur. My purpose behind every business that I dive into is to show others how to break generational curses in someway shape or form. I dove into entrepreneurship at 24 years old and I absolutely love it! Read more>>
Yvonne Smith | Violist and Artistic Director of La Speranza

I am a freelance professional musician who plays both modern and historical violas. "Modern" refers to the instruments you might see and hear at a symphony concert, while "historical" refers to instruments or copies of instruments that would have been played in the 16th through 19th centuries. I founded la speranza in order to explore and illuminate the way performances on historical instruments (otherwise known as historically informed performance practice, or HIPP) benefit our emotional and physical well-being. In addition to running and playing in la speranza, I often play with Houston Symphony, Houston Grand Opera, and Houston Ballet as a regular substitute violist (pre and hopefully post-pandemic) on my modern viola, and I play with American Bach Soloists (San Francisco) and Ars Lyrica Houston on my historical viola. I also teach a small studio of viola students. Read more>>
Carlos Wallace | Bestselling author, award-winning filmmaker, motivational speaker, and youth advocate

I pursued writing and producing films for several reasons, but mostly because my circumstances demanded I do something to keep me from giving up and becoming complacent. After losing my job for three years and four days (I was eventually reinstated and worked until retirement), I was reminded nothing is promised. You change your way of thinking drastically when you become aware of how fleeting life can be. I wrote my first book because I never wanted my experiences to go to the grave with me. I believed my story could inspire and encourage and motivate. The book was not easy to write, but it is worth it. Life Is Not Complicated is exceeding my greatest expectations and has touched so many lives. The day a young student shared with me that because of my book, they changed their mind about committing suicide, was the moment I finally understood fully why I do what I do. We have a responsibility to leave this world better than we found it. This is my ongoing mission. Read more>>
Gabriel Toma | Founder of Dracula's Chimney Cakes

I am Gabriel, moved from Romania to Houston in 2014 with my wife Katya and our daughter Eva and, we had a big idea, to introduce a 300 year old Transylvanian Tradition called CHIMNEY CAKES to Texans and later to the whole nation. What a challenge! Yes! Read more>>
Jazimane Maryland | Plus Size Model, Self Taught Mua, Brand Ambassador, Business Owner

My Name is Jazimane "Jazzy" Maryland & I'm a Plus Size Model, Brand Ambassador & Most Importantly Owner of Beauty Line Called "Thee Jazzy Way" Read more>>
Amy Cummins | Artist, Police Officer, Domestic Violence and Rape advocate

Amy Cummins is a self taught artist and is a veteran police officer, who has found inner peace with creating beautiful art. She has always been artistic but has painted on canvas since 2017. She has won numerous awards for her work in the community and recently a national award for her victim service advocacy as an officer. Read more>>
NaturallyDupreea | Vegan Mompreneur

I'm a full time mompreneur, I have 3 beautiful children and I own a moisture based natural hair care company (MelanatedCurls). I studied holistic nutrition and transitioned to a vegan holistic lifestyle that helped me embrace natural living. Read more>>
Karlan Kelley-Williams | Writer & Photographer

My name is Karlan Kelley-Williams, but with friends and other creators, I go by Fool. Fool is a nickname inspired by 'The Fool' arcana, because it's with the mindset of a 'Fool' that I engage all of my art with. It represents opportunity and potential, curiosity and excitement. And it's those same feelings that my work inspires in me. Read more>>
Tarik Rever | Model, Influencer, Singer-Song Writer, Activist, Inventor For The Disabled, And Fashion Designer

My name is Tarik Rever. I am a disabled model, singer song writer, and equal rights activist. I also make wearable assisted technology for the disabled. As a disabled model I am honored to be the spokesperson for Social Bleu. It is a app designed to help disabled people find each other share our experiences. It's beautiful. Read more>>
Jonquil Davis | Cosmetic Chemist

My name is Jonquil Davis and I'm the owner of The Urban Goddiss Co and Alkeme Botanicals. At both companies we offer a wide range of natural, feminine wellness and skincare products that are cruelty free. Read more>>
Alfonso Aguirre | Acting Coach and Model

My name is Alfonso Aguirre and I am an acting coach and model in Houston, Texas. I teach on camera acting for commercials, improv, film acting technique and monologue development, among others, at the Page Parkes Center of Modeling and Acting, and online. Read more>>
Stephanie Pribble | The Pribble Group – Realtor

I am a wife, mother and top producing realtor. I grew up in a small town in New Mexico and now a long time resident of Houston. I have a husband of seven years and once very busy toddler. I have been a realtor since 2014 and handle all things residential real estate. With that, I have been a top producer in the industry since 2016. I stay heavily involved within the community as well as local and educational organizations outside of work and family. Read more>>
Candice Wheat | Bath Artist & Entrepreneur

My name is Candice Wheat. I am a wife, a mother of 3, and have owned my own businesses for over 10 years. AKA, The Boss Chic! I have a passion for making "bath art". My company The Lavish Goat, is a small natural bath and body care business located in Houston. Our specialty is creating uniquely designed works of "bath art". From natural goat milk soaps, goat milk bath bombs, to sinus clearing shower steamers, we always strive to make beautiful works of art. Read more>>
Susan Mobley | Brand Influencer and Blogger

Hi, my name is Susan Mobley and I am a rare native Houstonian. I have worn many hats in life and in business. Many of my business ventures had a social media marketing undertone. I finally took the plunge this year and focused on Social Media Marketing with my new IG and blog lifestyle.by.Susan Read more>>
Brandough | Hip Hop Artist

Based out of Houston TX, I am dedicated to build a brand for myself as an authentic representation of my musical talent's ambiguity within the Hip-Hop community. Originally based out of Orange TX (409) area, I incorporate many song structures, melodic riffs, and trap sound selections from my down south based roots in many facets of my production and composition. I am determined to push the envelope and release fresh sounding material within the continuity of a dual image of a rapper/singer by comfortably bouncing between traditional hip-hop sounds and trap style tracks. Don't miss the latest wave out of the South. Read more>>
Ashley Gooden-Stewart | Grief Coach & Philanthropist

My name is Ashley Gooden-Stewart, CEO and Founder of The Baby Stewart Foundation and Pocketful Of Hope Grief Coaching and Support. I am from La Marque, TX. I'm a wife and mother of three. I begin philanthropy and nonprofit leadership almost six years ago. After the passing of my infant son CJ Stewart in August 2015, I founded The Baby Stewart Foundation (501(c)3). I have provided my local community, surrounding cities, different states, and countries with baby necessities, car seat safety, disaster relief, homeless outreach, hygiene care, PPE, clothing, school supplies, and bereavement support. Our organization has helped thousands of families. To better support people on their grief journey and with pregnancy and infant loss, I became a certified Grief Coach in 2020. Normalizing the conversation of grief and loss and encouraging bereaved individuals is what I strive to do. Read more>>
Leia Nicole | Certified Personal Trainer & Massage Therapist

I have been a certified personal trainer and health coach since 2011. I have been doing a lot of online coaching since then, but it REALLY took off in 2020 when so many gyms closed! People were stuck at home with no idea how to maintain their workouts. I am now helping more people than ever through online training! I am also a certified massage therapist, which I do part time in my own private practice. I have a passion for helping women live active, healthy lifestyles, and truly love what I do. Read more>>
Karen Rice | Writer, Author, Two-time Cancer Survivor-Products

My name is Karen Rice, born and raised in Houston, TX. I was the seventh child born into a very large family. With so many around, I rarely ever had time to myself. When I did, I would take that little time in a hide-away space and dream. I grew up in church, as my father was a Baptist minister. While in high school, my life was all planned out, by becoming a model/actress, and I worked at it, while working other jobs to raise my child alone after a broken marriage. Later in life I had a head-on-collision with not only breast cancer., but colon cancer as well. I recently had another scare of possibly having cancer yet again. Through all of this and all that I've had to endure, it all became an awakening for me, where I received all the strength and encouragement to write down my thoughts to share with others. What doesn't make you week, definitely makes you stronger. Read more>>
Natausha Slaughter | Career & Business Strategist

Hi, I'm Natausha Slaughter, the Business & Career Strategist. Are you waiting to connect to the right opportunities, the right employees, and the right clients? If you answered yes to either one, then we need to connect and develop strategic ways to position your brand for the marketplace. I've helped countless individuals gain employment, receive promotions, and transition into new careers. Also, I've worked with numerous business owners to develop new processes, increase staffing levels, create documents to support operational excellence, and much more! Read more>>
Krystle Ceasar | Visual Artist

Hello! My name is Krystle Ceasar, and I am a multidisciplinary visual artist. I wholeheartedly enjoy the process of creation. As a versatile Creatress, I embrace the freedom to manifest my ideas in any medium I choose. I am a painter, portrait photographer, and brand designer. However, throughout this article, I will discuss my work as a painter. Read more>>
Dozie Oheri | Founder/CEO

My name is Dozie Oheri, I am the Founder/CEO of Choose to DO, Inc. and I am from Houston, TX. I established Choose to DO, Inc. to build healthier relationships between nonprofits and the communities they serve and to positively impact youth. Read more>>
Sergio Escalona | Art and Beauty

My name is Sergio Escalona; I am the founder of Artonit Cosmetics. From a young age, my love for the arts was evident, having my mother and Grandmother nourishing that talent. As I grow older, I realized I could translate my God-given talent from the canvas to a face. Then I start discovering the world of Makeup Read more>>
Brian Cloar | President/C.E.O.

My name is Brian Cloar. I live in the Katy area with my wife and son, where I work as a Houston Community College professor. I also operate a nonprofit organization with my wife, Christine, and a fantastic team of volunteers who want to see the world changed for the better. I am a bit different than most I read about on VoyageHouston in that my "business" is a nonprofit that I "work" at for free. When I share what we do, my goal is not to grow a typical business that brings an income. My purpose is to bring awareness to our work and inspire people to partner with us to change the lives of a unique group of kids. Read more>>
Zankeethia Mitchell | Caterer/Private Chef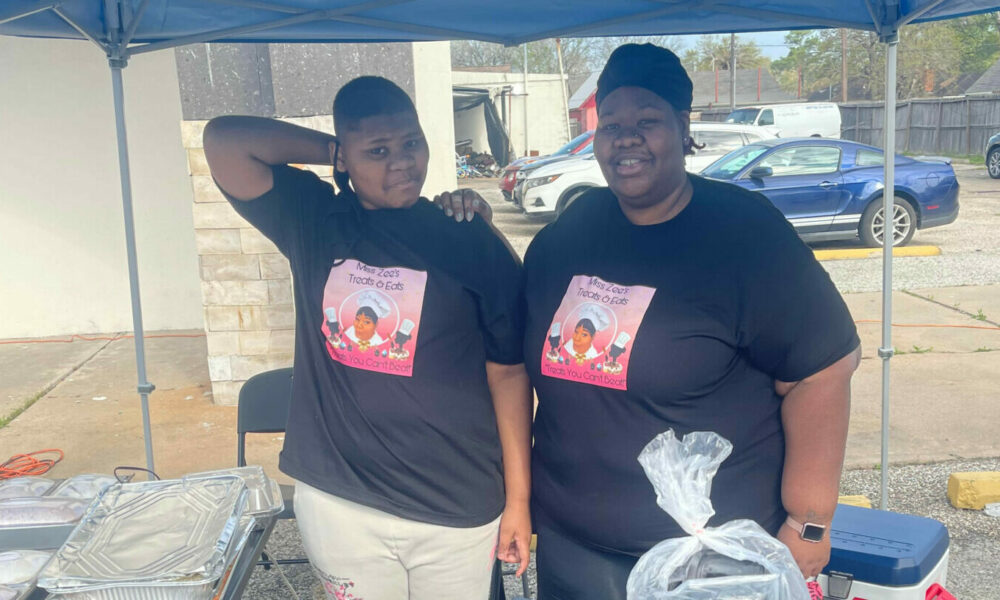 My name is Zankeethia Mitchell and I am an Event caterer and Private chef. I cook for everyone and no event is to small and it's all done with love fueled by family. Read more>>
Savannah Davis | Esthetics Professor/Business Founder

I Savannah Davis, am an educator/operator of esthetics. I attended a cosmetology program in high school, my Jr. & Sr years. I graduated in 1981, as a licensed operator/stylist. I became a licensed instructor in 1989. I've been teaching the cosmetology operator program as well as an esthetics program since 1989. I've owned and operated my own salons. I am a mother of 3 sons and a grandmother of 3 grandsons. I created TPKosmetics skincare line in 2001, starting with only six products. I began my skincare line for the sole purpose of helping others with age management and offering anti-aging, healthy skin care products. Read more>>
Ebony Starr | Travel Agent

Hello! My name is Ebony Starr and I am a Accredited Travel Agent based in Houston Texas. I have been in the travel industry for 5 years now! Not only am I a Accredited Travel Agent I am also an Experienced Traveler who knows the destinations I book for clients. My specialty is All Inclusive Mexico & Caribbean Vacation Packages. I have experience with booking Couples & Groups. Read more>>
Leslie Lerner | Broker & Owner of a Full-service Real Estate Brokerage

I am a fourth generation Houstonian. I entered the residential real estate industry in 1993 with the goal of providing consumers with the loyal, honest, knowledgeable experience they deserve when buying or selling real estate. Eight years ago, after noticing technology was changing the way buyers and sellers approached the real estate process, I combined my love of education, customer service and sales to open Leslie Lerner Properties, Houston's first full-service, flat-fee listing and rebated commission brokerage. Read more>>
Lauren Ashley | Interior Designer

My name is Lauren Ashley. I own and operate a full-service design firm based in Houston, TX called, 'LA Weddings & Interiors.' I also own a luxury pillow and throw collection called, 'LA Warm & Fuzzy'. I am an award-winning designer who loves to create memorable moments through design and events for each of my clients. I specialize in Weddings, Events, & Interior Design. Read more>>
Sandra Duran Wilson | Contemporary Acrylic Artist, Author and Inspirational Instigator

My curiosity drives my inspiration. Abstract scientific concepts in physics, biology and chemistry, along with the pure fun of exploring what paint can do keep me exploring. My love and fascination of the materials for making art have pushed me to expand the paintings beyond the flat surface. I have adapted my paintings into three dimensional sculptures which incorporate layers of acrylic paint onto cast acrylic. The pieces are fused together like glass. Light moves through them and they have multiple images depending on the angle of viewing. I will often insert these layered pieces into the wood panels that I paint on. The look is intriguing and will pull the viewer into the depth of the layers. I call them layers of light and color. Synesthesia plays a role in the color and composition because when I hear music, I see colors. Read more>>
Dr. Philip Cordova and Dr. Natalie Cordova | Chiropractors

I'm Dr. Philip Cordova and my wife, Dr. Natalie Cordova, and I own CORE Chiropractic. We have locations in the Galleria area and the Energy Corridor of West Houston. We've been in practice for more than 24 years and have been in the Houston area since 2000. Our offices see a lot of people that work on computers all day, so our practice has changed over the years to focus on chronic neck and back pain. Most people suffering with these problems are dealing with bad posture. That's led us to focus on helping people improve their posture as a part of a long-term solution to fixing and avoiding this problem completely. Our office has personalized chiropractic care plans (we utilize measurements we take from x-ray to determine direction of our adjustments), spinal decompression, and PEMF therapy. Read more>>
Sean Starr | Artist, Designer & Sign Painter

My name is Sean Starr and I have spent my entire working life as both an artist and commercial artist as a designer and sign painter. I currently operate two studios in the tiny Central Texas town of Calvert where my wife and I purchased an old historic building on Main Street that was built in 1869. We operate our commercial design studio, Starr Studios that I started in San Francisco in 2005, and in late 2020 we launched Double Dorje Studio which is focused on my original Buddhist and Hindu-themed artwork as well as restorations on antique statues and imported items from Nepal and India. Read more>>
Joanne Tang | Cosmetologist

My name is Joanne and I have over 20 years of experience as a Cosmetologist. I started doing hair at my parent's salon in Vietnam in my early 20's and continue the profession in the US. I've owned multiple nail salon across Houston. Read more>>
Taryn Shaffer | Life Coach

Hi hello! I'm Taryn, born/raised in Houston, and probably the biggest homebody you will ever meet. In fact, I never ventured outside of Texas until I was 27 years old. (I'll be 30 in May!) While most know me as a health/fitness guru my true passion is life coaching. See, I have made it my mission since coming out of my eating disorder back in college to give women their confidence back. The biggest motto I have is, "Aspire to inspire". & my purpose here is to help women feel great in their skin without all the fad trends that don't last. Read more>>
Sy Asad | Author, Songwriter, Entrepreneur

My name is Sy and I am an author, songwriter and entrepreneur. I wrote and released two books in one year, "A Swan Among Ducks" and "Saying Yes To No: Learning the Power of No". I wrote my third book, "Write Your Book in 24 Hours" to assist aspiring authors and my fourth book, "Light as the Day, Dark as the Night" is a children's book that will be released this year. I created a webinar for aspiring authors called the: Write A Book That Sells Webinar. Read more>>
Brad Crosby | Camera Store Owner

Hello, My name is Brad Crosby and I am the owner of Humble Camera Center. One of my many hoobies is wildlife and landscape photography, here at Humble Camera Center we offer printing, scanning, 35mm film development, custom framing, video transfers as well as camera sales, service and rentals. Read more>>
Lady Chante Prince | TV Network Producer & Broadcaster

I'm Lady C.Prince known as #theAdvertiseHER 45 years old, Wife, Mommy, Ministry Gift and Business Brand Owner. I always love to mention my dedicated service as a 6 year homeschool vet. Regional TV / Film network Producer in Houston, TX. Host and Execute Producer of The Virtuous Woman Show: " FaithTalk With Her". Read more>>
Chelsey Bolden | Illustrator, Tattoo Artist, Designer

My name is Chelsey, and I am a tattoo artist, illustrator, singer, dancer, actor and designer. I tattoo out of a private studio in Houston Texas. Read more>>