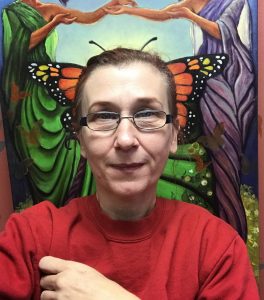 Today we'd like to introduce you to Elizabeth Punches.
Elizabeth, please kick things off for us by telling us about yourself and your journey so far.
I grew up in southern Oklahoma. My parents were creative and they painted and drew as a hobby. My mother gave me her oils when I was ten. I was that kid in class who drew all the time.
I went to college in Durango Colorado where I met my husband and we had three sons while I pursued my degree as I could, going back to finish my BFA in 2012 at Virginia Intermont College in Bristol Virginia.
My first public studio opened in 2000 and closed in 2007 downtown Presque Isle Maine. After Graduation I moved to Galveston Texas where I operated a signature studio at 403 22nd street from 2012 until 2019, closing March 1 of this year. I will reopen the new signature studio at 410 22nd street on June first of 2019.
I specialize in very old painting techniques, materials, and applications utilized throughout traditional oil painting history such as handmade oils, rabbit skin glue sizes and gessoes, and hand mixed mediums and glazes. I stretch linens and or cottons over birch panel, and then size and gesso that panel, before painting. Specifically, I'm attracted to the processes in 17th-century Italian traditional oils.
I'm fortunate enough to make most of my living through commissions but also create bodies of work for exhibitions each year.
I'm extraordinarily happy.
Can you give our readers some background on your art?
For exhibition work, I start with the ideas of the images, which become obsessions often… Usually, I don't start with one painting…but a series of ideas. Then I ask myself how many pieces I'm going to need to show the idea to satisfaction….then start building the panels out or hire my carpenter to build them sometimes. This is an engrossing task that can take several weeks if I'm working on a large group of paintings. If I'm creating one for a commission, it takes one week.
The panels are framed out with strapping, then I stretch linen or cotton over it, trimming and fitting the panel so that its snug but not pulling…just as one would duck canvas. Then rabbit skin glue is warmed after soaking the flakes overnight, and dissolved, and applied to shrink the fabric to the panel. Once that cures, I mix the rabbit skin glue-based gesso to soak overnight, then it's heated and applied. This gesso is thin like milk, and many layers need to be laid in before it's suitable to move forward.
Once that's fully cured, the panel receives a coat of linseed oil and a neutral (custom to the painting) pigment glaze. I usually do the sketch out using Conte crayon while the glaze is mobile.
Once the sketch out is finished I transfer the reference images to a flash drive where I can see them on a monitor close where I stand and paint.
If I'm working on multiple paintings, I work on them at the same time, like a family of work. This allows me to easily keep color pallets the same and the feel or expression of the work continuous.
I usually work under deadline. It keeps me sane. If not for the deadlines, I would be tempted to keep working on pieces indefinitely.
Artists rarely, if ever pursue art for the money. Nonetheless, we all have bills and responsibilities and many aspiring artists are discouraged from pursuing art due to financial reasons. Any advice or thoughts you'd like to share with prospective artists?
It was once a viable trade, just as a utilitarian offering before cameras were so easily obtained. It's no longer utilitarian but considered a luxury. A unique expression and voice. I treat my studio like a job. I have regular hours, and of course crunch sessions when approaching deadlines, but I made the decision once I graduated that I would make a living this way and have held to it. Of course, there's getting prints made, participating in local auctions and things you can do for enhancing income opps through the studio…but be careful because whatever you do 'on the side' easily transitions to full time. If that's okay then you're on the right path for you.
A dear professor and friend said to me, "the devil may find you, but let him find you working". That stayed with me. I often will start work if I'm personally stressed or unsure about my financial status or dealing with anything personally challenging. In front of a panel, all the world is possible in that wooden square.
I never could make it work on paper. I never could form a seriously viable business out of it and I never want to see the works as inventory, or worse, 'widgets". The commissions are named for the commissioning patron, and based on subject when the patron wants to retain privacy. I accepted when I chose this way that there would be times when I wouldn't sell. So far that's been brief periods. I strongly recommend getting very good at hoarding money and budgeting, you might go a few months without sales then sell five or six in a month.
Know where the soup kitchen is just in case, and the clinic too…this position doesn't come with health insurance until you're doing much better. My friends and patrons have literally kept me and my dog from starving or freezing before.
What's the best way for someone to check out your work and provide support?
I have sold pieces across the United States and some in Moncton Nova Scotia. I'm fortunate enough to have sold most of the work I've produced. Images of these works can be found on my Flickr site or links to my portfolio via Facebook. Once the studio reopens, you will be able to see this entire process at 410 23rd Street, Galveston Texas. I often work with local restaurants, coffee houses and interesting shops to place work that I sometimes make custom for the place or the theme fits.
Some of these places where you would see concentrations of my work are Virginia, Tennessee, Oklahoma, Maine, Colorado, Ohio, Texas, (especially Galveston) and Moncton Canada.
People can support my work by coming to exhibitions or participating in our art walks which happen every six weeks here or through word of mouth promotion, or contacting me for art placement in their shops or public spaces….or most obviously…and most satisfyingly …by direct purchase.
Contact Info:
Address: Elizabeth Punches Studio &Galkery
410 23rd Street
77550Home
2221 Market Street #103
Galveston Texas
77550
Website: elizabetpunches.com
Phone: 740-624-7797
Email: zabethanne@gmail.com
Facebook: Elizabeth Punches Studio and Gallery
Image Credit:
Elizabeth Punches
Getting in touch: VoyageHouston is built on recommendations from the community; it's how we uncover hidden gems, so if you know someone who deserves recognition please let us know here.