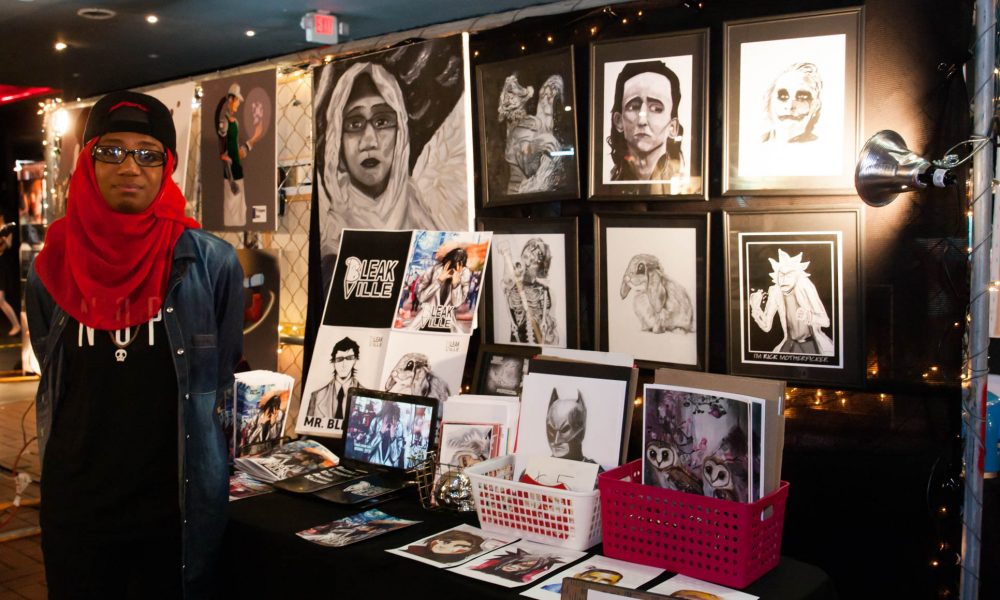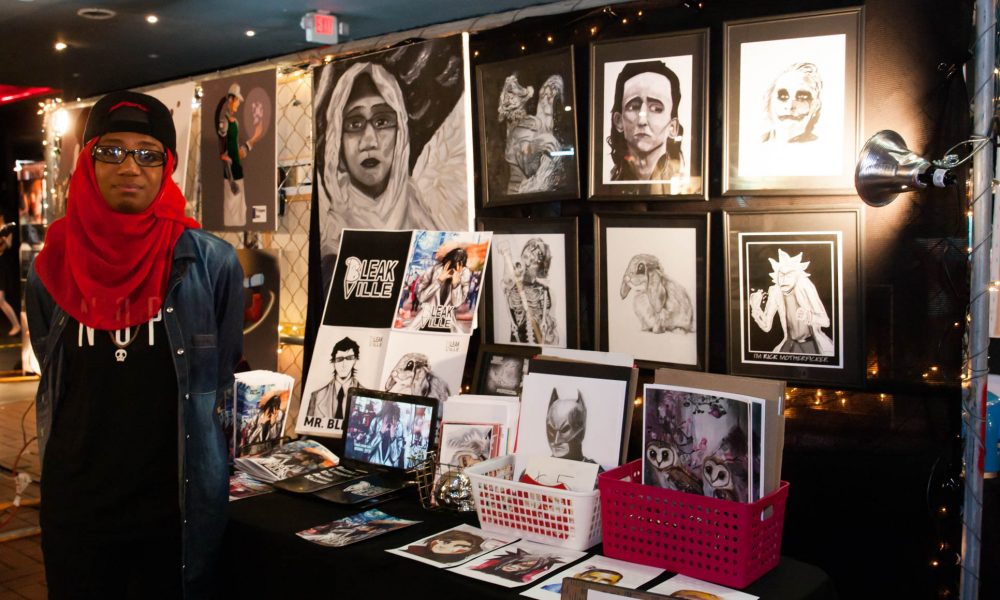 Today we'd like to introduce you to Imani Phillips.
Imani, we'd love to hear your story and how you got to where you are today both personally and as an artist.
I'm the second oldest child in a very talented and large family. I started drawing at the age of three. I drew pictures of Pokemon from my older brother's cards, birthday cards, anniversary cards, and animals out of coloring books. When I was in 2nd grade, I started collecting The Sunday newspaper which had amazing comic series inside including, The Boondocks. This along with cable introduced me to anime like Naruto. I was really into creating my own characters based on my favorite TV shows. My love for anime and cartoons made me want to imagine my own series, so I began creating short parodies and action-packed comic stories. I'd fold a sheet of paper in half and color my artwork with crayons. I created a few outrageous series like, "The Adventures of Bubblehead Man". I'd label the title and date just like the comics out of the newspaper. At my age back then, I would dream about building a comic book stand or a lemonade stand in my front yard… It was just a way to think about making a few bucks as a kid.
I was homeschooled, I played sports in camps, and went to a private religious school on the weekdays but, I never took drawing classes. I just studied art books and just drew pictures from magazines. When I finally had access to the internet, I'd watch drawing tutorials or find cool references for my artwork.
When I was a teenager, my parents bought me artist-grade drawing supplies. I started drawing black and white family portraits. I kept practicing portraits until I understood the different shades of grey. I eventually figured out how to make my portraits look realistic and dramatic. After coloring most of my work with scholastic supplies, I got more expensive art supplies like watercolor paint and Prismacolor pencils. I enjoyed creating portraits of people, animals, and anime. My parents and my siblings always complimented my art and looked at everything I showed them.
I played a lot of video games and pretended to be characters from anime with my younger brothers. With this imagination and creativity, I just wanted to create my own horror manga (a Japanese word for comic) but I didn't know where to start. Of course, with the internet, I researched how to draw in manga style and how to write horror stories. I soon developed my own world, my own characters, and I named my story Bleakville. I started it in 2012 and I officially got it copyrighted a few years later. (More on this later)
I was ready to go to college to study in Digital Communications – Digital Media. I took a break from creating detailed paintings and drawing because I didn't feel like I had free time. I bought many small sketchbooks that I used to draw some of my characters for my story. I also drew digitally on my Nintendo 3DS. I later upgraded my digital tools from my video game console to a Huion 610 Pro Tablet. I started using Adobe Photoshop as a software to draw on, which was a program I was using for college.
At college, I had to take a drawing class that unfortunately didn't help me at all. The classroom wasn't appropriate for drawing because I could barely fit anything on my desk. I had my own preference for creating art. This was way beyond my comfort zone. The instructor was nice, but the only thing I got from this experience was to never take a drawing class again. I wanted to pick up some new skills, but I felt like I was getting worse. I never put deadlines on my artwork, but all I had were deadlines in this scenario. I started hanging my old drawings in my room to remind myself that it took weeks to finish one drawing; not half an hour. Thank God the painting classes were a different story. I learn the fundamentals of painting, color harmony, lighting and much more. Throughout my painting classes, I was able to qualify for a Student Art Show which provided me an opportunity to showcase my work at an actual gallery for the first time.
My time at college gave me the chance to experience and learn about my other interests in visual arts like photography, videography, graphic design, animation, 3D modeling, even TV Media. Dealing with cameras was something I had always been interested in. I took Fundamentals of Photography which required me to make a portfolio. I had all semester to work on a theme so I thought about shooting street photography. This candid style came with its trials. It ain't 100 percent safe taking pictures of people without their permission. I've gotten the stares and cursed at a few times by strangers. I'm never trying to be rude or invade people's privacy, but I wasn't doing anything illegal. I researched techniques on my craft before I even started taking pictures. Shooting from the hip ain't easy, but it's the best way to take street photography. This was my decision for my final project and I had a blast because it's real and I like real moments.
Toward the end of my two years, I interned as a TV Production Assistant at a television studio. I was in front of and behind the camera. Of course, this has absolutely nothing to do with drawing or painting but its something that I've always wanted to be a part of.
I completed my 2-year Associates in Digital Communications – Digital Media with a 4.0 GPA in August of 2018.
I was finally free from doing homework and going to campus and I wanted to create my horror manga series, Bleakville. I continued revising and drawing out my first chapter while at the same time there was an art show around the corner at the end of August. I worked day and night for nearly 30 days to finish my 40 plus page first chapter. I printed around 20 copies just in time for my art show. My parents helped me organize my art and set prices. My brothers help me set up my booth. I was finally in and I showcased my drawings and paintings that I created when I was a teenager. I presented my manga series Bleakville like a comic book stand, something I've always wanted to have since I was 7. I sold copies of my manga and my artwork to customers who visited my booth. It was truly an amazing experience.
What keeps me going besides this being fun and support from my family, is being grateful to God. I understand that He gave me the skills and I should put it to use. If I ever become famous enough to have a large audience I would use my art to help change the problems in this world.
We'd love to hear more about your art. What do you do you do and why and what do you hope others will take away from your work?
What do you create?
I create paintings and drawings both digital and traditional. I'm learning animation to create shot anime clips for my story. I shoot black and white candid photography. I have an interest in videography and cinematography. I use my graphic design skills to create logos, websites, banners, and business cards for my clients.
I'm the author and illustrator of Bleakville, my upcoming manga series. Bleakville is a psychological thriller about a man on a mission to save abused animals in a society where right and wrong are subjective. I started it in 2012, got it copyrighted in 2017, and sold copies of my one-shot in 2018. I'm currently working on the first volume. It should be over 200 pages. I listened to and read all the feedback and reviews of my one-shot. I truly think the readers got the message behind my story, now I have to add that "Oh S***" factor.
I plan on making Bleakville over 10 volumes long. I created a website and social media page for the series. I have T-shirts and merchandise available for fans and supporters to buy. I hope to one day have figurines and plushes available. One of my dreams is to have Bleakville become a worldwide popular series and have an anime adaptation. I'm actually working on the animations myself. My dad and my brothers have a band called Blood&Family and they produced an entire soundtrack album for the series which will be out soon with the release of the book.
How do you create your art?
I create my art using pencils, pens, watercolor paint, acrylic paint, gouache, soft pastels, and colored pencils. I draw digitally with a drawing tablet on programs like Clip Studio and Photoshop. Even though I use many tools, my favorite is pencil on paper.
I can't afford a lot of camera equipment right now but I currently use a Nikon D3000 and my favorite lens, the 50mm. I edit videos using Adobe Premiere Pro and After Effects. I create vector logos using Adobe Illustrator. Then I use Adobe Indesign to create anything that's for print.
It took me a while to understand my niche and my style because I create many different things with many different tools. I realized at the end of the day, my best work has always been a more realistic or semi-realistic approach.
Why do you create art?
It has been a passion since before I can remember. I see things artistically and I want to capture it either by drawing it, painting it, or taking a picture of it.
What's the message or inspiration, what do you hope people take away from it?
I mostly draw for myself and I share it with people. However, if there is anything that I want people to take away from it, it is the emotion of the subject of what I am drawing or painting.
What should we know about your artwork?
I am passionate about my artwork. I pay attention to detail. I prefer quality over quantity. In this day of social media, everyone wants to stay relevant and post every day. Well, I don't really care about doing that if it's going to make my artwork look bad.
I like making things look realistic and I put a dramatic spin on my art so that people may be affected by what I create.
If they like it enough they may just buy it! #reallyhungryartist
Have things improved for artists? What should cities do to empower artists?
Artists today have the opportunity to share their art, music, & creativity across the world through social media. I think it's much easier for creators since the internet arrived. Of course, there are disadvantages with your creations getting lost or not seen because everyone else is posting their stuff too. My advice is to stay consisted, present your work professionally, and have fun. I think cities like Houston should offer more affordable chances for creators to share their work in galleries and on popular local online outlets.
Do you have any events or exhibitions coming up? Where would one go to see more of your work? How can people support you and your artwork?
Follow my artwork on Instagram @maddmoniart and check out my gallery on my website maddmoniart.com.
You can see my artwork in person at art exhibits which I look forward to doing more often. I post updates on my Instagram when I have an upcoming show, so look out for that!
You can support my work by purchasing prints and originals through my website. My artwork is included in merchandise like t-shirts, pillows, phone cases, and more! You can shop through my products here
https://www.redbubble.com/people/maddmoniart
You can read my manga series Bleakville by going to:
bleakville.com
Facebook & Twitter
https://www.facebook.com/bleakville/
https://twitter.com/bleakvillemanga
If you're interested Subscribe to my Webtoons and stay tuned for new free chapters.
https://www.webtoons.com/en/challenge/bleakville/list?title_no=233408
Check out the band created by my family, Blood and Family
https://www.bloodandfamily.com/
If you want to support me financially and receive awards I have a Patreon account.
https://www.patreon.com/maddmoniart
I give away artwork and more!
All these links are accessible through my Instagram.
I appreciate any support I get, it always makes my day!
Contact Info:
Image Credit:
Event Photographer, don.lee
Getting in touch: VoyageHouston is built on recommendations from the community; it's how we uncover hidden gems, so if you know someone who deserves recognition please let us know here.