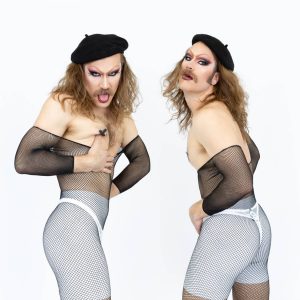 Today we'd like to introduce you to Jackson Montgomery Schwartz.
Jackson Montgomery, please kick things off for us by telling us about yourself and your journey so far.
I grew up on the prairie in rural South Dakota, in a devoutly religious family of 7. Our only neighbors were my Aunt and my Grandma. My siblings and I were homeschooled and spent much of our time outdoors playing in the forest, wading in the creek, or riding our horses across the plains. When I was 13, I got my first job at a sheep farm and saved up for a film camera, which I put to good use taking pictures of friends, cemeteries, and live music. I spent my teenage years in the local underground music scene, soaking up the counter culture and eventually fronting in a Christian metal band. As I hit my late teens, I was having difficulty accepting my secret sexuality and its relationship to my religion. I eventually moved to Austin to give myself space to explore who I authentically was. I quickly found my friend family, came out, and partied nonstop for five years. It was amazing and it really established my life here, but I realized there was a void because I wasn't creating anything. I sobered up and practiced taking care of myself. Around that time, my older brother, Frank, died suddenly and left me his camera. As a way to connect to him and his passion for photography, I began photographing and also started experimenting with makeup. I had finally discovered my passion!
Can you give our readers some background on your art?
I am Jackson Montgomery Schwartz, but go by JXNART on the internet, because my real name is way too long to spell! I am a photographer and makeup artist. I conceptualize shoots, find models, paint them up, photograph them, and edit the images we create. I find that taking an idea from start to finish is a really gratifying and very precise way of expressing my vision. It feels very authentic and complete.
When I started, I had no idea what I wanted to say, and generally still don't know. There seems to be this pressure on artists to *have* to "say something", but what about just making art that they think is pretty? Maybe even in that act, something is being said… I prefer to let my viewers infer their own messages from my work- when you figure out what my work is about, please tell me. 🙂
My inspiration comes from real life a bit, but mostly from the internet. People who mainstream society would most likely misunderstand or be freaked out by are my favs: the people that digitally morph their bodies into alien shapes and glue prosthetics on their face, the macabre drag queens continuing Divine's work of making drag truly disgusting, the people who are addicted to plastic surgery, and basically anyone who is innovating, shocking, or an expert on transforming into someone else. I'm really just fascinated by the strange depths of humanity. I have personally found the most honesty to be in those depths.
What responsibility, if any, do you think artists have to use their art to help alleviate problems faced by others? Has your art been affected by issues you've concerned about?
For me, art is purely right brained. I don't put any thought into the outcome or impact of my creations, I just let out whatever needs to come out. I create as my passion dictates. Honestly, I don't think my art is alleviating any problems. But I also think that's ok. Maybe art doesn't exist to solve problems; instead, maybe it's here to offset the pain we encounter in life. I view art as an escape from reality. If I'm doing my job properly, I'm taking my viewers to another world: A more glamorous, mysterious, colorful, and seductive world. Come along, won't you?
What's the best way for someone to check out your work and provide support?
I am working on putting together my first art show in January, updates coming soon! Instagram is the best way to keep up with my most recent work and events. @jxnart
Contact Info:
Image Credit:
@louisiannapurchase, @vandervonodd, @thejuliewierd, @taydevochka, @stonerexgirlfriend.
Getting in touch: VoyageHouston is built on recommendations from the community; it's how we uncover hidden gems, so if you know someone who deserves recognition please let us know here.