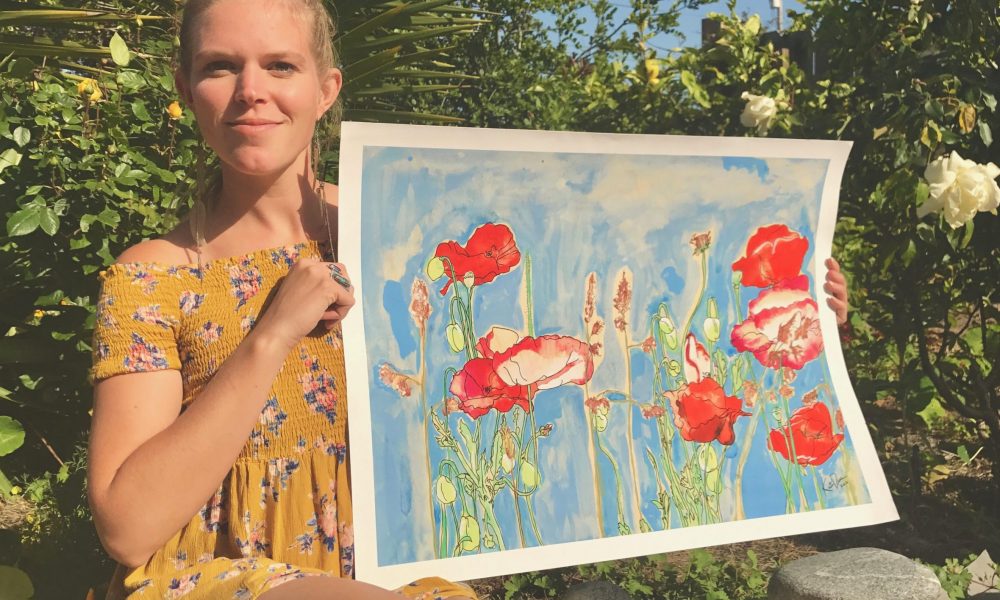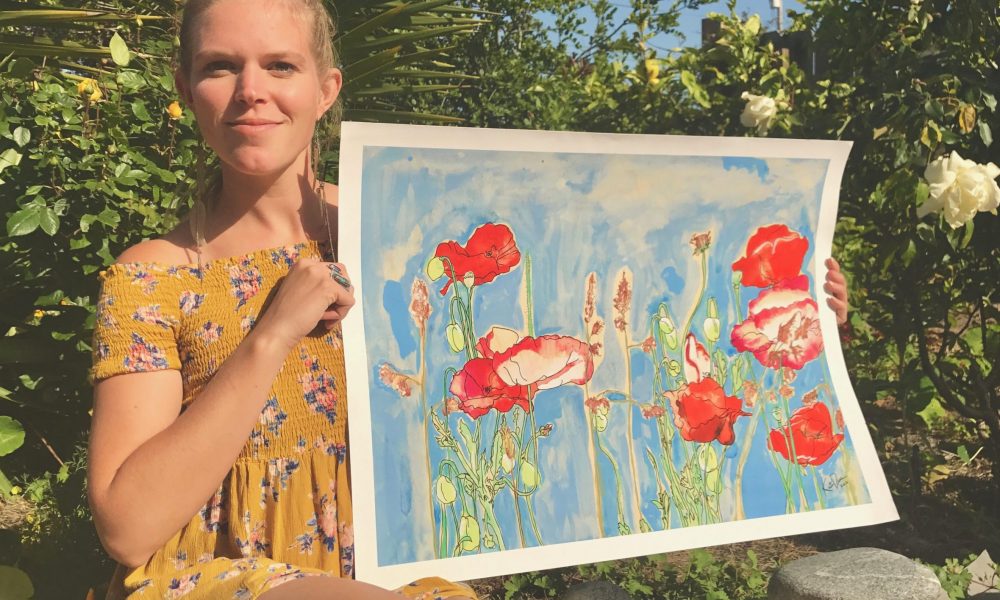 Today we'd like to introduce you to Katie Dunkle.
Katie, please kick things off for us by telling us about yourself and your journey so far.
I have been an artist all my life. I completed my Bachelor of Fine Art from the Savannah College of Art and Design. I'm an avid traveler and explorer of all kinds, and I view my work as a bond between nature and mindfulness. I'm currently inspired by her Texas backyard garden and the delicate details of individual wildflowers found in native habitats. I work with watercolor, ink, and gouache in my South Austin home art studio.
Can you give our readers some background on your art?
I am currently focused on two bodies of work. "Girls" which visually probes the indulgence of desire through blind-contour line drawings of female figures and "Wildflowers" which was originally inspired by a two-year road trip across America's National Parks.
Girls Artist Statement
"Girls" is a series of line-contour drawings by the artist Katie Dunkle as she studies sensuous female figures found in erotic imagery. Katie examines amateur pornographic photograph and then "blindly" or without looking at her canvas, she abstracts the nude imagery into a continuous lyrical line drawing utilizing ink, chalk pastel, graphite, and watercolor. These unapologetically raw creations focus on the realization that women viewed in pornography are usually perceived as mere objects. Katie's intent is that by re-creating these women in grotesquely beautiful and strangely familiar drawings, the viewer can step back from the imagery of naked females and reconsider what it means to pose nude for the visual stimulation of others.
The digital adult industry allows females to be groped in the darkness by a disconnected set of hands, transforming a real person into a two-dimensional cluster of flesh-tone pixels. In this respect, the artist chooses to literally be blind to her artwork's unfolding creation to honor these unknown women all the while asking and wondering, who are these women?
Katie draws attention to the countless women who are showcased for pleasure and then hastily discarded. Her priority as a female artist is to give these women a new pedestal for a different audience, whilst honoring the female body in all its glory. Her artwork gives these women a new soul and through the use of mixed media on paper allows the creations to radiate emergent emotional content, which takes the viewer on an intuitive journey through everything from anguish, seduction, pleasure, and mystery.
The inspiration for this project is as endless as the insatiable urge of humanities demand for sexual stimulation. Katie's intent is that by creating the artwork in "Girls," she can invoke a normally barricaded world of intellectual conversation about what is considered a private and controversial subject. Katie is honored to gaze upon these nameless women and breathe life back into them as they become much more than just a naked woman.
Floral artist statement:
As a painter and illustrator, the inspiration for her Wildflower Series came from a seventeen-month adventure traveling all across America in a mobile, solar-powered tiny house. During this time she completed The State Flower series which consists of fifty total paintings of each official state flower.
Many of her floral illustrations were inspired by in-field observation often spotted at National Parks during her journey. As her studio traveled from coast to coast and the plains between, she created these crisp, vibrant renderings which are available for display.
Katie is still an avid traveler and explorer of all kinds and views her work as a bond between nature and mindfulness. She's currently inspired by her backyard garden in South Austin and the delicate details of individual wildflowers found in native Texas habitats. Katie works with watercolor, ink, and gouache.
In your view, what is the biggest issue artists have to deal with?
I believe being an artist is challenging in every way. It's an extremely personal and raw experience to constantly put yourself and your work out there in the world. As far as "making it" and supporting yourself as an artist, I find it difficult at times to make a profit after the galleries taker their 50% cut, the cost of your materials and then trying to calculate the value of the time it takes to compete and self-market your artwork. On top of that, you have an emotional connection to your creations. However, when a person connects with one of your paintings, it makes it all worth it. If you're seeking out a painting, shop local and try and contact the artist directly if possible.
What's the best way for someone to check out your work and provide support?
I have a studio that can be visited by appointment in South Austin. I also have paintings and prints at Austin Art Garage, Art for the People and Skyline Art Prints. I participate in EAST and WEST Austin Studio Tour every year. My full collection is viewable on my website at www.kdunkle.com
Contact Info:
Address: Austin, TX
Website: www.kdunkle.com
Email: kdunkle89@gmail.com
Instagram: @kdunkle

Image Credit:
Katie Dunkle
Getting in touch: VoyageHouston is built on recommendations from the community; it's how we uncover hidden gems, so if you know someone who deserves recognition please let us know here.