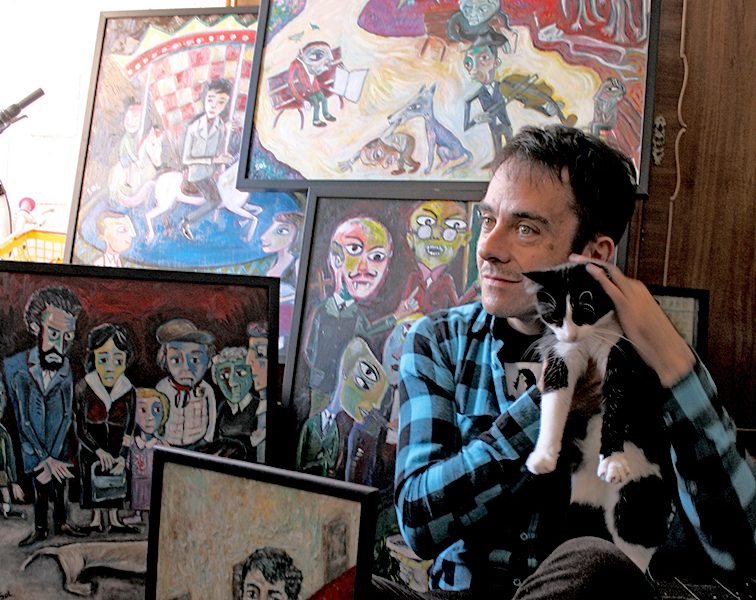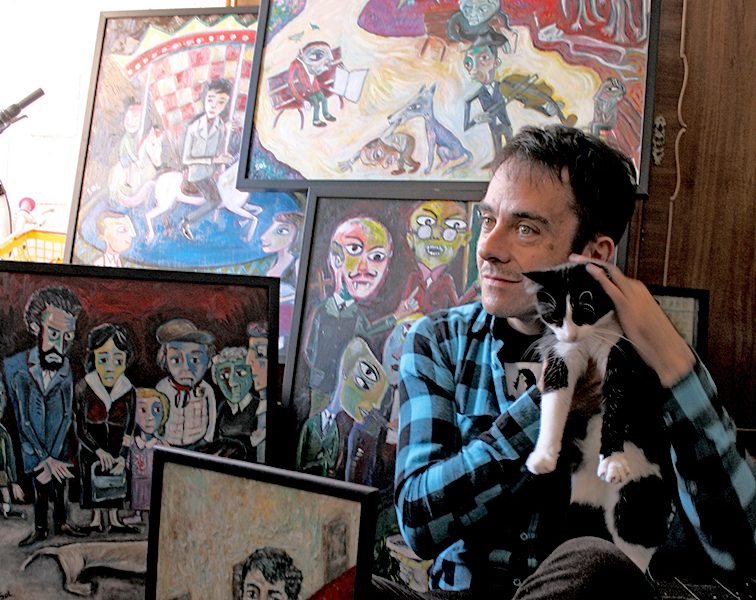 Today we'd like to introduce you to Lupo Sol.
Lupo, please kick things off for us by telling us about yourself and your journey so far.
Oh yeah! We all have a history, although many artists always tell the same thing: that they feel possessed by nature, that God speaks through them, that they express the psychology of human faces… in short; They have a great inner world and superior to the rest.
I do not have a lot of history to tell, that's why I paint. I drew from childhood, always as a hobby. In 2015, I decided to take painting seriously, be a painter! because I did not see myself trained for any other job. What is crazy, especially at my age. Now, I do nothing but paint and be poor.
Can you give our readers some background on your art?
Well, I paint in a traditional way, in oil, gouache, acrylic, in a figurative style clearly influenced by the expressionists of the early twentieth century, in addition to many other references that I am discovering.
When I was young, I drew comics and characters of that style, sarcastic, humorous, and something of that has remained in my current style. I did not want to study art, so almost everything I know about painting is relatively recent. I have been learning at a rapid pace in recent years and I am still doing so.
It has been like recovering my old essence and re-creating strange characters and scenes that go through my head.
First, you experiment, you return to make strange faces, you try to paint a childhood memory until you take confidence with the materials… and then, you do not stop painting and try the colors.
I paint because I feel like myself doing it. And also because today it's my sustenance!
I would like my paintings to look like they were painted in another era, to show something that remains and does not go out of style. I don't care about trends. I only show part of my memories, nostalgia, but on the other hand, there is also mockery, jokes, irony. I am also critical of the system, and sometimes it can be reflected in my works.
I would like people to appreciate painting in its essence, enjoy it and take a liking to contemplate works because they are beautiful or express interesting things, and don't think of art as that thing of crazy people or rich who launder their money, in heaps, buying boring works that don't tell any story or have anything to do with real life.
Artists rarely, if ever pursue art for the money. Nonetheless, we all have bills and responsibilities and many aspiring artists are discouraged from pursuing art due to financial reasons. Any advice or thoughts you'd like to share with prospective artists?
Oh, advise? I know very little about the art world, what advice can I give to anyone? I can only say that if you know that painting is your thing if you are sure that this is what you want, you already have a lot of luck! There are many people without a vocation in their lives, who depend on any job and in the end they can not be happy.
My advice? Be stubborn as a mule, don't stop showing your work and worry about learning more than money.
I know it's not wise advice, but something had to answer!
What's the best way for someone to check out your work and provide support?
My work can be followed on my website or on Instagram, which is the social network that I use the most where you can see many more works.
Oh, there are some works still on sale at the Broad Street Gallery in Hamilton, NY, since I had an exhibition there some time ago, they are paper works, framed and at a good price!
Lately, I participate in group exhibitions of the Stuckism group, which happen sporadically. Currently, there is one in London premises dedicated to paintings about cats, in which I participate in a small work.
Well, the best way to support me is to acquire my works, obviously! But I am very grateful to my Instagram followers for their positive comments and encouragement, all this is an excellent fuel for me!
Contact Info:
Image Credit:
– 20171013_203148-01.jpg / Child (Collective exhibition in Alicante, Spain)
– lupo_sol01.jpg / Lupo Sol at home
– lupo_sol03.jpg / Lupo Sol at home
– lupo_sol05.jpg / Dogcat (acrylic and gouache on paper, 2017)
– lupo_sol06.jpg / Woman scene (acrylic and gouache on paper, 2017)
– lupo_sol07.jpg / Blue coffee (oil on canvas, 2018)
– lupo_sol08.jpg / Poetry (oil on canvas, 2018)
Getting in touch: VoyageHouston is built on recommendations from the community; it's how we uncover hidden gems, so if you know someone who deserves recognition please let us know here.