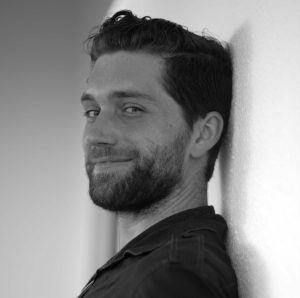 Today we'd like to introduce you to Michael Garfield.
Michael, please kick things off for us by telling us about yourself and your journey so far.
My first memory is of one of my parents' friends doing the thumb trick where it looks like you take your own finger apart, and looking back on that now as the first event of my autobiography, it seems obvious why my entire life has been about paradox and mystery and adding dimensions and perspectives to explore Big Questions…
My mother tells me that at age two I was drawing recognizable dinosaurs and mountainous landscapes reminiscent of traditional Chinese paintings. I can't recall why these things were so fascinating to me, then, but probably it had to do with an enduring interest in the Very Big and Very Loud, things terrifying in their majesty, things hard to wrap my head around.
At age three I met my childhood role model, paleontologist Robert Bakker, who would give talks about dinosaur science with a huge roll of butcher paper and draw everything he discussed in real-time right there on stage…meeting him meant learning to see science, art, and communication as all parts of a single activity. Bakker never separated his research from his personal blend of desert mystic Old Testament communion with the transcendent. Working with him in the field on Wyoming dinosaur digs through my teen years, I fell in love with the profound "Deep Time" you can feel out in the badlands, away from cities and human timescales.
As an adult, my art has grown out of this fertile intersection of natural history, philosophy, and spiritual experience. I used to be a scientific illustrator for the University of Kansas Natural History Museum, then started painting science-inspired works live at concerts and festivals, and writing music about the philosophy of mind, and then hosting a podcast (Future Fossils) about our place in the Big Picture…as new media opened up for me, I poured myself into them. My life is an experiment.
Can you give our readers some background on your art?
I write and perform music using the acoustic guitar and a duffle bag full of pedals: https://michaelgarfield.bandcamp.com
I wield paint pens at live events to create works inspired by natural history illustration and fractal math: https://michaelgarfieldart.com
I host and produce a podcast about what we can learn about life now from the distant past and future: https://shows.pippa.io/futurefossils
…and I have about half a dozen other little projects, including a book, that I update regularly on Patreon: https://patreon.com/michaelgarfield
My hope is that an encounter with my work inspires wonder in people, and curiosity, and a willingness to look beyond our concepts and categories for a more immediate and intimate embrace of the mystery of our world.
What responsibility, if any, do you think artists have to use their art to help alleviate problems faced by others? Has your art been affected by issues you've concerned about?
The role of the artist is in some sense the same as it ever was: to be the antenna for what's next; to be the reconnaissance and first response when new ideas land in human-readable form; to open a window into the transcendent mystery of our cosmos so people can poke their heads through and forget, temporarily, the illusion of normalcy we have to cover everything in just to make it through the day.
The world is vast and weird, and if we didn't have the arts to (sometimes violently) remind us of this, we'd get brittle, stale, and boring, and we'd ultimately die from lack of insight.
We need artists for the new perspectives that they generate, new ways of making sense of our evolving world.
In another sense, because the world has changed the role of artists also changed – we didn't always have the kind of opportunity for a global impact that we do now, or the competition, or the precedents, or tools. Art wasn't always a category of human activity, even though we talk about it now as if art is the behavior that defines us as human beings. But when we were painting the caves of Lascaux and Altamira, we weren't being artists. And maybe much of what people think is "art" now will be regarded by the future as some other thing entirely. My friend JF Martel wrote a book called 'Reclaiming Art in the Age of Artifice' that differentiates between art as an end unto itself and propaganda as a creative act intended to get someone to do something specific. Probably most "artists" alive today wouldn't qualify as artists under this definition; they're doing something else, more didactic than exploratory.
What's the best way for someone to check out your work and provide support?
Most of my work these days seems to be facilitating conversations about important ideas and vital research, so anybody reading this is welcome to join the two Facebook groups I founded/moderate:
"Future Fossils" is associated with my podcast and gets into all things futuristic/ancient – including transhumanism, sustainable design, archeology, the future of media, emerging wisdom economics, etc. There are a lot of really well-read, thoughtful, wise, interesting people in there: https://facebook.com/groups/futurefossils
"Complexity Explorers" is associated with my day job as social media for the Santa Fe Institute, a nondisciplinary research group exploring the underlying mechanisms of emergent order and self-organization, everywhere from the stock market to your immune system. It's a great place to connect with people about intense science stuff: https://facebook.com/groups/santafeinstitute
And then for my own individual output as a multimedia creator, I have a ten-year-old blog that chronicles my years in the festival scene and tech conferences, my development as a painter and musician and writer: https://michaelgarfield.blogspot.com
Regarding support…I cannot emphasize enough how much love and energy I give to my small group of subscribers, people who appreciate the way I bring it all together and who want a closer seat to all of my creative work across music, art, writing, video, public talks, and so on – this is the absolute best way to both subscribe to and support what I'm doing in and for culture: https://patreon.com/michaelgarfield
Contact Info:
Image Credit:
Portrait Photo by Wilson E Land
Getting in touch: VoyageHouston is built on recommendations from the community; it's how we uncover hidden gems, so if you know someone who deserves recognition please let us know here.