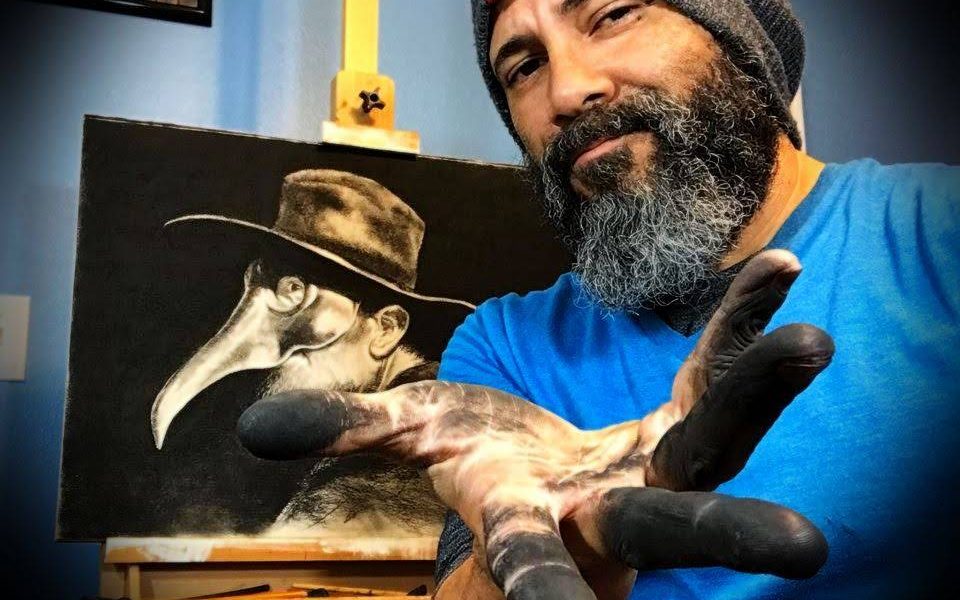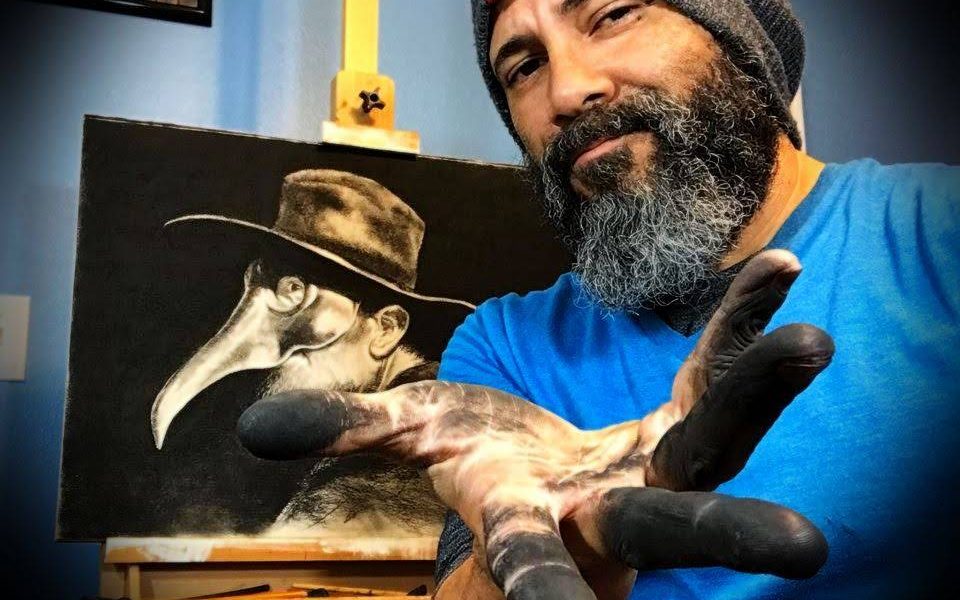 Today we'd like to introduce you to Noel Zepeda.
Noel, please kick things off for us by telling us about yourself and your journey so far.
I was born in Managua, Nicaragua, I grew up in Miami, FL with a younger brother, Juan and my Mother Dolores.
I spent my time running around tagging and doing some sort of graffiti on any wall that I came up on and drawing on my sketchbooks. My mother was very supportive of me spending time drawing and even of the kind of work I did which included a lot of nudity. I never did anything with art while in school other than having the only good grade in my report cards throughout my short time in school. like I said before, I drew on walls, I drew on school seats, desks,
Art and drawing have always been in my DNA but never really took it seriously, At least not as serious as in the past 5 years or so.
Back around 2011 while living in the Mid-Atlantic region I became sick with Lyme disease, A very painful and debilitating disease. It knocked me down pretty hard in all sort of ways, The pain was bad but the worse thing was the emotional stress and knowing that I wasn't the same person as before, That I couldn't work, exercise, couldn't perform almost any activity from before I was sick or even play with my kids. The depression was horrible, the meds did more damage than help; The thought of ending it all crossed my mind… Nothing or no one could ease this for me at the time.
After spending months in bed, the couch or the floor nursing my pain and emotionally drained I slowly started to crawl out of bed and re-connect with my drawings. Art/Drawing was the reason to get up and sit at the drawing table and create. I did it more and more, I picked up some acrylics and started to paint, it was fun! it felt new, it felt good and helped me forget some of the pain and misery I was living with. Family members helped by paying my way into a few local art shows and even flew me to various other states to attend art shows. This was their way to help me cope with what I was going through.
I started to live again, I forced myself to ignore the pain and to go to my drawing table and draw and paint, I sold a few pieces and made a couple of commissions. Art saved me, it saved my life, still to this day is my therapy and refuge from the chronic pain Lyme left in me. Art was my first love before I had a first love… It is what I think about most of the day in one way or another.
Can you give our readers some background on your art?
My family moved to Houston about 4 years ago and it was here that I really started to produce a lot more art, once here in H-Town my style of art and materials used changed. I started to use pastels, Work on bigger pieces not just sketchbooks and I started to spend more time trying to become better at my art.
Since a was a young teenager and even before, I've been fascinated with the human body, Anatomy, I love the landscape of a chiseled muscular body whether is a woman`s or a man`s body and also love the softer lines of a not so well defined body, The folds that fold on the belly area when someone sits down the shadows created and the highlights…It's a whole different landscape than a chiseled one. All of this just fascinates me and when I see people I immediately start to think how I would draw them, ( I wonder how many times people think I'm just a creep staring at them)… Anyways. I start looking for the shadows and terminators and every detail of their faces or arms…I sometimes find myself talking to someone and I drift off to analyze the shape of their face and where I would need to start my lines or how I would go about drawing the lips or nose… I can't help it, It's in me.
Anything that is related with the human form is what my work is about. even emotions, Pain, suffering and desires, sexuality. Any of those subjects can clearly be seen in the work I create. From the beautiful body of a curvy everyday woman to a muscular male nude to the Vagina series I did depicting the various shapes of vulvas, most of my artwork is all about bodies.
My fascination with the human figure began with the discovery of renaissance art with lots of nudity in it, in books like old Bibles and other religious books… No, I did not read them, I opened them for the art. later, as a teenager I discovered works by Frazetta, Boris Vallejo, Luis Royo and a lot of other artists featured in Heavy Metal Magazine when I was growing up, which taught me a lot about drawing and opened my eyes to fantasy art… Which I need to start doing more of, By the way.
My preferred mediums are Pastels, Graphite and Charcoal. I don`t enjoy using paint much, I love having the control of the medium at my fingertips and become one with the piece, one of my favorite things to do is using black paper and white pastels or light shades of grays to draw art pieces of negative space. This is particularly hard when drawing portraits of faces and bodies but the results are so rewarding. Photography is also part of my artists life but it's not my main focus, If I get too much involved in photography I start to get away from drawing, and can't have that!
I also like to use art to draw attention to social issues. some of those have been, The Dakota pipeline and Standing Rock, The Aleppo humanitarian crisis in Syria and I am currently working on the biggest piece to date with my Nicaraguan piece about the social unrest and the crimes being committed by the government and police against civilians which started back in April 19th 2018.
What do I hope people take away from my work? That`s hard to answer and really out of my control, but… Hopefully the realization that we are all walking works of art. And maybe it helps a little in their self-esteem knowing that there are artists out here drawing inspiration from people that look like them.
What would you recommend to an artist new to the city, or to art, in terms of meeting and connecting with other artists and creatives?
I am not the best person to ask that kind of advice from. I enjoy being by myself when working, If I am doing a life drawing session I want it to be just me and the model or maybe another person. Collaborating in person with other artists is nice sometimes depending on the setting, who they are and the scope of the collaboration. Meeting other artists at art shows or social media are probably the most effective ways to connect.
What's the best way for someone to check out your work and provide support?
My work can be found on different platforms of social media. I haven't had the opportunity yet to display it locally other than a couple of art shows I attended. People can support my work by re- posting it on their social media, donate to my PayPal or Commission me to do an art piece for them or a private life drawing session.
Maybe even help with some wall space at a gallery or local establishment or invite to a local art show. If interested in seeing works I have already done in person contact me through my e-mail and we can arrange for that to happen.
Contact Info:
Image Credit:
Arlenn Cisneros
Anna Marx
Emma A
Grey Johnson Photography
Jupiterslut
Krystal Hardwick
Nia-Imani Gordon
Paul LaBlanc
Getting in touch: VoyageHouston is built on recommendations from the community; it's how we uncover hidden gems, so if you know someone who deserves recognition please let us know here.