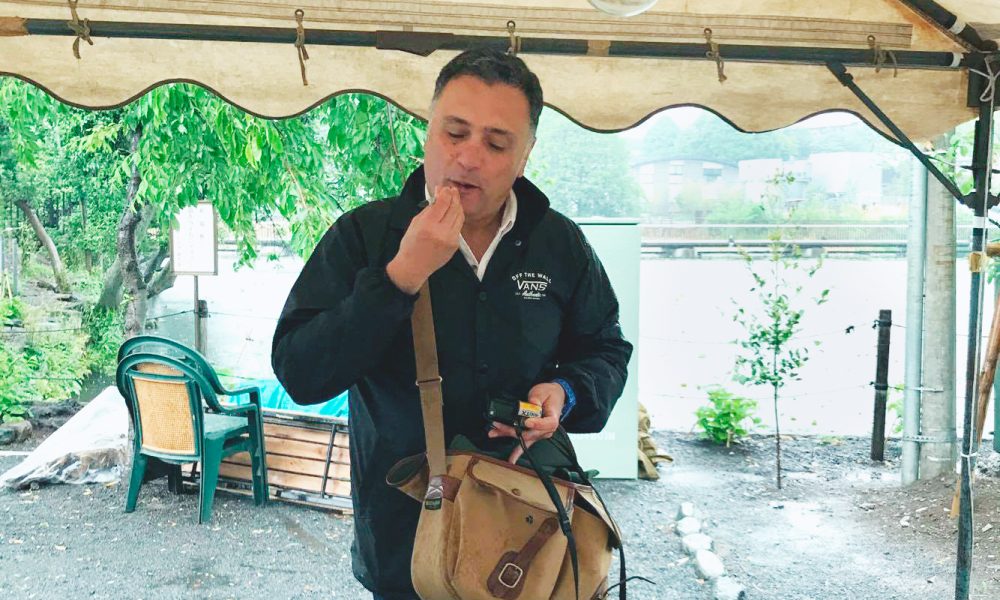 Today we'd like to introduce you to Salvo Toscano.
Salvo, please kick things off for us by telling us about yourself and your journey so far.
I am not from an environment with much exposure to traditional arts. My father ran a lady's hairdresser salon and I spent a fair amount of time in there as a child. Watching people creating fancy hairstyles, browsing magazines with beautiful pictures of places and people and sketching and drawing kept me busy and entertained. It was fun until I discovered that playing with a camera was funnier, so in my teens I started this nice and cool hobby.
Back then I wasn't sure it was really an artistic urge but rather the appeal of playing with the camera and taking photos of stuff just because.
Many years later, following some discussions and new friendships I discovered diverse genres of work, books, exhibitions and my photography changed. I felt it had become a way for me to express my reaction to my surroundings, to satisfy an urge to document and appreciate what I saw and experienced. Later on, it inspired me to look at my idea of home, belonging, roots, perceived nostalgia and relationship with a place (some years earlier I had moved from my birth place in Sicily to UK).
Fast forward some more years, following the birth of our daughter, my wife and I decided to change a few bits in our life. It resulted in me leaving my office job and my obsession for photographic things became kind of a full-time activity, when not taking care of our little girl. Unsurprisingly this choice required a lot of adjustments, changes, compromises, understanding, patience, highs and lows. I have been very fortunate to have always had support from my family and met friends who have been influential and have given me significant guidance along this journey.
And here I am
Can you give our readers some background on your art?
So, as it is clear by now, photography is what I do.
My interest has always been dictated by an urge of wanting to see and capture, build an archive of memories before and as my world changes. Observing and trying to understand why I feel attracted to something or somebody. But also, to discover and understand the new and different and uncover those common traits, affinities that bring us together.
Another aspect is the interest in the idea of home, belonging, roots, perceived nostalgia and relationship with a place. This was initially prompted by conversations about living away and the disconnection from my birthplace ("home"?) after all these years. My photos acted as channel, more or less consciously, into my idea of identity, nostalgia, "homeland" and relationship with my current place and the people around me. Unsurprisingly, recent events in our societies and the debates on migration, multi-cultural society and nationalisms have strongly affected me and the way I feel best to approach this aspect of my work.
Ultimately my images can be seen as reflections of and on myself. Normally I take the picture and only later on I figure out if/why it works: something subconsciously triggers something else and later on, during the editing process I start seeing things as they come to the surface (or people point it out to me…).
I use a mix of film and digital kit and I'm lucky to have access to a permanent darkroom. However, I am currently looking at different ways of developing my work, exploring new approaches stylistically and technically. It will be interesting and refreshing to try and see how my photography can convey my stories in combination with different techniques. Not much to show at the moment as still experimenting, but I can say that I am getting lot of ink stains. If it doesn't work I'll move on to something else: as they say "change is the only constant".
Any advice for aspiring or new artists?
Lessons? too many, I am not sure it is very easy to give an advice. In general, I would say interaction with others, the exchange of ideas and opinion, experimenting, be patient, look at other people work and find out why you like, or hate it. Definitely those apply to my experience. Try and find a balance between making work you love and work you must do to pay the bills. Do not try and please everybody. And if you want to do something or achieve a certain goal, ask yourself if you are willing to pay the price.
But it is all very subjective and often depending on our own character and personality and the way we work. Personally, I am a very introvert and shy person and I have often struggled because of that, but hey somebody got to do it!
What's the best way for someone to check out your work and provide support?
I have a website with examples of my work. I am also a relatively happy user of Instagram; I follow several artists and photographers whose work I find inspiring and allows me to work on my ideas. For me it is a great tool to show (and see) current work, work in progress and I find it useful as an editing tool.
I am always very happy to hear from people interested in my work (and purchasing it 🙂 that helps in funding the work) or just for a chat so just get in touch 🙂
Website www.salvotoscanophotography.com
Instagram @salvo_ts
Twitter @salvo_ts
I am very open to collaborations and discussions with other artists. I am aware that I have learnt and artistically grown thanks to the interaction with others, the exchange of ideas, sharing and mutual respect.
Contact Info:
Image Credit:
Salvo Toscano
Getting in touch: VoyageHouston is built on recommendations from the community; it's how we uncover hidden gems, so if you know someone who deserves recognition please let us know here.