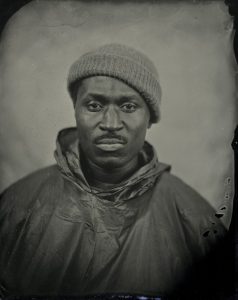 Today we'd like to introduce you to Tay Butler.
Tay, please kick things off for us by telling us about yourself and your journey so far.
Three years ago, my family and I embarked on our biggest adventure to date; relocating from crisp, cold Milwaukee to sunny, scorching Houston. The motive was twofold. First, me and my wife, in our mid-thirties, were seeking a new beginning to create the lives we desperately wanted to live. Secondly, we dreamed for our kids to grow up in a city known for art, economic opportunity and most importantly, diversity.
My hometown of Milwaukee, Wisconsin ranks annually among the most segregated cities in the United States. Unlike the times of 1940's Bronzeville, when black communities created entirely self-sufficient replicas of the larger communities they were not allowed in, segregated cities of today look a lot different. Poor schools, non-existent jobs, limited activities and easy access to guns, drugs and idle time create the crime-infested environments you may only shake your head at on the news. What the news does not tell you is that those very neighborhoods don't just contain criminals, and unemployed misfits, but also unemployed veterans failed by the government, hardworking single mothers and fathers cut off from the aid that could have changed their fortunes, and kids who wish their schools had better programs for them to take advantage of.
This all leads back to me; an almost middle-aged black man and the second-oldest student in my UH Bachelor of Fine Arts block program, seeking to make changes through art and imagery. Not many of us have the opportunity to make up for lost time in this life. Miraculously, I appear to be one semester away from doing just that. A life-long lover of art and photography, the circumstances of my upbringing and environment erected an invisible wall between me and this world of art and culture. Invisible because I didn't know it was truly there. A wall because I wasn't able to climb over it nonetheless. Next spring, I will have completed the daunting task of quitting a six-figure utility position in Wisconsin, relocating to Houston, Texas with a family, getting married, retiring from the US Army, reevaluating my identity, history, fatherhood, religion, relationship with women, and most relevant, my understanding of the power of art, and graduating with a Bachelor of Fine Art in exactly 4 years. Needless to say, my passion to find ways to help tell stories has never been greater.
Can you give our readers some background on your art?
To put it short, I make visual stories. Sounds cliché-ish, but considering they are all either based on a true story or the story verbatim, there is really no better way to put it. I have chosen the medium of photography and collage for its immediacy, its historical presence and its ability to capture or reframe moments. This is important because a story, to me, is simply the retelling and reframing of moments. We all know somebody who is a great storyteller, for some reason or another. Humor, hyperbole, and suspense make great stories. Sometimes, it's the voice. In the stories I tell, I hope to bring you into a world outside of your own. I want you to feel as if you are in the Northside of Milwaukee, or the Third Ward of Houston. To feel the texture of the 50s and 60s through my collage work. Or the time and tenure of an old building. You should leave questioning how you see the world and how we got where we are now.
Any advice for aspiring or new artists?
THE BIGGEST ADVICE EVER IS TO LOOK AT OTHER PEOPLE'S ART. You don't know how many young people, even older people and artists, I am around who think they can incubate themselves from the outside world and still be creative. It's a lie. We all steal.
Also, use a planner.
What's the best way for someone to check out your work and provide support?
My Instagram ( https://www.instagram.com/stayclosetay/ ) is my daily hub. You want to see what I am doing/thinking/making, then go there. I have a love/hate relationship with social media like I am sure everyone else does. But it's been my lifeline for the last two years. The majority of my commission work, album cover work, and random connect big and small have come from there. As I do more around the city and the states, I am sure that will change. I hope…
Otherwise, I FINALLY finished my website ( https://www.stayclosetay.com ). So check me out there also. My major projects and a brief history of work is there. My videos. A little music too. Oh, and my shirt shop is mad decent, too ( https://mediumrare.threadless.com ) if you like photo tees. I find obscure pics or pop references and make grey or black shirts out of them. If someone famous gets mad, I take em down haha.
Contact Info:
Getting in touch: VoyageHouston is built on recommendations from the community; it's how we uncover hidden gems, so if you know someone who deserves recognition please let us know here.