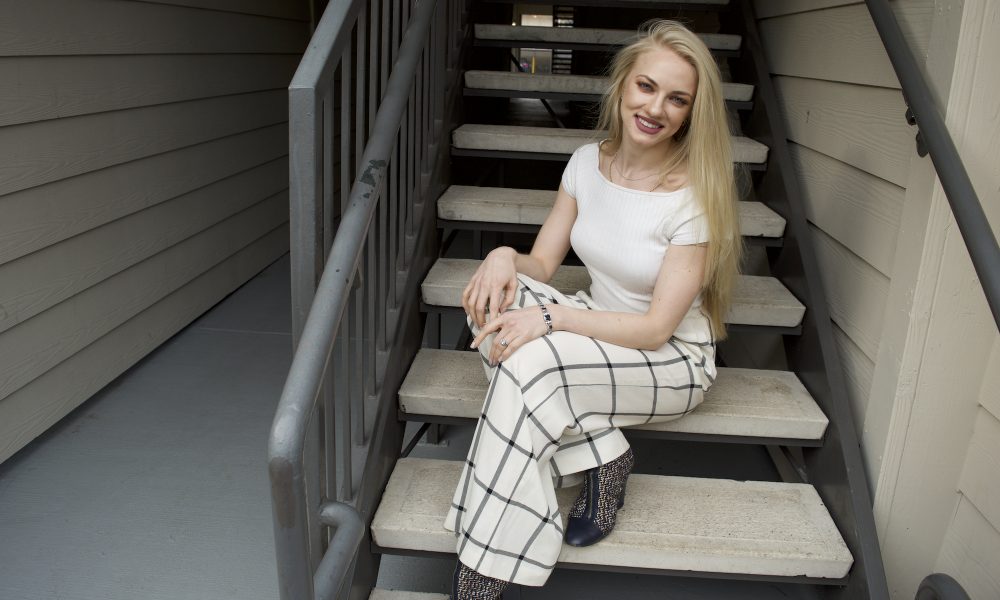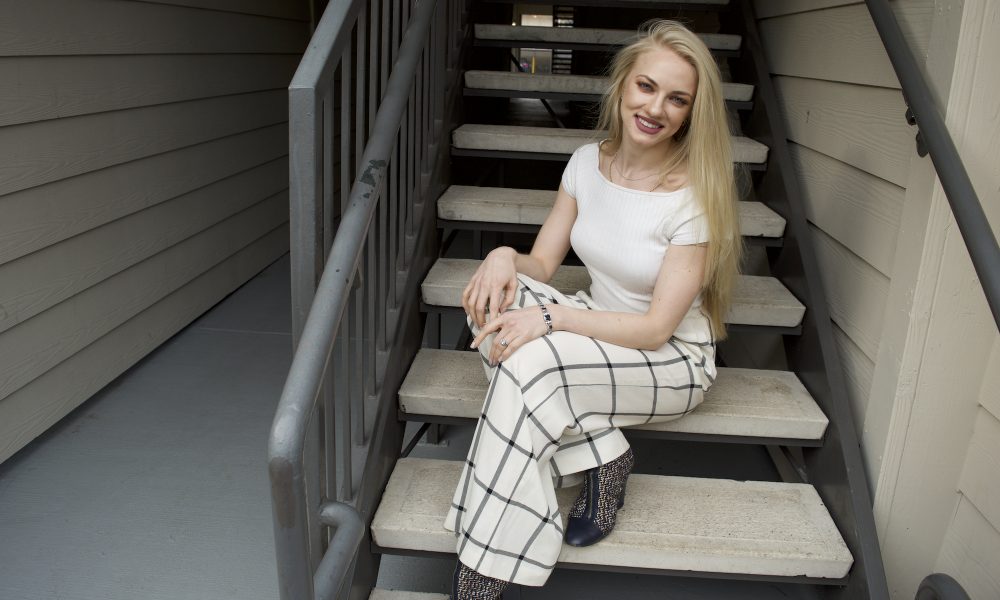 Today we'd like to introduce you to Uliana Maslovskaya.
Uliana, please kick things off for us by telling us about yourself and your journey so far.
I truly believe the journey of every artist is very unique and can be complex, like in my case. My first start was as an athlete in acrobatics being a part of a very skillful Russian Team with amazing coaches(yes, I am originally from Russia). I did all sort of tricks in the air perforn=ming in women's group as you see in Cirque du Soleil, traveled all over the country already at my 9 years old representing Far East region on all the highly ranked competitions. By age 12 I achieved my Master of Sport – one of Russia's most coveted titles as an athlete. By that time I started to grow and gain weight and my choice was to move to the "base" and carry out supporting and pitching roles. I gave it a try but I always scared to stay small knowing how bad it was on your back. Fortunately, my dad had to move his business into a different city and the decision came naturally – move on and stay healthy leaving achievements in the past and concentrate more on academics. Of course, lots of free time opened up so my mom suggested trying big tennis however the coach we met told us it was too late for me to start so it never happened. Another day there was an "open concert" of one dance studio that I insisted to go to see.
Well…all I can say those blinky shoes sparkled a desire in me to start ballroom dancing. First 3 years were a disaster. My body was so stiff and had no grace at all; everyone around was running away from my awkward moves to avoid a strong kick or a push. My dresses were always coming with sets of bracelets to put on my biceps to make my arms look more sophisticated as they were much stronger than my legs at that time. It was purely strong discipline, my coaches instilled me, and a competitive desire to be the best, do your best and be on the top. And yes, it was not easy with partners till ultimately a 5 years older guy offered me to dance together. I was scared to leave a Youth category and to dance in Adults competing with far more skillful and experienced athletes including my own coaches. Teamwork and dedication helped us to achieve better and more significant results but by that time I was in a high school, and it was out of the question – I was going to university. I applied to Shanghai University and the University of Economics in St. Petersburg. My coaches were devasted with my decision. Scared of being able to learn to intermediate level Chinese language just in one year killed my all desire to go to Shanghai, and I admit, their culture is very different, and you have to be ready to make a move.
I chose St. Petersburg and there my partner decided to follow me. All five years I was studying from 9 am till 4 pm and 7 pm to 10 pm we were practicing daily, except Sundays. From 11 pm till 2 am I usually struggled through my university assignments to be up and ready early morning next day. At least twice a month we were competing on Saturdays and Sundays and sometimes I went straight to my classes from leaving the train (right, we often used a train to get to another city). Our main coach was in Moscow so besides competitions we were often visitors of this city just for coaching. Early mornings in trains like 4 am to do my make up in a shaking cold winter bathroom was super challenging, especially to glue fake eyelashes. I still remember, when one eye looked different than another one, but the goal was to be fully tanned and ready with hair and makeup by 8 am as at 9 am we were dancing already! It is not a secret ballroom is not cheap so to save on next dresses and costumes and block of classes we had to stay in the cheapest possible hotels with shabby walls, lots of cockroaches and in some creepy area of Moscow you don't want to experience. Ultimately we won the title of Champions of St. Petersburg, were in Top 48 couples in Russia out of 400. Yes! 400. And of course, we were the winners and finalists of many national and international competitions. Then, by that time my partner reached his 30 years old and told me it was time for him to start earning money and concentrate on work. Of course, I had to accept that. Afterward, I had another three partners I shortly danced with including going to Bosnia. Tired of searching for a perfect teammate, graduating from the University I started to work as an import manager in a big company and then one of my colleagues somehow Googled me and asked: "why are you?" In one of those hard, busy and gloomy days at work like all we have, I decided to write an email that I was postponing for months (my mom gave me the contact of the guy looking for a partner to move to the USA). Within six months I got myself ready for a tryout and flew to Houston to meet my future partner and his beautiful wife. The initial plan was to leave in two weeks and come back, but due to very strict immigration, I decided to stay and immediately change my tourist visa to a working one. I am very happy I took a chance to come into the US, my partner and I successfully competed representing the US locally and nationally being in Top 7 couple in the US Rising Star Professional Category. Moving to the US and turning into a Professional opened a new level of experience I could ever have. Working with world known coaches made me a strong dancer, dancing most prestigious and upscale events, getting best dresses sponsorship and much more would not be possible hadn't I make the right call. I am so happy and fortunate to find a partner and his wife who became my friend and family in my new home country.
Can you give our readers some background on your art?
As you already know I am a part of the Ballroom dance world. Everything you see on Dancing with the Stars is possible to learn from me. Whether you are looking to learn basic steps, enhance your existing skills, get an in-depth advanced technic or customized choreography like a Wedding dance or maybe you are looking for something more challenging like competing – I am here for you to help.
Even without experience, just in 3 months, you WILL be dancing, even if you think, you have two left feet. You will learn to be comfortable on the floor, aware of space, leading and following your partner and on top of it, I will teach you how to put your own routines together! That is a skill that will serve you a lifetime.
I teach all age, six yo and up, no matter what level of experience and goals you have. Fortunately, Ballroom has lots of dances to offer. If you are more conservative, stick with Standart or Smooth like Waltz, Tango, Foxtrot but if you are looking for something cheerful definitely try Latin or Rythm dances like Cha Cha Cha, Rumba, Swing.
No matter what level and experience you are stick to your goal and believe in it! Believe will make you disciplined. Dedication will bring you closer to achieving your goal. There is nothing impossible and nothing better than moving your body with the music. Trust me! You will love it.
Uliana is a Professional ballroom dancer and Choreographer with an extensive performing and teaching experience with over ten years. Currently working as an independent instructor, she has the best interest of their students helping to achieve their own goals given the best skills and expertise.
Uliana is a winner of numerous national and international professional competitions. Representing Russia and USA in the past, she was finalist and winner of numerous local and international competitions. To learn more about her, visit www.danceclasseshouston.com.
What would you recommend to an artist new to the city, or to art, in terms of meeting and connecting with other artists and creatives?
Google is everything. Search for local events and attend them. There you can network and meet many like-minded people to share your experience and thought and maybe, come up with new ideas and inspirations. Join artist Associations and be aware of what is happening around. Check out local Facebook groups and meetups, that might help tremendously.
What's the best way for someone to check out your work and provide support?
I work in two locations where you can meet me for a class, hours vary as I teach privately.
Soundbox Studio:
3300 Chimney Rock Rd Suite 500, Houston, TX 77056
DanceSport Club
11758 Southwest Fwy, Houston, TX 77031
Go to my website for more information:
www.danceclasseshouston.com
Or simply give me a call. I will answer any of your questions:
713.516.8361
Follow my facebook page and Instagram to see updates: about coming competitions and performances:
FB: danceclasseshouston
https://www.facebook.com/danceclasseshouston/
IG: @danceclasseshouston
Contact Info:
Image Credit:
DanceSport photography, Benis Arapovic photography
Getting in touch: VoyageHouston is built on recommendations from the community; it's how we uncover hidden gems, so if you know someone who deserves recognition, please let us know here.