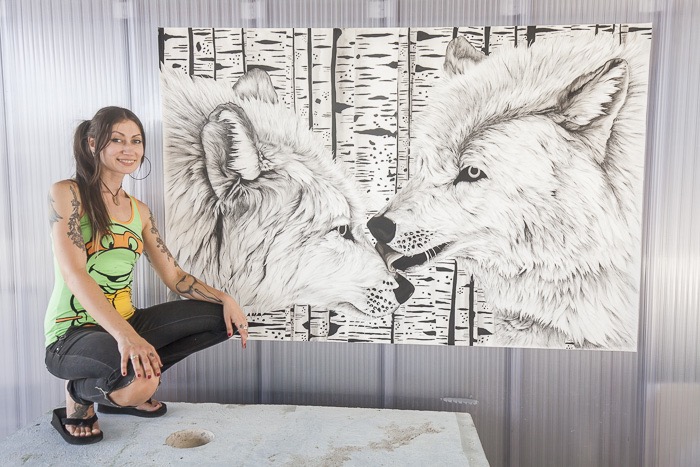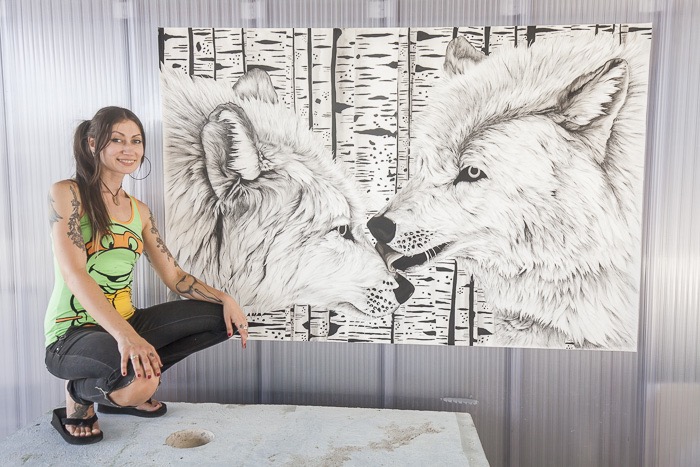 Today we'd like to introduce you to Flip Solomon.
Flip, we'd love to hear your story and how you got to where you are today both personally and as an artist.
I was born to parents who prioritized travel above all else, so I was fortunate to see a lot of the world at an early age. My mom was a textile artist and I grew up in a house full of art, antiques and handicrafts from around the world… Also, the textiles she created and the oriental carpets, kilim and mud cloth she repaired for a living. I had a pretty good eye for detail when I was young and I was encouraged to take a lot of art classes from an early age and then college level art classes during high school.
In my adult life I've been afflicted with the neurological disorders Narcolepsy and Klein Levin. I need to sleep a minimum of 14 hours a day, sleeping frequently and for long periods. These are very challenging conditions to navigate but I've chosen to focus on the gifts they bring–I have a very rich inner life with strong dreaming and a deep connection to my subconscious. Much of the fodder from my work comes from this deep connection and the patterns and objects from my youth also seep in this way.
I was trained as a classical graphite artist but I switched to pen & ink several years ago. I love the contrast that ink brings and I love working large-scale. Recently I've taken after my mom and I've started transferring my artwork onto textiles–mostly men and women's apparel.
We'd love to hear more about your art. What do you do and why and what do you hope others will take away from your work?
I create large-scale pen & ink works, working with both Micron pens and brushed inks. Working large-scale helps me with wakefulness as I can stand up on my desk to work against the wall or else kneel on the floor which is hard enough to be a little uncomfortable so I won't fall asleep.
I'm awake so few hours in the day that I really love life, I truly savor it. One gift of my disorders is that I'll probably never have to experience the feelings of boredom or depression, I'm just so happy and grateful to be up and around when I can be! So, I get inspired by pretty much everything when I'm awake–I have many more ideas in my head than I will probably have time to execute in this lifetime. My work is so detailed and my time so limited that one piece can easily take from two to six months depending on size, the amount of detail and if I'm dealing with any Klein Levin episodes during that time (during an episode, I can easily sleep 20 hours a day for weeks on end and it's difficult to get any work done.)
Sometimes I'll have a very strong dream which I'll work from directly. Sometimes I'll have a dream that brings with it a high concept and I'll have to look for visual representations in the material world that carry that same frequency. Sometimes I'll see a photo that really moves me and it will make its way into my dream, go through my dream filter and I'll awaken with the strong desire to draw its transmutation. So, it works both ways.
I've probably always had Narcolepsy–my dreams have always been strong and frequent and I've been able to lucid dream from an early age. I've also done some dream training so I would say that I'm a pretty talented dreamer! I'm always exploring the astral for the highest and best–the concepts and symbols that I can pull back into the third dimension and put to paper that will help humankind and help evolve consciousness. All of my pieces start with deep intentions and it's fun to see those blossom through the many hours of focused attention.
How can artists connect with other artists?
I'm an introvert and I love being alone… I don't get lonely. Working alone is one of my favorite things about being an artist! But I've heard this sentiment from other artists… I think participating in group shows can be really beneficial to connect with other artists and also attending every art opening that you can. Before I started doing my artwork again, I used to art model and it was wonderful hearing all the artist banter at these life drawing sessions–I think that would be a good place to connect with other artists too!
Do you have any events or exhibitions coming up? Where would one go to see more of your work? How can people support you and your artwork?
My work is available to view and purchase online through my website: www.flipsolomon.com. My big events every year are E.A.S.T. (East Austin Studio Tours) in November and The Armadillo Christmas Bazaar and the Blue Genie Art Bazaar in December. I also have work year-round at the Austin Art Garage. I currently have work up at The Wind Up at Terra Toys, Radio Coffee and Bar, Meta Elysian, One & Only Tattoo Shop in San Marcos and The Hye Rum Distillery in Hye, TX. I also see people by appointment at my studio: Studio 201 at Canopy, 916 Springdale Rd. Austin, TX. It's important to me for people to know about my Narcolepsy and Klein Levin–I think it will always be one of my missions in life to help inspire people to turn their 'disabilities' into 'Abilities'.
Contact Info:
Image Credit:
Scott David Gordon
Jason Morales
Getting in touch: VoyageHouston is built on recommendations from the community; it's how we uncover hidden gems, so if you know someone who deserves recognition please let us know here.