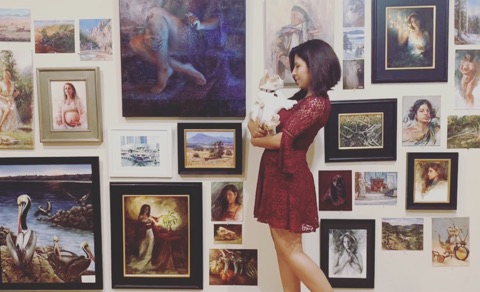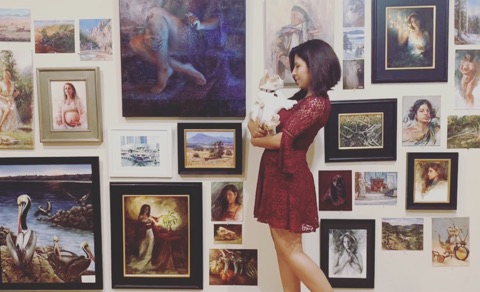 Today we'd like to introduce you to Katherine Martinez.
Katherine, we'd love to hear your story and how you got to where you are today both personally and as an artist.
Beginning in 2015, after some personal hardships, I knew I wanted to be in the art world, but quickly realized I didn't really know what that meant. There were so many artistic paths, be it from crafts to multi-media to sculpture to traditional painting and drawing, that I really wasn't sure which direction to take. It wasn't until I found the YouTube videos of painters like James Gurney that I realized the representational fine art world was the place for me! Through taking my sketchbooks outside and painting the world as I saw it, I came to the realization that I was lacking the fundamental skills needed to accurately represent what I was working with. Because of this, I began taking classes at a local community college in order to catch up with the basics that I was lacking. While these classes were incredibly helpful, and I met so many wonderful artists and teachers, I noticed that as I got further into the programs, the focus was shifting from developing the skillsets that I desperately required to a more conceptual and modern approach.
Feeling like I still wanted to learn these fundamentals (and not wanting to spend more going down the formal educational path), I began attending workshops and accepting scholarship opportunities to study with artists like Anna Rose Bain, Daniel J. Keys (Palette Project at the Scottsdale School of Art), and Michael Mentler, and eventually became an apprentice to Michael at the Society of Figurative Arts. At this point, I've been working with Michael consistently since 2017, learning about technique, color, philosophy, really anything and everything that makes a well-rounded artist. What I enjoy most about working with him is that even after six decades of drawing and painting, he still seeks to learn something new each day. Every week we spend time going through instructional DVDs, drawing the figure from life, working from casts, discussing books, etc., taking in as much information as possible, even though he already knows so much. I also respect the fact that he doesn't limit himself to one genre of art, allowing me to experience every flavor of artistic expression.
I am also working part-time at the Dutch Art Gallery (family owned and operated for 54 years) in Dallas, Texas, where I am a gallery assistant, custom frame designer, and featured artist. It is so refreshing and stimulating to be surrounded by other's work and to learn about the business/marketing side of being an artist. The Massars work hard for their artists and customers, and I feel so fortunate to be a part of the team! Between receiving new works, frame projects, art shows, commissions, artist demos, workshops, etc. there is never a dull moment at the Dutch Art!
We'd love to hear more about your art. What do you do and why and what do you hope others will take away from your work?
I am inspired by anything and everything that crosses my path. I don't believe in "artists block," there is always something to paint or draw out there, it is just up to us artists to go out and find it.
My work is (for now) primarily representational, but beyond that isn't limited by subject matter or medium. I also take on commission work, and I especially love working on portraits, which is part of the reason why I enjoy attending life drawing and painting sessions in my free time.
To some extent, I don't have a specific message or anything with regards to my artwork. I just paint what I feel a connection to, and I hope to do a good enough job that others feel that connection as well.
The sterotype of a starving artist scares away many potentially talented artists from pursuing art – any advice or thoughts about how to deal with the financial concerns an aspiring artist might be concerned about?
I think it is important to remember that, as artists, it isn't necessary for us to invest all of our time into studio work right of the bat. I personally find it helpful to diversify my time between studying as an apprentice, being a gallery assistant, creating studio pieces to sell through my gallery, commissioned paintings, and creating personal works to enter into competitions. Artwork should be an expression of what is important to the artist, and that feeling isn't constrained by time or place. Take as much time as you are able to work on your art, and even if it takes longer to improve, that's okay! Try to find a job(s) that allows you to express yourself creatively, take on commissions, apply for online art competitions and scholarships, learn from the thousands of hours of free/affordable content online, etc. There is plenty out there if you know where to look.
Do you have any events or exhibitions coming up? Where would one go to see more of your work? How can people support you and your artwork?
I have a solo show, "The Passage," featuring sixty of my original works coming up May 17th-July 1st, opening day 10 a.m. to 5 p.m., in the main gallery of the Breckenridge Fine Art Center in Breckenridge, Texas.
I am also a featured artist at the Dutch Art Gallery in Dallas, Texas, where my work is always on display and available for purchase.
For those that would like to see more behind the scenes, Instagram is where I share my works-in-progress, studio shots, and newly created pieces.
Contact Info:
Image Credit:
Katherine Plein Air Painting by Kyle C. Ma
Getting in touch: VoyageHouston is built on recommendations from the community; it's how we uncover hidden gems, so if you know someone who deserves recognition, please let us know here.