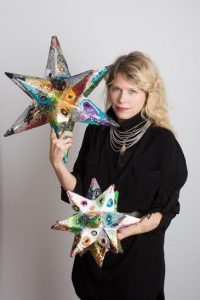 Today we'd like to introduce you to Merrilee Challiss.
Merrilee, we'd love to hear your story and how you got to where you are today both personally and as an artist.
As a shy child, I lived more in my imagination than in the world and drawing was my gateway to connecting with the world. After I was born in Cleveland, Ohio, my family moved every year until we ended up in Birmingham, Alabama in 1977. Growing up in a strange place and feeling stifled by the suburbs, I felt a keen sense of restlessness and ambivalence for the times and place in which I was living. I would eventually leave Alabama and spend three years abroad, working odd jobs, studying, traveling all over, and living in Germany in 1991-2 and Prague, the Czech Republic from 1994-6. Upon returning to Alabama, a place whose natural beauty and biodiversity I only appreciated after I left and came back, I spent seven years on and off working for a non-profit art studio (Studio by the Tracks) in Irondale, Alabama that provided free art instruction to adults on the autism spectrum. I also started and ran what became a legendary DIY music venue, restaurant, bar, BottleTree Café, with both my brother Brad and my ex-husband, drummer Brian Teasley. BottleTree, largely an experimental art project,  was open for nine years and closed in 2015.  Since then I've been making art every day.
We'd love to hear more about your art. What do you do you do and why and what do you hope others will take away from your work?
Increasingly, as a member of the species that are living through and cause of the sixth mass extinction on planet Earth, I am consumed by the question of how art can be used as a tool to raise consciousness so that we can stop this madness. People are waking up and realizing that we are responsible for taking care of the Earth, and yet, at large, we seem to be collectively failing. As Jane Goodall puts it "How is it that the most intellectual creature ever to walk planet Earth is destroying its only home?"
I had an experience in 2012 that impacted me so much that I am still trying to assimilate and understand the message. I was in Joshua Tree on a trip and went to the Integretron in Landers, CA to get a "soundbath." As it happened, I found myself astral traveling for the first time ever in my life, leaving my body and hurtling through space past nebulas and star clusters. I found myself inside a giant white whale as big as the Earth, and new worlds were being born inside the whale and I was both inside and outside of the whale (the whale was pure love) and was crying (sobbing) and saying over and over "I am sorry for what we have done to you. I am sorry for what we have done to you." That experience was a download/wake up call for me to make a life and make art that allows me to engage with the spirit realms, to heal myself and re-enchant / heal the world.
As I've gotten back in touch with and allowed space for a spiritual connection to the visionary, divine realms that I believe it is our collective birthright to access, my art practice has become more of a collaborative alchemical process, a form of psycho-spiritual remediation. Coming into contact with the writings of Houston's own Timothy Morton and the concept of OOO (object-oriented ontology) helped me come to that understanding – sitting back and sensing what the work wants of me instead of only opposing my will on the object/ subject. Nature is always speaking to us and through us. Whether making repetitive lines and patterns or placing sequins on one at a time with a breath and a word of prayer, the work has become its own form of meditation. I'm often drawn to transforming common materials with my hands, taking tiny things (postage stamps, sequins, shell fragments) and connecting them together to make something large. I believe that everything is connected and that there are unseen worlds we can tap into and energies with which we can interact.
What do you know now that you wished you had learned earlier?
The most helpful thing I can say is to just be honest. It's not always easy. I'm 47, single, in debt, have no financial security – no savings, no retirement. I am able to make it because I am a workaholic and have two side hustles that cushion me in between art sales, while not sucking my soul dry. As an artist I rely on the kindness of strangers who are hopefully moved by my work, so I have to actively cultivate trust in the universe and a belief in magic, a belief that help will arrive when needed. I am so grateful for this life, and that every day I have the opportunity to pursue the work that feeds my soul and allows me to do interesting things in interesting places that impact others in a meaningful way.
It's important to put yourself out there and build resilience to handle the inevitable rejection that most artists face. In graduate school in Philadelphia, I worked as an artist assistant for four artists at different stages of their careers and one of them was awarded a large grant after applying for and being rejected for nearly 15 years. Sticking to something, believing in yourself will pay off in the long run. Find a way to embed your values into your practice. I believe that artists are the most resourceful, resilient and insightful people, are excellent problem solvers, and are/will be vital to the project of healing, re-imagining and re-enchanting the world.
Do you have any events or exhibitions coming up? Where would one go to see more of your work? How can people support you and your artwork? 
I have an exhibit in Hunstville, AL at Lowe Mill Arts that runs from 11 Jan – 23 February, and will be showing work in Mobile, AL, Seattle, WA, Nashville, TN and a few other places in 2019. Please reach out if you are interested to know more!
I post regularly on Instagram as @merilka, and have a website www.merrileechalliss.com.
If you are interested in supporting my work, please get in touch.
Thank you so much for allowing me to share.
Contact Info:

Image Credit:
Jonathan Purvis
Getting in touch: VoyageHouston is built on recommendations from the community; it's how we uncover hidden gems, so if you know someone who deserves recognition please let us know here.