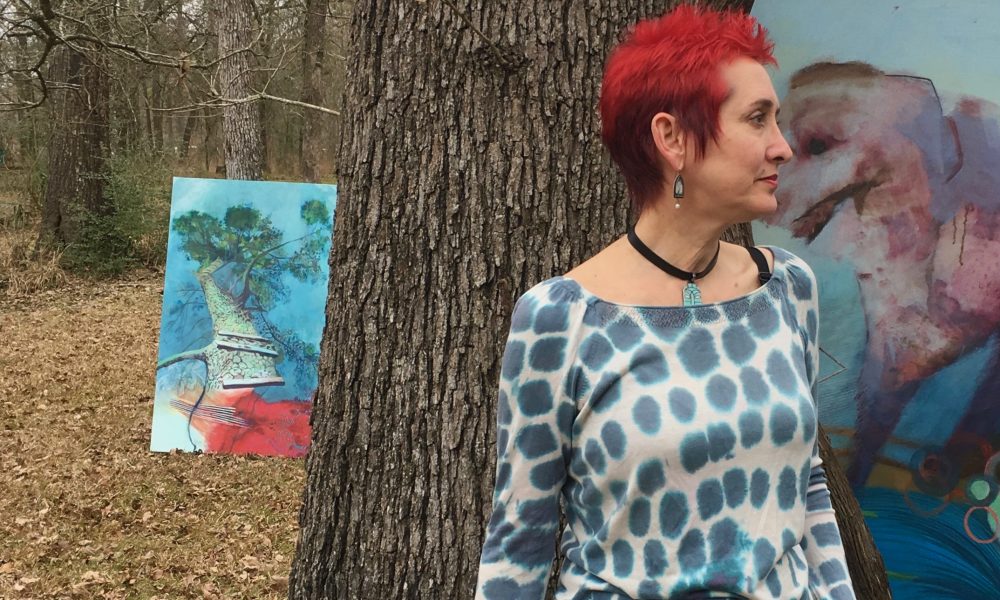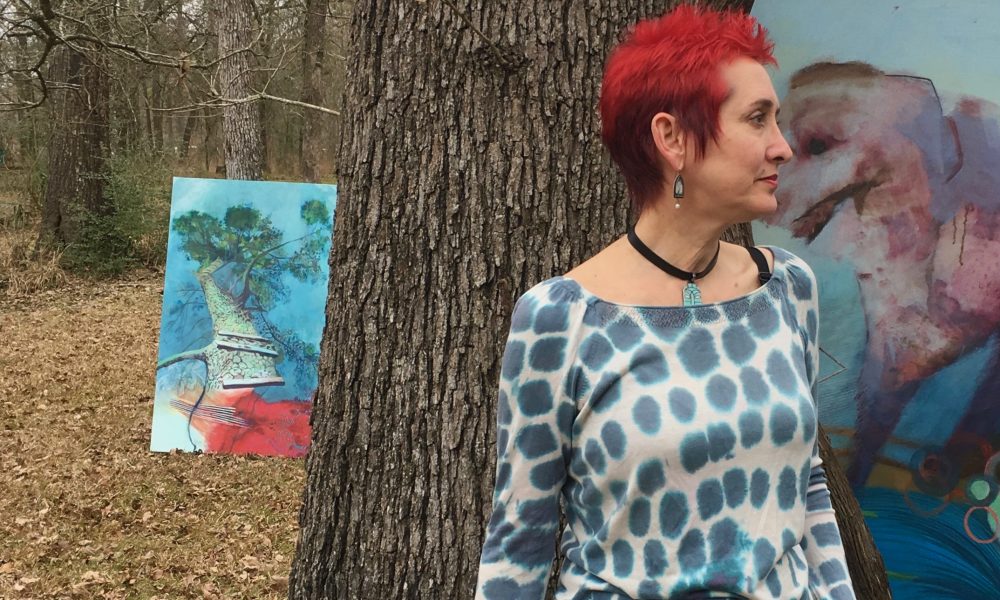 Today we'd like to introduce you to Sam Sartorius.
Sam, we'd love to hear your story and how you got to where you are today both personally and as an artist.
I had aspirations to be a music box dancer. The ballerina that pops up and twirls in a fun pose and tutu. When that didn't work out, I turned to the dream of being a painter. I'm not sure why since I don't recall ever being in a museum or gallery in my youth, but I was drawn into the world of art, nonetheless.
My professional career in the arts started when I was nineteen. I landed the opportunity to design textiles for a national ladies accessory firm in Dallas, Ginnie Johansen Designs. An adventure that had me traveling across the globe for over ten years. Left textile design to earn my BFA in painting. I graduated from Indiana University at Perdue University being named Chancellor's Scholar. I held the highest GPA and won the opportunity to study for a month in China at the Hunan Normal University. I was fortunate to receive several fellowships and grants to set up studios in various locations ranging from the Berkshire mountains to Central Europe. My absolute favorite residency was at the Egon Schiele Art Centrum in Cesky Krumlov, the Czech Republic for eight months.
In 2008 I moved to the artist warehouse district in downtown Houston. Five years later I married my husband and moved an hour northwest to the country — a new landscape to set roots and grow in ways I could only imagine. Nature is seen through every window of our home. It's a beautiful way to observe the evolving scenery. This is where abstract nature paintings got its start.
We'd love to hear more about your art. What do you do? Why?
As a child, I loved to be in a fortress made of blankets at the base of my grandmother's magnolia tree. Hidden in a make-believe world, I found great comfort there. And, security. I felt free to unleash playful explorations at the whatever volume necessary. That is my first recollection of experiencing an optimal state of flow or, fluid creativity. I still strive to reach that wondrous state of bliss while making art fifty years later. Art is my way to play like a child and connect to what I feel inside.
I retreat to an inner space when I paint. It's like stepping into another world — reality but with a big twist. The views are spectacular landscapes with loads of color, aqueous movements, and varying rhythms. When I am in the zone, anything is possible. All the senses are engaged, and there is much exhilaration. Although, the path getting to this euphoric state isn't always easy. It takes a certain focus to cultivate and maintain, much like keeping a bubble floating in the air.
I paint to make sense of my world when words fail me. And that happens more often than I'd like to admit. My focus is on the process of making rather than the end result. I weave my thoughts, emotions, and observations to tell a story in or of nature.
I develop my work through a process of drawing and painted layers. This action gives way to new insights while delivering richer colors and surface texture.
What's the inspiration or message?
Nature is my power station. It's a place for observation, imagination, and contemplation — a space where the soul comes out to play with wide-eyed wonder. The landscape provides energy that radiates calm and balance. The restorative vibrations that feel good to be in and around.
What my work represents to me is…
When my head is full of chaotic thoughts, art allows me a place to empty those thoughts onto a space where I can see with new eyes as well as different perspectives. It forces me to be vulnerable and brave. My art helps to foster a positive mindset, especially in the face of obstacles — a way to find strength and rise above.
My art serves as gentle reminders of where I want my thoughts to be. In addition, my work represents a lifetime of experiences and travel. If you put all of my work in order chronologically, it would make up my biography.
What do you hope others will take away from your work?
To connect and engage on a soulful level is my aspiration. In hopes that my visual story will resonate an exuberant calm. My wish is for technology to be set aside in order to anchor with something that is authentic. My desire is for the healing qualities of nature to extend their magic to the viewer.
What should we know about your work?
My work is from the heart, and it's my way of putting love out in the universe. This world is a better place with art. I would like for people viewing my work to feel the energy. Radiating and resonating.
Artists face many challenges, but what do you feel is the most pressing among them?
I can't speak for other artists, but the greatest challenge throughout my 36-year artistic journey has been about achieving balance. Balance between making art and making a living.
Do you have any events or exhibitions coming up? Where would one go to see more of your work? How can people support you and your artwork?
This spring I'll be the featured artist at the 10th West Gallery. A contemporary fine art gallery in downtown Indianapolis. Which is where I earned my degree at IUPUI and experienced many profound memories.
Also, a year ago I started a body of work that relates to my learning how to get out of my head and move from the soul. I had a chapter in life where things didn't go so well. My mind held negative energy which brought more negativity. I was depressed, creative flow of any kind had vanished. Art is not only my profession but my passion. My life-force. I stopped believing in myself. Felt lost and devastated. A close friend connected me with a spiritual healer, Dr. Julie Hollingsworth. I spent two intense years learning how to remove roadblocks, add love and fix the broken. Julie guided me through the seven stages of alchemy which has opened my eyes to an enriched perspective. I am painting those stages and steps through large format paintings by tapping into a new found source of energy. I believe this to be my most important and compelling work yet. The venue for showing this work is still to be determined.
Another way to view my work is on my website, http://samsartorius.com. My site is evolving into a commerce website, but my work is viewable now.
Contact Info:
Website: samsartorius.com
Phone: 713.419.5199
Email: abstractnaturepaintings@gmail.com
Instagram: samsartoriusart
Facebook: samsartorius
Image Credit:
Craig Arny
Getting in touch: VoyageHouston is built on recommendations from the community; it's how we uncover hidden gems, so if you know someone who deserves recognition please let us know here.