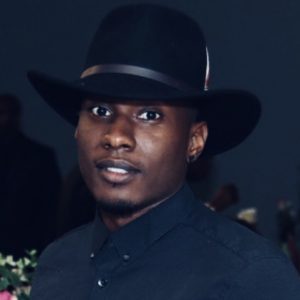 Today we'd like to introduce you to Terance Gartica.
Terance, we'd love to hear your story and how you got to where you are today both personally and as an artist.
Creating has been a hobby and passion almost my entire life. Possessing the talent to create is truly a blessing. While growing up and discovering my artistic gift, I would have never thought it would have brought me this far as an artist, designer, and person overall. Even after winning 1st place in the Houston Livestock and Rodeo Show art competition in elementary school, I never really focused on where my talent and passion for art could take me. It was just something I simply loved doing at that point in my life.
Transitioning from a small town near Wharton, Texas to one of the largest cities in the United States (Houston, Texas), opened up a great deal of opportunity to improve my knowledge, and enhance my skills as an artist. Having the chance to surround myself with talented creatives introduced me to many different styles, techniques and art mediums. This transition really encouraged me to push my art to the next level. After settling in Houston for a while, I developed a fascination for anime, cars, vast architecture and the lifestyle of the screw culture. These subjects heavily influence my creations in almost all my pieces.
After high school, I declared to myself that I wanted to be a successful licensed architect. Despite me working in the industry, pursuing the credentials and gaining the experience to achieve that dream, the artist in me will never die. Actually pursuing my dream in architecture only improved my techniques and encouraged me to express my art to the public. My architectural experiences has also created opportunities for me to invest in my passion for art and design. These experiences along with my talent has greatly allotted me the chance to establish myself into a self-employed creator part-time. It's a struggle getting things going, especially in the beginning, but you must stay consistent and keep going, which is why I respect the grind of every creative out there pursuing their full-time dream.
We'd love to hear more about your art. What do you do? Why? And what do you hope others will take away from your work?
Art is not necessarily labeled as just a drawing, painting, or picture someone admires. Each artist has their own story and meaning behind their creativity. I'm convinced that the gift to create is a form of protection over me. My time invested in creating gave me less time to waste on negative expectations society would stereotype me to be.
My art is heavily influenced by my desires, nature, architecture, anime, southern culture and music. This why my creativity and ideas can go from turning women into cars to creating them into something strong and inspirational; from expressing the beauty in nature and my love for animals to creating things that are vicious and poisonous; from recreating your favorite childhood cartoon scene to recreating your favorite anime character slabbed out. These are the things that interest me and allows me to loosen up and have fun expressing myself in my art.
It could be a difficult thing to see sometimes but, through my art, I hope to become an inspiration to underground artist, including music artist, designers, comedians and younger generations of creatives to come. It is important for us all to excel and unlock our full potential. We must remember to never be afraid to pursue what we love even when others are against it. I also hope that audiences appreciate and support my work, not because of the unique content or the craft, but simply because of the shield and healing place it provided for me when peer pressure and troubled times could have corrupted a good soul.
What do you know now that you wished you had learned earlier?
Advice I have for other artists is to have fun, encourage each other, and don't be afraid to embrace what you love doing in this industry. And for those who are seeking full-time as an artist, please keep grinding and don't ever give in to discouraging moments. There were plenty of times when people would decline my services, laugh at me, and discourage me for work I have created. These were situations I wish I had inherited the self-confidence I have now to shake the negativity off and keep going. I also wish I had been more social and outgoing in the beginning. Being an introvert makes it difficult to accel as a creative, especially in a big city like Houston. Most importantly, I wish I would have listened to my audience and been open to suggestions more, instead of being enclosed and limiting myself to things I only wanted to do. When someone tells you to look into doing something different, try new styles or techniques, it doesn't always necessarily mean they dislike your art or what you do. Some people want to see you expand and help you bring out your full potential. So cherish those experiences of guidance, commissions, suggestions, and critiques from clients and fans. It's a chance to grow and develop yourself into a better artist than what you were before.
Do you have any events or exhibitions coming up? Where would one go to see more of your work? How can people support you and your artwork?
There are plenty of ways to see and experience my work. I am on many social networking sites including, Twitter, Instagram, Facebook, Pinterest, LinkedIn, and Tumblr. I am very appreciative of likes, comments, reposts or uplifting messages. These are always easy and supportive ways to encourage an artist to top their last piece and to continue pursuing their dreams as a creative. I also try to give my audience a chance to support my work in person by participating in art showcases and promotional events. It's an amazing experience and good feeling to any artist to see the amount of attraction they could bring by just showcasing their creativity. I have also recently opened up my website (www.gartica.com) to the public. It will keep you up to date on any new creations, sales, and upcoming events I will be involved in. You will also be able to request commissions through the site as well. Last, but not least, it's always a humbling feeling when someone requests a commission or purchases merchandise. Being able to support an artist financially is one of the most influential experiences to a creative. It's an effective way that builds confidence, self-worth, and encourages improvement.
Contact Info:

Image Credit:
Terance Gartica
Getting in touch: VoyageHouston is built on recommendations from the community; it's how we uncover hidden gems, so if you know someone who deserves recognition please let us know here.