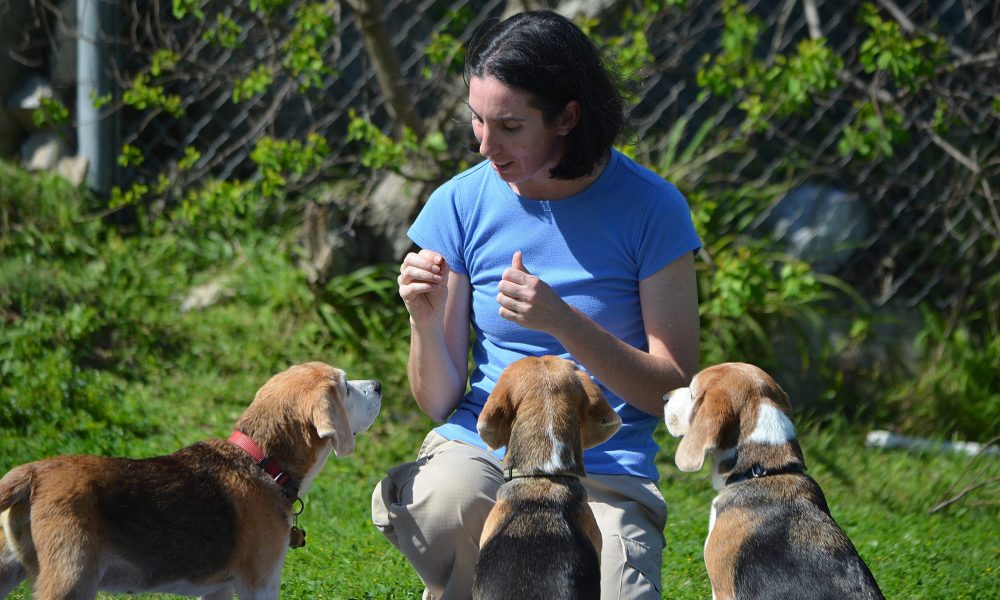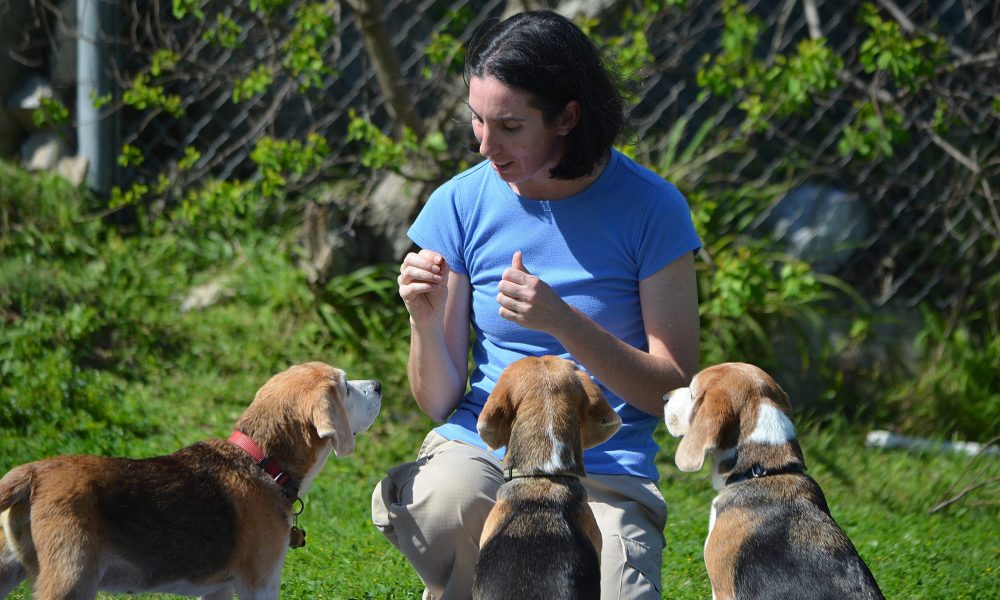 Today we'd like to introduce you to Heather Samper.
So, before we jump into specific questions about the business, why don't you give us some details about you and your story.
I work at Moody Gardens in Galveston as a biologist in the rainforest. My zoo keeping career started here in 1998 in the aquarium working with the penguins and the seals. I met my two best friends here and after they left Moody Gardens, they asked me to join them on opening a dog training business serving Galveston county. I reluctantly agreed. We officially began our business- Mutts With Manners- in August 2009 and are still happily training dogs ten years later in Galveston County! In 2015, we purchased MyTrainingStore.com from a zookeeper colleague and now sell animal training supplies to zoos, aquariums, and trainers all around the world. After one business partner had to move out of Texas, we did allow another partner to join us and we are proud to be a woman-owned and operated business since our inception.
I am passionate about animals. It's my career and fills my spare time volunteering. I volunteered with Greater Houston Search Dogs for 10 years and trained my beagles for search and rescue- to find missing people. One of my beagles is a therapy dog and we visit hospitals as a therapy team. I am a past president and current website chairperson of the Animal Behavior Management Alliance, an international non-profit organization that promotes and enhances animal care through training and enrichment.
This past year I had the honor of being a mentor to a former Moody Gardens biologist as she began her journey to open her own business- Penny's Beer Garden in Dickinson.
Has it been a smooth road?
The road for starting Mutts With Manners was mainly nervousness being in unfamiliar territory.  It's something none of us had every done before and starting your own business is quite daunting.  However, because we were such good friends and communicated very well we were able to set obtainable goals. Goal setting is easy. Achieving them is demanding yet exciting. Of course, owning and operating your own business is challenging! There are a plethora of things to keep in line and stay on top of so your business runs smoothly. But the reason we keep going are the proud moments of clients who see progress in their dogs, refer clients to us, and are genuinely appreciative of how we have helped their lives. I am fortunate to be an organized, patient, positive person with keen attention to detail. Maybe those skills came from being a gymnast for 10 years while balancing being an excellent student in school or maybe it's from my upbringing. Without these skills, I know I'd be unable to balance my full-time job at Moody Gardens, run two businesses, and volunteer with ABMA and Pet Partners.
I am fortunate with my business partners because we complement each others' weaknesses. If I have a hard time communicating with an unhappy client, one of the other partners can take that task and turn it into a happy ending. If we run into a wall with marketing or scheduling, one of us has an answer and can make good things happen. Even if these businesses were just owned by one of us, there are many local resources to reach out to and take advantage of when dealing with struggles or even just getting started.
My best advice is you will make mistakes and that's OK because that's how we learn. Challenges are part of life.
Nothing is perfect, so you have to deal with the challenges life throws at you in a positive way that allows you to grow and flourish.
So let's switch gears a bit and go into Mutts With Manners and MyTrainingStore.com story. Tell us more about the business.
I basically train animals, whether at Moody Gardens or through my dog business, Mutts With Manners. Behavior is behavior, from amoebas to zebras, and the concept of training and learning is the same. I train animals via operant conditioning, which is modifying a behavior through consequences. I focus on positive reinforcement and relationship building to achieve my training goals or a client's training goals. Patience plays a key role in training. I can help a client with a new puppy and dealing with all the highs and lows of puppyhood- the puppy kisses, the chewing, the sharp teeth, the potty training- it's all about building a relationship and teaching in the most positive way possible. I can help an owner with a reactive dog that barks excessively at other dogs or people and they are so embarrassed that they stop inviting friends over or become the "midnight walker" to avoid their dog seeing anything that will cause it to react. That's not healthy, for either of you. I have trained a variety of animals at Moody Gardens and assist trainers with our collection and ambassador animal training programs as they train a variety of husbandry and educational behaviors. Teaching new and established trainers is always exciting, whether it's a new dog client, a biologist at Moody Gardens, or colleagues in the zoo industry.
I am most proud of being a kind, positive professional. Whether that's as a business owner, colleague, trainer, leader, or dog mom.
Do you have a lesson or advice you'd like to share with young women just starting out?
You need to know who you are. You need to know what you stand for. You need to know what you believe in. Most importantly, you need to be comfortable with all of these things because life is not perfect and you will have clients or customers that push you to your limits. Life is full of challenges and having a foundation to stand on is imperative, not just for survival but to grow and thrive.
Contact Info:
Image Credit:
Personal Photo and Mutts With Manners photo were taken by Ryan Dandridge.
Suggest a story: VoyageHouston is built on recommendations from the community; it's how we uncover hidden gems, so if you or someone you know deserves recognition please let us know here.