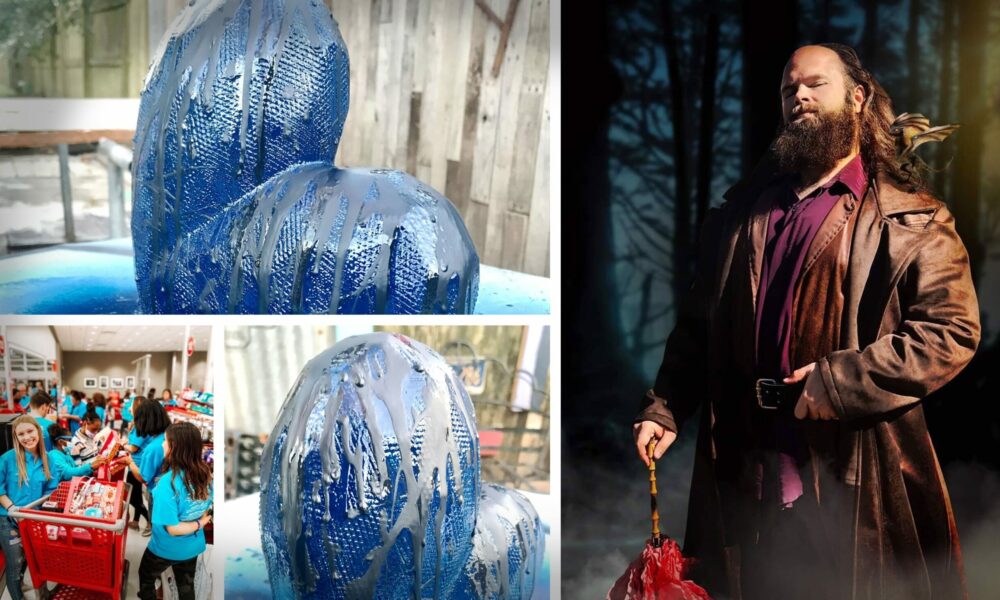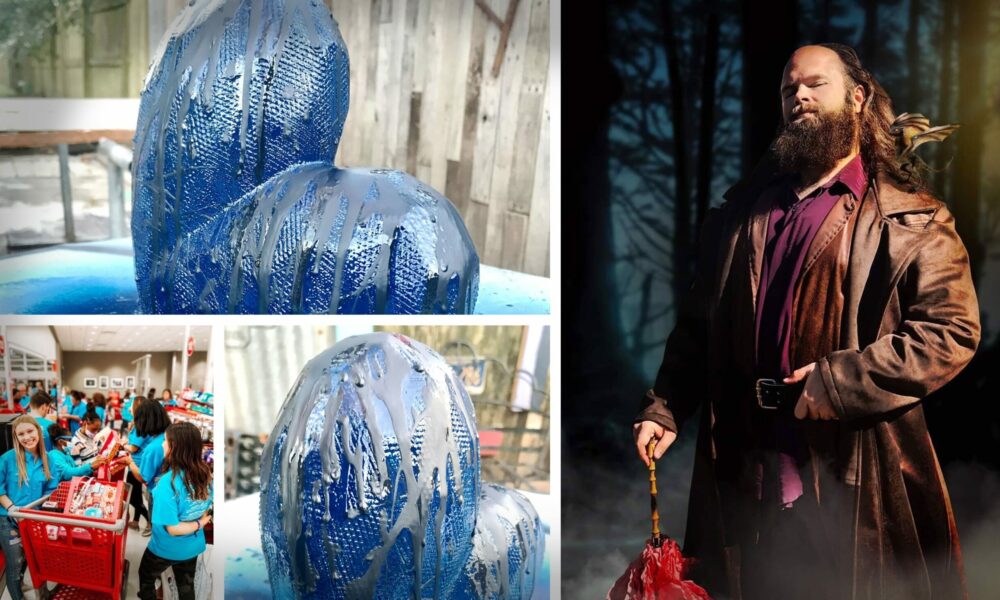 The heart of our mission at VoyageHouston is to find the amazing souls that breathe life into our city. In the recent weeks we've had the privilege to connect with some of the Houston's finest artists, creatives, entrepreneurs and rabble rousers and we can't begin to express how impressed we are with our city's incredibly deep talent pool. Check out rising stars from the Woodlands and surrounding areas below.
Alicia Scott

I was born and raised in Houston, TX. I started Honeybox Bath Bar in January of 2021. After having several bad reactions to different soaps and personal care products, I was put on medication for skin irritation by my PCP in 2019. I don't like taking medication so I knew it was time for a change, this is when I started coming up with ideas and testing my products. My goal was to produce a collection of products for individuals with sensitive skin and/or really bad skin irritation. I wanted all of my products to be all natural and handmade so I know exactly what is going in them. After several months of preparation, I officially launched my business in July 2021 and it has been doing great ever since. Preparation for me was key in getting where I am today. Having a plan and having a clear vision of what success was for Honeybox Bath Bar are my main 2 factors for success. Read more>>
Erik Watts

I learned to sew while I was in the Coast Guard where I started by making Halloween costumes for myself and my friends. Slowly, I branched out and began making garb for Renaissance Faires. In 2012, I attended my first comic convention and decided to dress up, so I made my first cosplay. It was Hawkeye from the first Avengers movie. Since then, I've added 3D printing, foam armor, and leather working to my arsenal. Every year since 2012, I've made cosplays for myself and my family. Sometimes friends would ask me to make a piece for them. I decided to offer my services to the public in 2018 and that's when I started my Facebook and Instagram pages where i do most of my business. I have probably become most recognizable for my Bro Thor cosplay since I debuted it at Comicpalooza a couple of weeks after Avengers: Endgame came out. I was even invited to Celebrity Fan Fest as a Guest Cosplayer because of Bro Thor. Read more>>
Kirstyn Jackson-Philpot

When I was 5 years old, I was put in the foster care system and lived with family members. My grandma and Papa got permanent custody of me and my brother and one of my sisters in 2011. I have now been adopted by my grandparents! When I was about 7 years old, Child Advocates invited us to go on a shopping spree with a Houston Texan player, Mr. Jon Weeks. My grandma told them that we didn't need it, but Ms. Jan was insistent that we go as she wanted us to have the experience. It was one of the best days of my life. Mr. Jon and Ms. Amanda let me get whatever I wanted for $200! Of course, at 7 years, $200 buys a lot of stuff. I will never forget that night and how it made me feel. A couple of years later, I told my Grandma I wanted to take 10 kids shopping like Mr. Jon and Ms. Amanda did us. I had $30 left from my birthday money. She told me that was not enough money and I needed to earn more money. Read more>>
Nick White

My passion for photography has secretly always been with me since my sophomore year of high school. Thanks to a photojournalism class I took that year, I was introduced and taught about a form visual art. Ever since then, I've always had a passion for photography and it wasn't until about a year ago, when I turned that passion into reality. From the beginning of 2021 to now, I have had a really great and fulfilling journey of pursuing my dream. Read more>>
Brittanie Jones

My husband and I transitioned our family slowly over the course of 2yrs. My health wasn't the best and my husband knew that it would be hard for me to do it alone. The more I began to create amazingly delicious meals and post them to my social media, the more people asked me HOW. So I started on YouTube, teaching people how to veganize their favorite non-vegan dishes. It grew to the point where people were really wanting to actually try my cooking. So I became a vendor at the DFM and served my vegan eats to hundreds of people every weekend. I had people travel from all over the world, seeking to have my meals. Read more>>
Michael Scobey

My wife Carmen and I pastor Vibrant Church in The Woodlands. We love our community and we are thankful for every day we get to make a difference here! But it didn't start out this wonderful… 2017 was one of the worst years of our lives. We lost our home in Hurricane Harvey as so many others did. We were serving on Pastoral staff at a wonderful church in Beaumont, TX. This tragedy caused us to move away for a season to reflect and really pray about what was next. We really felt called to come back towards The Woodlands and launch a church called Vibrant. We wanted to be a light in the community that would bring hope to the hopeless, community to the broken, and authenticity in a world full of fake. Read more>>
April Hart

Align was born out of a deeply personal journey. I began learning as much as I could about PTSD when my son was diagnosed as a young teenager. All of the programs I could find were designed for veterans only. It seemed that most people believed only veterans could have PTSD. Along our journey, I met many others with PTSD or cPTSD from a variety of other reasons. Each of us felt like we were the only one. So I decided to start a non-profit for PTSD and trauma. I had found effective therapies and wanted to help fundraise for scholarships for mental health. Read more>>
Tracey Phan

Just five years after moving to the U.S., Phan earned enough money to purchase Aloha Beauty Lounge, then known as Aloha Nails. She spent her evenings posting flyers and speaking with residents to build a customer base. Eventually, word of mouth took over and the steady stream of clients has not stopped. Phan emphasizes that her business has been built on a strong work ethic, commitment to customer service, and passion for making her clients feel beautiful. Aloha's success has led to Phan adding employees and space. What started as an 800 square-foot, solo nail salon has matured into a 12 employee, 2,400 square-foot beauty lounge. Aloha's next chapter, however, will be the most exciting of all. Aloha Beauty Lounge will open a 5,000 square-foot salon and training facility in downtown Tomball in early 2022. Read more>>
Jackie Sim

We are Jackie & Mike, the owners of Roll Out Yoga, a studio serving the nearby communities of Spring, Cypress, Tomball, northwest Houston, and The Woodlands. We are located near the neighborhoods of Gleannloch Farms and Memorial Northwest. Here's a little bit about how each of us got started and how we got to where we are today.
Jackie – I've struggled with back pain since I was a teenager. Over the years, I found that consistently working on strength, active flexibility/mobility, and proper muscle engagement has helped to manage these chronic issues. In 2003, I started practicing yoga in my living room from a video. It was a great start to my yoga journey and the familiarity of doing the same video each time allowed me to grow more comfortable in the fundamental movements of yoga. Years later, as a birthday gift to myself, I decided to take a class at a local studio. Although at first, I felt apprehensive about practicing in a group setting, I soon realized that everyone was there to work on their own practice, which made me feel more comfortable. I started a very consistent yoga practice and my body felt great. At the time, I was also doing HIIT workouts and self-defense training, and yoga was a great compliment to them both. After several years of yoga practice, I decided to train to become a yoga teacher to deepen my knowledge about yoga practice and myself. It was then that I was able to experience the true benefits of meditation and breathwork as well. Before that, I was unable to fully tap into the ability to not let my thoughts control me. It was a game-changer for me in finding a less stressful way to exist. My appreciation for yoga blossomed from there. I love sharing all the benefits of yoga practice with people who are just as excited to experience them. The learning never ends for both teacher and student.Read more>>
Rachel McElroy

My career in marketing began when I was an on-air morning show talent in Lafayette, La. I realized then while I was able to have a lot of fun going to the Grammys and giving back to the community, I'd have a bigger impact being behind the scenes. I was honored to have worked with neurosurgeons, prestigious as agencies, embedded with Homeland Security, and facilitated meetings with more alphabet soup titles than I had imagined. Read more>>
Tatayana Flanagan

Growing up, I always knew I wanted to do something that I loved. I've dealt with a lot during my teenage years, but I've overcome everything that was sent to stand in my way! We don't always have everything planned out or know which direction we want to go. We trust and have faith that God will guide us. I've been blessed with an amazing husband, who came along and accepted me for who I am with all of my flaws and all of my imperfections. My number 1 supporter for sure, We then welcomed our beautiful daughter into the world and From that very day, I knew I had to make things count! I've done music, travel the world auditioning for different singing shows. Didn't really go how I wanted it to. I started to think well maybe I'm destined for something better. Read more>>
Steven Champagne

After moving on from my health and wellness company that focused on life coaching, fitness, and nutrition I decided to return to being an artist to continue my pursuit of making the world a better place by helping change people by telling stories with fine art, photography, and videography. Victorious Ones is not just a word that I came up with, it is a description of my life. I have not had an easy life by any means and have been to the top and the very bottom and back again. My life is one of discovery, failure, and overcoming. Read more>>
Adrienne Wamhoff

Our story began in 2009 with Greg & Adrienne Wamhoff, but today we are a team of 17 awesome individuals that love the art + science behind design + build. Our company has grown over the years due to the countless referrals we have received because our clients experienced the difference in the Wamhoff philosophy. Rather than focus on profit and volume as a business, we thrive in building lasting relationships with our clients and exceeding their expectations. This is our focus and always will be. We love it when we hear our client say, "it's better than I ever imagined!" Read more>>
Ashley Moore

I grew up in Crandall, a small town just south east of Dallas, in a middle class family. I spent my childhood summers decorating and redecorating my room. I designed my furniture for my college bedroom & my late grandfather made it all for me. I always knew home was a special place, but never realized interior design could be an actual profession. In 2006 I graduated from Texas A&M with a degree in Interdisciplinary Studies. I moved to Houston & began my teacher career. After five years of teaching middle school, I stepped down to raise a family, where I focused on creating a home that our family could make memories in. My husband, Matt, & I moved out of the Memorial area in 2015 and bought & remodeled a home in Tomball. Read more>>
Lance Elrod

In our early days of dating, while attending the same set of classes in the Personal Financial Planning program at Texas Tech University, we dreamed about the possibility of partnering together. A few years later, we had the opportunity to work together for a short time while living in Maryland, after that experience, we found ourselves frequently talking about how fun it would be to work with each other again. Little did we know that years later God would lead us to the opportunity to form our own firm to be able to share our passion with others. We both began working in the financial services industry around 2008/2009, helping individuals and families reach and realize their financial dreams, but we also discovered that there was a huge need for helping the younger generation of investors. This early time in life tends to be the timeframe with the most transitions and the biggest need for financial advice. Read more>>