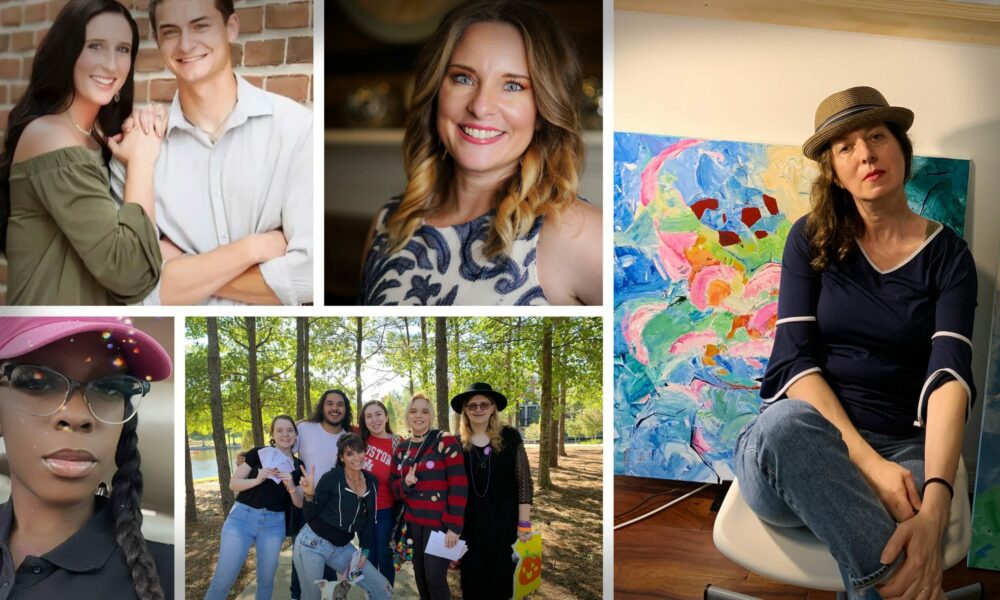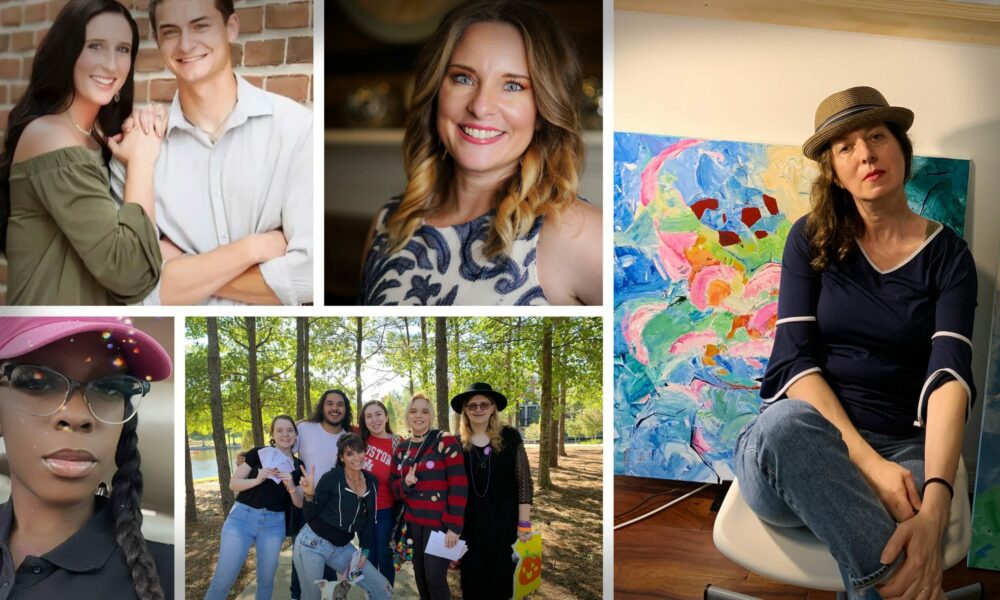 The heart of our mission at VoyageHouston is to find the amazing souls that breathe life into our city. In the recent weeks we've had the privilege to connect with some of the Houston's finest artists, creatives, entrepreneurs and rabble rousers and we can't begin to express how impressed we are with our city's incredibly deep talent pool. Check out rising stars from the Woodlands and surrounding areas below.
Blake Thompson

Over the past few years, I have known that I wanted to get involved in the real estate world somehow. I have worked for Spring Fire Department for 10 years and my schedule allows me a lot of time off to think about a second income that would help me build a legacy for my family. My wife and I have many friends who work in real estate and I knew that I would have my foot in the door with them as far as marketing goes. Read more>>
Silvia Felizia

My story starts in Argentina, where I was born and raised. I studied Graphic Design in Buenos Aires and worked in the industry as a freelance artist until the mid-nineties when my husband, our infant daughter, and I moved to Texas. It was a big change for all of us: a new language and new country, far from our family and friends. Our second daughter was born two years later, and I became a full-time mom who started self-educating in the visual arts. That was when I started to paint. Read more>>
Shannon Mosher

Inner Acceptance Therapy is a behavioral health outpatient private practice that offers counseling and therapy services to individuals, families, and couples. We hand-select our therapists and they undergo significant training in order to provide the best clinical service for our clients. What sets us apart from others is our therapists themselves, and our "peer review" meetings that we hold on a weekly basis. This is where all brains come together and work on building or revising treatment plans for our clients if necessary. This means that our clients have a collective team working behind the scenes to ensure their treatment is clinically effective and yields positive results in their life. Read more>>
Deaira Pearson

I've been managing clothing/shoe stores since the age of 16. Those jobs has taught me everything I needed to know about customer service, professionalism, patience, management, sales, payroll, communication skills, and so much more… as I've gotten older I wanted something different. I wanted a bank job, I didn't know what I wanted to do in the bank I just knew I wanted a more professional setting. I kept applying and getting turned down because I had no experience. Read more>>
Khawaja Azimuddin

I am a surgeon, author and Artist. Born in Pakistan, I moved to the United States for higher education in the surgical field and made Houston my home. I specialize in the field of colon and rectal surgery and am one of the very few board-certified colon surgeons in Houston performing advanced robotic colon surgery. As a child, I spent two years in a refugee camp. The conditions were harsh and food as well as clothing was sparce, but somehow, we survived. I wrote my experiences of these two years and you can find my story in my auto biography "The boy refugee: a memoir from a long-forgotten war". Read more>>
Chris Stephens

To say how I got started, was by no means planned out! From playing so many different sports from a young age through college, I guess one could say my passion for what I do was always there, Fast forward from 2013 to 2020 I became a supervisor for an infectious disease lab. Amongst family and friends it was a weird job choice, it was the only thing there was to do and stay employed during a major pandemic. Slowly things started to open up and football was coming back! A local minor league team owner had his eye on me for years wanting me to come play for his team.  Read more>>
Ciaran Jones

I should start by formally introducing myself, My name is Ciaran but you can call me CJ! My pronouns are They/Them and I just turned 30 this past May. I am a live stage Audio Engineer and in the process of finishing my Associates in Music. So how does somebody in this field end up running a Non-Profit that has nothing to do with music or sound? On September 18th 2018, The Woodlands held its first ever Pride festival. I was present as an Officer of Education for the LGBTQ College club Continuum. Read more>>
Latrina Piper

Life has a funny way of throwing curve balls at you. Growing up I wanted to be a general surgeon with every ounce of me, but that didn't work out for me. Even though I didn't make it as a surgeon, I did still find my way into the medical field. After I finished my schooling for being a MA, I found myself homeless with 4 kids under the age of 6. That was one of my lowest points of my life. They say when it rains it pours and it was pouring in my life. Even though I was faced with many trials and tribulations, I persuaded through and kept fighting.  Read more>>
Shameka D Jones

Let's see? Where did my love for helping people work through their finances began? In 2008, I started working for GMAC (General Motors Acceptance Corporation). I was promoted to Team manager within a year and this is when I first realized that I enjoyed helping people understand their finances. In 2009, I moved to Houston, Tx. and around the beginning of 2010, I started working for a company called ER Solutions as a collector and blew it out of the water! I learned what being a collector was all about, the good and the bad and my negotiation and sales skills grew as I learned my customers. Read more>>
Doimonque Leonard

Born and raised in Houston Texas, becoming an entrepreneur has always been a dream for me. Since school days I've always tried to start my own business. I tried many things that weren't as successful. as becoming an Herbalist to help women
naturally heal, all of our products are produced from natural herbs. I started my business with $100 bucks for a logo and business cards. Read more>>
Linda Thompson

I found my true love of textiles really blossomed when I first moved to Texas. I joined The Houston Area Fiber Artists and that is where I was introduced to the art of dyeing fabrics. I was already an accomplished sewer so putting the two together was a natural expression of my love of fiber. I have been doing this since the early 1990's and have had my work shown and sold in many venues overs the years. Currently, my most supportive Fiber Art Boutique is The Santa Fe Weaving Gallery in Santa Fe. They currently have a number of my latest creations. Read more>>
Kristi Delafuente

I am a first-generation college graduate from Sam Houston University! In my former life, I was a middle school pre-algebra teacher and volleyball coach for 4 years! In my last year of teaching, I obtained my real estate license with intention of using it for our own transactions… which I put to good use with 10+ moves in just 5 years. 
I am now the proud Broker/Owner of JNK Property Group! I was a teacher turned landlord, and self-managed our first investment that was a triplex in the Heights which we "house hacked." Read more>>
Brittany Keegan

In the summer of 2012, I was home for the summer from Business College & my sister and I were searching for a dog collar for my mom's dog for her birthday. We stumbled upon Etsy & couldn't find exactly what we were looking for. At the time the dog collar options online were 90% plastic buckles & cartoon/superhero-themed… which wasn't quite my mom's style. We found a polka dot option & ordered it, but when it arrived it was cheaply made & the wrong size was shipped. Read more>>