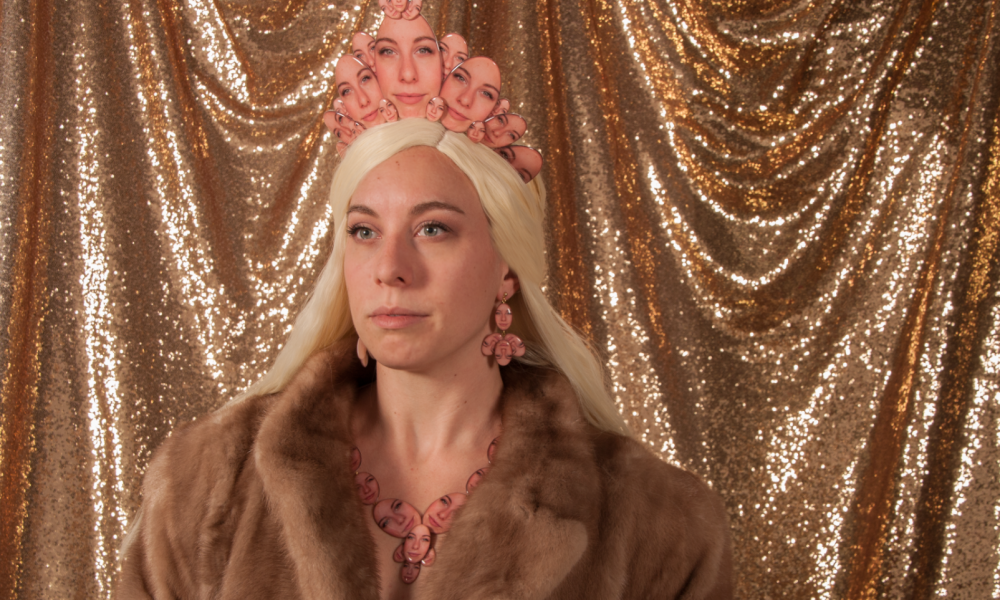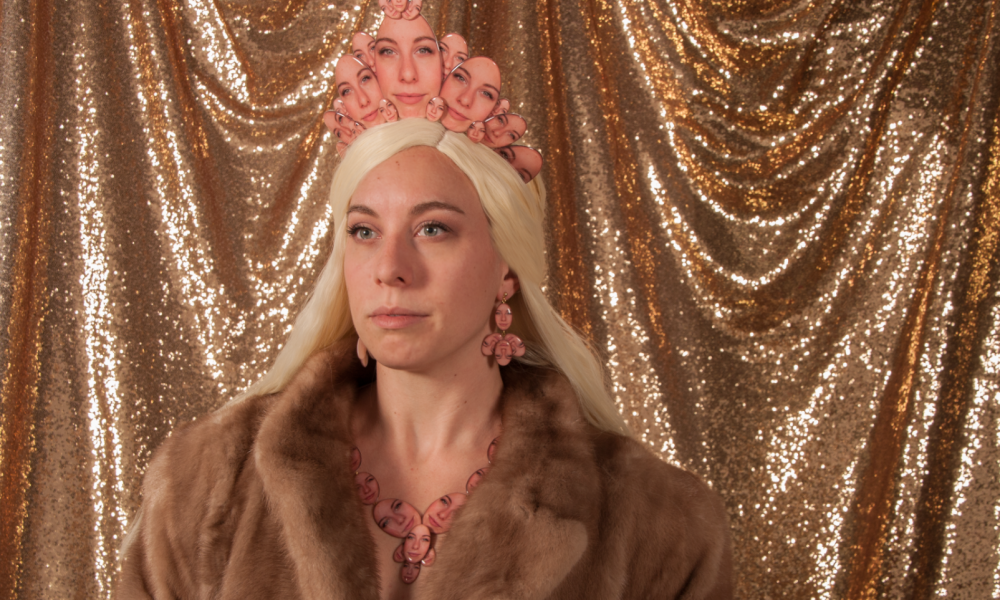 Today we'd like to introduce you to Eden Collins.
Eden, can you briefly walk us through your story – how you started and how you got to where you are today.
I grew up a long way away from here in West Branch, Michigan, a rural town full of farm fields and woods. I never thought I would become an artist. Well, that's not true. Five-year-old me declared proudly that I was going to be an artist to the usual response: "you'll never make any money doing that." Being from a rural town, I was around animals all the time, and so I wanted to become a veterinarian. I'll return to that.
My parents were both in medicine, but they were fabulously creative in their own ways. I think that's where it all really started. My mother was always coming up with things to do and say. When my sister and I were young, we would help her create these zany home videos, which looking back on it now, was performance art. My father was always coming up with strange words and stories. We'd talk to each other in a nonsense language like it was normal. I think being in that setting definitely pushed me off my originally planned trajectory.
Fast forward to my freshman year of undergrad, I'm enrolled in my pre-vet science classes and – on a bit of a whim – a sculpture class. In that class, I met Billy Mayer, the man that changed my life. In his course and under his mentorship, I learned what it meant to think for myself and to be courageous in my art-making. Thanks to him, I switched to an art major and decided it was okay to call myself an "artist." After I graduated, I took three years off of school, and when I couldn't stand another minute working in a cubicle in corporate, I started grad school at UTSA under the mentorship of Ken Little, a friend of Billy's. Ken taught me to listen to myself and to let myself laugh with my work. I'm a playful person, but I never gave myself permission to let my art be playful. Ken pushed me to break that bad habit. Now, my work is colorful, weird, and a little bit of this and that, which is exactly how I like it.
This semester, I started teaching Sculpture at Stephen F. Austin State University in Nacogdoches, TX, where I am sprinkling in a dash of strange here and there. I have to get the students warmed up to my version of weird. It's going to be fun. Prior to SFA, I was teaching at UTSA, and I was sad to say goodbye to my students, colleagues, and community, but I am excited to forge a new community here in Nacogdoches.
We're always bombarded by how great it is to pursue your passion, etc. – but we've spoken with enough people to know that it's not always easy. Overall, would you say things have been easy for you?
The road has been rather bumpy here and there with stretches of fresh pavement. When I finally switched to studying art full-time, I had a lot of catching up to do. Many of my classmates had been studying art for years, so I had an uphill battle to catch up with them. I also developed a healthy dose of imposter syndrome, which as much as I would like to say I have quelled the beast for good, it does like to rear its ugly head every so often.
I was lucky enough to have a supportive family. When I decided to pack my bags and leave the Midwest for Texas, I was terrified. I had never lived an entire day's drive away from my family before. Having their support was huge, and my colleagues in corporate were rooting for me too. It felt right to take the plunge.
Once in grad school, I had regular visits from the imposter syndrome beast telling me things like "you don't deserve to be here," "they were wrong to accept you," and "you made a mistake." All the nasty things we love to abuse ourselves with came into my head about once a semester, sometimes more often than that. What got me through it and still gets me through it is, to be frank with myself that I'm making things up. And if this happens to you as a new artist trying to begin your career or journey, know this: we all have these feelings, they are normal, and they go away. Talk to people you trust, get constructive feedback from people whose opinions you value, and learn to stand up for yourself and your art. I cannot stress that enough.
Being an artist is hard work. You will get feedback that stings, things will keep you up at night thinking about them, a comment in a critique might leave you confused for two weeks. All of that will happen, and we can do nothing to stop it. What we can do is to keep making art. Make, make, make. That's the one piece of advice I would give to anyone. Never let anyone stop you from making your art. If it feeds you in any way, be it psychologically, emotionally, then it is worth your time. Make, damnit!
What do you do, what do you specialize in, what are you known for, etc. What are you most proud of? What sets you apart from others?
I used to call myself a sculptor, but now I call myself an artist. My practice is interdisciplinary. I build objects, create installations, make photographs and videos, and perform. I work on a number of pieces at any given time, as I find I cannot work in succession. Each piece feeds the next on the convoluted train tracks that are my mind.
I have been working on a few different bodies of work that tie into each other but exist in semi-separate spheres from each other. My primary body I have been focusing on recently is a series of characters that I have been developing since 2017. Each character is a hyperbole of a piece of my personality, but they are autonomous individuals with lives beyond me. The characters are Giraffe (pronounced HER-affe) the Giraffe, a seductive dance instructor; Gary the Man, my masculine alter ego; Karen the Merkin Saleswoman, a housewife-turned-home party saleswoman; Anita Finger, the Bathtub Drag Queen, a drag queen whose stage is her tub; and the Opera Singer, who sings about all the banalities in life. I am in the process of developing the next character, the Texture Fiend, who is obsessed with their own sense of touch. I'm going to be building the Texture Fiend's home soon.
Each of the characters have lived in separate universes from each other, but I will be changing that soon. My plans for upcoming work involve them crashing into each other's lives. Gary is going to be performing a seductive dance routine for his girlfriend, which he learned from one of Giraffe the Giraffe's at-home workout DVDs (coming soon). The Texture Fiend will be a regular customer of Karen the Merkin Saleswoman. The Bathtub Drag Queen's pet wigs will be coming to life.
My family used to tell me that I was off on Planet Eden. I think that's where my work exists. Some quantum physics is going on and Planet Eden and Earth are now on the same plane.
Were there people and/or experiences you had in your childhood that you feel laid the foundation for your success?
Oh, absolutely. Like I said earlier, my parents and family were proponents of my art-making and entering an artistic field.
What I actually feel has set me up for success the most is learning a diverse span of things. I am grateful that I was not always intending to be an artist because it allowed me to study subjects I might have not pursued. I loved my science classes and in fact still get giddy when I explain to students how physics concepts relate to their art-making. I minored in history, spending part of my summer in Vienna in undergrad following modern Eastern European history. History has taught me how to be critical and understand hidden or latent biases of experts. It taught me empathy and how to better understand people who are part of a culture outside of my own. Science and math taught me to be curious and seek answers. Literature taught me how to understand the world through words when we inherently understand it through vision.
I have never been satisfied with doing one thing or being an expert in one thing. I would much rather be a master of none and have tried many things. I am in the process of learning ballroom dancing so that I can prepare for an upcoming performance. I am studying German. I am learning how to use a few software unfamiliar to me. I have to keep learning. Being curious above everything else is what has made me successful.
Contact Info:
Website: edencollins.com
Email: eden.a.collins@gmail.com
Instagram: @edencollins_art
Other: @eden_adriana_jewelry
Suggest a story: VoyageHouston is built on recommendations from the community; it's how we uncover hidden gems, so if you or someone you know deserves recognition please let us know here.