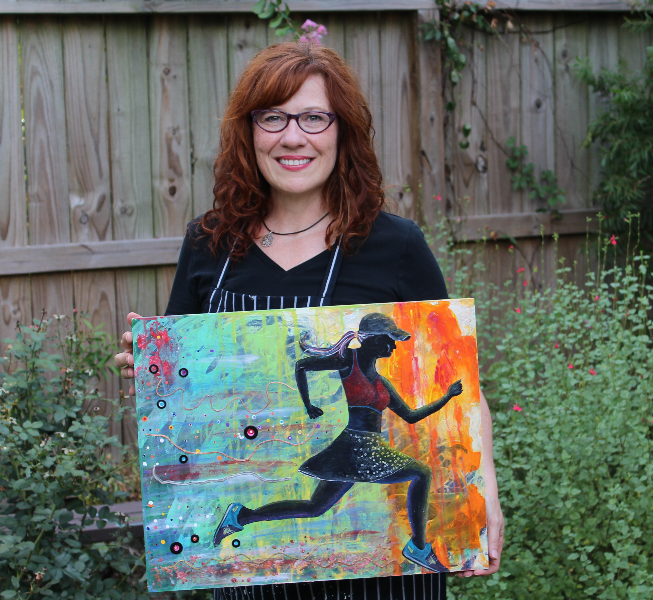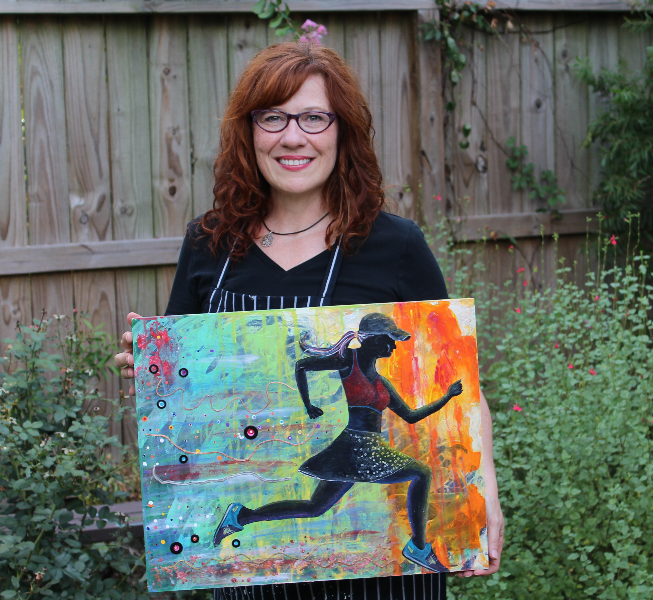 Today we'd like to introduce you to Holli May Thomas.
Holli May, please share your story with us. How did you get to where you are today?
I am a native Texan along with being a native Houstonian and had the great fortune to hail from a long gene pool of creative characters. I started drawing as a little girl and gravitated to oil paint as my chosen medium until landing in the mixed media harbor. During my late thirties, I learned construction techniques from my dad while remodeling a home. I had just gone through a painful divorce and feeling quite unsure of where I was headed. It was a difficult time in my life and my dad knew the exact right thing to do. He handed me a sledge hammer and told me to tear down the old fence in backyard. Demolition turned out to be the best therapy in the world.
I remember gazing at all of nails, screws and gate hardware in my hand and decided to incorporate the recycled pieces into my next painting. I still have that piece in my house and have a chuckle every time I pass it in the hallway. My hot mess moment started an entirely new journey disassembling other items such as broken appliances to locate more objects I could use in my productions. I find great pleasure in combining my painting ability with my picking ability. Fun but not so surprising fact about me – I have a celebrity crush on Mike from American Pickers.
My inspiration for pieces comes from adventure and activity. Giving my mind and hands a physical and mental workout in my art studio is my first love, but I have many more that serve as subject and theme jumping points in my artwork. If I am not painting and hammering then I am outside riding my bicycle, hiking a trail, fishing and wearing SPF 1000. I also love it when a client calls with a topic in mind and lets me run with it. Wrapping my brain around multiple topics at once and turning it into a cohesive visual is my specialty.
When asked what my goals are as an artist my response is that I want the viewer to experience joy when you see my pieces. I want you to be stimulated to greet another day on this side of the dirt with two thumbs up. I want you to run outside, yell HELL YEAH! then ride your bicycle and pop a wheelie. I hope that my energetic use of color and objects exemplifies that message.
I used to play an online game called World of Warcraft in a previous nerdy chapter of my life and Infraredhead was my character's name. She could throw fire and ride the wind. This is what I intend to do with my art and how I came up with my art studio name. Come join me!
Overall, has it been relatively smooth? If not, what were some of the struggles along the way?
It is never a smooth road, but I would say that the potholes and pit stops are what mold us into either a great human being or what ends up running us into the ground. I chose the former.
My advice to young women would be to seek mentors in your chosen field and to ask for advice and to emulate what they are doing. I struggled with this when I was younger because I never wanted to ask for help and insisted on doing everything on my own because of my pride and stubbornness. I was raised by a mother who told me that I could do anything and everything, but sometimes that must ask for help.
A piece of advice given to me when I was young was to avoid naysayers and negative people. This has served me well in life. Surrounding yourself with positive people spreads creative magic in the air.
Please tell us about InfraRedHead Art.
I am a mixed media artist who loves throwing paint and incorporating found objects in my work. I never shy from color and known for bright pieces. I am known for my assemblage art and paying great attention to detail. Hiding little treasures for the viewer to discover in an "ah-ha!" moment is a great delight.
Two of my most favorite topics to paint and create would be paintings of empowered women and bicycles. I love painting women because I have been surrounded by strong females all of my life. The majority of the females I paint are in bright colors and in abstract terms because this is what experienced growing up in Houston and one of the many things that makes me loves this city. I want to present women of all nationalities in a positive and powerful light.
About bicycles – I know it is a strange subject choice for a woman of my age but I have been in love with bicycles since I learned to ride one when I was six or seven. I felt freedom from the moment I started pedaling and haven't stopped nor do I intend to! Seriously, who isn't happy when riding a bike?
I am most proud of bringing a smile to someone's face through my artwork. It is a thrill whenever someone sees my artwork in person and says the word "YES" out loud. I love when my art serves as a conversation starter or a form of motivation for change.
Often it feels as if the media, by and large, is only focused on the obstacles faced by women, but we feel it's important to also look for the opportunities. In your view, are there opportunities that you see that women are particularly well positioned for?
I am a retired public high school teacher and felt that it was a great opportunity to mold the future and serve as a good role model. I wouldn't trade my years in teaching for anything and have treasured watching my former students succeed in life. It is one of the most difficult and rewarding of professions. I have certainly enjoyed watching some of my former female students start their own ventures and it has been a thrill.
Contact Info:
Getting in touch: VoyageHouston is built on recommendations from the community; it's how we uncover hidden gems, so if you know someone who deserves recognition please let us know here.