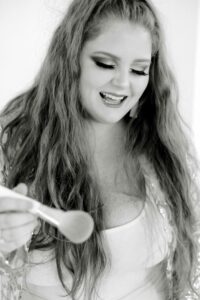 Today we'd like to introduce you to Katelyn Minton.
Alright, so thank you so much for sharing your story and insight with our readers. To kick things off, can you tell us a bit about how you got started?
Well, let me just start by saying, I most definitely knew nothing about makeup back in high school. I think the most I wore was face powder and mascara! It all started back in 2017. I had just moved into an apartment with 2 of my high school best friends. I actually moved in with 0 furniture and started out sleeping on an air mattress.
I remember it was one day after work, I came across a YouTube video of a Jaclyn Hill makeup tutorial… when I tell you I didn't even know makeup tutorials/beauty influencers were a thing then I'm being 100% serious haha! After watching the tutorial I was completely blown away! Who would have known you could do so much with makeup?! The first piece of furniture I had bought was a vanity so I could sit and start learning all about makeup. I sat at that vanity every morning until I had to go to work learning all the different techniques. I think at one point my face became raw from all the makeup I kept putting on and taking off. I did this every day for about a year.
After the first year, I had my first wedding in 2018 (with no intentions of ever touching the wedding industry) for someone that knew me from word of mouth. I wouldn't say it was my best wedding yet, but it was a good first experience…. A lot of learning opportunities to know what I needed to prepare for in the wedding industry. 2018 was a slow year for me all in all. I think that year was my biggest year of growth. I would practice a lot on my friends, myself, family etc. The techniques were continuously evolving over time so I was constantly making sure my work was "in style". I hit a few road bumps 2018-2019 because I was also working for Chick Fil A. I had started at Chick Fil A in 2012, well before I started doing makeup.
I built myself up into leadership and by that time I was a senior director at my location. A lot of responsibility came with that position and a lot of time spent at work every day… there wasn't really much time for me to spend building any kind of business for my makeup. I knew in my heart makeup was what I wanted to achieve as a long term career. As much as I loved Chick Fil A, makeup had my whole heart. I ended up taking a great opportunity that kind of fell in my lap at the time (I like to say God definitely heard my prayers) but the Chick Fil A inside of the ExxonMobil Headquarters campus had reached out to me asking if I'd like the GM position. It was the exact schedule I was looking for, the pay was better AND benefits. I snagged that job as quickly as I could without hesitating.
Thank God I took that job, because I'm more busy since than I have ever been thanks to my new flexible schedule. I've grown so much in the last 4 years. With all the trials and chaos 2020 had created for everyone, that was probably my best year. It helped me so much for the upcoming year of 2021.
Now, I can't seem to stop doing makeup! Which is so amazing, so amazing that I am able to officially and finally be a full time self-employed makeup artist! I believe in myself and honestly, 4 years has flown by with so much that has already happened for me and my business… I can't wait to see what the next 4 years has in store for me on this new journey!
Can you talk to us a bit about the challenges and lessons you've learned along the way. Looking back would you say it's been easy or smooth in retrospect?
My biggest obstacle/challenge would be my full time job I've had to maintain since I began doing makeup. Where I'm at right now with my makeup business has grown so much and it only continues to grow. Being a boss at my day to day job then coming home to be a my own boss can definitely be exhausting. I've had moments where my interest in makeup can completely go away… it suddenly just feels like another job.
That's never what I anticipated happening, but to know I'm in that stage of my life where all I do is "work" is truly a blessing more than a curse. I try to remind myself in those moments that it would be more of a problem if I wasn't busy. If I only felt the pressure coming from my other job. It means I'm getting business and people are interested in what I have to offer!
Thanks for sharing that. So, maybe next you can tell us a bit more about your work?
I'm a freelance makeup artist that specializes in traditional makeup only. I started out doing one on one appointments for special events aka birthday, engagements, bridal showers, prom, homecoming etc. After the first 2 years, I began to take on the wedding industry because word of mouth did me wonders. I never planned on starting in the wedding industry because my makeup was more on the creative/artistic side.
I loved the different colors, textures, designs, shades, blending, it all interests me. Where as wedding makeup was a lot more neutral, glowy and natural. After my first round of weddings with people recommending me from everywhere, I couldn't stop. I absolutely loved the thrill of being a part of someone's most special day. That is what I will say sets me apart from a lot of makeup artist/groups I see. Of course, this is people's livelihoods and way of living, so this industry can most certainly become pricey. I think for me though is, how much are you invested into your clients?
At the end of the day, mostly everyone will end up paying without hesitation. It's the approach or the way you communicate with them that speaks louder to them. Working at Chick Fil A has helped me so much in this aspect because one of our biggest models is, don't treat the customer like another transaction. Same goes for the makeup industry, don't treat your client like another contract. If there are questions/concerns they want to go over then I'm absolutely going to go over those with them. Other than that, it's all about going the extra mile to make sure the service you're providing is exactly what they're looking for.
Is there anything else you'd like to share with our readers?
When searching for the vendor that you want to be a part of your special day, make sure that vendor is all about you and what you want. Contracts and pricing can get in the way of separating personal interactions and making another transaction. There are vendors that want to make your day special because they're passionate in what they do. Everyone wants the experience of confidence to remember, not regret.
I have partnered with an old friend of mine that has also been in the hair industry for 10 years and we have officially started our HMU company named Blush and Brush co. We are happy to announce it first launched early August of 2021 and have already had so much traction with weddings in the next 2 years.
Pricing:
$120.00 for Bride
$90.00 for Bridal Party
$45 for Flower Girl
$85 for Event/Photoshoot Makeup
$85 for Bride Trial
Contact Info:
Email: kmintonmakeup@gmail.com
Website: www.blushandbrushco.com
Instagram: km.makeupartistry
Facebook: KM Makeup Artistry

Image Credits
Photos x PHX
The Rosemary Hen Photography
Raxon Leigh Photography
JessicaGoldPhoto
Suggest a Story:
 VoyageHouston is built on recommendations from the community; it's how we uncover hidden gems, so if you or someone you know deserves recognition please let us know 
here.