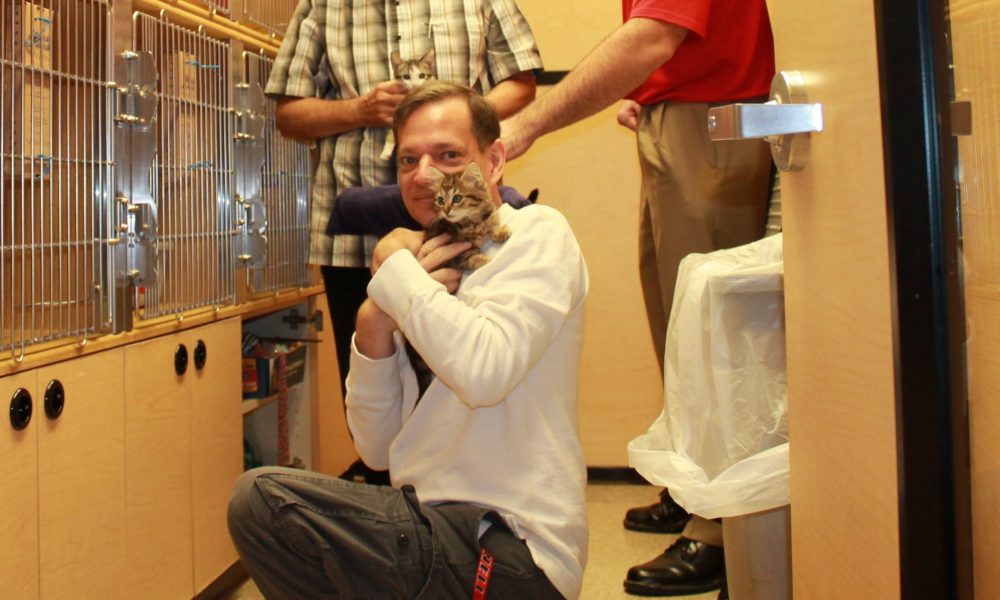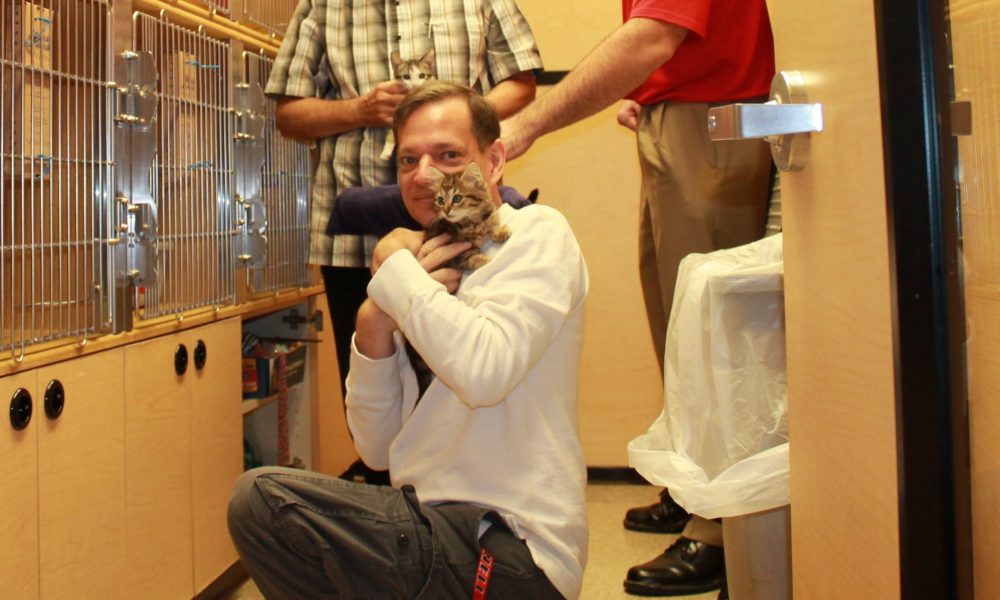 Today we'd like to introduce you to Aaron Gillette.
So, before we jump into specific questions about the business, why don't you give us some details about you and your story.
While in Spain in June 2015, I was very disturbed by seeing uncared for, sick and mistreated cats. The next month, I went to Ithaca, New York, which has an excellent animal shelter program, and Cornell University, also in Ithaca, is at the forefront of animal shelter medicine. There I had the idea of mobilizing the students at my university to go out into the Houston community and help cats and dogs, primarily by volunteering at Houston-area animal shelters which espouse the "no-kill" philosophy. This is the idea that no cat or dog should be euthanized, unless they are too ill to live comfortably, or incurably violent in behavior.
I was amazed at how receptive the university and the students were. The club quickly grew to over 100 members, and the university provided us with all generous funding and assistance. Among our usual activities is a "pet-a-pet" each semester. This is held at the end of the semester, when students are particularly anxious or stressed about finishing coursework and taking exams. We bring kittens and puppies to school for students (and faculty and staff!) to play with, and hopefully adopt. The event is wildly successful: our last, on November 29, attracted 315 participants. We also hold "all-member" volunteer events, when we help out a particular shelter for one of their important events. Finally, all club members must demonstrate that they have fulfilled at least five hours of volunteer work at a shelter each semester.
So far, we have worked most closely with Houston Pets Alive and BARC (the city of Houston's Animal Shelter and Adoption Facility). Two years ago, we hosted, along with Houston Pets Alive, a Houston-area conference on animal welfare, which attracted about eighty representatives from about one dozen local animal welfare organizations and shelters. The University of Houston Downtown funded the entire conference.
The university also generally funds several club officers and faculty advisors to attend a state or national animal welfare conference each year. In 2018, we will be going to annual Texas Unites for Animals Conference to give a presentation on "How to Start an Animal Rescue Club."
Overall, has it been relatively smooth? If not, what were some of the struggles along the way?
We have had a number of obstacles to overcome. We found that the traditional officer structure, with "President–VP–Secretary-Treasurer" doesn't work well with young adults as we approach the third decade of the twenty-first century. Rather, we have a president, a vice president, and team leaders who manage teams dealing with social media, graphic design, new member outreach, volunteer coordination, and event management. In this way, we are able to spread around the work, while also appealing to students who have majors related to one of those categories (such as marketing or graphic arts). We tell the students that there is nothing wrong with highlighting their work-related accomplishments through our animal rescue club when applying for a job.
We also found that it is very helpful to have a major social event each semester. By tradition now, we have a Halloween Party in the fall and a Valentine's Day Party in the spring. This helps members bond with one another, and reminds them that volunteering to rescue animals should be a fun experience, even though it is serious and sometimes disheartening work. I realized that I could not do all the work organizing the club myself. Therefore I recruited another faculty co-advisor, who tends to take on certain responsibilities while I do others. This has made a world of difference in allowing me to devote necessary time to my other university duties.
Perhaps most importantly, I learned that the students need to always be front and center, and make the decisions. At first, I attempted to keep tight control over the fledgling club, and tended to be its "face." However, at one animal welfare conference, one of the speakers said, "followers don't follow the leader, they follow the other followers." At that moment, I realized that I had to become almost invisible, helping the officers manage the club from "behind the scenes." With students very visibly leading the club, membership greatly increased. One of my most satisfying moments in this regard is when at one event a club member had no idea who I was, or that I was even connected to the club.
I still manage some of the club-university and club-outside organization contacts, attend executive meetings, and make suggestions. I also help out with some of the club events, and go to those I am invited to (which isn't all of them!).
We have also realized that we can't do everything. We now try to follow a particular event cycle each semester: one or two recruitment events, a party, and several all-member events help acclimate new members to the club, and help them make friends with other club members. This substantially increases the likelihood that they will become active volunteers at a shelter on their own. They often become regular volunteers with one of the organizations they were introduced to during an "all-member" club volunteer event.
Not only does the "event cycle" help integrate new members into the club, it also facilitates successful events in general. Event managers and assistants usually know what to do when putting on one of these events, since they have done it (or learned how to do it) the previous semester. It also allows us to reuse decorations and equipment, and so cuts down on preparation time and expenses.
We continue to struggle with one of our most important goals: to help start "sister clubs" at other local universities (or perhaps also high schools). But we have not yet found a "formula" for getting sister clubs off the ground. We know it requires a number of "insiders," including interested faculty members and students, and we know they exist, we just don't know how to find them and get them excited by envisioning the good they could accomplish for the animal rescue community. We imagine that the more we "get the word out" about the animal rescue club idea, the more likely it will be that potentially interested faculty and students elsewhere will hear about us. If we could do so, we would in effect be greatly multiplying our own efforts to help our local homeless and shelter cats and dogs, and therefore make our community a better place to live in.
It's our dream that clubs like ours could be established at colleges throughout the United States, helping their own local animal welfare communities and making a substantial impact on improving animal welfare throughout the country. After all, although we are dedicated to the Houston community, we don't have any less compassion for cats and dogs in need from Florida, or California, or anywhere else.
Alright – so let's talk business. Tell us about University of Houston-Downtown Animal Rescue Club – what should we know?
We are one of the very few college animal rescue clubs in the United States. The idea for such a club seems so obvious, and yet for some reason, they just don't exist. We make sure to keep focused: we aren't an animal adoption organization, or go out on our own to rescue cats and dogs off the streets, or delve into international animal welfare issues: we help established shelters and similar organizations do their rescue work. They are the experts, not us, and they have the necessary resources.
We're most proud of the fact that there were students who had pets, but never thought to volunteer to help out other cats and dogs. But perhaps they came to one of our pet-a-pets, or met a member, and got intrigued, and eventually even passionately devoted to helping out other animals who were less fortunate than their own. This happened to one of our former members who has since graduated, for example. He now works professionally for an animal shelter.
Any shoutouts? Who else deserves credit in this story – who has played a meaningful role?
First, the poor cats I saw in Spain deserve credit for inspiring me. After them, no one has helped get the club established more than Andrea Bircklebach, the founder and executive director of Houston Pets Alive. Her energy, charisma, organizational ability, and dedication to animal welfare is amazing. I once told her that people must meet a true "saint" very seldom in their lives, and I had finally met one when I met her.
She does everything and anything she can to help us. I also couldn't advise the club successfully without my co-advisor, Dr. Joe Davey, another history professor at UHD. Joe knows how to get things done, and does them, period. And there are at least a dozen faculty and staff at UHD who really go out of their way to help out the club and its mission. The University of Houston-Downtown has won awards for its community service efforts, and that has shaped the whole nature of our university.
Contact Info:
Getting in touch: VoyageHouston is built on recommendations from the community; it's how we uncover hidden gems, so if you know someone who deserves recognition please let us know here.