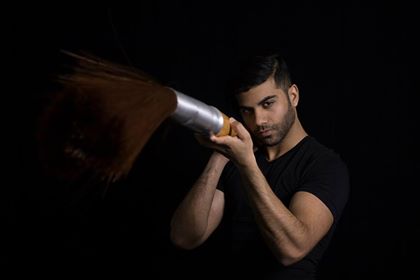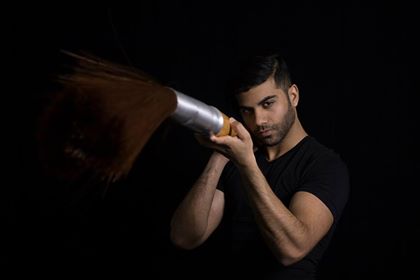 Today we'd like to introduce you to Adam Elara.
Every artist has a unique story. Can you briefly walk us through yours?
Yeah definitely, I started playing guitar in punk bands and screaming in metal bands in high school when I lived in California. Once I moved to Houston I toured with an alt-rock band briefly and got kicked out for being a diva, they disbanded shortly after and all hold respectable day jobs now. I always hear of kids inheriting music from their parents or banging on pots and pans as children, but I just learned through curiosity on YouTube and online forums. I feel like I have an interesting perspective because I tend to say things in public that make people drop their jaws or laugh a lot. I grew up in a pretty restrictive setting with cultural and religious obligations that made the expression of individuality or even music in general a taboo. As a result, I've had to do a lot of self-learning.
Please tell us about your art.
I feel like all art is the same thing to me and just a different way of going about it. I started off by drawing and painting, then acting in plays at school, eventually leading up to me playing music, and now runway modeling. So, I still do all of those things, the real art now is managing the time to do all of them. I guess I make stuff because growing up in the states as a brown dude, I didn't really see people who looked like me doing the things I thought were cool: acting, music, and art in general. The only reference I had was something hilarious like Bollywood, which wasn't something that I really connected to or thought was at all good. I was just thinking "man it'd be cool to hear a song or watch a movie that made me feel a type of way about the stuff I go through or experience." There's not, so I'm doing it, All the art I do is either pure fantasy or super autobiographical, sometimes a mixture. From every weird perspective I have on things whether it's my ancestry, being a vegan, straight edge, religious dissent, or thinking that nails on a chalkboard is the best sound ever in existence. I hope I can bring others to do the same so I'm novelty anymore and maybe I'll get by on merit vs a checkmark on a diversity counter.
As an artist, how do you define success and what quality or characteristic do you feel is essential to success as an artist?
I'd say success for me is going to be that day I can help myself, my family, and the community at large once the royalties from my music that we mentioned a great strategy on how to acquire in the last question reach a significant level. Honestly, it's not really money related because if that sort of materialistic mindset was the only thing driving this operation, I would have picked something else, or just done what my parents suggested. Instead, I chose a path that has a high upfront cost, low-profit margin, and little chance of success, not exactly a wise business move. So really the success is going to be finding that thing that makes you different from everyone else, being really good at expressing in a way that connects with everyone else, but still makes them feel as different as you, and then make a lot of money or something.
How or where can people see your work? How can people support your work?
I'm on all the things like Spotify, Tidal, Apple Music, and YouTube. I'm pretty active on Instagram. Just look up "Adam Elara" and find the pissed off looking semi-attractive brown guy with a guitar. I would suggest going to my website and buying some cool merch, but that's really for your benefit because I make great things. Come to one of my shows, but again your benefit because I am very entertaining as a live performer. The only selfish thing I could say is, put my music on loop on your Spotify right before you go to bed, you can put it on mute so you aren't benefitting from the amazing sound of my music but directly adding royalties to my pocket. I feel like that's pretty comprehensive. I'm working on a new EP right now, so make sure to loop that once it drops please.
Contact Info:

Image Credit:
(Austin Miller)
(Opia Photography)
(Daniel Hernandez)
(Caspia Jade Schwartz)
Getting in touch: VoyageHouston is built on recommendations from the community; it's how we uncover hidden gems, so if you know someone who deserves recognition please let us know here.