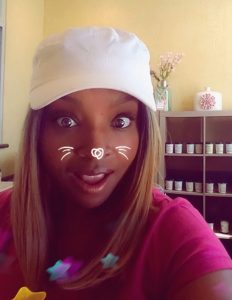 Today we'd like to introduce you to Keisha Ash.
Keisha, please share your story with us. How did you get to where you are today?
I'm the owner of Agapé Candle Company in Houston, TX. From early childhood years, I have always had a selfish fetish for candles. It was so hard for me to go into a store and not visit the candle isle (that still holds true today). In my adult years, my home became a wax museum, literally, with shelves decorated with innumerable candles. From new and old; used and unused, my home was a repository for exclusive molds of perfumed wax!
More often than not, the candles that crossed my path were the opposite of my expectations. They either weren't as strongly scented as I liked, the fragrances were not true to scent or after a few days the fragrance just died out. Plus, I begin to realized the dangers that lurk in some candles. So, in 2013 I started researching and learning how to make candles. I was a woman on a mission. I experimented with various natural waxes, oils and other ingredients. Before I knew it I was creating candles I absolutely loved. The more I gifted friends and co-workers with my creations, the more I heard, "Keisha, you have to sell these. People would love your candles". Candle making was something I was passionate about, but at the time it was just a hobby. It was relaxing, calming and rejuvenating. I found tranquility in making candles.
In early 2016, God have me a word. "If you start a candle business, I will bless it," said the Lord. I've always wanted to start my own business to create financial stability for my family and leave a legacy for my children, but I never thought of converting my hobby into a business! Are you kidding me? But I believed God and took a leap of faith. While still working a fulltime job, Agapé Candle Company was born!
In October of 2016, after 15 years of dedication to the State of Texas I was laid off from my job. Wow! I was catapulted into a fulltime business.
​
Our 3-in-1 lotion & massage candles were the first products to be launched under the Agapé Candle Company brand, but my passion wouldn't allow me to just stop with candles (did I mention how much I love fragrance and body care products). Over time our brand has evolved to include a limited, yet growing line of bath and body care products that offers a relaxing, aromatic home spa experience.
Since our first day in business we've I've dedicated myself to bringing the best selection of products to our customers.
Great, so let's dig a little deeper into the story – has it been an easy path overall and if not, what were the challenges you've had to overcome?
OMGosh, I am not sure how I want to answer that question. I would be lying if I said no, but at the same token, I have been blessed to achieve some things it takes other businesses years to achieve.
I was blessed with some store space about three months after I was laid off. The store space was very small. I didn't even have enough room to make my candles. It was not what I imagined for my first storefront, but I wasn't going to despise my small beginnings. While this meant I would have to go home every night to replenish products which would either impact my time with my family or have we up during the wee hours of the night pouring candles, but I was ready to rock and roll! Man was I excited! In my mind, there was no doubt I could handle it; but running a business is hard work. Even harder having to do everything myself (designing and printing my own labels, marketing, pouring candle, designing new fragrances, researching, packaging, shipping, opening and closing a store, cooking, cleaning house, helping kids with homework, serting up and presenting at markets…I can keep going). However, I must acknowledge my husband who gives me emince moral support, valuable marketing and sales support made it much more feasible to obtain the level of success I have achieved up to this point. Needless to say, it was more work than I imagined. I became overwhelmed. After a year and a half, I transitioned back to my home, made some changes, and we are still moving forward.
Some of my biggest issues have been finding my process, handling growth, finding balance between work, family and faith, sorting through and finding time to implement ideas, learning to be creative using social media and etc. You know…the normal growing pains.
Things may sound pretty grim and rocky, but over-all I think that I've had it pretty good. I feel like learned some valuable lessons, made some solid decisions and learned to accept. Now that I've learned how to ask for help, I've had some incredible help and support from family (special shout out to my daughter, VictorYah, my mom and Miquel). Most importantly, nothing compares to peace, joy and purpose find in what I love doing.
Today I am finding much joy in this journey! I love what I do and look forward to every day.
Please tell us about Agapé Candle Company.
Agapé Candle Company is a lifestyle candle brand with benefits. We specialize in hand poured, natural lotion & massage candles designed to offer you a 'trifecta experience' that will not only bring your home to life with beautiful ambience and aromas but also nourish your body. That's right! Our candles are 3-in-1. It's a candle, you may use the solid wax as a moisturizing balm and when liquified it transforms into a warm massage oil. Wrapped in His Agapé love each candle will stimulate a unique experience that appeals to the body, mind, and spirit. It's not your ordinary candle. It's a candle with purpose!
Our candles come in stylish packaging with an inspirational message that will compliment any space. They offer an amazing scent throw, yet they are gentle enough for the body. Each candle is hand poured in small batches using cotton wicks, skin safe and non-toxic fragrances and a special soy wax infused with or proprietary blend of natural moisturizing and nourishing ingredients. We are not medical professionals nor we lay claim to any healing properties. Yet, our candles have been known to help protect and moisturize the skin, soothe psoriasis, rosacea, eczema, sunburns, minimize stretch marks, moisturize dry cuticles and chapped skin when used as a moisturizing balm.
We offer something for everyone and special occasions:
* We customization for personal gifting, party & wedding favors, customer appreciation, and marketing.
* We offer our customers the opportunity to design their own fragrance. Customers may select up to three fragrances to customize their own personal fragrance.
* We offer fragrance branding for retailers, businesses, hotels, apartments and etc. which helps to help increase a customer's remembrance of their brand through the power of fragrance.
* We offer a home fragrancing service in which we meet with our customers in the privacy of their home to help create customized fragrances for their home to help give each space the desired ambience.
In addition to our beautiful line of candles, we offer limited edition organic bath and body products such as sugar scrubs, whipped shea butter, foaming bath fizz, seasonal soaps, and the list is growing.
My focus is to provide our customers with eco-friendly, high-quality products, superior customer care and a memorable experience.
While we are a Christian based company, we do not attempt to impose our faith on anyone. Yet I strongly believe that an inspirational message can brighten anyone's day.
Do you look back particularly fondly on any memories from childhood?
HHHMMMMM, my favorite childhood memories. There are many, but a few stand out.
One of my favorite memories is helping my great-grandmother bake. She made every thing from scratch, She made donuts, brownies, blueberry cobbler, blueberry dumplings, peach cobbler, rice pudding, bread pudding, lemon meringue pie…even egg custard. You name it, she could make it! I remember how the aroma of the rising yeast, caramelized peaches, buttered crust, cinnamon, nutmeg, chocolate and vanilla extract will fill the home and burst through the doors to the point where the neighbors would come over just to see what she was cooking. Not only did she teach me how to bake from scratch, but she also helped to develop a strong faith and the good morals I live by today.
I also remember times spent shopping at the with my mother, laying in her bed just to be in her presence (I still do that today), her chasing my siblings and I through the park on in the backyard. Every experience I have with my mother (and siblings) are memorable.
I remember times I spent riding on the back of my daddy's motorcycle…the open road, the smell of the great outdoors, the feeling of freedom as the wind blew through my hair and graced my body, the fear that I felt as he turned the curves, the peace and comfort I felt as I held on him….then those darn bugs that would sometimes slap me in the face (UGH!). LOL! Those were the days.
Pricing:
Lotion & Massage Candles – $15 to $35
Sugar Scrubs – $12 to $16
Whipped Shea Butter – $15 to $22
Foaming Bath Fizz – $10 to $15
Aroma Spray – $6 to $9
Contact Info:
Suggest a story: VoyageHouston is built on recommendations from the community; it's how we uncover hidden gems, so if you or someone you know deserves recognition please let us know here.