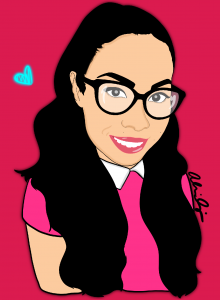 Today we'd like to introduce you to Alyssia Aguilar.
So, before we jump into specific questions, why don't you give us some details about you and your story.
During high school, I was really into fashion design and wanted to work in the world of fashion. I had always drawn and practiced my styling techniques thru online contests and apps like Polyvore. My first win was for an international company named Novero. They were launching a new luxury bluetooth collection and asked for designers to pair a fashion look with one of their pieces from the collection.
I was their grand prize winner, which allowed me to go to NYC for their launch party and fashion event. I was able to meet the CEO of the company and mingle with other company representatives and guests. That was my first taste of an actual fashion event and I was hooked!
I proceeded to get my degree in Fashion Design and Merchandising, which led right after to an internship in NYC. I was living in NYC for a summer internship and got to experience so much that made me love the fashion industry. When I returned home I was 19 and started to work retail, and grew into a wedding stylist and personal stylist. After gaining clients and creating a name for myself I became really involved in networking and attending events to build my circle of network and figure out how to brand myself as an entrepreneur.
While this was all happening on my own, I was also falling in love. My husband and I got married and led me to move to the beautiful city of Houston. We soon started to grow our family, and I decided to stay at home and be a full-time wife and mommy. During our second pregnancy is when art became my passion again. We were pregnant with twins and at 25 weeks gestation we went into pre-term labor. Our twins were born as micro-preemies both weighing 1lb 14 oz each. Our journey began in the NICU and opened our eyes to the many families who are daily struggling with the unknown outcomes that may happen from minute to minute.
Being an artist, I created so many little designs to hang up by our twins' bedsides. I noticed that other children's spaces were not decorated quite like ours. It dawned on me that some weren't as creative and this was a great way to give back. So, I started to donate artwork at the front desk and parents would have the opportunity to pick and choose whatever they wanted for their little ones. This gave me purpose to make others feel happy and bring me joy thru a very scary time in our lives. At 16 days old our son, Mark Anthony II became ill and passed away from Sepsis.
As parents we were so broken and didn't understand why. However, we still had their big sister at home and Baby sister in the NICU. We had to decide as a couple to keep going. To help each other stay strong and push thru TOGETHER. My husband Mark and I really would not have gotten thru this without each other and the support of our families, friends and NICU nursing staff. My giveback art was my way of keeping myself busy and helped me tremendously thru our loss. It made me feel good to give back and continue even now in honor of our son who passed.
One night I started to look online and came across The Houston Latina Bloggers page. I was so inspired by their commitment towards one another and loved the empowerment of being Latina. I created art that was inspired by the group and sent it over. I unknowingly created a door that was about to open new opportunities. Connie (the founder of HLB) reached out to me and was so excited about the graphic I created that she wanted to use it as their logo. I was honored and shocked at how much she loved it. Thanks to Connie and the Houston Latina Bloggers, I was able to create my company, "The Lofty Mom".
The Lofty Mom started as a blog which shares our story of loss and triumph. It also has resources for other families who are also struggling thru loss or are in the NICU. My blog also has a way to request NICU art for your child at no cost. I also have teamed up with Sepsis Alliance who strives to teach families about Sepsis and how to help prevent it. I donated artwork in honor of our son, Mark Anthony II to help teach children about Sepsis during Sepsis Pediatric Week. I believe that my gift is not just for myself to utilize as a small business owner but to also share and give back to those who are in need. My art is purposed to inspire, and if I am able to do that by giving back then I feel blessed to do so.
As an Illustration artist, I have been able to create logos, flyers, t-shirt designs, social media content, stickers, and more. I have been able to work with small business owners, bloggers, and other creatives to help design work for their brand and image. I have also worked with people in California and now currently working with someone in China. I have no limitations to who I can reach and it feels amazing to be able to create and work with others all over the globe.
Overall, has it been relatively smooth? If not, what were some of the struggles along the way?
Oh Lord knows there has been so many struggles along the way. However, he has shown me his grace time and time again. Being a small business owner you learn as you go. You have some great clients, some that are harder to please, some that ghost you and don't ever follow back up. So there is always a learning period that has to happen in order to create a business structure for yourself. It's also a learning period to understand the business itself and make sure you learn the programs and latest techniques.
The other side is also being a full-time wife and mommy. I work from home, and so my family will always come first. The girls are growing and we are learning daily new things about them and their needs. They both have delays and special needs that we work on for their developmental success. So being able to balance all roles of my life, and still inspire myself to work and create is always changing.
Please tell us about The Lofty Mom.
The Lofty Mom is many things but I specialize in graphic design and illustration art. I have clients come to me with ideas for a logo for their brand and some who come to me with no ideas but with passions. Thru their ideas and passions I am able to create a design that tells a story which captivates potential clients and followers.
I am known for my bright colored images that I design for fun on my Instagram account. I also sell fun stickers and small art designs for anyone!
One of my methods as a creative designer is to give creative freedom. A lot of graphic designers will really limit the designs and options to a client. I offer unlimited revisions. The reason why? Because allowing us the freedom to create will give myself and my client the opportunity to test ideas. I don't ever want a client to feel pressured or feel unsure because they have an idea in mind and never saw it come to life. So I allow their ideas to be shown first and sometimes it's not what they like in the end, so it allows us to create from scratch again and allowing me to give direction in the creative process. Communication is huge in my process and that's the only way we will be able to finish a design if both parties are collectively creating.
That is what I am most proud of as a designer, because I love to create and some may say that it's too much "work" to keep creating over and over, but again I do this to inspire others and at the end of the day this is their image to own and be proud of. So I truly strive to make every client happy and surpass their ideas to an amazing image.
If you had to go back in time and start over, would you have done anything differently?
Being an entrepreneur is all about learning lessons and figuring out what works best for your business. I would definitely not work for free. When I first started, I was so excited to create and start. So when people would reach out, I would instantly start a design because I was inspired and wanted to show them what I was thinking. After I would reach out with my design ideas, sometimes they would "ghost" me or they say they weren't ready yet. Which would mean I did work and didn't get paid. So now I do things differently and it not only allows me to protect my creativity and time but also offers my clients structure and professionalism of what they will be getting.
Pricing:
Logo Designs start at $75
Custom Character Illustration $75
Custom Sticker Sheet (Includes: 6 designs + two 4×6 sticker sheets on matte paper) $50
Contact Info:
Getting in touch: VoyageHouston is built on recommendations from the community; it's how we uncover hidden gems, so if you know someone who deserves recognition please let us know here.