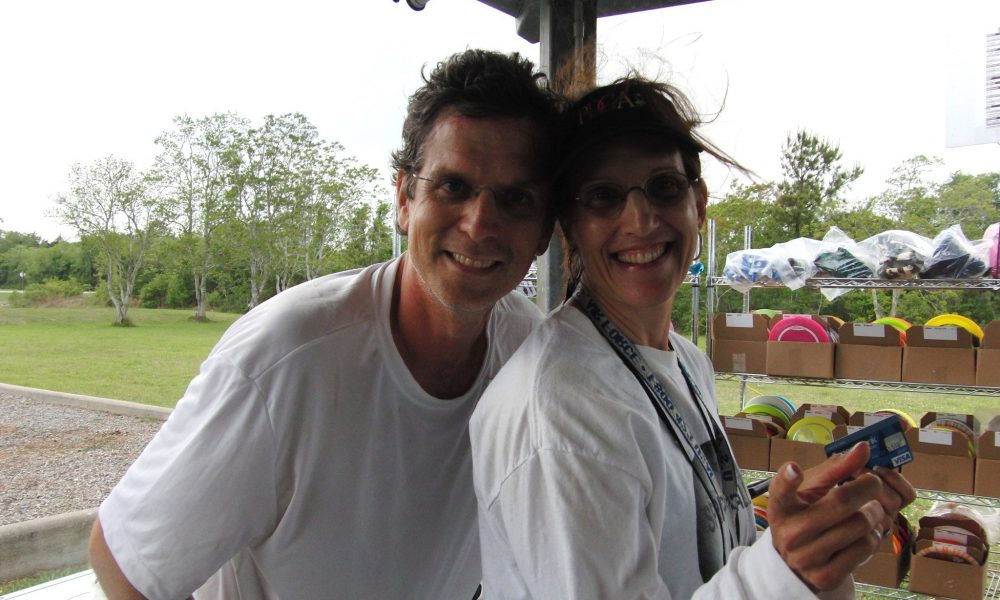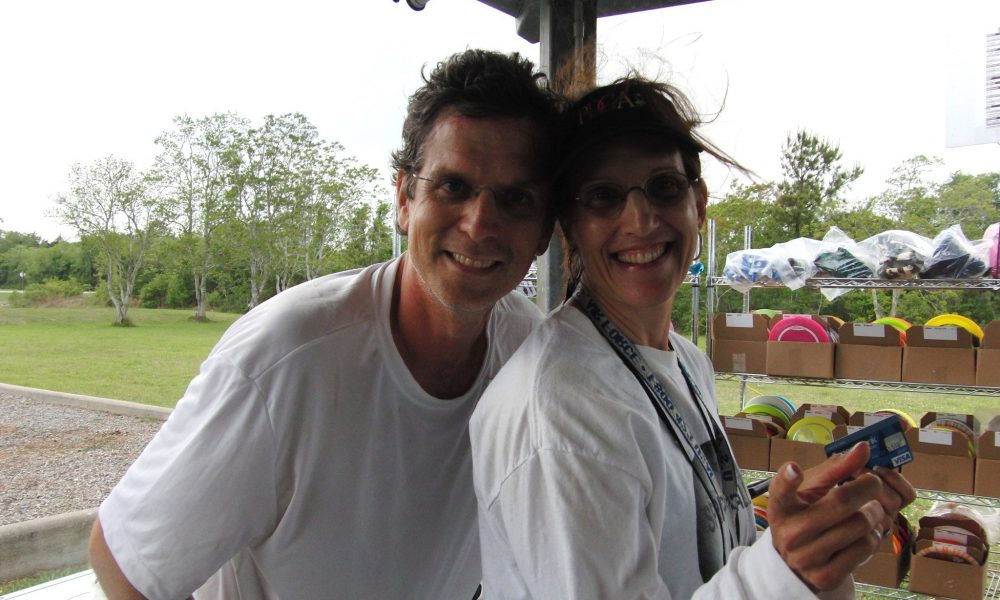 Today we'd like to introduce you to Andi and Don Young.
So, before we jump into specific questions about the business, why don't you give us some details about you and your story.
It began in 1989 upon being transferred to Houston, Texas right after a 4th place finish in the Disc Golf Pro World Championships in Des Moines, Iowa. There was absolutely no place to play disc golf anywhere in the Houston metro area back then, so I co-founded a player's organization, the Houston Flying Disc Society (HFDS) from grass roots… My membership number is HFDS #001.
We started creating 'object' disc golf courses and running local events to raise money to purchase disc golf baskets. Over a 3 year period HFDS purchased baskets one at a time and donated them to the first Parks Department that provided park space to grow a course… Community Park in Missouri City, Texas.
By 1993 the 9 hole course there was one basket from being complete when a disc golf manufacturer offered an event called 'The World's Biggest Disc Golf Tournament'. Register your event, bring a new player and the U.S. city with the most participants that did not have a complete disc golf course in their city could win 9 disc golf baskets! We (approximately 23 HFDS members) elected to NOT purchase the final basket for Community Park and entered the contest to win the set of 9 instead. We WON!! Then we purchased the last basket for Community Park to establish it as the very 1st disc golf course in Houston Metro, and two weeks later we installed a 9 hole course at Tom Bass Regional Park.
Fast forward to 1996. HFDS organized an event called 'Bang Chains for Charity, which I spearheaded. The 'charity' was for a Houston Parks & Rec park previously known as Springwoods Park that had been renamed Agnes Moffitt Park. There was already an 'object' disc golf course in the park but HFDS set up temporary baskets and teamed up with then Rock Radio Station KLOL FM 101 to bring awareness to the event and the effort. The event was a success. Being an early disc golf pioneer, I then reached out to my good friend Tim Selinski, one of the founders of Innova Champion Discs, and asked if they would be willing to send us 18 baskets for 50% down payment (the funds raised by the event to fund the basket purchase for Agnes Moffett Park) and HFDS would pay the balance. Innova Champion consented, shipped us the baskets, HFDS donated the equipment to Houston Parks and Rec and one summer evening in 1995 we installed what very quickly became the most popular disc golf course in the Houston metro area. It is also where I met my husband, Don Young.
Not very long after 'Bang Chains for Charity', I was contacted by then HPARD Director Bill Smith. He was a visionary and requested a meeting to learn all about disc golf. The result was a 2 year long project to install 9 disc golf courses in and around the inner city Houston area parks. It was the biggest one time purchase of disc golf equipment in the history of the sport.
It also coincided with new basket manufacturers coming onto the disc golf scene, as the patent for the only disc golf target in the market at that time had recently expired. The result was a sharing of the project with two new disc golf basket manufacturers which continued the grassroots effort to the growth of the sport.
That same year we started The Texas State Disc Golf State Championships. It was played at Tom Bass where the 9 hole course had been expanded to 18 holes. A few years later, another 18 hole course was installed there by HFDS, and by 2002 Houston, Texas and HFDS members hosted the Professional Disc Golf Association World Championships.
Fast forward to 2004. Don and I started a disc golf course design company, Disc Golf Consultants, LLC (DGC), and continued to design courses for various types of entities including private developers, churches and schools. We were contacted by Mike O'Brien, the owner of a 9 hole golf course in Spring, Texas who had heard about a disc golf course being installed on a regular ball golf course in California and wanted to know if this would work at his course, Spring Valley. When he showed us around we told him we could easily see a 9 hole disc golf course running 'concurrent' to the golf course, but we noticed the golf course was surrounded by heavily wooded terrain and asked what was happening there. Mike said 'nothing' and we said… 'That's your 18 hole disc golf course to go along with these 9 holes.' So Mike O'Brien hired DGC to design the disc golf course(s). We spent time studying the wooded terrain, determined the flight paths and Mike cleared them with his tractor.
In the late summer of 2004 the course opened with 28 different holes and 3 layouts… The 'Power 9' on the golf course, The 'Finesse 18' wooded course meandering through the property surrounding the golf course and the 'Total 28', a configuration played through both the Power and Finesse courses with 1 additional hole known as the 'Transition Hole' allowing the design to flow properly. Spring Valley was an instant hit with the growing disc golf community. It offered something the Houston area disc golf player didn't have… a beautiful challenging disc golf course with long open holes and tightly wooded holes with lots of trees!
During the next few years we helped Spring Valley establish a disc golf pro shop, but because of the diversity and explosive growth of disc golf products happening at the time, it was difficult for them to keep up and understand the market. In 2007 Mike agreed to 'lease' space in the pro shop to DGC and let us take over growing the disc golf merchandise side of the business. It grew to the point where the income from disc golf merchandise sales rivaled golf course revenue and that relationship continued until 2010 when Mike decided to sell Spring Valley. The golf course was run down and he had other interests. He offered to sell it to us….so we bought it!
In February of 2011 Spring Valley Golf & Disc Golf was ours and our goal was to make it the best little golf and disc golf course we could! From day one of ownership, we have put everything back into it. Six months after we purchased it, Exxon Mobil decided to build its headquarter campus about 5 miles from our location. Well, the area around us exploded with population growth, and we're right in the middle of it. Over the last 5 years we have established ourselves with our local golf community and we're known nationwide on the disc golf side. Our story only continues to get more interesting. We are located on Gosling Road, a major thoroughfare from The Woodlands to Spring (that runs parallel to I-45) which is being widened to accommodate the traffic. The Spring Creek Hike & Bike Trail will one day flow along the back side of the courses where the property borders the creek. Our plan is to grow into a recreational and entertainment destination that will include more outdoor games, bike rentals and maybe a small amphitheater! Although we never dreamed this would be our destiny, it has become just that with more yet to come! But for now, we'll wrap up our current story by sharing two messages we deliver daily to all Spring Valley patrons… The Most Fun Wins!… and Thanks for Playin'!!
We're always bombarded by how great it is to pursue your passion, etc – but we've spoken with enough people to know that it's not always easy. Overall, would you say things have been easy for you?
Mother Nature… Spring Valley sits on Spring Creek. The course has flooded on an average of at least once a year. Although we have the clean-up routine down to a science, 2016 presented us with 3 floods… in 3 months.
Today being in the path of progress is challenging. The influx of infrastructure and traffic is both a blessing and a curse right now. Gosling Road is being widened and we all know how that story goes, but in the long run it is going to be to our benefit.
We'd love to hear more about your business.
Our business is actually quite diverse. We started disc golf in Houston so our specialty was disc golf first and we actually 'backed into owning a 9 hole golf course' as a result of it.
Disc Golf Consultants, Spring Valley's management company is also our disc golf course design entity. We've designed the majority of the disc golf courses in and around the Houston area for parks departments, schools, churches, private property owners and developers. For many, many years we had to knock on doors and plant seeds to get courses in the ground. Today that is the opposite… they are seeking us out.
We also promote and produce disc golf events. That entity is called DGProShop. We host golf and disc golf tournaments, team outings and celebrations at Spring Valley but we also travel and produce disc golf events in other cities on different courses. We are a turnkey event manufacturer when it comes to disc golf events.
What we are proud of as a company is we work as a team. Our motto is 'The Most Fun Wins' and that includes when you are working your shift. We've built a great team over the years with virtually zero turnover. We employ a mix of golf playing retirees and disc golf aficionados. Our golfer staff "talks golf" with our golfing customers and our disc golf aficionados are able to 'talk disc golf'. It's a nice balance.
What sets us apart from others… everything. We are surrounded by prestigious 18 hole golf courses in all directions. We are the only little 9 hole golf course for several miles and… we have disc golf… and we're expanding on that too. We play Corn Hole under the outside lights on Monday nights now!
What were you like growing up?
I was a straight A student who became a bohemian Frisbee playing free spirit in college. Driven to always do things well… which gets in the way of getting things done sometimes! I began my disc life as a 'Frisbee Freestyler' but once introduced to disc golf in 1981, it became my passion.
Don is brilliant! A magnanimous thinker and doer. He can be kind of messy because he has soooo many things and interests. He played Ultimate Frisbee in college which led him to disc golf.
Pricing:
We are cheap for twilight golf… $15 for 9 holes and a golf cart
It's only $3.25 to play disc golf all day!
Contact Info:

Image Credit:
Andi Young
Getting in touch: VoyageHouston is built on recommendations from the community; it's how we uncover hidden gems, so if you know someone who deserves recognition please let us know here.