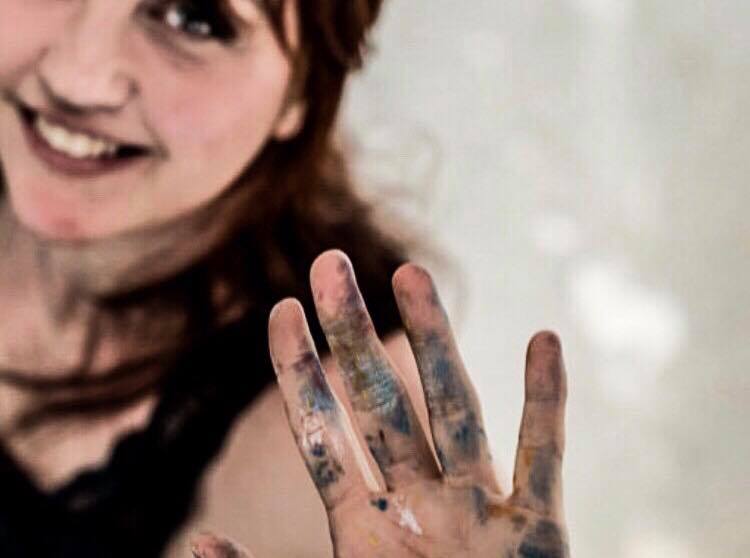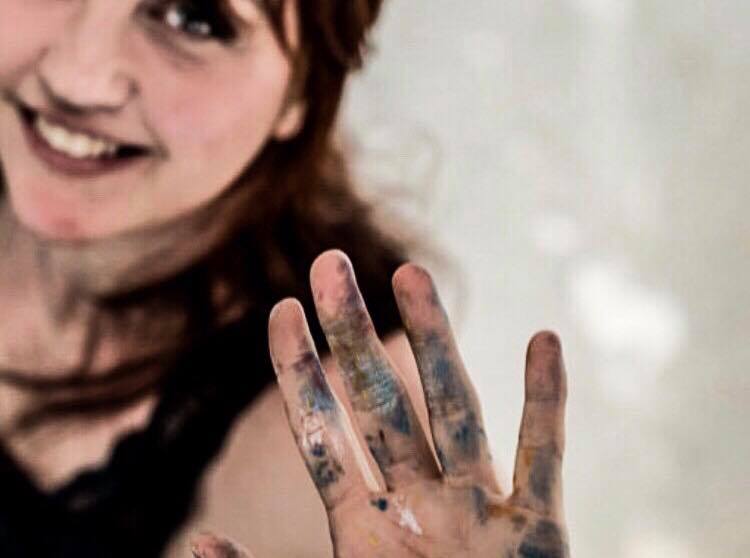 Today we'd like to introduce you to Ann Marie Vancas.
Ann Marie, can you briefly walk us through your story – how you started and how you got to where you are today.
How did I get started? Both my parents were artists. I must add here that I lost my father at a very young age but I remember his encouragement and I have followed his lead even to this day.
In a world where there are disappointment and heartbreak, I have my art and my memory. Every show every creation he is there. I fear I lack the strength to show my art unless I rely on his last words. The fears drift away and I am in my element. My mother was a portrait artist – a teacher by trade. My father a builder. He studied at the Art Institute of Chicago. Our home was filled with music and artistic projects… yet we struggled financially.
Once my father passed life was chaotic. There was little stability. I retreated into a world of music and art. I hated school and I was always filled with anxiety. I would retreat into my room and listen to music for hours. It was during this time I often thought of my future. I thought a lot of love and loss since this was the theme in a lot of the lyrics. I would see the images as stories in my head. I would learn this is a type of brain activity called synesthesia more on that later.
One day I caught a high fever with bronchitis and there was no TV in the room. My mother gave me some paper and some markers. High with a fever and lack of oxygen I created random shapes. Not having the strength to think critically, I just let things flow. My mother proudly displayed these on our refrigerator and I like to say this was my first art sale. Encouragement in exchange for drawings. Every time I saw a blank sheet of paper I thought to myself where do I want to go today?
I continued with copious amounts of drawings almost all marker on paper. Life got in the way my mother discouraged my notions to become an artist as a career. She wanted me to marry or to find a more stable job. My friends went off to college after graduation. I spent times surfing in Galveston contemplating my future and feeling a deep sadness when the first winter cold fronts started to come in. I decided academia was the only choice…
So off to college, I went. The curriculum was boring to me I could not focus, and I honestly had no idea what the professor wanted from me or what the heck he was talking about (I'm talking to my former philosophy professor) I took the history of art. Ignored the history part with the dates and bios of the artists. But remembered the art I could never remember dates or names but I will remember what song was playing in the background. And what perfume you wore. Hence, I failed history of art.
I left college, went out into the world. I struggled… the student loan payments were coming due. I had my first apartment and I needed art for my walls. I shopped around for canvases, posters etc… As an artist that mostly drew on paper, I did not feel at the time worthy of hanging my own art. Then one day I went to Texas Art Supply and bought some canvases and acrylic paint. I decided to take all the expertise I learned in middle and high school, along with all the things I learned from my parents and put it on canvas.
Mostly I felt since it was painted I needed to keep to a traditional watercolor style. I have a few of these but quickly segwayed into traditional abstraction and with the help of music, I went into the type of surrealism I am known for now. I started to show my art around town. From banks to local hot spots here in Houston. I also went into a career as an actress and supplemented this with a bit of modeling. I was having a difficult time with all of this and quickly became overwhelmed. I married a local actor whom I fell deeply in love with. Acting became my life and I threw my whole self into it and my relationship…
I subsequently left my art career by the wayside but the relationship ended. I eventually moved back into my childhood home tail between my legs to recover. It was not until years later, I was reminded of my childhood because my mother gave me the drawings I did as a child. I attempted a few works on canvas then started pastels on paper.
Always with headphones on, music dictating the subject matter… "Sensuism" began. The style that best described my work. I created this word to describe my works because my art is based on the senses the very essence of emotional feelings and most importantly love and loss. When dealing with anger or anxiety… I listen to the music that basically reflects the emotion I am going through. Venting in this way, I have been able to block out the peripheral world and focus inward… I have created some of my best works this way. I have something called synesthesia — very difficult to explain but I can quote a bit from my blog describing it in the best way possible…
" Synesthesia, yes it is a thing. Basically… if you hear a sound it translates to color and vice versa. An example is that most would think the color of tears would be clear or blue. But with synesthesia it for me is red because red is pain and depending on the origin of the tears (happy, sad etc) then the color varies… Deep grief would be portrayed as dark maroon or black, red a simple heartache, etc. Synesthesia is very instinctual. Rarely is a piece planned I only need to know I want to create art and that is my plan.
At this point, I use music to help me find my way and to direct me to where I need to go on my canvas. It disciplines the rawness of emotions, it is sorted and blended in this way… puts it in a temporary "box"…. This is removed piece by piece emotion by emotion, color by color. Then arranged on canvas to create art. With music to guide my thoughts and emotions. All three can be seamlessly tied together." Art is not just the "art" but the artist is an integral part of the whole picture so to speak… Very much like a musician is with music.
I decided between the 2 types of art, decorative and collective. I think of my art as something like a poem, a story, not something I would say to match the couch with the drapes. Sometimes I have a message or an icon that means a specific thing or to balance the subject matter if there is a lack of hope in the image… I have a small cat-like creature in the corner of some of my images. Large eyes looking up in a protective nonjudgmental way at the subject.
I started showing around town in group shows created a Facebook page for my art and started to amass a modest following. I started going to local art shows, studying art methods everything from the way things were framed, the bio's of the artists shown and life stories of my mentors Picasso, Kandinsky and Frida to name a few. I signed with a gallery for a year and left my job to work in a local gallery/frame shop in the Montrose area. One of the integral things an artist needs is a private space where they cannot be disturbed — a place with a vacuum to the world.
I had a studio in the Heights it was very small but it afforded me to meet other artists to show my art in an intimate setting (my studio) and to learn to curate my own shows. I now have a studio in the Sawyer Yards location (Winter Street) a thriving artist community… I still have difficulty with "open studio" in which you open your studio and people walk around looking at your art and YOU! The artist… Sometimes it feels a bit like the monkey exhibit at the zoo… But such is life… 😀
The insecure introvert part of me. I think, will always have difficulty with this. My art is a way of communicating in an open and freeing way… To look at the canvas and to ask myself, where are we going to go today?
We're always bombarded by how great it is to pursue your passion, etc – but we've spoken with enough people to know that it's not always easy. Overall, would you say things have been easy for you?
This was not a smooth ride for me. Most of all, fighting my own self-doubts and not taking the recommended safe road my mother always advised me to take. I think that I lost a lot of time languishing in the safe and monotonous life of the proverbial desk job toggling back and forth with risks in my life and relationships. My art was always there in my endless quest for love and acceptance.
The creating of my art was the easy part; art for me was my lover's embrace after a particularly brutal day or night. It was there for me no matter where or when or what. I found myself carrying my little pencil bag and paper to have in case of emergencies. The most difficult part was promoting my art. This was difficult because it was a form of promoting myself something I have always been uncomfortable with.
Instead, I tell a story. If my father were alive today, I would have an easier time with this I relied on a shadowy memory of his encouragements and the genetic qualities of his disposition to take risks instead of playing it safe.
We'd love to hear more about your current business and art.
I am an artist here in Houston. I specialize in a type of abstract surrealism I call sensuism. Mostly I am known for color, shapes and whimsical creatures. I have started creating a few home furnishings such as ceramics and chandeliers and furniture. All pretty much in the same style. I am known also as a synesthesia artist as explained in a previous question. I think my uniqueness relies on the subject matter that I paint and the method of relying on music to guide me. I pretty much paint what is not readily visible to the human eyes, I try to paint the human condition more than the human. I paint feelings and emotions.
When I listen to music I get a sense of nostalgia… I try to convey the emotion and the feeling I am getting from the song immersed with memories.
We did a show called "Exposed" where we painted out our worst and our best memories…at the time my life was in complete chaos and sometimes this is the best time for creatives to work… If we can pick ourselves up and gather strength… the pressure of pain and loss can create a diamond. I was having a hard time. I was painting the worst part, the dark part. The painting was all shapes and color… eyes with tears flowing… reminiscent of pungent emotion swirling about and flowing down a drain of some emotional abyss. The painting is called "Chaos Theory".
I had just moved out of my studio in the Heights. It was cold and I was painting on the floor in the garage of the home I grew up in. My tears kept falling on the canvas and mixing with the paint I needed to constantly revise it. In all art/writing/music, there is a bit of the creator. Sometimes a piece can be the apology letter never sent. A love letter without words and sometimes a passive-aggressive poke in the eye. But more often than not… it's a flight of fancy on the wings of my imagination always wondering what if and why. Curiosity should always be explored — one should always be seeking.
Make believe should not be exclusive to children. One should always have their feet on the ground and head in the clouds, as they say. If I feel a restriction in creation, a type of stress, worry about what others want of me or of that art, I will stop because I know it will end in failure. The only guidance I use is free-flowing thoughts… dreams… hurts and pains… I love to paint the wonder of love, what is it and why does one need it and why do some throw this away? This was one of the many musings I had as a child while listening to music. If I ever really had a muse this would be it.
I am most proud of the fact that I kept going and I will keep going and growing. I will use my art as a way of exploring my world and the human condition. Everyone has an inner life of some type and I want to portray that.
What were you like growing up?
When I was a child I was very shy. My first year in Kindergarten I did not know that my mother would not be with me. When she left me with strangers and I realized this I wailed in pain and panic, I saw a sea of young faces looking back at me and a very large and very nice lady took my hand and led me to my seat. I bolted out of the room screaming. I grabbed on to my mother's purse; she dragged me back — it was quite a scene. I did not speak for the whole year; they thought I was a mute. They bribed me and sent me to the nurse to be checked but that whole year I was too terrified to talk.
I have battled with shyness all my life but I also have a gregarious side and I was always curious as to why some people were so unlike me and had no fear of strangers. I wanted to learn that trick; I spent so much of my childhood trying to break out of my shell. I often spent time alone at the railroad track waiting for trains to pass and catching little minnows in the creek. I would befriend lizards and various wildlife… I still do… to this day I rescue opossums, snapping turtles and various other wildlife. I would leave leftovers in ziplock bags for the traveling opossums to pick up and carry away. I called them Possum Bags.
For this behavior, I was named Ellie Mae. I was very close to my family and had a very close-knit circle of friends… I had a protective bubble… until my father passed away.
I was a shy kid but not a serious one… I was introspective but with a sense of humor. When I got a bit older my best friends and I would create stunts anywhere, from hopping on the trains that passed behind my house to crawling on the bike trails for 3 miles just to see people's reactions. Sometimes the things we did were quite dangerous like crossing over the bayous via a large pipe suspended several stories above the concrete and water. They have since put grating to keep people from doing this. We would wear ripped sheets and go barefooted at Neiman Marcus in the Galleria just to freak the sales people out…
As long as I had a partner in crime… a bestie, I was invincible. But alone I was terrified. Unless I was doing my art I went into my own little world… Same with music, I would come alive listening to music… dancing… When I had music, I was never alone. I have integrated the two to create my art pieces. I still have this shyness, it's just my temperament I am guessing. But I can intellectualize it and deal with it and it has gotten better over time.
Contact Info:
Image Credit:
Jeremy Pierson
Getting in touch: VoyageHouston is built on recommendations from the community; it's how we uncover hidden gems, so if you know someone who deserves recognition please let us know here.