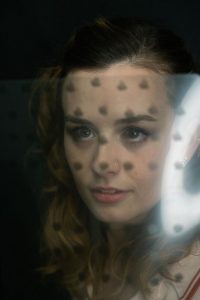 Today we'd like to introduce you to Ashleigh Showler.
Every artist has a unique story. Can you briefly walk us through yours?
Abuse, self-harm, crazy – these words we never really apply to ourselves but others. In others, from an objective perspective, it is apparent where they are being abused or where knives are a skin-stinging temptation. But on the inside, for me, it was always apparent after the damage was done. I never considered my family abnormal in any particular way – my mom was the dominant, hard-handed one and my dad played the passive, breadwinner. I knew I enjoyed my dad home more because it meant I was hit less – but other than that, I believed we were a normal, middle-class family.
I was born in Camden, South Carolina, one of the oldest inlying cities. If that still doesn't paint a picture of the small-town self-assurance, I'll describe it. There's Main Street, with two banks, city hall, one movie theatre, worn down brick buildings, and secondhand shops all within walking distance. On an average Saturday, it is still desolate. Further from Main street is the quintessentially Southern Walmart; across the street: a Kmart, a Piggly Wiggly grocery store, and a few deep-fried restaurants that seem to never make it up past the Mason-Dixon line. Into the suburbs are old colonial homes, most still fitted with slave quarters out back, and equipped with large willow trees and dark grey moss swaying from the branches. More modern houses are 1960s cookie-cutter homes, this is where I grew up.
I honestly don't remember too much of my childhood, it was mainly a blank until I was about 12 years old. Prior to that I just have glimpses and scraps of fragmented memories – usually at the worst parts of a story, incomplete and without a happy ending. I do remember my Granny, though. She took care of me until my family and I moved to Florida. Mainly teaching me how to garden, paint, sew, and most importantly, to respect life. I think I would've become a worse person without her. I knew there was a conflict between her and my mom, I also knew my Granny was sad most of the time. I would wake up at two or three am and walk to the fully lit kitchen, where Granny sat, smoking a cigarette, and crying. I never knew what exactly she felt sad about but, other than fear, it was one of the first emotions I saw and felt.
Once we moved to Florida, the following year I rarely saw Granny or Papa except when my brother was born. Before I was to start first grade my dad flew us to England – where I completed most of my elementary schooling. As an American, I stuck out. From this point, my family and I moved back and forth between England and Florida. After my senior year of high school, they moved back to England and I began my freshman year at NYU for Chemical Engineering. Although my mom pressured me to complete my degree with the final goal being medical school, I began my career in neuroscience research at MIT working with Sebastian Seung tracing the Connectome by my second year of college. Following MIT, I continued research at Weill-Cornell. By 2015, when I was due to graduate with a fulltime job at Weill-Cornell – my mind crumbled. My motivation, volition to live, and my social life had completely collapsed on itself. Most days, I never left my apartment and rarely cared for my basic needs, this slowly increased until my first suicide attempt in late April 2015.
Self-harm was not new to me. My first battles were when I was a child – usually, after I was punished. I would punish myself further. It reestablished itself and escalated once I left for college where I took on a secondary abusive relationship, financial burdens, and more responsibility with less structure. It was in NYU Tisch Psychiatric Ward I began Fallrisk Art based on art therapy techniques I learned. However, upon release, I was unemployed and essentially homeless. I couch hopped at my friends' places for a short while before meeting a family who basically adopted me into their home until I reached full recovery. At that point, I had attended 3 years of therapy and underwent another year before I began feeling somewhat like myself. It was the combination of both CBT, art therapy and my own scientific knowledge which led me to painting anatomies, feelings, mental disorders and effects of medications on canvas. Now, I am studying for my Masters in Art Therapy while conducting genetics testing at Chemisys Laboratories. Hopefully, with enough support, Fallrisk Art show will be in full production by August 2019 and published on Indiegogo for funding by January 2019. Though I have never taken any art or painting classes, I'm hoping everything comes out as planned.
Please tell us about your art.
Fallrisk is an amalgamation of photography, paintings, short films, and 3D artwork used to describe the seven most commonly diagnosed mental disorders: schizophrenia, bipolar disorder, borderline personality disorder, post-traumatic stress disorder, and major depression. The artwork itself will be incorporated in an annual interactive art show dedicated to reducing the stigma surrounding mental illness, increase awareness in society, encourage those suffering to seek help, and increase funding towards mental illness (all proceeds from the art show go to NIMH-approved research). Unfortunately, due to the expensive cost of location for the art show and supplies, funding for the art show will be crowdsourced through Indiegogo once all the art pieces are prepared.
What do you think is the biggest challenge facing artists today?
Recognition. Although social media opens multiple platforms for publicity and funding, it also makes the competition tough. Especially in relation to advertisements, some artist can afford to pay for advertisements while others cannot. Additionally, with such an influx, not every artist can receive the recognition for his/her specific style.
How or where can people see your work? How can people support your work?
Stay updated with www.fallriskart.com for blog posts, news, and new paintings. Additionally, information concerning my research, publications, photography and further hobbies can be seen on www.ashshowler.com. Painting inquiries/requests can be submitted via email through the contact page on either website. Help with the art show is much appreciated!
Contact Info:
Image Credit:
Justin Frabasile, Mark Elzey
Getting in touch: VoyageHouston is built on recommendations from the community; it's how we uncover hidden gems, so if you know someone who deserves recognition please let us know here.