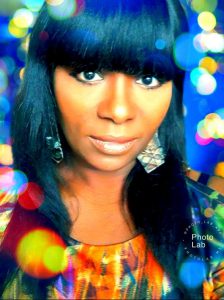 Today we'd like to introduce you to Catherine Davila.
Every artist has a unique story. Can you briefly walk us through yours?
Growing up in the inner city of St. Louis, MO, in the 1970s, I was greatly influenced by the community. I acquired an understanding of fellowship, unity, pride, and survival. My greatest influence, by far, is my family. I draw strength and inspiration from a matriarchy that survived using ingenuity, and a never quit spirit. It inspired me to never give up. My grandfather and grandmother migrated from Mississippi to East St. Louis, Illinois, in the 1920s and 1940s. The creativity of my family influences my art. From painting to clothes designing, to leather design and metalwork, I draw inspiration from them all. The influence I hold the highest regard for is that of my great grandfather, a former slave who was a blacksmith. The use of steel is a large percentage of my practice. Having moved to Houston in the late 80's the culture here enabled me to grow even more and have a broader world view. The diversity and differing cultures help influence my artwork as well.
Please tell us about your art.
I make mixed media sculptures. They consist of fibers, steel, paint, and some times, wood. My works are inspired by life events which take the form of abstract representations I create. Social commentary is made in many of my artworks. My art communicates deep cultural insight and self-reflection. I delve in the subjects of race and ethnicity from the perspective of a modern African American female. I abhor the stifling nature of the present state of affairs in American society. In an effort to scoff at theoretic rhetoric, I use humor to debunk stereotypes and untruths. From dark satirical glances into alternate perspectives, I lightheartedly poke fun at idiosyncrasies held in American culture.
My artwork explores the strength in femininity as it's reflected in the many female forms I've created. Femininity can be soft yet strong. Women that have influenced me have been intelligent, kind, stern, gentle, firm, graceful, protective, strong, clever, caring, and upbuilding. This influence is carried over in my artwork. The strength in femininity is also reflected in the materials I use. The artwork takes form through various materials and the use of color and texture. The type of layering I create in my work is a woven reflection of the complexities I feel are elements of the ideal woman.
I enjoy creating mystery in art. I feel mystery gives birth to self-examination and wonder in the viewer. I feel as each layer is created in my work, there is mystery compiled on mystery. When beginning a piece, I start thinking about materials I love. The materials generally are opposites like hard and soft, rigid, and flexible. I find ways to assemble materials in layers. I let the work tell me what the scale should be of an object. I enjoy working with steel. Plasma cut and welded armatures are the foundation for many of my works of art. Fibers are a fun and creative material I enjoy working with. I find that I can push the boundaries of scale in an inexpensive way with fibers.
I create art to delight the eye. I create art to speak to the heart. I create art to speak to the soul. I make artwork to break the bonds of the status quo with an alternative perspective. I make art to give voice to an emotion that cannot be contained inside myself. I make art to connect with my community. I make art because I enjoy beauty and feel a need to share in some of the beauty in the world from my perspective. I share in the Human Experience when I create art.
What do you think about the conditions for artists today? Has life become easier or harder for artists in recent years? What can cities like ours do to encourage and help art and artists thrive?
Censorship in the art world is still a great injustice going on to this day. It's very upsetting that institutions are binding artist's hands because they are afraid of losing funding or of being in a scandal. Diversity in venues and equal funding I feel will help artist get their voices heard.
How or where can people see your work? How can people support your work?
Upcoming events will be posted on catherinedavilaart.com and on Instagram @designsbycatd.
Contact Info:
Getting in touch: VoyageHouston is built on recommendations from the community; it's how we uncover hidden gems, so if you know someone who deserves recognition, please let us know here.