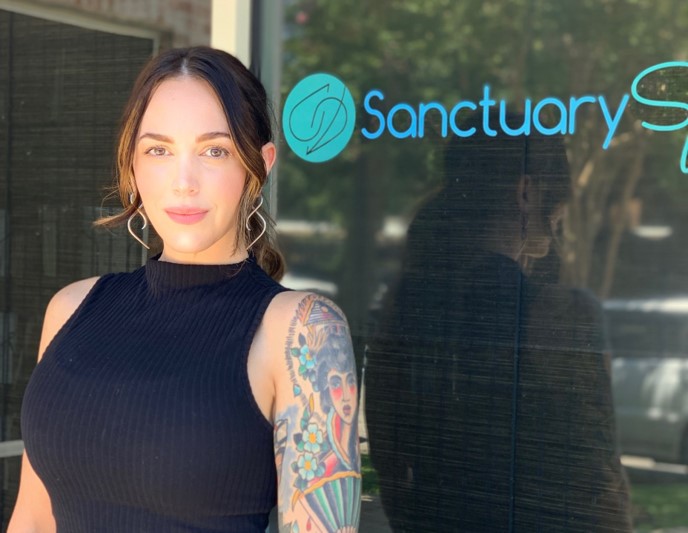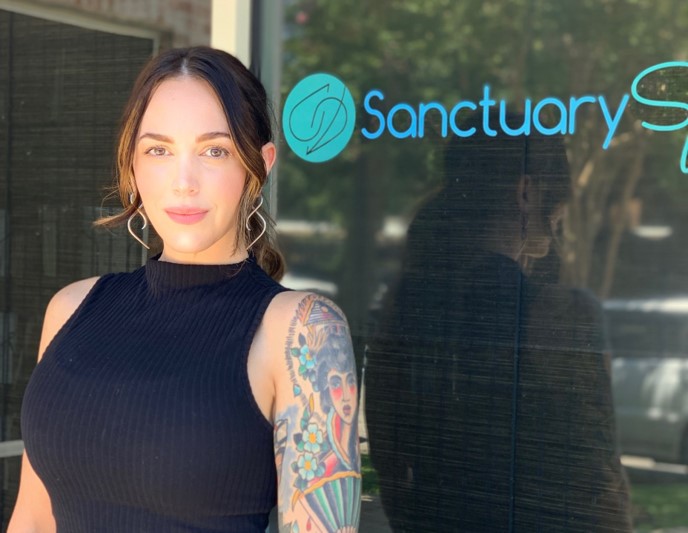 Today we'd like to introduce you to Courtney Maguire.
Courtney, please share your story with us. How did you get to where you are today?
I have been in the skincare industry as an esthetician for nearly ten years. I grew up overseas in Indonesia where I became obsessed with spa culture and knew I had to leave some sort of footprint in the spa industry. In 2009, I went to the Aveda Institute of Houston and have worked as an esthetician since then. I thrive off of being able to help others feel better about themselves and educate others on the importance of skincare and the long-term benefits of investing in their skin. My goal has always been to help others feel better about the skin they are in and to educate my guests on appropriate skincare. In addition to skincare being my focus, I have always had a deep love for eyebrows and creating the shape for my guests that flattered their natural contour without compromising their existing brow hair (Hello 90's!). Who knew this would lead to the passion for eyebrows I have today?
In 2014, I went back to school to get my prerequisites so I could enter the field of medical aesthetics and become a nurse injector. I wanted to be able to provide injections (for example: fillers and neuromodulators like Botox or Dysport) for my guests in addition to skin and brow services. In preparation of getting into nursing school, I decided I needed to do something that could help me stay financially stable without overworking myself and around that time microblading was a big buzz service and everyone was jumping on board. I have always loved anything related to eyebrows and especially doing things for people to make them feel better about themselves, but with microblading, I didn't even know where to start. I signed up for my first microblading course and turns out, it is not an easy or simple skill to take on and that this was something that required extensive training. A week later, I signed up for an additional course and dove right in. After both courses, I knew I had to practice before offering my service to guests. A good friend let me borrow her studio and I took about three models a day on the days I didn't work at my full-time job as an esthetician at Sanctuary Spa. Every day that I had availability, I practiced and practiced. I probably took around 50 people for free within the first month. I was committed to getting better and perfecting my technique.
Eventually, I ended up bringing microblading the Sanctuary Spa and my productivity started to boom, but something didn't feel right. I began consulting with guests who had had previous microblading work done by another artist and I noticed a large influx of scar tissue in the brow area, even after one treatment. Microblading is a procedure that involves using a blade with an assorted amount of tiny micro-needles to cut the skin with lines that resemble hair strokes. A layer of pigment or ink is then rubbed into the skin to be absorbed from the cut. The procedure is generally pretty painful and can eventually create a good amount of scar tissue. Committing to this procedure requires yearly touch-ups and I knew that if I were to continue microblading over the area, I would increase the amount of damage to the skin. With the lack of regulations in Houston, many microblading technicians are able to have minimal to no training, but my dedication and integrity (combined with perfectionism), required me to continue my education.
Microblading is not an option for everyone and I wanted to be able to offer my services to a diverse set of people, for example: people of color, oily & mature skin. I started doing a lot of research on machine work and wanted to work on getting completely out of performing microblading. Machine tattooing has been around for centuries and is no stranger to the permanent makeup industry. Over the past several years, techniques, education, machinery, and pigments have evolved so much that people are making legendary improvements to permanent cosmetics. With the right education and proper guidance, people are no longer being left with blue-green bold lines or "sharpie" brows.
My approach to everything is, "less is more" and that includes all of my work. I create eyebrows that appear as natural to the original brow as possible. I wanted my guests to leave my room feeling confident that their new brows would enhance their natural features rather than distract. With research, I found a technique that catered to this ideal and knew I had to learn immediately. This technique is known as, "Nano Brows or Machine hair strokes". This procedure involves using a machine that is made specifically for permanent cosmetic procedures and uses tiny, sterile and disposable needles to implant pigment into the skin to create the appearance of hair strokes.
In order to merge from microblading into this technique, I invested in the help of extensive masterclasses with lead Nano Brow trainers, Selen Shenalp, the international trainer for Swiss Color and Selen beauty, and Hoi, the owner of Hoi Tattoo and international ambassador for Amiea. Selen has over ten years of experience and has created her own specialized technique using nanoneedle technology to perfect her craft. Hoi is also known for her special technique in the Nano Brow world. She is incredibly dedicated to helping new and existing tattoo artists develop better techniques and grow to our fullest potential as artists. She holds a limited amount of personal workshops per year so it was an honor to be able to train under her wing.
With Nano Brows, I am able to fully invest in the integrity of my guest's skin and give them the results they are looking for. My work focuses solely on keeping my guests looking as natural as possible, enhancing their look. With the development of my craft in esthetics and permanent makeup- nursing school is no longer a vision of mine. I continue to dedicate my time to perfecting my artistry, learning new techniques and methods, and providing the best care for my guests.
Great, so let's dig a little deeper into the story – has it been an easy path overall and if not, what were the challenges you've had to overcome?
Absolutely not. When I first began microblading, I felt defeated. I was literally cutting peoples skin and leaving them with something that may or may not be with them for the rest of their lives. There were times where I would doubt that I was producing my best work and would continue to think I could be better. I had to make a lot of mistakes before I could get to where I am today. With the Nano Brow procedure, there is almost NO room for any error. This was NOT an easy transition from microblading and learning this procedure required more patience, diligence, and commitment than I have ever had before in my career. Being the only artist in Houston that offers this specific technique, I took this very seriously. With the right front desk support and marketing tools of Instagram, I could focus on perfecting my craft. I wanted to be the best and make sure people could truly trust me. Each eyebrow I tattooed was a learning experience and there have been moments where I've wanted to give up completely, but I didn't, I learned from my mistakes and I stayed committed, which is what I would share with anyone else who is venturing into permanent cosmetics: try, fail, and try again.
Please tell us about Brow Confidant.
I specialize in esthetics, educated work, eyebrows, leadership and am known for my integrity and dedication to my work. I am known on social media and in the Houston area as The Brow Confidant (@browconfidant). I originally came up with this name "Brow Confidant" because it is an honor for people to trust me with their skin and their face. First and foremost, without the trust of my guests, I would not be where I am today. Sanctuary Spa Houston has been considered my home for over four years now and I couldn't be more grateful of our paths crossing. The combination of our philosophies, as well as our passion for providing holistic care for our guests, is what people can look for when choosing permanent cosmetics. At Sanctuary, consultations are required before booking a Nano Brow service because we want to ensure that we are the right choice when guests are in the search of their brow artist.
I am most proud of the work I put into perfecting my craft. Every photo I post online is real, unedited and authentic. I have only invested in a small amount of advertising to boost my work to a larger audience on Instagram, but I really wanted my work to speak for itself. The business I receive is mostly from word of mouth or guests following my Instagram page and I am proud of that. Currently, I am the only artist in Houston that provides the Machine Nano Hairstroke technique. Unlike other studios, at Sanctuary, consultations are required before booking a Nano Brow service because we want to ensure that we are the right choice when guests are in the search of their brow artist. It is important to me that I spend enough time with each and every guest to make sure this is the right decision for them.
Do you look back particularly fondly on any memories from childhood?
One of my most cherished childhood memories is getting my first answering machine and phone line as a preteen, you know the big clunky devices back in the '90s? Well, I would spend literally HOURS recording the PERFECT voice message, which typically included No Doubt's, "Spiderweb" playing in the background. Getting a voice message after school was so exciting, especially because whoever called had to listen to the entire recording before leaving a message.
Pricing:
The initial consultation is complimentary and required to schedule an appointment. At the end of this consultation and to book your appointment, a $300 non-refundable deposit is required and will be applied to your final payment due.
The initial Nano Brows session is $650 and is set for 4 hours to ensure quality of service.
It is strongly recommended that a touch up takes place 6-8 weeks after the initial session. The initial touch up is $150.
The Annual touch-ups are $400 for existing guests.
Contact Info:
Address: 1701 S. Shepherd, Suite C, Houston, TX 77019
Phone: 713-622-7722
Email: courtney@besanctuary.com
Instagram: @browconfidant
Image Credit:
Hoi Tattoo
Suggest a story: VoyageHouston is built on recommendations from the community; it's how we uncover hidden gems, so if you or someone you know deserves recognition please let us know here.