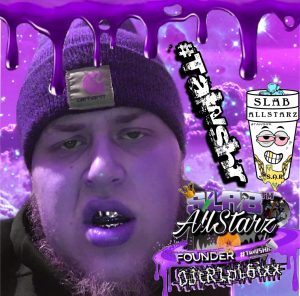 Today we'd like to introduce you to DJ tR1pL 6ixx SlabAllStarz CEO.
Please share your story with us. How did you get to where you are today?
I got my start back in 2009, I had always been majorly influenced By music and always felt I was supposed to contribute to it somehow but i really started in 2009, I got my influence's from a lot of Three 6 Mafia and Chopped and Screwed Music which was purely accidental as for the Chopped and Screwed, Three 6 was always really into the Dragged N Chopped Genre (Another term for Chopped and Screwed) and they would have their mixes chopped by DJ Black. I grew up in Michigan which basically had no idea about Screw Culture and no one had even really heard of it around HERE anyway.
I ended up getting a copy of Three 6 Mafia – Da Unbreakables (Chopped and Screwed By DJ Michael Watts of Swishahouse) and the music was just so trippy and amazing when we would smoke down (we live in a legal state for recreational marijuana) so there were no illicit activities but we may have been too young possibly but the music sounded so amazing and it was so motivating to me and inspirational, that is basically when I knew i wanted to be a DJ. now we fast forward up to 2009 as mentioned, I was in my living room in the projects sitting on my PC just scrolling through YouTube as always looking for Chops to bump on the Two Rockford Fosgate P3D2's in The Whip. so I got curious and searched google and kopped a copy of Digital DJ which was an extremely basic mixing program that only needed a mouse and keyboard. however, it didn't do any of the things I wanted it to and everything was god awful BUT we ALL have to start somewhere and I truly wish i still had those original tracks just as something to keep and remember where it all came from and how far I've come. I finally got a nice program in 2011 which was VDJ. I had the choice of that or Serato but i was still using mouse and keyboard at that time and VDJ was better fit for doing that. fast forward and I kept going and practicing. I eventually got some nice decks (Turntables) and started using Serato DJ pro. finally in 2015 I was approached by Vic New of SlaughtaHouze Radio/Newman Dist. he liked my work ethic and how I was always just getting Sh** done to put it simply. He offered me my own show and it took about 1 minute to say, YES! we began the show which was called "The Triipped N Chopped Series Hosted By DJ tR1pL 6ixx of S.U.I." (SUI stood for slowed up international DJs which I was currently a part of) to this day I still have members of SUI on SlabAllStarz DJs and talk to the others that are now on other teams, I learned ALOT in that time. the show ultimately ended up being canceled because of a rough patch in my life. fast forward again to 2018, Vic once again approached me and I came back, this time it was for one of my current shows "Houze Party With DJ tR1pL 6ixx" which is going down every Monday Thru Thursday @5PM on SlaughtaHouze Radio! Vic New had always seen my potential at doing Screw Mixes and we eventually set out to create SlabAllStarz DJs and I jumped in and spearheaded the Opp. setting out to choose the TOP DJs of which, I Knew Quite a few. Fast Forward after months and Months of Hard work and doing tapes, we rose in the ranks and started to stick out and eventually became one of the top teams in the world and even worked with screwed Up Click and sold our mixtapes at SUC Headquarters in Houston, which I owe a major shout out to OG LivEviL, Who is my Co-Leader of SlabAllStarz. Without him I never would have got some of these major features, he is a networking genius! ALL OF US ARE THE BEST AT WHAT WE DO AND WE ARE SlabAllStarz DJs! ShoutOut To The Entire Team! Myself @Dj_tR1pL_6ixx, @OGLivEviL, @DJSizzurp, DJSiggarillo, @DJBabyBoy, @TheRealSpankkRogers, @AbstractCutta, @DJRedRum, @DJDLoskii, @eFofFDP! Last But Not Least, Vic New! My Mentor and Manager which i can never repay for his greatness and giving me the status I have today!
Great, so let's dig a little deeper into the story – has it been an easy path overall and if not, what were the challenges you've had to overcome?
It has definitely not been a smooth road, still to this day it's not easy, even with all my accolades and affiliations. It doesn't help living in MI because very few even know what Chopped and Screwed music is still. However, we are based in Houston and our work goes on daily in Houston. I have made people more aware of the genre and I play it wherever I go. However as stated, It never has been easy and it's still not. You receive a lot of hate doing this and people's favorite dig to make if they don't like you or you upset them is "oh yeah well your music sucks and so do you" and that is all while LITERALLY being part of the TOP 2 Screw Teams on EARTH and a lot of other hateful things, people seem to hate what they don't understand. However I never take it to heart. Other things would be the lack of support from friends and family up until recently, once I made it into the top 20 Screw DJs on Earth for OG Ron C in his recent Competition for New Chopstars DJs, I believe people finally realized I had a lot of skill once they seen undeniable proof from the most MAJOR influence on the culture at this current time. However, we were already doing amazing and trendsetting things with SlabAllStarz DJs and were among the top teams on Earth But to me, people didn't wanna accept it because we literally just appeared from out of nowhere almost 20 deep and took to the top ranks extremely fast and our credentials to them couldn't be believed because we were barely established, it seems TIME is the only thing that makes you in a sense, a "reputable" team or person. not to mention the costs of equipment and running a merchandise line, A major rough patch would be phasing out members who don't see our vision or share our enthusiasm, however we still have managed to build an award-winning team, worthy of the highest honors, im very proud of my team! just so many things really I could go on and on.
SlabAllStarz DJs of Newman Dist. – what should we know? What do you guys do best? What sets you apart from the competition?
SlabAllStarz/Studio 6 Muzik/Newman Dist. are the core names and businesses we are part of and run. I am CEO of Studio 6 Muzik and SlabAllStarz and The Main DJ for SlaughtaHouze Radio which is the Foundation of Newman Dist. We offer, an amazing range of services such as: International Radio Spins for major and underground artists, Chopped and Screwed Remixes, Mass promotion for musicians and businesses, Professional Graphic Design, Mixtape hosting, Music Production, Radio Interviews, Blogs, features on any of our THREE Trending Mobile Apps Basically you name it, We can and WILL do it and our main goal is to go above and beyond for the client NO MATTER WHAT and to set the Bar high above anyone else. I am most proud of the satisfaction our clients have once the projects are completed, there is no greater feeling, we do this #1 for the music, any revenue made is purely a bonus at that point.
What moment in your career do you look back most fondly on?
It is really hard to narrow down my proudest moment, into just one moment as I have several. I would have to say though, working alongside my biggest idols and even signing some to SlabAllStarz DJs. It's so crazy to go from just being a listener to actually working side by side and representing something you created with your major influence.
Pricing:
60 Minute Chopped and Screwed Mixtape with Hosting and custom graphics: $150.00
Custom Graphics Starting at: $75.00
Mass Promo on all Social Sites and Mobiles App's: $100.00
MixTape Hosting: $80.00
Single Tracks Chopped Remixes with Radio Rotation: $40.00 Each
Mobile App Features with push Notifications to ALL SlabAllStarz App users: $100.00
Acquiring Unreleased Music or Hard to Find Music: $15.00
Music production/Mixing/Mastering $120.00
All NEW Customers get their first single track for absolutely FREE with purchase of Services Available
Contact Info:

Image Credit:
Photo Credits: Graphiks By 6ixx @DJ_tR1pL_6ixx, @Magadino The Chemist, @DJ Lil Sprite, @Seed of 6ix, @Three 6 Mafia, @OG LivEviL, @#TAWSHR
Getting in touch: VoyageHouston is built on recommendations from the community; it's how we uncover hidden gems, so if you know someone who deserves recognition please let us know here.