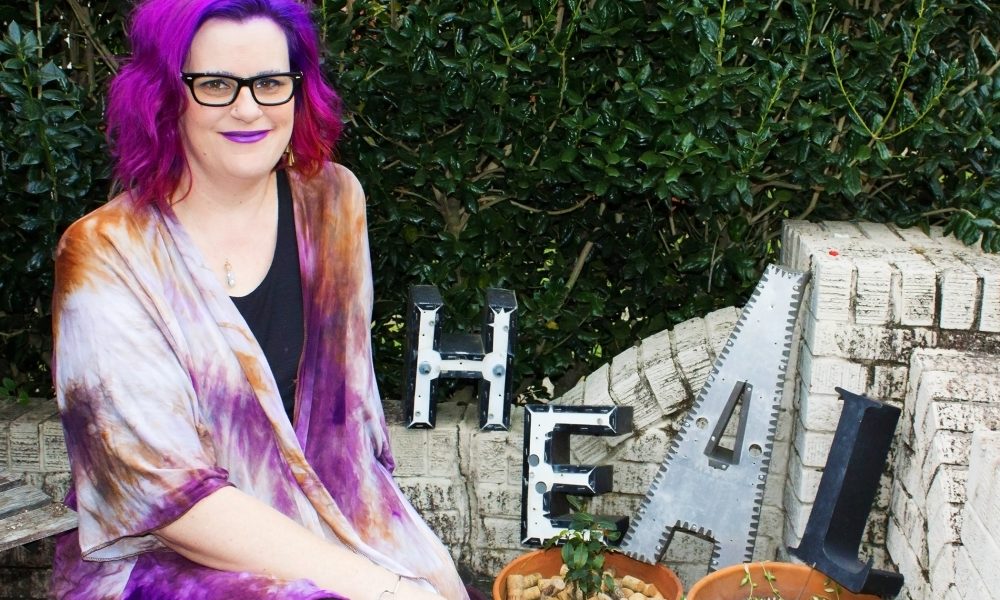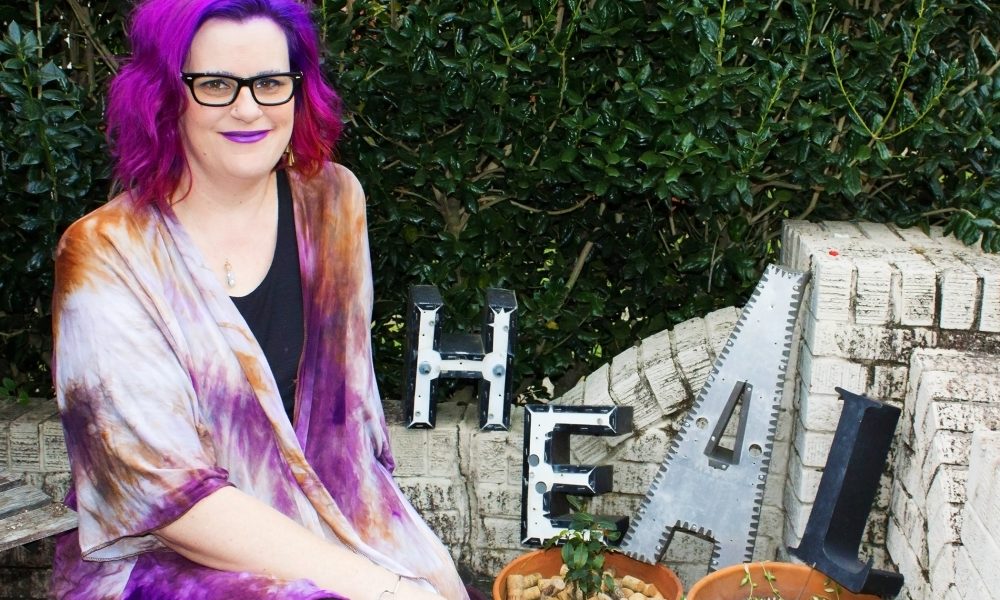 Today we'd like to introduce you to Dr. Blythe TwoSisters.
Dr. Blythe, please share your story with us. How did you get to where you are today?
I wasn't always planning on becoming a therapist. Initially, I was an art student. I changed my major close to 7 times. I started out studying photography. I was going to the University of Houston taking a silk screening class when I heard another student talking about her art therapist. It was like a needle scratched right off a record. I looked at her and said, "What did you say?"
That very next day, I changed my major to psychology and my minor to fine art. I had been working with a therapist since I was 18, due to being stalked my senior year of high school. I had seen several therapists at this point and had never found one that "got me" in my opinion. At that moment, I decided to become the therapist I always wanted to have working with me.
I consulted with a few different art therapists and they all told me to get my doctorate and specialize in art therapy. I attended graduate school for a dual track masters and doctorate in clinical psychology. During my internship, my sister who has been a birth doula for nearly 20 years, told me she desperately needed me to go and get training for postpartum depression because she is seeing it regularly but no one is addressing it or knows how to manage it professionally.
I attended the training in 2012 by Postpartum Support Internation (PSI) and learned that perinatal and postpartum mental health is the number one birth complication (NUMBER 1!!!). They occur in 30 – 50% of pregnancies but are infrequently screened for by birth providers. Gestational diabetes occurs in 13.5% pregnancies and is screened for by every provider. This took me by surprise.
Providers are better now at screening because there has been much education and advocacy but it is still not treated with the seriousness it needs. I was taught providers often do not screen because they don't know what to do when it shows up elevated. There is a shortage of mental health providers who are trained like me. Many do not accept insurance. If it takes up too much time or costs too much, a person suffering will not seek care. This is a huge challenge.
I graduated with a doctorate in clinical psychology in 2012 and started working with maternal mental health immediately. I next attended a training on transgender mental health and started working with patients seeking a transition or seeking a better understanding of their gender identity and expression. I now understand my strength lies in my ability to understand a gender spectrum and I believe it makes me a much more open and educated provider (and human).
I now have a private practice in Houston. Recently, I had to start a waitlist because I believe the word is out that I am the type of therapist I am. I really believe in helping people regardless of their lifestyle. I also have purple hair and that has helped people feel comfortable with having a therapist that is edgy and punk rock when they themselves may be or want to be edgy.
I am also launching a birth center with my sister, Rowan TwoSisters, who is completing her midwifery training. We host a bi-weekly virtual support group called, "Afterbirth, 4th and More Trimester Support Group." Our united vision is to be THE place for queerdos to manage reproductive care. I always joke with Rowan that I handle the neck up and she will manage the neck down. We've had this vision since I change my major to psychology and now it has a name: Preggers Can Be Choosers.
I have embraced my fancy doctoral education, with my training in maternal mental health and the gender spectrum. I believe these three things, plus my big open heart (and humor), make me a great therapist for people struggling to seek out the care they need for fear of being judged or misunderstood. The last thing a newly birthing person wants to hear is trite impossible solutions. The last thing a person who may be gender fluid or has transitioned needs to be misgendered or use super insensitive undereducated terms.
I still believe I am an art therapist, but instead of paintings, I now work with people and their creative expression. What has been lost (or hidden) is my favorite for finding and encouraging personal expression.
We're always bombarded by how great it is to pursue your passion, etc – but we've spoken with enough people to know that it's not always easy. Overall, would you say things have been easy for you?
I have had so many challenges. I'll share a few here with you.
Going to graduate school was killer. Literally, people died in my program. I got very sick twice because I didn't pay attention to my health. There didn't seem to be time for that. I had to complete my training in 7 years, which I did exactly. There were so many times I didn't think I could do it. I remember at two weeks into most semesters and during finals, I would lay on the floor crying, saying, "I can't do this." Somehow, I would get up and keep going. I worked the entire time I went to undergrad and graduate school. It was exhausting and expensive.
When I graduated, I was excited to start my post-doctorate work in a group private practice. I still had to pass some exams for licensing but I started my post-doc with mad enthusiasm. It took some time to get started (obviously), which took another toll on me. I had just recovered from being very ill at graduation and the people weren't flooding in to see me – duh!
After 1.5 years, I took a job with a work comp clinic I had done a rotation at during school. I didn't want to stop being me. I thought that after grad school, I wouldn't have to draw on my eyebrows anymore (I have funky tattooed eyebrows) and I could have my purple hair. But I was brooooooke. The work comp clinic was great.
They accepted my terms (let me be me and I will work my ass off – that was the agreement). I expanded their practice while launching my online practice at night. This clinic was 1 hour away from home. I remember driving home, finding some dinner and then seeing my evening patients virtually. Add that in with supervision and studying for exams. This was a killer schedule, but it was not uncommon for my trade. This story is not unique.
When my husband got laid off from his job, we decided to move back to Houston to be closer to my mother and sister. My sister was going to need my help during midwifery school and I was making plans for my mother to live with us due to her health. I joined a private practice in the museum district where I could see my people and help my practice partner with disability evaluations.
Then, my mother died the same exact day Rowan and I moved our last load of stuff into the house I live in now (Rowan lives in my backyard in an airstream). I was WRECKED. I thought, "There is no way. This can't be happening." I obviously took some time off and slowed down a ton. I don't remember how we made it emotionally and financially. It's all a blur. I use the term "cognitive sludge" to describe how my mind works during grief. I do know I put my butt back into therapy and attended a grief support group which helped a ton.
Another challenge I discovered is in trying to acquire a home or physical space for our birth center. With my massive student loans, I will never be able to own property again (not a personal house or place of business). That was a pretty huge blow. These things aren't discussed when you start school. All I knew was I needed to work as much as I could and get student loans. I am super glad to have my degree and training and know without a doubt it makes me a great therapist, but to not be able to own a home or a place of business is super saddening to me at times. I've never been a fan of people telling me I can't do something.
5 years later, I'm still studying for the state exam. It's embarrassing to talk about at times. It's a tough ass test. I'm not the best test taker on the planet. I am a way better clinician than a test taker, for sure. I know I will eventually pass and will get on to the next part of my clinical practice vision (taking on students to teach them how to do great things), but staring down the test again is a huge challenge for me.
So let's switch gears a bit and go into the Dr. Blythe TwoSisters story. Tell us more about the business.
My business is a mental health private practice that specializes in postpartum/peripartum mood, anxiety, OCD, and psychosis. I also specialize in seeing people who do not identify as being part of a gender binary. I work with fringe people, I guess. I work in the poly community and with people who live life like a rock star in ways. Many of my patients are artists. Many of my patients are mothers. I have yet to work with my first male pregnant person, but I know it will happen and I am ready.
I have been called the funky therapist. One of my goals for 2018 is to rebrand as the punk rock psych doc, instead of the mama psych doc, to be a more inclusive brand and be even more authentically representative of myself. I am all about bringing myself to my work. This isn't about me, but they choose me for me.
I am probably most proud of the people who come and see me. It takes a ton of courage and coordination to see a therapist on the regular. Making the first contact with someone can be terrifying. I work with people struggling with mental health. Reaching out to me can be worse than calling a dentist. Admitting that there is something going on and then seeking help. Come on. That is huge to me and I am so proud of the people who work hard on improving themselves. I have had a few patients work with me for years. We may not meet weekly after some time (progress!!!), but we stay together and keep working.
I think my open heart and tenacity set me apart from others. That and my look. I make a lot of my clothes, typically only wear black, have tattoos and purple hair. On some days, I may even have a gentle mohawk. I'm just funky like that.
Has luck played a meaningful role in your life and business?
Geeze. I don't think it is much about luck that got me where I am. I believe in a word called pronoia. Meaning the world, universe, everything is working for me. If I do my part, it will happen to me. When things don't work out, it typically isn't supposed to. I try and not be attached to things or be too rigid. My own training has taught me to seek psychological flexibility. It's rarely an easy state of mind or my go-to attitude, but it's where I direct myself on the daily.
I am also not afraid. When I interviewed here in Houston with my now practice partner, she had called me to help her with writing reports. When I showed up I told her, "Look. I can write reports. I'm good at that. No problem. OR I can blow up your practice." I then told her my vision. We both got chills and it was a done deal. She went from being in a 700 square foot office to now have close to 2100 square feet space in less than 2 years. So maybe if there is luck, it is in people trusting and believing in me.
I will admit to being lucky to have my sister and a mother who raised me to be a radical feminist. She taught us to believe in ourselves and to take risks to get it. She taught me to call bullshit when things are fake, inauthentic or misogynistic. She taught us to fight for the underdog and to not take things/people for granted. She taught us to be kind and to always look behind us and help the next one in line but do not let them pull us under if they aren't pulling their weight.
I also want to acknowledge my luck in finding things that bring me joy outside of my work. I co-own a hula hooping business that brought me to using fire props and teaching fire safety. Using fire to burn off yuck energy, has helped me as one of my healing elements. That and drinking a ton of water. Both are my biggest allies.
Contact Info:
Image Credit:
Elizabeth Blessitt Serna
Getting in touch: VoyageHouston is built on recommendations from the community; it's how we uncover hidden gems, so if you know someone who deserves recognition please let us know here.