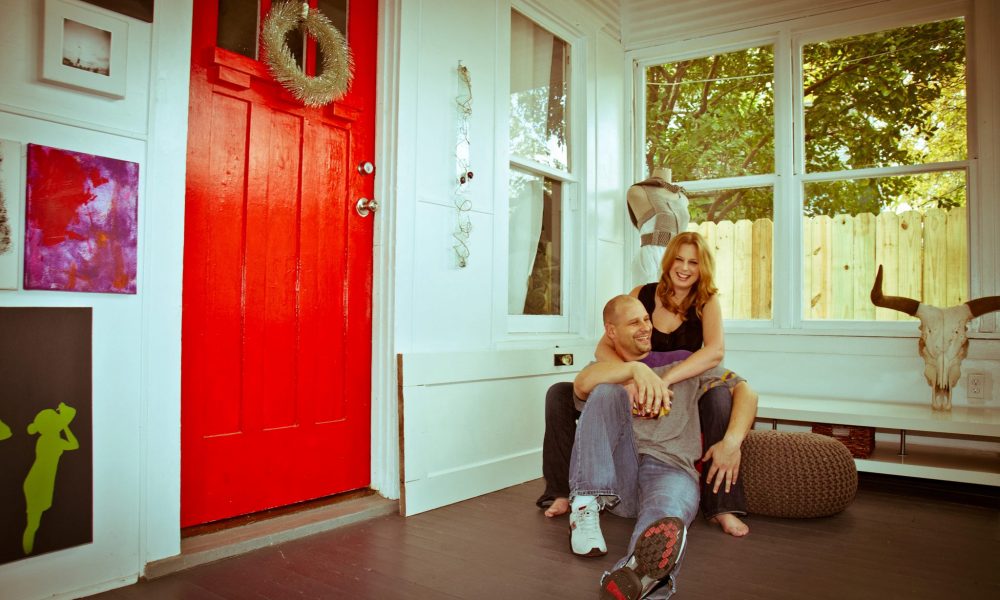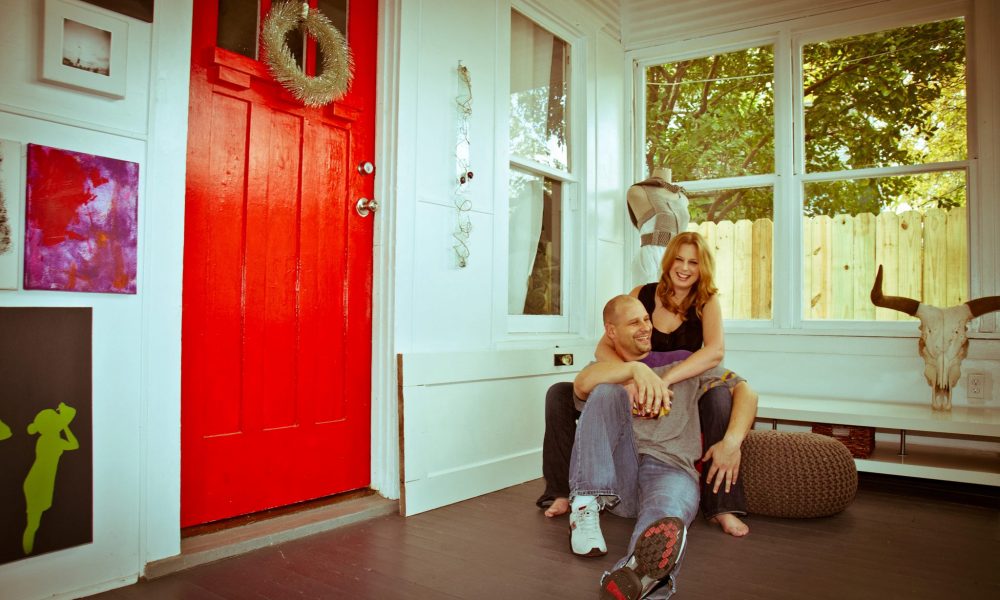 Today we'd like to introduce you to Ford & Hillary Waters.
Ford & Hillary, let's start with your story. We'd love to hear how you got started and how the journey has been so far.
I think we were destined to start our companies from the moment we met in 2010. So many things were leading up to it over our first years as a couple. But it didn't actually happen until December of 2012 when Ford found himself without a job and no idea what to do next. He had proposed to me just a couple of days before. The morning after he lost his job, I (Hillary) woke up and said, "start your own business". Later that day he was downtown applying for a DBA.
We started our first company, FMW|fablab furniture & everyday wares, as a custom design/fabrication business with $1000 and absolutely no idea what we were doing. What we lacked in experience, we made up for in resourcefulness. Basically, we just made sure we were constantly observing any and everyone else in the Houston creative world and then figured out how we could apply things to our own business and personalities. We had no money and were working out of our back garage for the first two years but we would tell everyone we met about what we do and how much we loved the work and each other and that kind of authenticity and vulnerability resonates with people. Momentum started to pick up and then we moved into Houston Makerspace, a now closed co-op workshop space. Once there, we started teaching welding classes and eventually fabrication classes. Word got out and they started selling out months in advance.
Meanwhile, Hillary was also signing us up for one crazy adventure after another. We allowed our home to be used for filming a movie during the Memorial Day flood weekend of 2015. For 4 days, we had to move all 6 pets out of our home every morning and none of us could return until late in the evening plus we had to keep the house clean. (Yes, with 6 pets and flooding.) We were still working during all of this too. It was crazy stressful but so much cool stuff continues to come out of that experience. We literally just finished installing a new job at University of Houston Law School last week that was a result of someone from the movie cast telling someone else about us. Never underestimate the power of networking and referrals.
2016 was both the most stressful year so far while simultaneously being the year we have grown the most. In January of 2016, we splurged for a booth at the Dallas Wholesale Market at the World Trade Center. Our truck and trailer were stolen right out from under us in the gated parking lot of our hotel. We both had a moment where we thought the world had ended. We were in the process of working to open our retail showroom (METTLE) at The Silos and it was just crushing to lose the amount of money/tools/transportation that was just taken from us. While waiting for the police that morning, Hillary wrote a blog post that went viral and someone started a Go Fund Me and the next thing we knew, people we had never even met were writing us wanting to help. It was one of the most humbling experiences of our lives. We did in fact end up opening our showroom later that year and at the same time also found out our fabrication facility was closing down.
So, we did what we do. We adapted our plan and found a new place to rent on pretty short notice. We moved into the new fab shop and into our retail showroom within two weeks of each other. It's been full steam ahead ever since. Nothing is ever easy except love and creativity. The business aspect of things is just always a challenge for everyone but we have learned so much and in the words of Henry Ford, "Whether you believe you can or you can't, you're right." We choose to believe we can and we have tons in store for 2017.
Overall, has it been relatively smooth? If not, what were some of the struggles along the way?
Not one single thing we have ever done has been smooth. I don't even know what we'd do with a smooth day. This is going to sound cliché but challenges make you stronger and more often than not, make outcomes better because they force you out of your comfort zone. You just can't do amazing if you are in your comfort zone.
Even if you take the business struggles out of the picture, working with metal is a crap shoot on a good day. You really just never know how something is going to turn out and we hold our breath every time we turn a piece over to a client and wait for their reaction. We recently installed a piece for the new Bar Esperanto at Hotel Ylem and didn't hear from them for two days after the installation. It was agonizing. And then we got this….
"No, no, no, Hillary! YOU rock! The water droplet shelving is beautiful and outstanding! It just took our bar to another level. Thank you and Ford so much for being so good at what you do."
That. That is everything. It's what we work for and what we wait for. It's why it doesn't matter that the days are never smooth.
FMW|fablab Furniture & Everyday Wares and METTLE by FMW|fablab – what should we know? What do you guys do best? What sets you apart from the competition?
First and foremost, we are a product design firm. We just happen to also do all of the fabrication. When people initially hear that we make furniture and custom art and installations, they often think we are just another fabrication company and nothing could be farther from the truth. It's taken a few years to start being known for our design but now we have people come to us all the time and say, "I love your work!" and they are talking about our design. Everything we do is original. We absolutely will not copy anyone else's work or build a replica of something someone has seen in a magazine. We might use it as inspiration but we won't copy. We are more than capable of coming up with something unique for our clients so we turn down jobs when it's simply fabrication. We also entirely stock our retail showroom, METTLE, with original work from FMW|fablab. Everything on the floor is ready to go home that day.
We specialize in modern, masculine, heirloom quality, residential furniture design as well as commissioned commercial installations. When our residential customers take something home, we fully expect and hope that it's something they will have for life and hand down to future generations. We work primarily in steel and aluminum and in fact, we are one of the only firms in town who really focus on aluminum as a high-end luxury material. It's something we're known for. We also like to combine materials like wood, leather and resin with metal in our designs.
I think probably what sets us apart is that we do design AND installation inhouse and that our price point is really accessible for everyone. I'm not saying we're inexpensive. You can't get heirloom quality furniture without spending more than you'll spend at a big box store. But we're not outrageous and you're buying something for life. We're regular people too and we want people just like us to be able to have nice things. If anything happens to it, just bring it back. We'll fix it. In fact, we want to fix it.
We are so damn proud of these companies, we almost can't stand it. We started from nothing and it has been really hard and for some, working with a spouse would be a deal breaker. But we respect each other and each other's strengths so much and when the day knocks off, we are still happy to be together. It's amazing.
What is "success" or "successful" for you?
Being able to keep the lights on? I don't know. But in all seriousness, we are doing what we love, paying the bills, taking calls for new projects 2-3 times a week……I mean I guess, we're sort of successful? We're so far from wealthy it's not even funny. But the fact that people know our work, enjoy it and tell others about it is pretty great. This year, we are building new wood and metal fabrication shops and a house on the same property so we simplify life a bit. We're also bringing more help on board. I guess we'll feel successful when we can stop losing sleep about whether or not we'll maintain enough work to pay employees.
Contact Info:
Address: METTLE by FMW|fablab, 1502 Sawyer Street, Suite 206, Houston, Texas 77007
FMW|fablab furniture & everyday wares (appointment only)
Website: www.fmwfablab.com and www.mettlebyfablab.com
Email: hillary@fmwfablab.com
Instagram: @fmwfablab @fmwiii @mettlebyfmwfablab @mrsfablab
Other: FMW|fablab
Getting in touch: VoyageHouston is built on recommendations from the community; it's how we uncover hidden gems, so if you know someone who deserves recognition please let us know here.