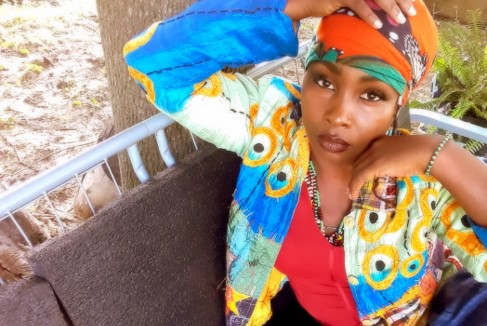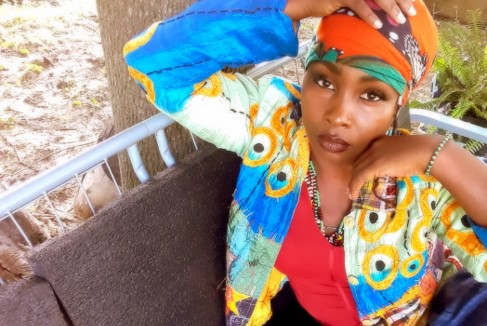 Today we'd like to introduce you to iiiYansa J. Muse.
iiiYansa J., let's start with your story. We'd love to hear how you got started and how the journey has been so far.
At a serious crossroad in my life, I decided against asking the Creator/ess for surface level things (better job, more money, new man, etc.). Instead, I asked the Divine a million-dollar question: "Why am I here?" I was referencing my higher purpose, I suppose. I asked that question going on seven years ago, and to this day, my question is still being answered. I enjoy life as a divinatory, literary, visual, and performing artist.
Poetically Mused means "inspired by poetry." and it is an umbrella for the three tiers of my business: written and performing art(Poetically Mused), visual art,(iiiYansa's Glass Gourd), and divinatory art (The Windsong Kraal of Oracles.) I feel strange calling it a business because it feels more like a huge body of work that reveals my divine purpose. Writing poetry is where I found the mirror to my soul and the first glimpses into my esoteric gifts. I wrote my first poem in 7th grade, and haven't stopped since! Many years and four books later, all that I do today still sprouts from the stanzas of my poetic diaries. I still take performance dates today, mainly themed and/or centered around jazz music.
iiiYansa's Glass Gourd, my visual art business was completely unplanned. In 2014, I was making hand-painted earrings and painted a red wine bottle as a display for a trade show. A patron not only bought the earrings but bought the painted bottle too. I went home and painted 20 more bottles. I took them to a Kwanzaa trade show and came back with 6. The rest is history. Over time, they became more detailed and full of divine meaning. They come with a poetry piece as well! I am currently in the process of creating print products out of hundreds of archives!
As an initiated mystic priestess, I strongly feel that the spiritual powers that be had been grooming me all of my life for this sector of my work. I am fourth generation seer from both sides of my lineage, and it made a rather peculiar child. It was as if the Divine and I had our own inside joke the rest of the world had to catch up with. Today, I enjoy helping others find clarity and healing through astrology, numerology, tarot (8 decks), shell throw, numerology, i-Ching, the elements, crystals, eggs, and automatic writing. All of these back up my first line of ethereal intuition. My series of blogs, The Windsong Kraal of Oracles, extends to those who may not have time for readings, or are skeptics of this type of art. This is where Poetically Mused flourishes my divinatory art.
These gifts I have to offer the world have been fusing and simmering together for seven years, like an intricate pot of gumbo…and today, I am passing out bowls and serving up the spirit food!
Has it been a smooth road?
The road less traveled is never an easy one. Earlier in life, it wasn't easy to keep in mind that every obstacle is an opportunity for growth, but it gets easier every day. My struggles were great, and many…but the beautiful thing about profound struggle is that is separates true diamonds from fragments of glass. Since childhood, I secretly lived more aligned with the unseen..the mysteries… For that reason, I was often subject to ridicule. As time progressed, ridicule turned to rumor, as more and more people tried to create a persona for me, instead of accepting the one that was there. This was a struggle because it mainly came from people I really loved. A published work containing the details and lessons of these struggles is being written as we speak. The lifelong part of the struggles have been equally amazing in experience.
There were times where I tried to deny my supernatural essence to myself and decided the Divine had chosen the wrong one in me. On that falsehood, I tried orchestrate my life into an illusion of normality. The results were catastrophic! (laughs)
Every tear I shed, every abuse survived, every lie told on me I remained silent about, every sleepless night, led to my ultimate revelation. For that reason, I wouldn't take back a thing. My every poem, painting, and prophecy is dedicated to using the wisdom of my scars to heal theirs. My struggles are a huge part of my honor, and I love inspiring others to make their obstacles work out in their favor…from a spiritual bird's eye view. I've had plenty of practice.
Poetically Mused is entirely self-funded, and I started with nothing but faith. The work itself is effortless, but the groundwork was a challenge. My website, social media accounts, and blogs are all self-built. It was a challenge to step away from creating to teach myself how to build them. It can be a challenge to balance servicing ALL of my talents in the perfectionist manner I like them done. What can I say, I insist that people who come to me get the best I can give. To this day, obstacles are still stepping stones to self-mastery. No struggle, no progress…right?
So, as you know, we're impressed with Poetically Mused – tell our readers more, for example what you're most proud of and what sets you apart from others.
I am well-known in my community for three things: being a professional oratory counselor (and lightworker). Performing artist and visual artist. I am currently contracted on several psychic hotlines, and Poetically Mused is the home of my private practice. I specialize in dream interpretation, astrology, numerology, tarot, i-Ching, shell throw, crystals, eggs, my sheer intuition, and home grown southern wisdom. I specialize in a collection of my signature readings, specialty readings that I designed to fit more specific needs. I have many proud moments in this sector, as I feel proud just to assist people in their growth.
As a performing artist, I consider every moment on stage a chance to further my mystic teachings to a broader audience, with far more flavor. I also write specialty poems for themed events. As a performing poet, my most proud moment was being selected by jazz musician Tex Allen to feature an original work in his American Folklorical Project. The song is called "Avacado," alongside poets Rain, Marie Brown, and Chris Wise. I look forward to making more music…
As a visual artist, I create one-of-a-kind paintings on recycled wine bottles as a way to help Mother Earth recycle. They come with short poems! My proudest moment as a visual artist was presenting Rev. Bill Lawson with a commemorative glass gourd sculpture art piece at the SHAPE Center 50th Anniversary Founder's Day program. A close second was painting three murals on the top floor penthouse suite on the Houston House.
I currently have 4 published works: Crying Diamonds: 11 Years Later,(2008, 2019) my firstborn collection of poems, Kwanzaa for the Kosmos (2018), iiiSangoma Vol. 1: Memoirs in Waiting (2018) a mystic arts journal, and Cardinal Fire: A Book of All Things Aries(2019), the first of 12 teaching astrology books. They are all available on my website. Memoirs in Waiting produced a short film based on its feature article, "Legba, Christ, & the Crossroads."
I've recently begun a series of spiritual living blogs, in conjunction with my new YouTube channel, iiiYansa iiindygo J. Muse. The interesting thing is, everything featured on my blogs and videos are from my personal mystic diary. This is one of the aspects that sets me apart from other diviners. I only create teaching art from my experience, while little by little allowing the world to read a diary I have kept private for all of my life. There is a blog for each day of the week, awaiting to align its patrons with the energies of the day while exploring various aspects of mystic wisdom. They are garnished with my poetry and art!
Mondays: www.motherbluhues.poeticallymused.org
Tuesdays: www.poeticallymused.org/twi
Wednesdays: www.poeticallymused.org/enchantressinquasarconjure
Thursdays: www.poeticallymused.org/iiichingsscarletserenes
Fridays: www.poeticallymused.org/sweetsacredhoneygourd
Saturdays: www.poeticallymused.org/thejestersintersection
Sundays: www.poeticallymused.org/alabasterdivine
Let's touch on your thoughts about our city – what do you like the most and least?
What do I like the most about Houston? Why I was born here! Right here in Greater Third Ward, and my life came full circle! I also love the cultural diversity of our city, I love the Museum District, the Heights, and Montrose. I love the bayous, the live music, and the endless selection of eateries.
What do I like least?…Traffic. That's all. I do miss the I-Fest.
Pricing:
iiiYansa's Signature Readings $9 – $99 See website for details.
iiiYansa J. Muse Poetry Shows: 2 full length poems $99 ($33 per additional poem)
Contact Info:
Website: www.poeticallymused.org
Phone: 515.604.9359 ext. 464100 by appointment only. Send email to set appointment
Email: iiiyansa@poeticallymused.org
Instagram: @iiiyansasmotherblu @iiiyansasogbotwi @iiiyansasquasarconjure @iiiyansasiiichingscarletserene @iiiyansassacredhoneywarlove @iiiyansajester @iiiyansasalabasterdivine
Twitter: scribessiijmuse
Image Credit:
iiiYansa J. Muse, Blue Treasure Photography
Suggest a story: VoyageHouston is built on recommendations from the community; it's how we uncover hidden gems, so if you or someone you know deserves recognition please let us know here.