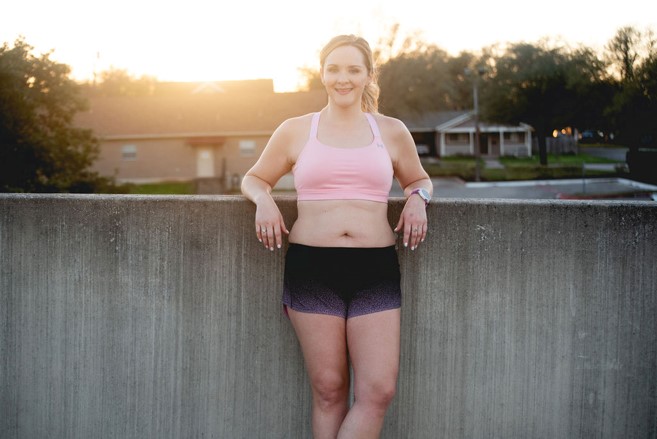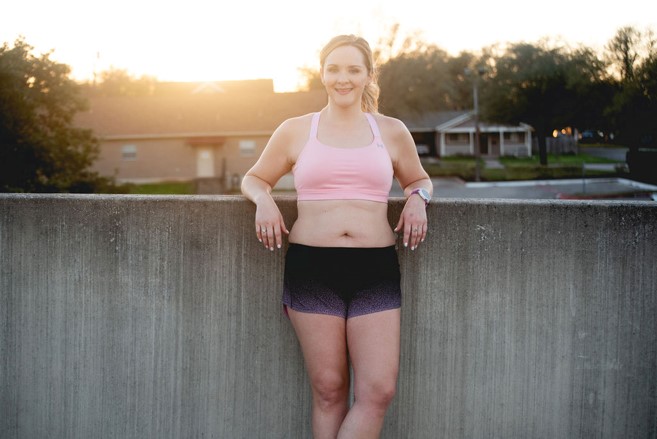 Today we'd like to introduce you to Jessie Barnes.
Jessie, let's start with your story. We'd love to hear how you got started and how the journey has been so far.
From the time I was a kid until just a few years ago, I was always so insecure about my body. From feeling ashamed of my weight as early as a second grade to always folding my arms to hide my stomach to not ever daring to take my shirt off when running, that insecurity hung on to me and clouded so much of my own vision for myself. But five years ago, I started running. Not to lose weight to burn a certain number of calories, but as a way to process some intense emotions, I was feeling. I got hooked on the feeling of watching myself get stronger and progress, running a little farther each week, and along the way, I started to feel proud of my body. And that pride was an entirely new feeling even at the age of 29. It took a lot of reflection to realize that I was experiencing cognitive dissonance where I was proud of myself even though I still didn't like how I looked. That was the first time I realized that it was even possible to like myself as a person without first liking my body which started a key shift in my thinking.
A couple of years after I started running, a few friends and I were chatting about the prospect of running without our shirts on. We live in Texas, it's hot, we all keep running through the summer… but insecurity and expectations of what we "should" look like kept us from this simple measure that would make us more comfortable. For me, I felt it simply was not an option, not with my weight and the shape of my body. I looked at my friends–my strong, inspiring, smart, and beautiful friends, and couldn't believe how much they doubted themselves. I could see so clearly that nothing should stop them. And as the discussion continued, I started to realize that everything I wanted to tell them I had to apply to myself as well. That's when big changes started to shift in my thinking about my relationship with my body and what it means to truly embrace body positivity.
The more I started to live this way, the more it became clear how many people are holding themselves back with negative feelings about their body permeating how they view themselves as people. It became clear to me that people desperately want to leave behind insecurity about their appearance but they think the first step is changing their appearance when in reality, that's not the important part. The important part is how we view ourselves. It all starts inside. But for so many people, they need to be taught that and led along the way to discovering what body positivity can really mean for them. That's what I'm doing my best to make happen.
Overall, has it been relatively smooth? If not, what were some of the struggles along the way?
On the whole, it has been a good road, but not exactly smooth either. People connect best when I am honest with my own vulnerability which requires putting that vulnerability in a public sphere and that's not always easy. It is also a continuous, uphill battle against how intensely diet culture and valuing people–especially women–primarily on their looks is ingrained in our culture. It is literally everywhere you turn and it can feel so defeating. So many companies make their money off exploiting our insecurity and sell us products that promise to erase stretch marks or drop pounds or combat wrinkles which implies that these very natural parts of our bodies are somehow wrong. Weight loss is always complimented and assumed to be a healthy change even when the reasons for the weight loss are not explained and are not always of benefit. It would be easier to go quiet and give up. But I have seen first hand for myself, for friends, and for people in my community, that learning to accept our bodies can bring us so much peace and it is absolutely worth the effort.
Please tell us about your work.
I am a body image advocate. The means I'm out here talking about our relationships with our bodies and how to improve that relationship. I host workshops, give speeches, write a blog and newsletter, and along with two friends host monthly sports bra squad runs in the summer months in Austin where we encourage folks to give running without a shirt a try. The goal is to help people learn that they can love themselves even if they don't love what they look like. I want to guide people to unravel all the comments and messages we receive that add up to make us think that our primary value is our appearance. Because there is so much more to being a good human than looking good at the beach. We are so much more than our appearance.
If you had to go back in time and start over, would you have done anything differently?
I wish I had realized that my message had value earlier. It took a lot of coaxing from others to realize that this message is valuable and important and that my particular perspective has value. It is so easy to see all the other people out there doing it "better" and your message or business may not connect with everyone, but that's ok. It's going to connect with the people that need it most.
Contact Info:
Getting in touch: VoyageHouston is built on recommendations from the community; it's how we uncover hidden gems, so if you know someone who deserves recognition please let us know here.