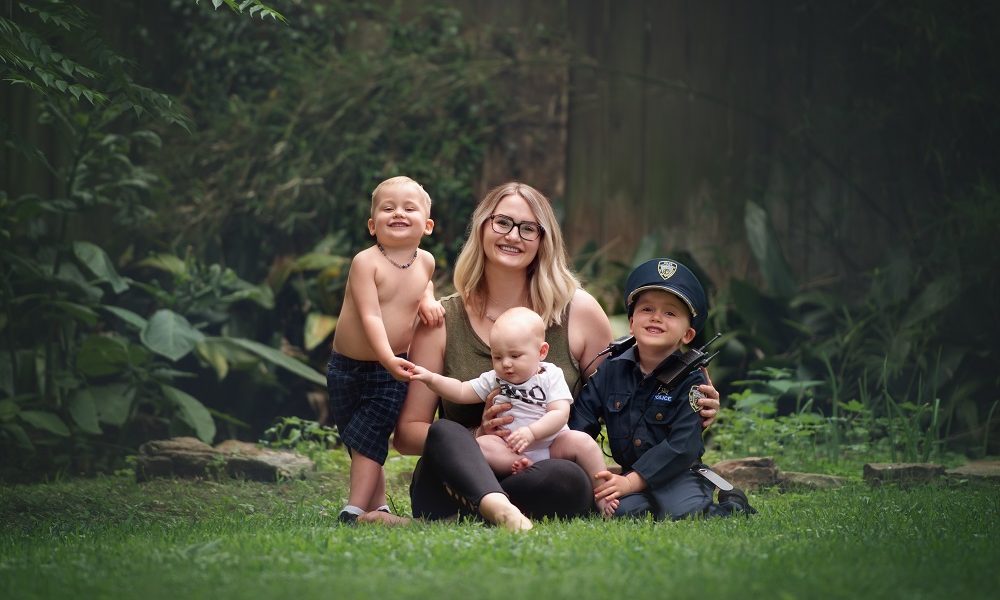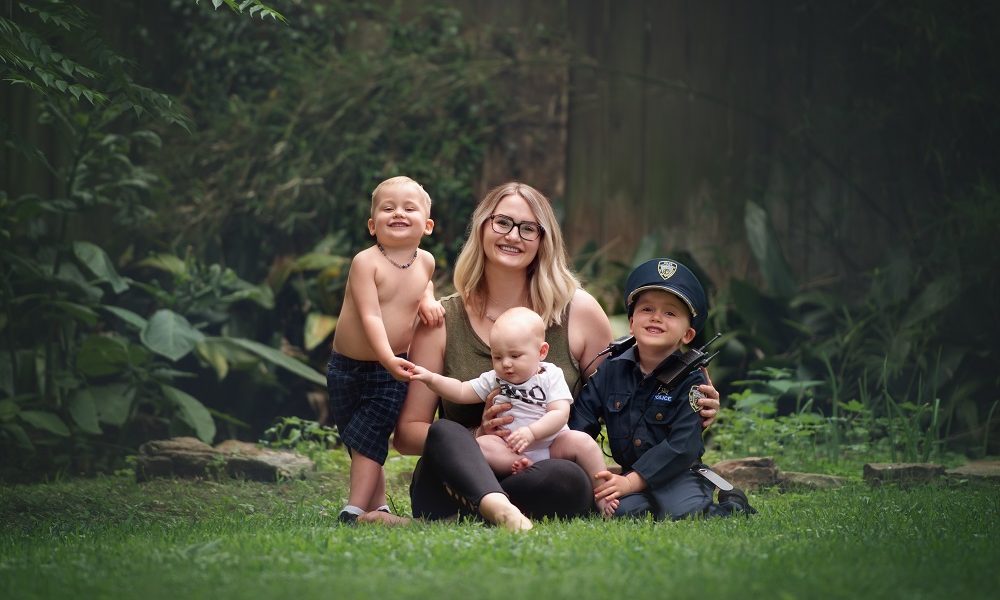 Today we'd like to introduce you to Kimberly MacRae.
Kimberly, please share your story with us. How did you get to where you are today?
I had resigned from my position as an Executive Assistant to stay at home with our first son, CJ when he was about 4 months old. Around that time he had started drooling pretty bad from teething, and he was extremely fussy. I had heard about the Baltic amber teething necklaces and decided to get him one to see if it would help.
I had ordered one from overseas so I had to wait a few weeks to get it, but holy cow when we got it, that thing was a lifesaver! CJ's drooling was pretty much gone, and he was back to his happy little self. I was so shocked that beads could help my sons teeth! What?! Well turns out, Baltic Amber is completely natural fossilized tree resin from millions of years ago! It contains something called succinic acid and when worn against the skin, small amounts are released, this is a completely natural pain reliever and anti-inflammatory.
My husband is a veteran of the Army and had some knee pain from his last deployment. He's had to use pain relievers when it aches so we figured if it worked for CJ, it might help him too. We put the necklace around his knee and he said within 10 minutes the pain had dramatically reduced!
So, around December of 2013, I launched MacRae Naturals, selling Baltic amber jewelry to local families. I launched the website and Etsy shop and I was in business! At first, I was selling to moms in local Facebook groups and meeting them in parking lots for them to pick up their jewelry. And then slowly but surely I would get orders through the site. I would get SO excited when one would come through! I remember I was up all hours of the night working- creating the site, taking and editing pictures, posting ads in local groups, creating jewelry, ordering supplies. I was a one-woman show and it was great to work on something that was helping other people and was supporting our family in a small way.
One income around that time was tough! I was trying to cut back as much as possible so I wouldn't have to go back to work- we sold one of our cars and shared one, I made my own laundry detergent, dishwasher detergent, we cloth diapered, cut the cable- We did anything we could to be able to survive on one income. And by the grace of God, it worked! After a few months into 2014 things started picking up. Customer feedback was incredible and the proof was in all the business coming in from word of mouth.
Customers that were buying my jewelry were telling their friends and family and orders were coming in from different states! It was amazing! I started doing the "Create your own" jewelry where you could pick out string colors, amber colors, and add other healing crystals. This was a huge hit!
Before I knew it, I was selling all over the world and completely booked for orders with a two-week turnaround. At times I had to close customs because I couldn't keep up! This was pretty steady all the way from 2014 until about 2016, things just continued to grow and I stayed really busy and realized I could not be a stay at home mom and do this by myself. I really needed help because my work/personal life balance was way off and my family needed me more. CJ was about to be 4, we had our second son, Caden, in 2015, and my husband had a job that required him to travel. With the kids getting older and needing more attention from me, my husband is gone, and orders still coming in, I needed help! It was perfect timing because shortly after I hired help I found out I was pregnant with our third son, Cash. The Lord has perfect timing, that's for sure!
First I hired my dear friend Lacey Smith to help with social media and customer service. She answered questions on facebook, emails, ran games in our group, and did some crystal consults too. This was SUCH a huge help to me and allowed me to be able to catch up on work and give the boys the attention they needed during the day. Shortly after that, I also brought on a new friend, Maggie Sutherland. She helped me run everything and helped make jewelry for orders, design, and order supplies to name a few things.
After that, I hired a few more jewelry makers to help crank out orders and design as well. I'm a firm believer that its great to get different design perspectives so I really love that everyone that works for me gets a chance to create something beautiful, and our customers LOVE it!
What may be attractive to you may not be attractive to your friend, so options are great.
This business has been such a huge blessing in our lives. I firmly believe that if God wouldn't have put it on my heart to do this I would have had to put CJ back in daycare and go back to work, just so we could make ends meet. Instead, He blessed us with the best customers, jewelry that can heal from things HE made, and financial support to help our family for the last 4.5 years. I give God all the glory from our customer testimonials to the success of MacRae Naturals. I am just his instrument to use to bless others through his healing creating, and I am so grateful to be used for His work.
Overall, has it been relatively smooth? If not, what were some of the struggles along the way?
It definitely hasn't been a smooth road, there's been a lot of blood, sweat and tears that have gone into it, like many businesses. Balancing work and personal life is by far the hardest thing to do. I have to be able to allow myself to disconnect from business when I'm with my family and that can be a challenge when you know you have a lot to do.
If you are behind on orders and a kid wakes up sick you can forget working for that day, you just have to hustle to catch up the next day.
Alright – so let's talk business. Tell us about MacRae Naturals – what should we know?
MacRae Naturals offers natural Baltic amber, Hazelwood, and crystal healing jewelry for all ages. We specialize in original colorful designs and custom jewelry, specific to your unique needs.
We are most proud of our customers and the amazing testimonials we receive, that serve as an amazing reminder of why we do what we do. We are also proud to be a God-centered business, giving God all the glory for His healing creations.
Any shoutouts? Who else deserves credit in this story – who has played a meaningful role?
My husband for his support, ear, and shoulder for the last 4 years. He's attended the very first fairs and helped me set up and sell my jewelry when I was so nervous! He's been my biggest fan and supporter and MacRae Naturals wouldn't still be in business if it wasn't for him.
My right-hand woman, Lacey Smith. She has been with me for over a year and she does it all from customer service to social media, games, designing, consults, sales, and more!
She is God-loving, one-of-a-kind woman and I'm very blessed to be able to have her part of MacRae Naturals.
Maggie Sutherland has helped with everything from making jewelry to ordering supplies to marketing! She really helped bring it to the next level and I could not be more appreciative.
Aislynn and Morgan help design and make jewelry for orders. It's been awesome to get other designs in our collections and with their help, offer the best quality, hand-made pieces to our customers.
And of course our amazing customers! We have mostly spread by word of mouth and we have the most loyal and awesome customers that I am so grateful for!
Pricing:
Baltic Amber Necklaces $21+
Crystal Bracelets $21+
Crystal Necklaces $38+
Contact Info:
Getting in touch: VoyageHouston is built on recommendations from the community; it's how we uncover hidden gems, so if you know someone who deserves recognition please let us know here.