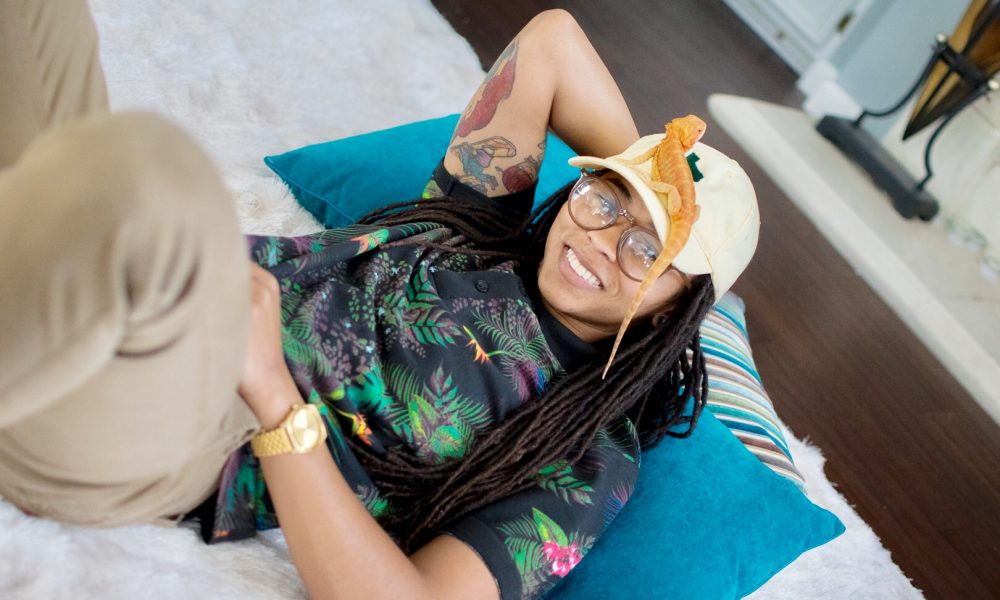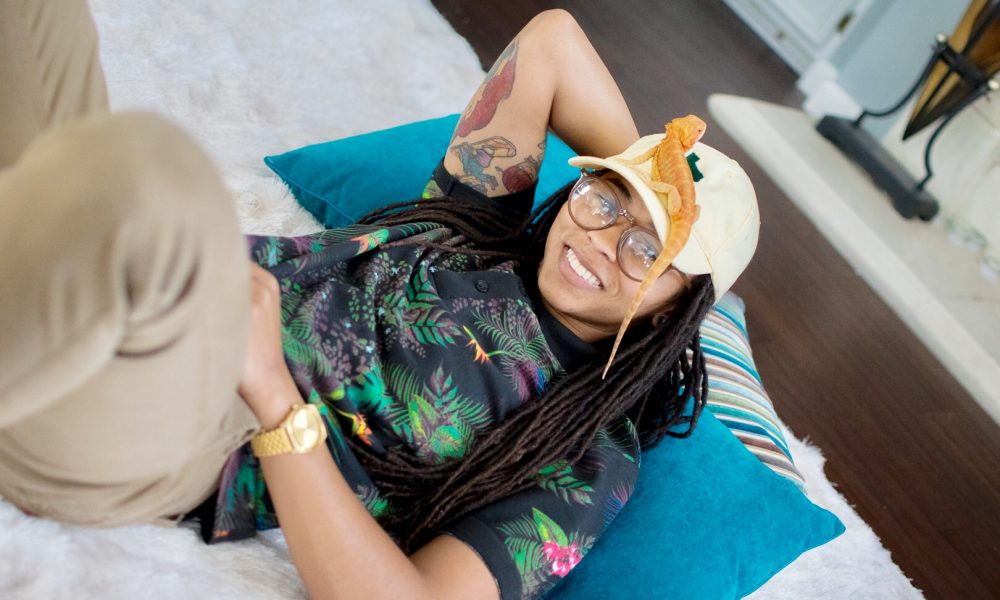 Today we'd like to introduce you to Leah Hereford.
Leah, can you briefly walk us through your story – how you started and how you got to where you are today.
I've always had dreams of becoming an entrepreneur in the art field, that was always where I wanted to end up. I loved so many aspects of the art world I just didn't know what I'd actually end up doing it. In high school, I used to paint my friend's favorite cartoons on blank shirts and sell them for $10. So by the time I got to college I thought I knew exactly what I wanted to do. I sold my paintings on clothing, so duh I want to be a fashion designer! Wrong! I quickly learned 2nd day that fashion design was not my calling. I eventually ended up in fine arts on the more advertising side of digital design called 'communication design'. I fell in love designing packaging etc. When I learned how to use photoshop and illustrator I realized I could go back to designing t-shits on the side but more professionally this time.
So I instantly found a screen printer company who could print my now digital designs. It went well for a while, but I the stress of school got in the way so I eventually let my t-shirt company fizzle out once again. My next art rendevour was toys! I got into collecting vinyl art toys, learned about an artist like kaws, bearbrick, and CoolRain. I was so inspired by those artists that I decided that I wanted to be one of the top female toy designers out. By the time I got to my senior year in college, I would research daily about toys, what it takes to create, where its made and sculpted, how its made and sculpted, who sculpts, can I sculpt myself? Just everything. My mom always raised me to know that if anyone else can do it, then I can do it too, and I could do it better if I tried hard enough.
So my plan to myself was to have my own set of toys by the time I graduated college. I knew a lot of money would go into this toy plan, so when I graduated, I decided it would probably be best if I moved back home. At the time I was working at FedEx. I did just enough to take care of customers, but every chance I get, I would grab a scratch sheet of paper and sketch out different layouts of my toy that I wanted to create. Anyways, I didn't want to leave FedEx just yet because it was my only source of income, so I let them know I'd be moving back home to Houston and asked for a transfer. They approved my transfer. When I got back to Houston, somehow FedEx had gotten on a hiring freeze!!
Meaning, not even ME could start back working at the job that I never left! That was the start begging of what I thought was the end of my toy dreams. No income, no toys.
Thankfully I had good standings at my old high school job at a daycare. Long story short, I was able to save and design my toys, all the way from China. That's an entirely different story tho. Fast forward a little bit in 2013. In 2013 I started sketching during the times I should have been watching the older afterschool kids, but they were older and generally didn't take too much hardcore attention lol.
The kids took notice in my sketchbook and started asking me to teach them to draw. The very next day, about 3 of the kids came to me with the exact same sketchbook and sketch pencil I had, eagerly waiting to learn from me. This lit me up inside to my core. So much that I was like hey, I don't want to be a toy designer, I want to teach art! I swore to myself after my bachelors that I'd never go back to school again, but my mom talked me into getting my teaching certification so I could teach art to the older kids. So that's what I did. I taught 6th-12th art or about 2 1/2 years and loved it! Teaching kids art inspired me to actually learn how to paint instead of just drawing cartoons. Everyday after work id practice painting. I'd study painting through Instagram, and practice what I studied.
My main teachers were tattoo artists! Another goal I made for myself was posting my work. To me, I wasn't good at drawing but it made me happy, so it was a huge deal to post my work. Fast forward to 2015 summer, the charter school that I worked at lost its charter and had to shut down. I was at such a loss! Didn't know what was next. But that year I learned that everything happens for a reason. That year was the first time I didn't get hired for any teaching jobs, no one would hire me! So I thought to myself, okay it's either now or never, what art skill can you use and make a business out of, just to be able to afford your monthly bills.
The answer didn't happen overnight but it came in like 2 days. I decided my painting skills were good enough to paint murals on kids bedroom walls. So I started posting facebook post asking if anyone wanted murals for their kids. No one took the bait. I knew I had to figure something out because by this time I was only surviving off of unemployment that would eventually run out, and thankfully I had moved back home with my parents to save money. I soon realized, my friends weren't needing me. And thankfully when I almost lost hope, the parents to one of my old students reached out to me asking if I could paint them a budda head on their garage. Then that led to my aunt asking if I could paint superheroes on the walls of her foster home.
By this time my portfolio was pretty small, but it was enough to advertise myself. So I got out and started going door to door to small companies and asking if the owner was there and if they needed any murals painted. The first day I got enough no's to give up! I ranted about it on Snapchat, and got a lot of love and encouraging words to keep going.
My next stop that I almost decided not to go to was the start that boosted me out of the starving artist realm and made me realize my dreams could actually come to pass. I just so happened to stop and ask a random man who was in a seafood store if he needed any work done, he told me, I don't, but the guy in the back owns the entire strip mall property and they may need some murals painted next door at the trampoline spot Bounce Bounce. The rest is kind of history.
But needless to say, I was hired to paint 11 walls in this trampoline park. That turned the head of the ice cream store next door called Chillers, and I painted a mural for them. That turned the head of a French Italian upscale restaurant called Jaxtons and I did a mural for them. It was a complete and instant snowball effect and I was making the type of money that I never dreamed of making purely on my art. 2016 was an amazing first year for me and a year I'll never forget. That's not to say that I haven't had hard times or struggled.
After all, that money was gone, I lost a bit of my momentum. I had to take cheaper jobs and work even harder to get bills paid. But every single up and down is completely worth it. I literally paint for a living.
It's my favorite thing to do in this world and I wouldn't go back to a "real people job" even if they could double what I make from custom art and murals. The joy and happiness, the stress, the sleepless nights, I live for it. I continue to put God first, I continue to speak my visions into existence, and literally, everything I've asked for thus far has come to pass. I need to make bigger dreams! But right now my dream is to be a traveling muralist. I want people in different states or different countries to hire me for murals or buy my art and request that I personally deliver and install it. That's my dream. I want to be known for my art all over the globe. That's the plan.
Has it been a smooth road?
It has had its ups and downs. The biggest struggles is getting people to repost my art, or share my art etc. people forget to do that when they buy things from me. If no one knows about me then I cant make money. Another struggle is sometimes I get so swamped with personal artwork for private collectors, that I have no time to go out door to door and sell myself to companies for murals. Murals is where I make the most income. Pricing was also a big struggle in the beginning. You want people to buy your services but you also don't want to short yourself, so what really is the appropriate amount to ask for? A lot of people don't realize the time and brain power it takes to create something from nothing so I used to get a lot of no thank you's…
To me, painting is like a rubrics cube, its kind of impossible and frustrating at first, but when you crack the code, it gets easier, but still takes a ton of work and focus. Another challenge was maintaining a social life. In this career field, I've pretty much weeded out the ones who are truly here for me. My absence in my social life has dropped friends off like flies, but kept the most important ones by my side, and gained new ones in the process. Everyones in my life now completely understand me and support me, even if I cant make it to certain events.
So, as you know, we're impressed with Mural Mule – tell our readers more, for example what you're most proud of as a company and what sets you apart from others.
My company is a mural company. I basically will paint anything my client request on their walls. I generally paint on small business walls, small companies allow me to talk directly to the owner and make faster deals. I paint things anywhere from wall logos, or wall scenes, whatever they choose. I also paint customs for private collectors. So if people want art to hang on their walls, they come to me.
I usually paint portraits of peoples animals, or portraits of them or family members to hang on their walls. What sets me apart is probably my pricing, I'm generally lower than most artist, just to give everyone what they want. Another thing that sets me apart is my wood cut outs. When people request a painting of their dogs, or a celebrity etc, instead of just painting it on the normal square shaped canvas, I cut it out with my wood tools to give it a more distinct 3d look. If I'm not painting on walls I'm painting on wood and wood cutouts.
I think people would say I'm mostly known for my realistic animal cut outs, I'm not sure. What I'm most proud of as a company is that I've been able to support myself purely on my art for 3 years, and never ask for any money loans from my parents. I'm finally at a place where word of mouth is what feeds my company. I'm so thankful for my supporters and the luxury of social media.
Let's touch on your thoughts about our city – what do you like the most and least?
Oh, I love my city. What I love the most is, of course, the food, but also the racial diversity. I've also noticed that Houston is starting to embrace the art culture! Cypress still has a ways to go, but I love when I ride my bike with my bike crew and pass by murals almost on every street or alleyway now! Buildings and electrical boxes!
What I like the least hmm, probably how sucky 290 is. 290 sucks. And just when you think its almost fixed, they close all lanes except 1. I completely loath 290 lol
Contact Info:
Website: Www.muralmule.com
Email: muralmule@gmail.com
Instagram: @muralmule
Facebook: Mural Mule

Image Credit:
Megan Rowell, Vickie Lynn
Getting in touch: VoyageHouston is built on recommendations from the community; it's how we uncover hidden gems, so if you know someone who deserves recognition please let us know here.