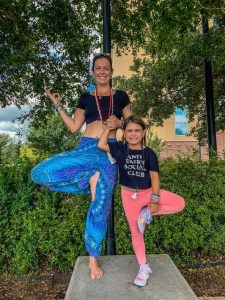 Today we'd like to introduce you to Lee Haines.
Hi Lee, it's an honor to have you on the platform. Thanks for taking the time to share your story with us – to start maybe you can share some of your backstory with our readers?
Where to start! Healing is such a long journey to process and it's never over. I started my yoga practice seven years ago. I started my mindfulness journey ten years ago. I started healing through my traumas 18 years ago. I have found more of myself through having my children and starting my yoga and meditation practice. I've been through many traumas growing up and I didn't know how to heal them. I started living my life, just living, not thriving, just pushing through each day. I started to heal through therapy, group healings. I dove deeper into my self-healing journey, my yoga, my meditation, my children. Once I had my three beautiful children, life had changed so drastically as a woman, trying to earn money, support myself, and the lifestyle I wanted for myself and my children. A little about me; I went to school for photography and graphic design at the Art Institute of Houston, earning a BA in Applied Sciences. I do photography sessions and events, graphic design, website design, logo design, marketing, social media managing, and launching businesses on the side now. I have launched several other business for others, very successful launches, and they're happy clients living their dream. Photography is my first love in business and always will be there for me to help support my dream. I also went back to school for a BA in Education EC-6 from University of Houston. I went to become a teacher, doing private tutoring, SAT and ACT prep, taught for Hua Xia Chinese School, taught English for grades 1st-high school. I used to be a teacher at Memorial Elementary for the visually impaired children. It was one of the hardest jobs I have ever had. I cried almost every single day, knowing that I couldn't make much of a difference, and it was not fulfilling my life. I had to make a decision, to leave behind all the schooling and all the years it took me to get this career, and to find a new career that would support me, my children, and my happiness, while still helping others.
After college, I got married and had three beautiful children. I got divorced three years ago and that was a very painful process. Leaving someone who you've been through in life with for ten years is very hard, especially with children involved. People will heal when they are ready to heal. It has to be their own choice and in their own way. So we both decided that divorcing was the best way for us both to heal and to take better care of our children. During that time, my career in yoga was taking off. I went plant-based four years ago and have become a nutritionist as well. I have gone through my last pregnancy, plant-based, nursing plant-based, and my youngest boy grows up all being on a plant-based diet. He is a very healthy young boy!! Teaching your children about where their food comes from is very important to me. I believe that our children should be aware of how we get our food, what is considered healthy or not, and letting them make their own conscious decisions. I buy and make all vegan meals, but at parties and special occasions, I allow them to partake in what is there, not to take away all the fun! I used to be 220 lbs. and have lost 100 lbs. during my weight loss journey of several years. I have loved every part of this healing journey, it was not easy, but it was so worth it! Helping others is my passion and main goal in life. My children have taught me to be more patient, kind, and loving to all those around me. You see your children grow up, and you see a little piece of you in them as they grow and learn.
It's enlightening. Making sure I'm the parent now that I wish I had growing up. So I made a conscious decision to change my career to a path where I am my own boss, my own entrepreneur, share my own healing journey to help others heal. I currently work for Lifetime and have been a member with them for the last six years and working with them for the last three years. Lifetime is an amazing company with amazing leaders that have helped me with training, sharpening my skills, and giving me a place to shine and grow. Very blessed for this opportunity. Over the years, I have gotten many pieces of training from other incredibly skilled, certified, and experienced practitioners. I am trained in Ashtanga Vinyasa Flow, Yin, Chair Yoga, Pre/Post-Natal Yoga, Buti Yoga, Power Yoga, Kundalini, Children's Yoga, Aerial Level 1 & 2, Stand Up Paddle Board Yoga, Tantra, and Trauma-Informed Yoga. During this time of change, I have started homeschooling my children. I wanted to homeschool all along, and then when the pandemic started, I knew it was time for another life-changing turn for us all. I was happy that I changed my career earlier to support this change. So now, I homeschool my three children; eight years old, six years old, and three years old. I take private clients weekly for athletic performance-enhancing, aerial yoga, strengthening, learning inversions and arm balances, healing traumas, learning self love techniques to heal anxiety and depression, helping mothers to empower themselves, and anyone experiencing emotional, spiritual, or physical pain. I pour my heart into everything I do. I have to make sure at the end of my days that I refill my cup of energy back to help others and my children.
I make sure that everything I do, I am aware of the person's needs and wants, aware of their energy, time, and space. I make sure to create a safe and sacred healing space for those welcome. I am certified and insured to help you get to your highest loving self. If you want to leave all that you have made behind to create a new sustaining life in your passion, contact me. If you want to support your dream with your children and don't know how to make it a reality, let me help guide you. Self love is the heart of my practice. Self love will heal your traumas, physical pain, emotional pain, find yourself spiritually, find your true inner child self, allow the desires of your passion to be your life, allow yourself to feel more free and connected to yourself and your surroundings. I also make malas to help you during your meditation practice. I have been making custom malas for the last four years. I ask you what intention that you want to set with your malas, your favorite colors, crystals, numbers, any physical or emotional healing that you would like to set with the mala. Malas helps us to create a bond with ourselves during meditation. We can set a chant, mantra, prayer, or affirmation to each bead as you go through meditating. Finding stillness in the chaos helps us to relax more easily when crazy experiences happen to us when we least expect it. I am big on charity and helping others, the community, and communities that are not around us. I worked in Mexico and Costa Rica for five years building houses, making and serving food to communities that needed help most. I always try to find a way to give back in my everyday life, my career and having my children learn the importance of gratitude and giving back. I currently hold community. yoga events for free, every couple of months. One is coming up soon! I also hold Donation Based Women's Healing Circles. Register through email leefitlife333@gmail.com. A new Yoga Community Event is coming soon to you all in Houston, TX! Look for the post on my IG @leefitlife soon! Find gratitude in everything that you do, and you will become happier as you count each blessing that you have. My dream with my yoga career is to teach trainings across the world, traveling with my children, helping other communities with charity work blended into the yoga teacher trainings. Traveling is another passion of mine, and I would love my children to see what this beautiful world has to offer us. As Mother Nature supports our everyday life. I want to give back as much as I can to help heal those who need it most. Love is the ultimate healer.
Would you say it's been a smooth road, and if not, what are some of the biggest challenges you've faced along the way?
It has not been a smooth road at all! It never is! I struggled with my weight, my love for myself, struggled through healing a marriage, through divorce, healing after divorce, healing from PTSD from rape, from abusive relationships, from abortions, from PostPartum Depression, from adapting to change to homeschooling my three little ones, from leaving behind a career to start a new one, from not believing in myself- to believing in myself. The struggles are a part of the process. Healing is not pretty. It's painful and sometimes dismantling of the world as we know it, but that's ok. It is better to find truth in our feelings and awareness than to ignore what we feel is our true calling in life. Find love in your healing journey, it's not easy, but there is a community that believes in you and supports you.
How do you define success?
I define success on your happiness. Are you living a conscious living life? Are you just powering through life? Find gratitude in every morning that you wake up to. I define success based on how you feel successful. My version of success is not your version of success. I have had a successful job before and felt successful. It's in how you feel. Feel in this moment as you read and see if you feel successful. Are you living your dream? Are you making your dream a reality? Are you working towards your dream? What do you need to do to let go of attachments that are holding you back from your dream? My version of success is to feel happy in what I am doing every day, to help my children understand what their mission for their life is, to help my children attain their best life, to help others, to help others heal, to understand themselves, to help those who need it most, to have an open heart and mind to accept others, to help transform others' lives into healthy and happy sustaining lifestyles, helping others achieve their dream as a reality, to break the fears, the guilt, the shame, the illusions, that hold us back. Success is based on however you perceive your own reality.
Pricing:
$50-$200 Privates
$100-$400 Malas
$100-$10,000 Self Love Healing Packages and Ceremonies
Contact Info:
Suggest a Story:
 VoyageHouston is built on recommendations from the community; it's how we uncover hidden gems, so if you or someone you know deserves recognition please let us know 
here.