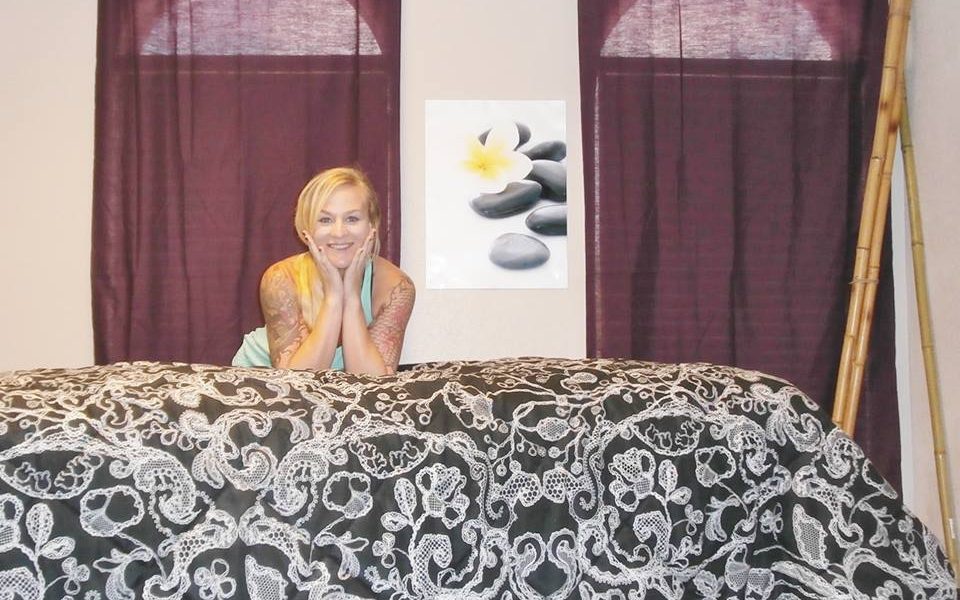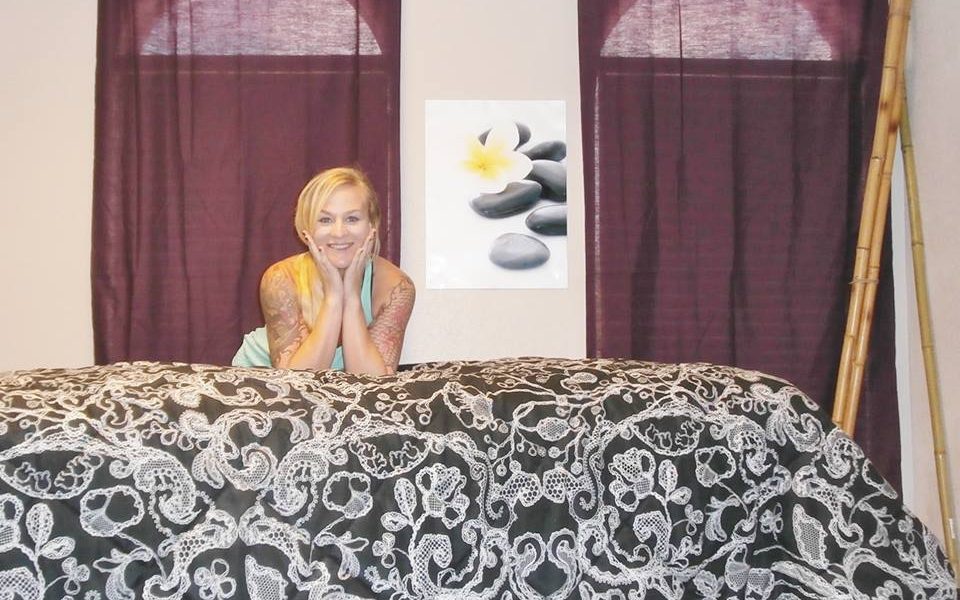 Today we'd like to introduce you to Leia Crowe.
Thanks for sharing your story with us Leia. So, let's start at the beginning and we can move on from there.
In 2007, I graduated at Massage Therapy school and opened my own business in Madison Wisconsin. The private practice grew each year, as I added more therapists to the team and expanded the spa to include more rooms and more services. In 2010, I was voted "Best Spa in Madison". Although I loved what I was doing, my heart has always called me to the beach. I was born and raised in Madison, but I was never a fan of the cold weather! I adored the warm sun and the ocean, and always wanted to move someday. In 2013, I decided to take a chance. I took a vacation to the Houston area, checked out Galveston Island and some apartments in League City. I fell in love with the whole area. I really liked the idea of being able to drive to the beach anytime I wanted to! I loved the heat, I loved the people, I loved the "Texas" way of life. So just a few weeks after I had visited, I was moving here! I literally made the decision that fast. I had sold my spa and was free to chase my dreams. I didn't know a single person here, and all my friends and family would still be back in Wisconsin. It was scary. I was 30 years old in one of the biggest cities in the country and I was totally alone. I opened Dreamcatcher Massage and Spa right away. I started offering half priced massages because I knew, if I could just get people in my door I could make them a client for life! I was determined to make a new life here, and I HAD to succeed because if I didn't, there was no one here to help me. I also became a personal trainer back in 2010, so I was also providing personal training for women in their homes and through online training. Quickly, I was gaining momentum. I was working with a lot of stay at home moms who couldn't make it to the gym, traveling to their homes and working out with them in their living rooms. I was providing massage and spa services at my studio in Friendswood, where word of mouth had become my biggest form of advertising. Within 6 months of moving here, my schedule was booked a month in advance! After the first year, I started to really specialize in women's health and wellness, offering massage for chronic pain conditions, pregnancy massage, spa treatments, meditation classes and fitness services both in person and online. I focused completely on serving my community and my clients in any way I could. I had even made some connections in the music industry and was getting calls to massage clients like Slash when they came through Houston on tour. I have never done much in the way of paid advertising, word of mouth was doing all the work for me! My clients would send me their entire family and all their friends. They were leaving me tons of reviews online and I was suddenly ranked on the first page of google. Then, only 3 years after I moved to the Houston area all alone to start a new life… my business was voted "Best of the Bay" which was a contest hosted by Bay Area Houston Magazine. I was floored! Back in Madison, it took me 4 years in business to win "best of". And here, it took me only 3 years! I was so honored and thankful. I feel so incredibly blessed. I am using this experience to help motivate other women to follow their dreams. To share with them that no matter how big and crazy and impossible their dreams may seem, they CAN make it all come true. If I can move from small town Wisconsin to the 4th largest city in the country and become a success in just 3 years… You can do great things too! I hope my story inspires other women to reach for the stars no matter how scary it may seem. I am now booked out 6-8 weeks in advance and have a thriving online fitness business as well. I still remain a private practice and I believe the key to my success was building relationships with people. I truly care about each person that comes to me. I care about helping them and serving their needs. They are my priority, and I love all my clients like family!
Has it been a smooth road?
Not at all! When I moved here, I drove down with my dad following me in a Uhaul, with my entire life packed inside. We got to my apartment, walked in and there were roaches everywhere! I then had 2 days to find another place to live! Texans are so helpful. I was led to some great people at some amazing apartments that were willing to pull some strings to get me into a place with just a days' notice! After almost being homeless, I struggled with being totally alone. I didn't know a single person, I missed my family and everything was very different here, compared to Wisconsin. It was scary, and I worked 7 days a week trying to build my business. I had to really learn perseverance, how to be resilient, and I had to learn about the new community I was serving. Being an entrepreneur can be lonely at times. It can be daunting and overwhelming. I learned how to take it one step at a time and only focus on taking care of my client's needs. The rest would fall into place, and it did.
So, let's switch gears a bit and go into the Dreamcatcher Massage and Spa story. Tell us more about the business.
I provide health and wellness services for women mostly. Although many of my female clients do send their husbands in to me for a massage now and then, I really specialize in working with women. I provide massage for chronic pain conditions like Fibromyalgia, chronic fatigue, migraines and chronic stress. I also offer pregnancy massage and I work with a lot of moms who just need some time to recharge. My personal training schedule is often full, so I have expanded to online fitness services and online training courses where I help women lose weight, learn how to create healthy habits and become more confident. Dreamcatcher Massage and Spa is all about helping women lead happier, healthier lives inside AND out, body AND mind. I specialize in massage for pain and stress relief, and I specialize in women's fitness. Most of my clients say I am known for the experience I provide. When you visit Dreamcatcher, it is a one of a kind spa experience. I have a private studio, so the whole place belongs to you for the time you book. I go above and beyond to make the entire service memorable and exceptional. Everything from the heated, memory foam massage table to the free hot stones and aromatherapy I include in all my sessions really makes it a unique experience. I never charge extra for those little luxuries, like a cooling face pad and eye pillows, warm towel wraps and more. My clients are pampered head to toe, and they often say they feel like they're off on some far away island at spa resort! As a company, I am most proud of the personal relationships I have with my clients. My clients are like my family. They know that when it's their birthday, I might include a card or a bouquet of flowers with their massage. I've sent clients special gifts when I hear their pets have passed away. They in turn have surprised me with baking me cookies or bringing me a bottle of wine! I have a very special relationship with my clients. I am proud that they know they can trust me and my business to genuinely care about them as customers and to always be honest and upstanding. I also use my business to help the local animal shelters and rescue groups. For each client that comes in I take $1 of that and then at the end of the month I match it personally and donate that amount to shelters and rescues. My clients love knowing that when they visit Dreamcatcher they are also helping animals in need. What sets me apart from the rest is how I go above and beyond to take care of my clients. I have carefully thought out every little detail, so that their experience completely blows them away! I have a real passion for what I do. Not only are they getting a very luxurious, VIP type of service at an affordable rate, they are being treated like family. Being authentic, genuine, and truly caring about my clients has really set me apart from the rest.
How do you think the industry will change over the next decade?
I see more and more massage therapists and personal trainers becoming "private practices". Personal care services like these are just that. Personal! People often feel uncomfortable going to big spas or big chains like massage envy because they are just one client out of a thousand, just a face in the crowd. They don't feel important or cared for. They often end up getting a different therapist each time they go. People would much rather stick with one person who knows their needs and knows their body. Someone they can keep going back to, like a doctor, where they can feel comfortable and build trust.
Contact Info:
Getting in touch: VoyageHouston is built on recommendations from the community; it's how we uncover hidden gems, so if you know someone who deserves recognition please let us know here.