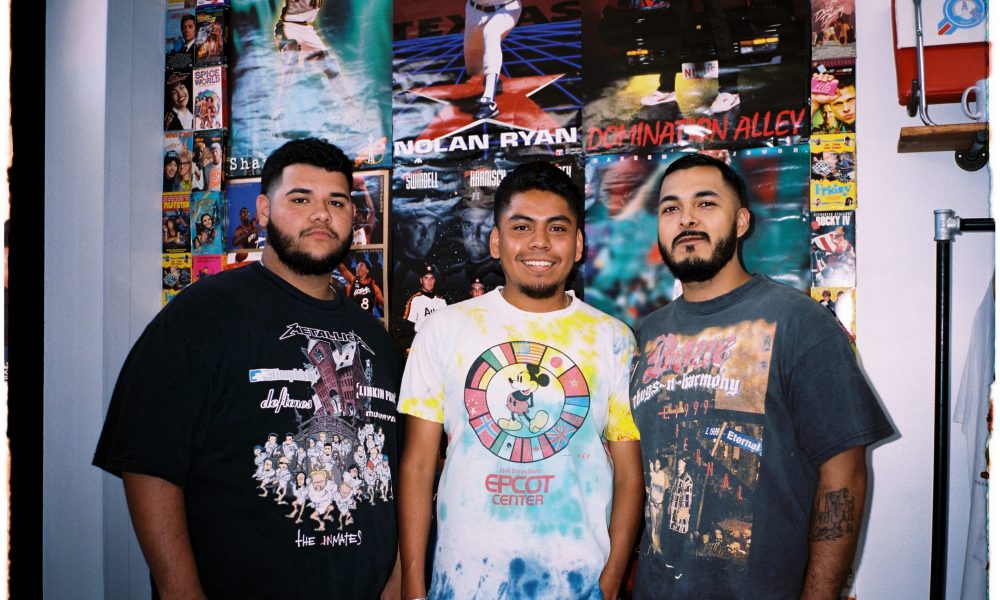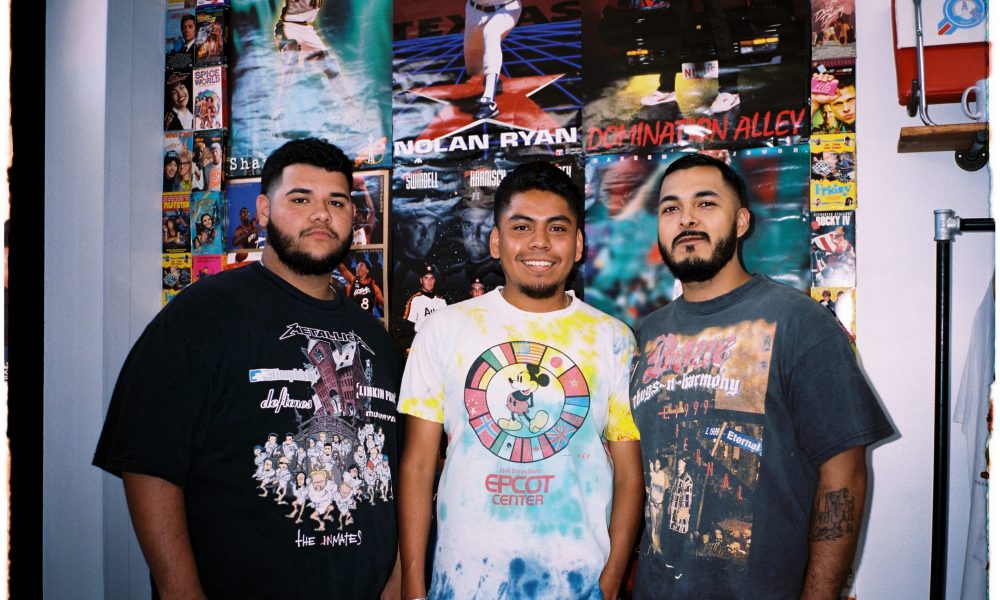 Today we'd like to introduce you to Leonardo Avila, Roberto Miranda and Andrew Campos.
Leonardo, Roberto and Andrew, can you briefly walk us through your story – how you started and how you got to where you are today.
Since there are three of us as owners (Robert Miranda Jr, Leonardo Avila, and Andrew Campos), I'll start from the beginning with Robert (myself). Leo and I have known each other since about 6th grade. We played soccer together and attended the same schools from 6th to 12th grade. During high school I was really a "mall shopper", meaning that I would buy most of my stuff from the mall. I generally cared about what I wore and how others perceived me. After graduating high school, I started to discover "vintage" from a couple of people on social media and YouTube. Around the second semester of my freshman year in college, I began to start going to secondhand stores myself. Being a kid who always got stuff that was "brand new", my first couple times were a bit uncomfortable to say the least. After taking one trip with my girlfriend, I told her how weird it felt going to by used clothes. She simply put it that it was still good clothing and to just look around and not think about it too much. The next time I visited a secondhand store I came up! I found two 1997 Stone Cold Steve Austin tees and a couple of Nascar shirts, AND I WAS HOOKED. I began to go regularly and would find so much stuff, but not all of it would fit me, so I began to offer it immediate friends. Since then, it took off for me. Trying to learn more about this whole vintage scene and what my city had to offer. I decided to go ahead and start pushing vintage. So I made an Instagram account by the name of @texasheat.finds, keep in mind I had no idea what I was doing.
The following day I went to a thrift and found a super sick 1990's Tommy Hilfiger tracksuit with ribboning down the arms and legs. In simple terms, STRAIGHT HEAT! As I get in line to proceed to checkout some guy comes up behind me and says, "You mother*cker! That's so sick!" Confused I turn around and didn't know how to react. I said, "Appreciate it.", and asked if he was into vintage too. He was and introduced himself as Nate aka @laflamevintageon Instagram. I asked what was the best way to go about this new found love for vintage. First thing he said was make an Instagram account, which was insane. Being that I literally made it the night before. He also told me about this new event called HipHop Vintage Flea Market. Hearing this peaked my interest and decided to check it out with Leo. Leo was also into clothing but not so much the vintage. Leo was into some of the hype stuff from Supreme, Bape, CDG and other designers, brands, and streetwear. Also, SNEAKERS, we both loved sneakers! After checking it out, I knew I had to be apart of it. I found the person who was one of the founder's (Jesse) and got all the info I needed to be apart the following month's popup. After telling Leo what I was planning, he decided he would help me out. That is how it went for the next 4-6 months. Leo would help me load, unload, setup, vend, teardown, load, and unload on the first Sunday of every month, which is when HHVFM was held. He would expect nothing in return and would continue to do it. We would have discussions about him coming on board and teaming up with me, but I was a little hesitant since there was money involved and didn't want to ruin a good friendship. However, I decided to go ahead to take him on as a partner and went on from there.
While doing HHVFM, we managed to make some money and grow somewhat of a following through social media. Most importantly, we met Andrew; the final member who would make Bounce Back a reality. Andrew and I met through HHVFM and we kicked it off. We were very comfortable with each other and became pretty close. All three of us would go hit stores together and post up next to each other at the pop ups. This went on for a good 8-10 months. Coincidently, Andrew and I manage to enroll in the same class as on another at the University of Houston. That's when I told him that Leo and I were planning on opening a shop together and that we would want him to join us. Andrew was super hesitant and was scared of the risk. However, Leo and I both knew if he didn't join us he would regret it. After a couple of weeks, we finally managed to talk him into it. After all three of us were on board we had to come up with a name for the shop we were envisioning.
Ideas were all over the place, I wanted to stick with TexasHeat, Leo wanted to go with Reborn, and Andrew wasn't having none of it. One day after class Andrew and I got together to brainstorm a name. We knew we wanted something that reflected what we were about, which was a second life for clothing. I'm brainstorming off the top of my head while Andrew is searching things on his phone. Andrew pulls Google up and searches up "synonyms for second chance", scrolls through the list and says, "Bounce Back". I look at him, he looks back at me and we exclaimed "BOUNCE BACK!". That's how Bounce Back came to be.
Has it been a smooth road?
All three of us have separate jobs and are full-time students at the University level. There are times when we get caught up with our personal lives, school, and work. Now you can imagine how hectic our time might be when schoolwork piles up on us and work is kicking our butt, but somehow we always find a way to keep up with everything going on at the shop. One thing that really eased the load was the hiring of a new employee. Our only employee, Erick has been such a big help and is trustworthy. He works at the store during the week when we are either occupied by school and or work. However, when the weekend comes; you can find all three of us there. From time to time there are disagreements between the three of us, from "how we want the store the look" to "what we want to do with the store next", it's never-ending. Arguments are bound to happen between us, but we managed to up with a 2 to 3 vote rule. So, if two people vote on the same thing, majority rules. Every business isn't perfect, there will always be obstacles in the way. We use those obstacles as learning experiences. We think that is what shapes you into a good business. You must fail in order to succeed. We never like to dwell when we come up short, we just keep pushing forward.
So let's switch gears a bit and go into the Bounce Back Houston story. Tell us more about the business.
Bounce Back is a small shop near downtown Houston that specializes in sneakers, hype (Supreme, Bape, Limited releases, etc.) and vintage clothing ranging from the 70s, all the way to the early 00s. You can find anything from vintage Nike, Adidas, Polo, Tommy Hilfiger, Harley Davidson and so much more. One of the ways we move items in shop is through Depop, we list stuff on there for the people that can't make it out to our store. Which is super cool because it gives them the ability to shop online without us having to manage a website. One thing we pride ourselves on is that we started from scratch, without any loans. We had a decent amount of money saved up and decided it was best to invest it in a storefront. However, the number one thing is that we are all young college students turned entrepreneurs that are hungry for success. We never settle for less and are always looking for ways on how to improve our shop. What sets us apart from others in town is that we treat our customers like friends. We go out of our way to make sure the customer is comfortable and treated like they are one of our own. In shop, we have a Nintendo Switch and PS4, a lot of times, customers will like to play and if they manage to beat us, they receive 10% off their purchase. Understanding what it's like to not always having money we try to find ways to give back here and there. We try our best to have a friendly, fun environment. To make everyone feel welcomed. Not only do we want people to look good in our clothes, but also feel good and leave with a great experience.
How do you think the industry will change over the next decade?
For the future of the vintage industry, I see it growing into a staple of the fashion community. As vintage has become a more common trend in the youth and motivating Streetwear brands, I can see it lasting through trends and continuing to evolve as older brands/styles become harder to obtain. As for our business, I imagine it continuing to grow and become more widely known in our city. Having the advantage of being a buy sell trade shop, we will continue to adapt and grow forward with the changing of times and trends and our vintage will continue to change with the trends as well.
Contact Info:
Suggest a story: VoyageHouston is built on recommendations from the community; it's how we uncover hidden gems, so if you or someone you know deserves recognition please let us know here.