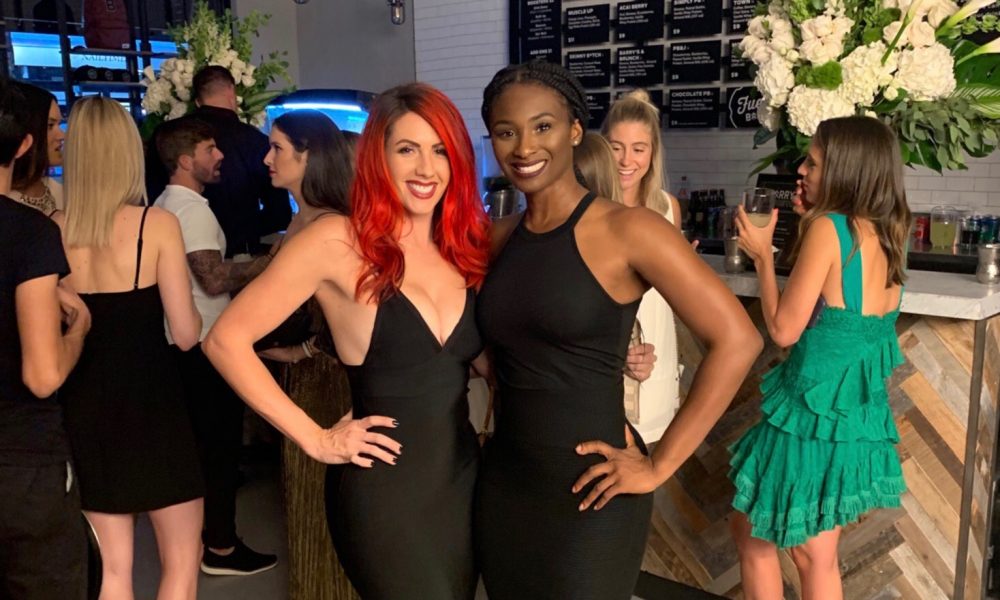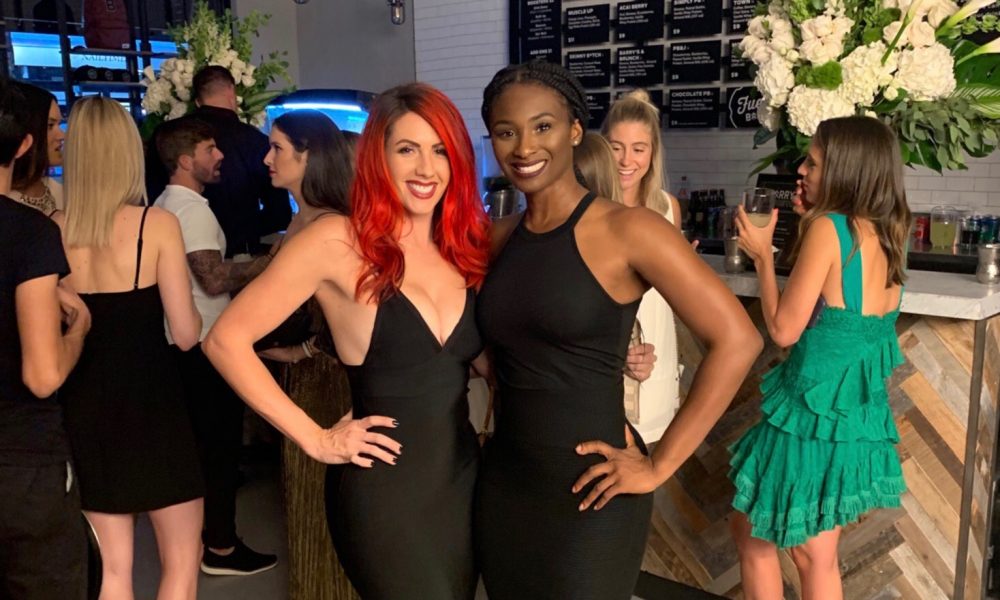 Today we'd like to introduce you to Meg Ellis and Chichi Nwaorie.
Meg and Chichi, let's start with your story. We'd love to hear how you got started and how the journey has been so far.
Meg: Chichi and I feel extremely blessed to be fitness entrepreneurs and are very excited to share about our company – Sweatwork HTX.
We have both been involved in the Houston fitness community for years. I am a SoulCycle Instructor and Chichi is a personal trainer. Together, we both instruct Lagree at Fyre Fitness. We are so thankful that these fitness roles allow us to be involved in Houston's fitness ecosystem.
Chichi and I met when we were both employed at the same fitness studio years ago. We realized how similar our visions on community and running a successful studio and/or business were; also both of us had a desire to be of service to Houston's fitness community. We worked together for a short time and soon found bigger things were planned for us after all. (Life's funny like that, isn't it?) I started a soft-launch of the company in early 2019, and Chichi came on as a partner to expand our services, as the need for what we had to offer the community kept growing! Enter Sweatwork HTX: Houston's networking company for fitness professionals.
We provide networking services for all fitness professionals in the local Houston community – this includes studio owners and managers, part-time and full-time instructors, influencers, entrepreneurs and even people seeking to get into fitness. We also have a few ideas circulating on how to best serve the heart of the community – the fitness junkies!
Our platform lives in a space of abundance. We see some needs in the industry and want to be a catalyst for innovation and conversation – the opportunity closest to our heart is competition versus community. While we believe healthy competition is necessary it doesn't need to be at the expense of community. Houston is an energetic city with exceptional growth in population and industry capable of supporting a vast fitness community. Think: stronger together. There is so much power and energy in collective thinking. We also ascribe to the Law of Attraction. By uniting together, we form a stronger community, which attracts more people into a healthier lifestyle and allow us, as a whole, to change more lives.
Has it been a smooth road?
Chichi: Honestly, the community has been so receptive and supportive of what we're doing – we are extremely blessed. We seek to unite, help businesses and instructors succeed while maintaining the joy that led them to the journey in the first place.
We understand and empathize that some people are initially uncomfortable with holding space for genuine community and this new collaborative approach. However, we are confident there are so many people who see endless and exciting potential. It is a new concept to Houston but being new doesn't scare us – we thrive on it. We don't conform to the societal rules of competition within the community – we're here to break the mold.
Meg: This question made me smile. It definitely has not been "easy," but, hey, if your calling is great, then your battles will be too. That's one thing Chichi and I agree on – we don't want "easy." You're always going to run across people who don't like to see others succeed – and that's fine, that's their prerogative. We just choose not to surround ourselves with that energy. We instruct and train for companies who support our visions. We take classes taught by instructors with positive energy. We attend meetings and events with mentors who stimulate our minds. It's been very beneficial for both of us to be in a daily environment full of positive, like-minded people who keep us moving, motivated, and forward-thinking.
Have we run into struggles? Yes, but I am one to focus on overcoming struggles. Any struggle or challenge we encounter, or that anyone out there reading will encounter can be overcome with a strong, positive mindset. How do you change your mindset? Think: garbage in, garbage out. Surround yourself with people who build you up, and you will begin to talk kindly to yourself as well. Trust in yourself, in what you are called to do and trust that your destiny will lead you to amazing places. Serving others is a gift and we don't take that calling lightly.
So let's switch gears a bit and go into the Sweatwork HTX story. Tell us more about the business.
Meg: Sweatwork HTX has evolved so much since its inception at the beginning of the year – it's funny to look back at your original plans and see how much it has changed over time. That's one thing Chichi and I are super aware of and proud of – growing with the need.
Chichi: This all started as a conversation and our hope is to keep the conversation going. Meg and I are passionate about cultivating relationships and conversations that transform our community and drive the future. Our goal is to create genuine, impactful partnerships within the Houston fitness community that support our partners in growing themselves and their business or brand in a holistic way. Sweatwork is focused on serving the comprehensive needs of businesses, individuals and brands within the fitness industry in the full range of the business cycle. We offer a list of tailored services that increase productivity and reduce overhead costs for business owners, individual instructors and influencers. This includes; business and marketing plan preparation, recruiting, online reviews, team sales and marketing training, management development and much more.
We are super proud of the momentum that we are creating and we are so proud of the personal and professional growth we experienced that led us to this moment. I think what sets us apart is our approach, our industry experiences and our dedication to this community.
How do you think the industry will change over the next decade?
Chichi: There are so many exciting opportunities on the horizon in the next few years. With historic financial growth within the fitness industry in the last five years, there is a good chance it is set to double in the next 10!
The number of boutique studios are increasing due to a desire for community. We are seeing people shift away from "big box" business models and facilities into a high-end or more niche option. People are looking for the connection and amenities access that sometimes get lost in traditional large scale facilities.
Furthermore, people are invested in their health more than ever. Technology such as wearables and online streaming classes, reduction in healthcare costs, access to affordable subsidized options such as ClassPass and GymPass and even healthy deliverable food options are feeding the financial boom we are witnessing.
I think one of the most interesting things is financial giants, groups and institutions are seeing the benefit of investing in the boutique fitness sector as well. So soon, you are going to see more outside capital opportunities for businesses and brands that have an innovative, profitable business model. That is where Sweatwork comes in. We aim to have a huge impact on the fitness industry – local and national! We help our partners to close the gap between their aspirations and an executed plan for their business' growth.
We know fitness trends are forever changing and evolving, but one thing remains constant among group fitness: there will always be community. We aim to be a catalyst for creating a community that fuels conversation. Conversation that fuels action. Action that fuels results.
We are the sweat life.
Contact Info:
Website: www.sweatworkhtx.com
Phone: 4124787443
Email: hello@sweatworkhtx.com
Instagram: @sweatworkhtx
Facebook: Sweatwork HTX
Image Credit:
Nathan Allan Photography; KP Photography; Muvve Media
Suggest a story: VoyageHouston is built on recommendations from the community; it's how we uncover hidden gems, so if you or someone you know deserves recognition please let us know here.