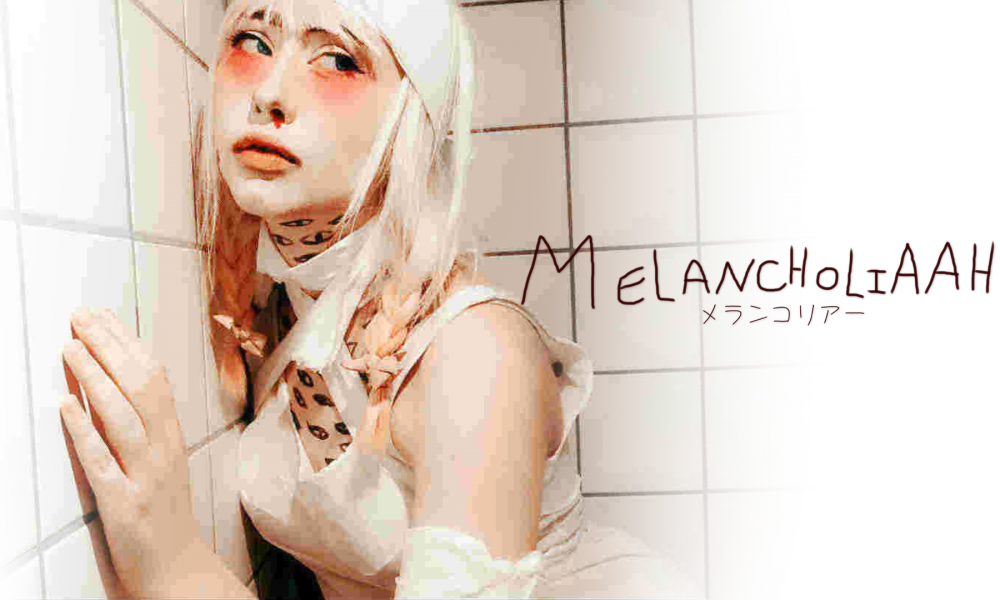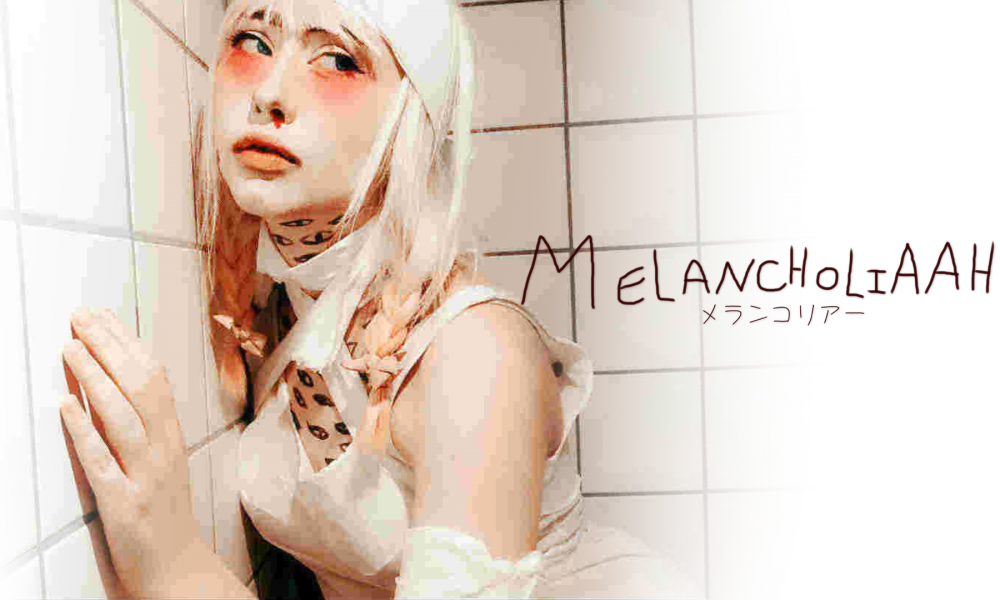 Today we'd like to introduce you to Melancholiaah.
Every artist has a unique story. Can you briefly walk us through yours?
I have always been a performer inspired by Japanese pop-culture. After a video of mine went viral globally at age 10 impersonating a famous character from Japan, I thought things would be made for me and everything was to be good vibes and bright eyes. The sad realization for me was, it was nothing like that at all. Although there were many good memories made as well as lots of good friends gained, there was more terror than there was anything else. Due to growing attention around the globe, I was beginning to be sexualized without my own knowledge of it on many unlisted private forums, sent images of people harming themselves for my attention, stalked for years to come, and told things that have stuck with me to this day. A group of individuals took to my family and even twisted a two-year long feud within my household, thinking if they couldn't get my attention that way, they would demand it by taking advantage of my parent's kindness. The world was becoming disgusting to me at a young age as I wore a bikini for a video and watched people call me sexy as a girl wh
o hadn't even entered middle school yet, watched grown men saying they wanted to marry me, had strangers find my home address and phone number, calling me late at night. I felt her world was taken from her, the thing she enjoyed most had become rotten. Despite all the factors, I continued creating videos and performing at events with a smile for the people who did support without any ill intention.
I spent a long time not treating any of my trauma from childhood professionally and once I did, I tried to step back from performing and the arts to focus on myself and understand why I wanted to make performing something special to me once again. After a close friend needed vocals for an album and asked me for vocals, I was told to quickly come up with a name to call myself for credit purposed. I had never had a stable name before, so I wanted this one to be the one that represented what I would make my message from that point on. "melancholiaah!" was what was chosen and can be heard on Akira Complex's Reality Distortion album. For me, melancholiaah! is a revenge project, if you will. I want to reclaim what I once loved to do, but want to show all my emotions, my happiness, my anger, my insecurities, I want to be transparent with everything show that vulnerability. After a decade of scrambling to learn how to keep afloat, melancholiaah! represents not needing to stay afloat as long as you can come up eventually, even if you are gasping for air, even if no one is listening. melancholiaah! represents that disgust I saw in the world as a 10-year-old girl. What you will receive is a raw performance, a performance that makes you either uncomfortable or comfortable and both are good.
Ultimately, in the wake of the #metoo movement, I wanted to make melancholiaah! my new project because my life is something, I've felt too scared to talk about in it's full. Although I still struggle with getting better and still have lots of trauma from seeing some of the things I've seen as a child, melancholiaah! gives me a space to do the things I've always been scared to do. I have never been able to be open about my scars, about how angry I am inside about everything that happened, how scary performing is to me now, but melancholiaah! let's me do that. I feel she is truly an extension of myself, the loudest part of myself that I've had to keep the quietest. Although our lives are different, my ultimate goal is that melancholiaah! can help whoever is watching me perform grow stronger from whatever is tearing them apart.
Please tell us about your art.
I do a lot of different things. I am a trained filmmaker, but also do animation, costume design, music production, makeup, singing, and dancing as a hobby. I find myself to be mediocre at all of these things, so I thrive the most when I have the opportunity to mash them all together in my live performances. I created my melancholiaah! project to be a live performance experience above all. When I perform, it is a hybrid of Japanese music ranging from the pop genre, to the more ambient genres, even to the metal genre, a psychological story unfolding between songs, and a visual story alongside everything. Most of the time, the psychological stories I write are stories that I am having trouble with at the time and tell those stories to motivate myself to continue on. Recently, I have also been incorporating visual stage designs to go alongside my performances, which is something I have been wanting to do since I've started the project.
What I perform is raw emotion and whatever emotion I am feeling that day is what you get and I am unapologetic about it. A lot of what I am trying to convey with my message is just that, being your authentic self, being comfortable with it, and loving yourself for it regardless. For much of my life, I have been unsure of who I am due to so many facades I've had to put on for videos or for the stage that it's tiring. I want to be myself, learn who I am, and finally show people who I really am. I want to show them the pain I feel through music no matter how ugly and scary that pain may be because in the end, someone will relate and feel the same way.
I do this for myself ultimately but I do it for others to see because I know someone will feel the same way and even just having one person feel the same way you do can change your whole outlook on something and motivate someone to keep going. When I perform, I want to create a community of love and acceptance, not only among each other, but love and acceptance for ourselves. I think in recent years hate has been so prevalent in our world, yes among one another, but a lot of times it's hatred towards ourselves. What I want to do is try to fix that ever so slightly if I can and just letting people know they are not alone in this. I want people to know yes, I struggle too, but I am still working to love myself and if you are working that is all that matters. My art is all about working, being transparent about your struggles, but continuing to work hard because we all deserve love.
What do you think is the biggest challenge facing artists today?
I think a lot of artists would say something along the lines of there being a lot of competition or how tough it is finding an audience, but for me personally, that doesn't matter to me too much. My main issue is finding management teams or event staff that value me as a performer. A lot of times in the industry that I am working in, because I am an independent performer with no management team, big crew, or big following, I am seen as someone who should be treated with little to no respect.
For me, I really don't require much to perform at an event if someone is wanting, I just want clear detail and direct correspondence. For some reason, that's really rare now a days. Everything is through a middle man or words get twisted and then we as artists get in sticky situations. I think that a lot of events that hire performers like me don't value us to the whole extent. Personally, I just feel a quick email explaining things isn't too hard, but evidently, I am very wrong. I am a free performer, but I do just ask for transparency and a lot of times I don't even get that. I have seen a lot of voice actors in the industry as well beginning to speak up about this and it's sad to see we aren't valued by staff as much as we are the people who are in the audience.
How or where can people see your work? How can people support your work?
I mainly perform at Japanese pop-culture events and conventions in the entire Texas area, but I post all of my works on social media as well. My original music is on both Spotify and Bandcamp respectively. One day, I would like to expand outside of the state, but I am in no rush to get myself out there because ultimately, I do this for me and those who resonate with the same emotions as me and only us, not for popularity points or social growth. In 2018, I performed frequently at an event called "Texas Idol Festival", which is an event that celebrates Japanese Idol culture and any performer who wants to perform a tribute or homage to that culture. The founders do their best to get their event all around Texas and all Texas' anime-related events.
I normally audition for that event where ever it ends up going, so I'm often found and even requested at those events. In the upcoming year, I am breaking out of the event within an event performer gig and have landed a few guest spots at multiple Texas anime conventions, but I have only been able to release information about Okashicon in Pflugerville on July 19-21 as of yet. I am constantly updating my website and calendar because in the Japanese pop culture industry here in Texas, things are very fast, spontaneous, and there are lots of random opportunities one wouldn't even think would be an opportunity. Once, I found out about a performance opportunity the day before and rushed to get as much promo out as I could within the sixteen hours. Ultimately, keep an eye on me on all my social medias or my homepage because I am always working in one way or another!
Contact Info:
Image Credit:
Becky Ortner & Claire Gwyneth
Getting in touch: VoyageHouston is built on recommendations from the community; it's how we uncover hidden gems, so if you know someone who deserves recognition please let us know here.