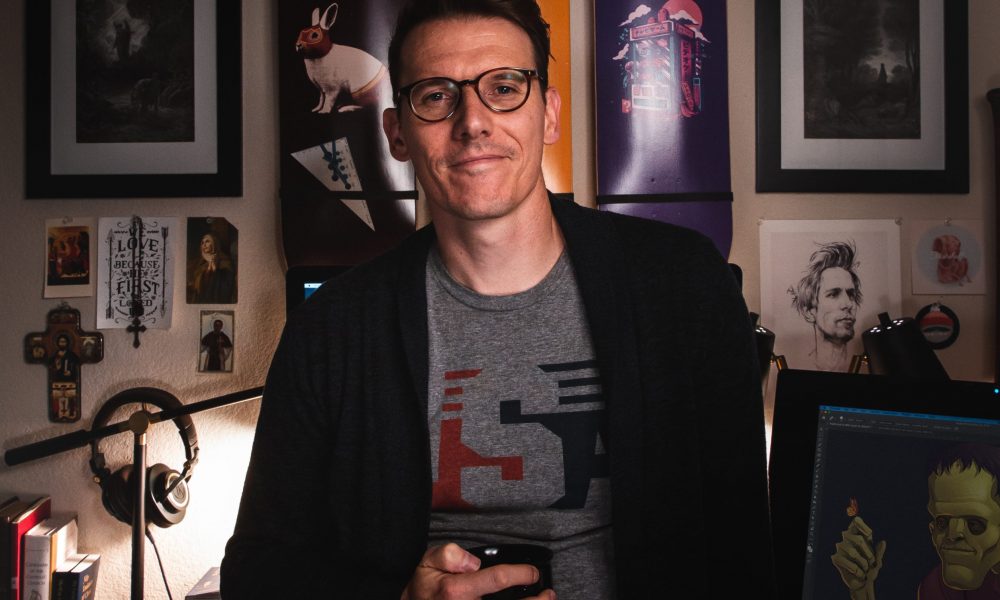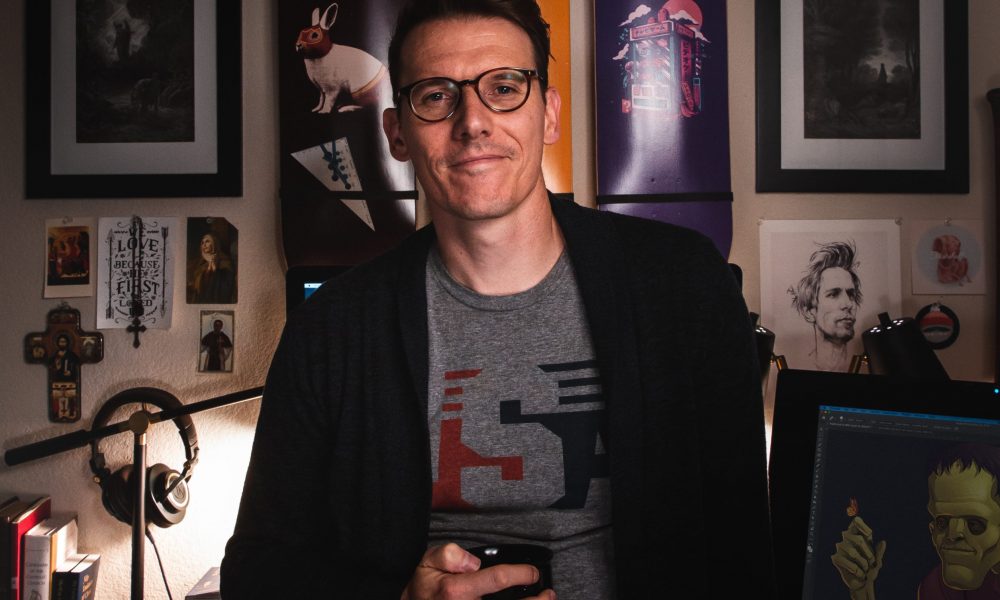 Today we'd like to introduce you to Mike Marshall.
Every artist has a unique story. Can you briefly walk us through yours?
As far back as I can remember I've had a love of the visual arts. My mother tells a story of me, after getting in trouble for drawing on the walls, asking for rolls of scotch tape for Christmas. After finding them under the tree, I promptly ran to my room and started composing a mural on my wall with the tape.
I vividly recall being in an impromptu drawing contest with another kid in second grade, judged by onlooking second graders… we were a big deal. I lost. Some psychologist might say this still drives me.
Like most adolescent boys in the 90s I wanted to be a comic book artist when I grew up. I'd spend every moment of free time drawing lumpy ninja turtles fighting wind-blown X-Men.
High School introduced me to the fine arts and college years to graphic design. I fell in love with Doré, Rockwell, and Mucha.
I'm now fortunate enough to have a great career in the design field by day and ample opportunities to dabble in illustration in my free time.
Please tell us about your art.
I like to say I've been created a creator. I love to create for the process of creation.
I have a bad habit of setting my work aside once I'm done with it… the end is often much less valuable to me than the means by which I got there. I love the vision and the doing, the materializing of something beautiful out of a mere thought.
I love starting a piece not knowing where it's going and being surprised as it materializes before me.
I love honing a craft and striving for perfection, even knowing I'll never get there.
Honestly, I want my work to primarily be beautiful and to stop a busy passer-by, to catch an eye. Then it can open a dialogue and tell them a story.
Choosing a creative or artistic path comes with many financial challenges. Any advice for those struggling to focus on their artwork due to financial concerns?
Yeah, this is tricky. I wish I had an easy answer to this, but I don't.
I've been extremely blessed.
15 years ago I dropped out of college and worked as a construction worker in a chemical plant while I tried to figure out what to do with my life.
Today, I am married to the most amazing woman in the world, we have six children and a house and I make enough for her to stay home with the kids.
What happened in the intervening years? Some would call it luck, hard work, fortunate circumstances… I'm sure it was something bigger.
Some advice: Work as hard as you can. Pray harder.
How or where can people see your work? How can people support your work?
You can see what I'm up to on my website, www.mikemarshalldesign.com and on instagram.com/mikemarshallarts
Contact Info:

Image Credit:
Mike Marshall and Steve Gee