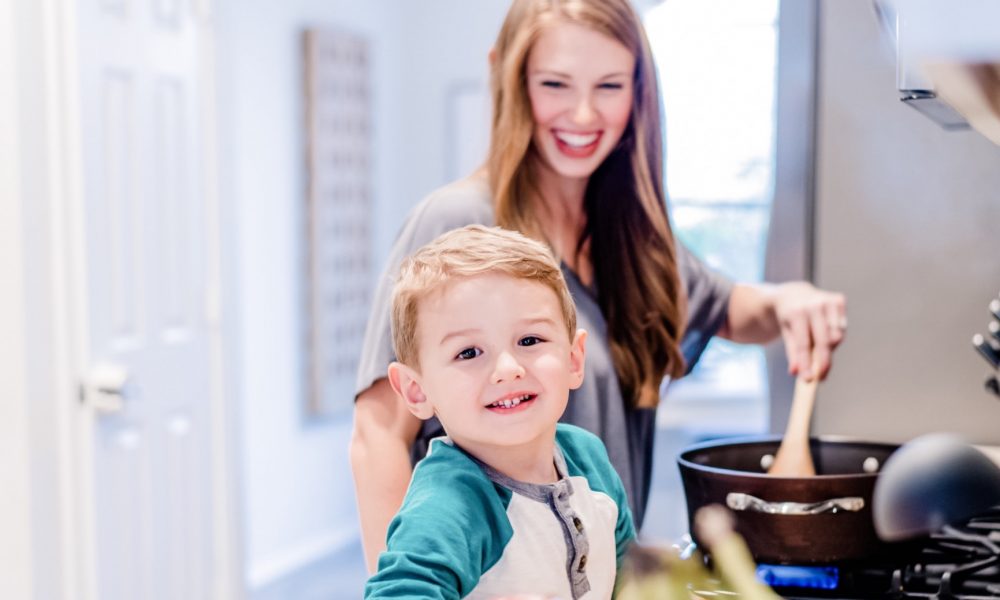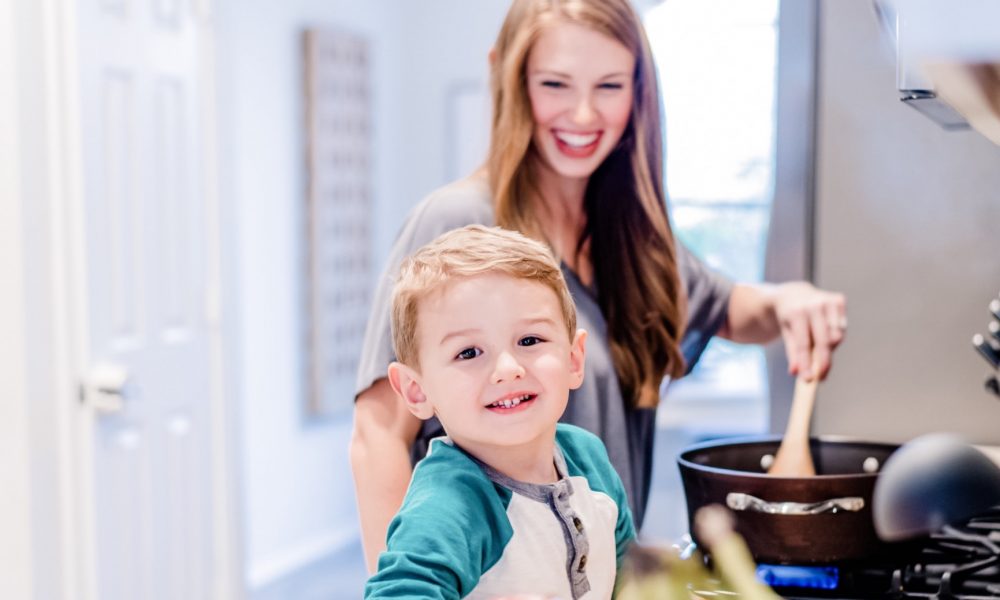 Today we'd like to introduce you to Rachel McFall.
So, before we jump into specific questions, why don't you give us some details about you and your story.
In 2016, when my son, Gene, was six months old, he was diagnosed with life-threatening food allergies. He is severely allergic to peanuts, eggs, and wheat. Neither my husband nor I have food allergies and they do not run in the family, so the news came as quite a shock to us.
I spent a few weeks throwing myself a pity party, making lists of all of the things that my baby boy would be excluded from- pizza and cake at birthday parties, donuts on the way to church, macaroni art, the magic that is a kids' meal with a toy, and so on. After enough wallowing, I decided it was time to begin our new life. I knew absolutely nothing about food allergies, but I knew I had to learn as much as I could and as quickly as I could.
I have spent the last three years experimenting with new recipes and taste-testing allergy-friendly products. Countless hours have gone into online research and numerous questions have been asked to our allergist. I have been doing everything I can to keep my son safe, all the while learning so many new things.
For example, did you know that Play Doh has wheat in it? Soy sauce too! Did you know that people can have allergic reactions just from the allergen being in the air? Or did you know that epinephrine comes in sets of two? I thought it was so you could keep them in two different locations- maybe one at home and one at school. Nope! It's because many people require more than one dose of epinephrine during a severe reaction.
Today, Gene is almost four years old and only knows a life with allergies. He can tell you what he's allergic to and knows to only eat the food that we pack for him. Gene never leaves home without his red backpack, stocked with an assortment of snacks and an army of medicines, including epinephrine. He also wears a medical ID bracelet with his name, his allergies, and our contact information.
Since Gene's diagnosis, I have spent every day looking at the world through teal-colored glasses (teal is the color for food allergy awareness). Educating others and helping them navigate food allergies is now my greatest passion aside from being a mother. I did not choose this passion, and if I had a choice, I would not choose it, but here I am.
We're always bombarded by how great it is to pursue your passion, etc – but we've spoken with enough people to know that it's not always easy. Overall, would you say things have been easy for you?
Honestly, I would say that things have been the exact opposite of easy for me. The hardest part of having a child with life-threatening allergies is that there is no handbook. There is no guide to tell you how to raise a child in a society that revolves around food.
Think about it. You can't properly celebrate a birthday, Halloween, Easter, Christmas, Thanksgiving, or even the Fourth of July without eating. You can't go to an Astros game or an event at NRG without buying from the concession stand. The list of every-day situations where food is involved is endless!
The struggle is beyond real for allergy parents. We are constantly trying to find the perfect balance of safety and emotional well-being for our children. We obviously don't want their lives to be at risk, but we also don't want them to feel left out and be ostracized.
As if this balancing act isn't hard enough, allergy parents are also forced to change their own eating habits, learn to cook new meals, and of course increase the grocery budget because allergy-friendly foods are outrageously expensive. Don't even get me started on the cost of epinephrine these days-that is, if you can find it!
That being said, all of those forced changes are minimal when compared to the emotional toll that food allergies place on these parents.
Becoming an allergy parent is not simply a change or an adjustment. It is a completely new way of life. It is a life where you are constantly worried that your child will die because of something as basic and necessary as food; a life where you constantly feel the pressure to single-handedly keep your child alive; a life where you are so burdened, so stressed, and so weighed down that your body physically no longer knows how to take a full breath; a life where anxiety and fear are simply an integral part of who you are. You become a different person.
I don't think that these feelings will ever go away for me, even as Gene gets older. These worries and fears will forever be ingrained in me; however, all of these emotions are a little easier to carry knowing that my son can feel some sort of normalcy due to my efforts and the efforts of others.
So, as you know, we're impressed with AllerGene-friendly – tell our readers more, for example what you're most proud of and what sets you apart from others.
I am proud of the fact that I took something that was so heartbreaking and so challenging for me as a new mom and am working to turn it into something that provides hope and help for others. The term "allergy-friendly" describes foods that do not contain certain food allergens and my son's name is Gene. Hence, allerGenefriendly was born. AllerGenefriendly is truly a passion project for me. I'm not selling anything and I'm not getting paid for it. When I made the decision to start allerGenefriendly, I told my husband that if I helped even one other person, then it would be worth it.
It was worth it.
When dealing with food allergies, you have to throw all reservations, all timidness, and all hesitation out the window. You have to be loud. You have to be bold. You have to be straight-forward and purposeful. That is exactly what you get with me and with allerGenefriendly.
At allerGenefriendly, I offer a survival guide of sorts to parents, grandparents, and loved ones who are forced into dealing with food allergies. This includes personal stories from our family, recipes that exclude peanuts, eggs, and wheat, and products that we stock our pantry with.
Aside from helping those who face allergies in their daily lives, I also strive to educate others and spread awareness about food allergies. Many people have the misconception that if their child does not have food allergies, then they don't need to know about them. Wrong! Many allergic reactions are caused by people who don't have allergies themselves but easily could have been prevented if they had more knowledge on the topic.
For example, let's say a mom lets her child snack on peanut butter crackers while out shopping. Sounds normal enough, right? The problem is, the residue left behind on the cart from those sticky hands could cause an allergic reaction for the next kid that sits there.
Or, imagine a grandparent making a gluten-free breakfast for their grandchild. They know the bread is wheat-free, but they probably haven't thought of the fact that their toaster is already covered in wheat allergens from their regular toast and could cause an allergic reaction.
These are the warnings and messages I am trying to send out to the non-allergy community. So allergies or not, allerGenefriendly is a resource to be shared. It is a resource for all.
Who else deserves credit – have you had mentors, supporters, cheerleaders, advocates, clients or teammates that have played a big role in your success or the success of the business?  If so –who are they and what role did they plan / how did they help?
When I became a stay-at-home mom, I had to start over. I had to find a new routine, new ways to fill my days, and new friends to do life with. This transition is hard for any mom, but doing it with a kid who is 'different' made it that much harder. I was alone and I was struggling. Big time.
During this new phase of my life, by the grace of God, I met the most selfless, generous, loving women that you could ever imagine. These new mom friends put themselves in my shoes without me ever asking them to. They packed their kids allerGene-friendly snacks and lunches for play dates and school. They made allerGene-friendly meals and delivered them to our family after our daughter was born. They have shown up on our doorstep with bottles of wine at the end of days filled with emergency visits, breathing treatments, and steroid shots. They have sat with me, hugged me, and cried with me (usually in public places) when the weight of it all has been too much to bare on my own.
Most importantly, they have taught others, by example, to love and accept Gene just the way he is. Their husbands have baked Christmas cookies and loaves of bread for Gene. They've gotten their entire street on board with passing out only allergy-friendly candy on Halloween so all kids could Trick-Or-Treat safely. A classmate of Gene's has Rice Krispy Treats at her birthday celebration each year because she knows Gene can eat them and she doesn't want him to be left out.
If you've ever lost faith in humanity, let me tell you that people are still good! SO GOOD! I have never in my life felt so loved and so supported as I do when I am with these dear friends. These people are my supporters, cheerleaders, advocates, and teammates all wrapped into one. These are the people who have pushed me to speak up and share our story with the world and I am eternally grateful for them. I hope that allerGenefriendly can spread love and awareness in the same way.
Contact Info:
Image Credit:
Lauren Leigh Photography
Suggest a story: VoyageHouston is built on recommendations from the community; it's how we uncover hidden gems, so if you or someone you know deserves recognition please let us know here.