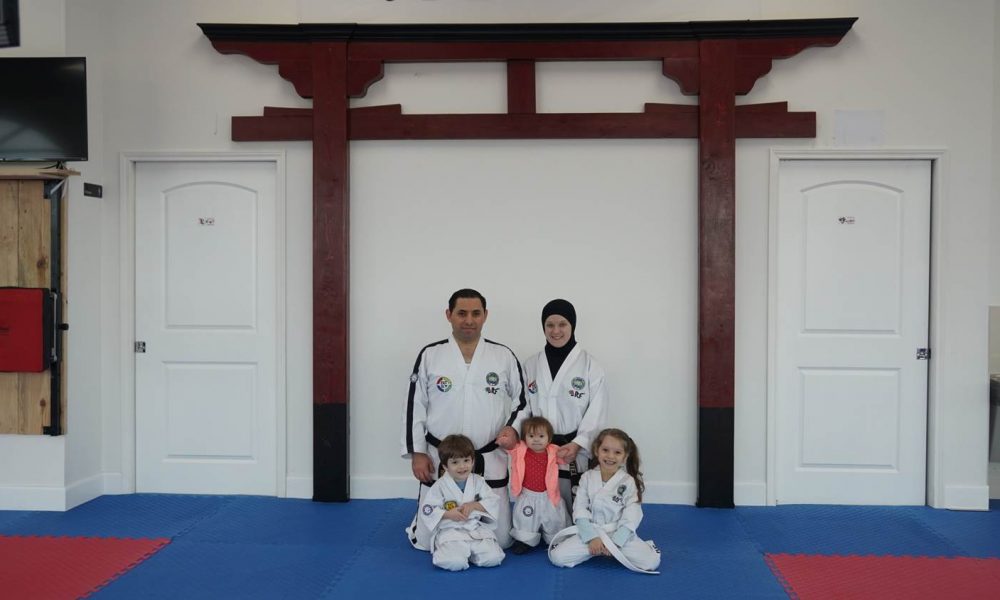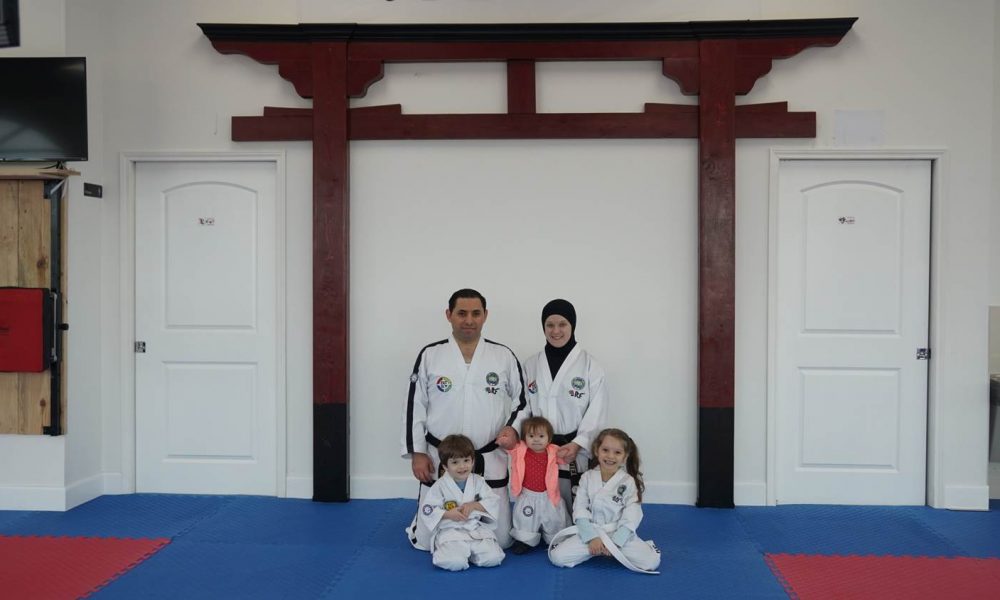 Today we'd like to introduce you to Raed Alfaleet.
So, before we jump into specific questions, why don't you give us some details about you and your story.
My martial arts career started when I was a teenager growing up in Gaza, Palestine. My first instructor was a kickboxer and a specialist in Japanese weaponry (Kobudo Weapons) i.e., Swordsmanship, Nunchaku, Tonfa, Bo Staff, Etc Which I absolutely fell in love with. I also studied Karate on the side. I ended up becoming a teacher for my school and taught almost all of my 50 nieces and nephews. I really got to know and understand children during that time, and decided to get a degree in Kinesiology from Al Quds University. Everything about the human body and what it can do just fascinates me. The local Elementary school then hired me as a Physical Education Instructor, where I got to work with even more kids. As a side gig, the local firefighters and police department asked me to train them in restraining techniques and hand to hand self-defense. I absolutely loved what I was doing and being an active member in my community. I also represented the Palestinian Athletic Unions at Conferences and Seminars to enrich the country's sports programs.
I came to the U.S. at the end of 2009 and was working at local preschools as an after school Martial Arts Instructor. During the first year, I was struggling to find a legitimate instructor to continue my training here in the U.S. This country is full of McDojangs (Gyms giving fake belts …. For the money), and with my educational background and experience, I could tell right away if any instructor in any style was worth their salt. I eventually found Grand Master Van Binh and Master Hanh with the International Taekwon-do Federation. The original Taekwon-do started by general Choi. I heard Grand Master Vanh Binh's story and his time served in the military in Vietnam, and I knew I'd found the right set of teachers. The organization itself is extraordinary and registered instructors are required to travel and train with elected leadership to keep their teaching certifications. That training is on top of what you have to do advance in rank. The Grand Master's are very serious and it means a lot to me.
I became a very popular teacher with the after-school programs because I focus on discipline and active listening skills. Parents also saw my passion to make sure students were really learning the martial arts skills so they could use it if they had to. It wasn't just for show. In 2018, I had a large enough student base that I could open my own school in Sugar Land. In May 2019, we graduated our first black belt. He had started with us at the age of 8 in one of the afterschool programs. On test date he was 14, 95lb and his right cross was coming in at 400lb per square inch on a force sensor we set up in the back of the gym. It felt good to have my vision that black belts should be someone who can defend themselves in the street really come to life.
I am currently a 4th Degree Black Belt in ITF Taekwon-do. My wife's name is Alyssa. She is a 2nd-degree black belt in ITF Taekwon-do and the other instructor with Fit & Kick. We have three children. Reema 6 years old, Hamza 4, and Yara almost two and ALL of us are doing Taekwondo.
We're always bombarded by how great it is to pursue your passion, etc – but we've spoken with enough people to know that it's not always easy. Overall, would you say things have been easy for you?
When I first started working with the after school programs as a martial arts instructor, I was under contract work through an after school enrichment service provider. These middlemen frequently failed to pay me, so I worked hard to build relationships with the staff at the schools. Eventually, they dumped the companies and contracted directly with me. In 2013, I incorporated, and Fit & Kick became an official business. My later struggles came in dealing with the parents of my students. Nearly all of them have no martial arts background and many walk in the door with the attitude that the customer is always right and try to tell me how to do my job. I've lost a fair amount of business telling people they can get out; but the students who see and understand what I am doing for their children are dedicated for life.
The most common issue is parents satisfying their own egos over their kid's actual success. They really need their kid to be the "World's youngest blackbelt" or "National Champion" with only a year or two worth of lessons. Pictures of your kid's belts and trophies on Facebook means nothing if your kid cries and can't stand up for himself when the local bully pokes him or her a little too hard. Or worse, "you realize your kid is the local bully, right?"
Next, many families want their kids to learn a martial art for discipline and self-confidence, but don't want their kids to see or be a part of any kind of violence. It doesn't seem to connect in their minds that their kid will have to punch someone or get punched eventually (All protective Gear Included) if they want to practice using their skills for the real world. And if their child is ever afraid, they let them quit and runaway instead of facing their fears. They want me to give them all the tools but set them up to stand like a deer in headlights if anyone ever confronts or attacks them. Some of these kids leave without even the reflex to dodge or run away. It's really a waste.
When teachers cave to these parent mentalities schools start turning into McDojangs. I have had too many black belts walk into my school (some asking for jobs) and then get pushed around in the sparring ring by kids half their age with only 1 or 2 years of training. We could put all the blame on the teachers, but at the end of the day the parent culture is also at fault.
Working with the students themselves, I've found that this new generation is overly sheltered and doesn't have a desire to take on responsibilities. They are lazy, and the lack of challenge in their life gives them low self-esteem and sense entitlement. When I was five years old back in Gaza, my dad had me take all the produce from the family farm and deliver it to town to the supermarkets and other vendors. I had to make sure each customer got their order, and that we got paid. I was walking around with tons of money shoved in my pockets, and my family's reputation as a supplier on the line. Many of my newer students walk into class with their shoulders slumped, don't look teachers or parents in the eye, and groan about how hard it is to help load the dishwasher or take out the trash. They refuse to be responsible for anything, especially their own actions. Some of them I wouldn't trust to take out the trash. They would probably leave it in the hall after being distracted by an electronic device. My own parents would have died of shame if I had ever carried myself like that or behaved that way, and I break my students of those habits as quickly as possible when they enter my class. I seriously worry about the future or our country if this is the state of so much of our youth. What is America going to look like in 20 years when they enter the workforce?
So, as you know, we're impressed with Fit & Kick Taekwon-do and Kickboxing – tell our readers more, for example what you're most proud of and what sets you apart from others.
Fit & Kick is the only International Taekwon-do Federation Licensed and Certified school in Sugar Land.
And only one of a handful in the Houston area. Our organization, the ITF, demands that licensed teachers travel for regular seminars to maintain their teaching certifications. You can't just get your next level black belt and wander off to do whatever. Our goal when students enroll with us is to give them a set of skills they can effectively use in the street. They can find that in both our Taekwon-do and Kickboxing programs. We are family-owned, and treat every student that comes in our door as if they were our own family member.
We have added the finesse and fine-tuning of Taekwon-do into our kickboxing program, and make sure students can use their hands and fists eventually without even the need of gloves or footgear. A person who might jump you in the street won't wait for you to put your gloves on.
What we are definitely most proud of is the quality of martial artist we generate. We are strict with our grading policies and attendance even if it means losing business. It's all worth it to see the Masters and Grand Masters beaming as they watch our students demonstrate, and know we have done our best for our students and our families.
BEST MOMENT EVER was a story told to my wife by a school staff member. One of our students was teased by a kid at school for being in Taekwon-do and proceeded to kick our students as hard as he could. He looked at the bully with all sincerity and calmness and said, "That was nothing. You have no idea what a real kick looks or feels like." BULLY was put in his place without direct teacher intervention and our student became a hero to the students who witnessed it.
So, what's next? Any big plans?
Our black belt that graduated last year has the potential to compete nationally and even internationally, and I expect all of our black belts to have that kind of skill level. As more of our current dedicated students move up the ranks, we would definitely like to see Fit & Kick have a presence at the ITF World Cup and World Championships in the not too distant future.
In less than ten years, I expect to graduate 1000 students at one time at Skeeters Stadium in Sugar Land. We will get that big and open enough locations in the Houston area.
Pricing:
Taekwon- do ITF $160 / month for 3 Days / Week of classes
Adults Only Kickboxing — Unlimited — $200 for 2 months or $300 for 4 months (Free Gloves)
Contact Info:
Suggest a story: VoyageHouston is built on recommendations from the community; it's how we uncover hidden gems, so if you or someone you know deserves recognition please let us know here.