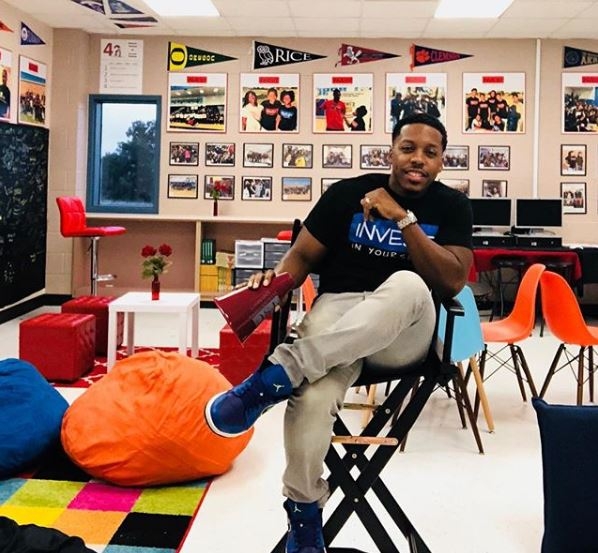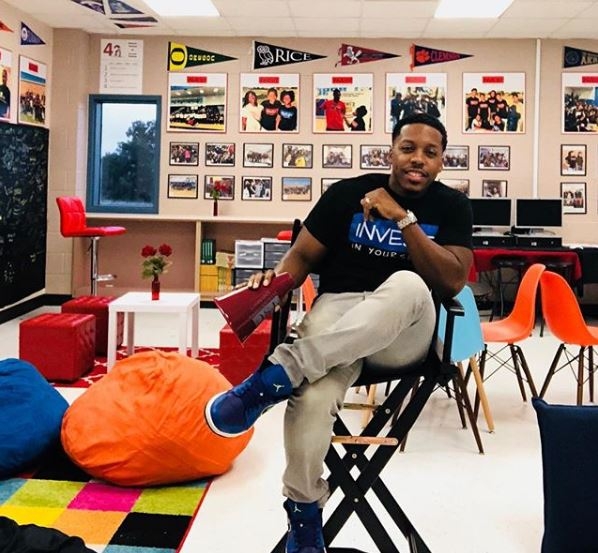 Today we'd like to introduce you to Shaughn Thomas.
Thanks for sharing your story with us Shaughn. So, let's start at the beginning and we can move on from there.
Education is a field I never thought I would be working in. I went to Xavier University of Louisiana for undergrad and majored in sales and marketing. I attended graduate school at Texas Southern University, where I received my MBA. After completing graduate school, I worked in corporate America for about two years. While working in this arena, I quickly realized that this was not the career path for me. I was feeling empty, depressed, and knew I had to serve a bigger purpose. I wanted to give back to the community and my wife suggested that I become a teacher. Initially, I laughed at the idea but decided to give it a chance.
I began my teaching career in fall 2013. Like most new teachers, my first year was very challenging. My classroom management was poor and I found it difficult to make the transition from the corporate world to a classroom setting. Although my first year was very arduous, it gave me an adrenaline rush that would hook me for life. I discovered my passion for education and genuinely loved my job.
In November 2014, my dad offered me the opportunity to work with him and his company, Xposure Foundation Inc. After just one year in the classroom, I moved from Houston to New York City to take on a Program Director position with the company. I worked for my dad for a total of 7 months. This 7-month time span had the most impact on my career and this is where I truly learned how to create an Adventurous Classroom Experience (ACE). This time in my life is when it really clicked for me and I understood my purpose.
Upon my return to Houston in July of 2015, I started teaching in Fort Bend ISD and I had a fire ignite inside me to transform the way content was delivered to students. I wanted to make learning FUN! My goal is to make every lesson an "experience." You may forget what someone has told you but you will never forget how he or she made you feel. That is goal when engaging with my students. I try to go the extra mile to ensure that my students receive the best-in-class experience and love coming to my classroom. I even spent $1,500 of my own money for two consecutive years to replace my classroom desks with flexible seating. My classroom has café tables, futons, inflatable chairs, beanbags, and ottomans. I want my students to be excited when they enter my classroom and give them a comfortable learning environment. I was inspired by the Google offices. I saw how this is one of the most successful companies and they are constantly changing their approach and company culture, but for some reason, education is not gotten the memo. Our students are constantly evolving but the way we present information and the environment we provide is outdated. I want help be the voice for change.
I constantly try to stay innovative, think outside of the box, and make adjustments to make learning fun. I not only want to inspire my students but also other educators. Although each campus is different, I want educators to believe they can make learning fun in any circumstance with just a little creativity and passion. I also want them to empower their students to take control of their own learning.
We're always bombarded by how great it is to pursue your passion, etc – but we've spoken with enough people to know that it's not always easy. Overall, would you say things have been easy for you?
Initially, I would say that the road was not smooth. I only say this because I was not happy trying to navigate corporate America. It was not my passion. I was depressed waking up every day going to a job in which I had no passion. I would think to myself that this could not be life. I had the expectation that I was going to be making tons of money and when this was my only focus, I would be disappointed when things did not pan out how I expected. Since I have made the transition to education, I found my passion, realized my purpose, and the road has been smooth. I wake up every day excited to go to work and see what adventures are in store for the day. I want to help my students realize their passions at an early age so that they can begin to pursue their dreams now.
So let's switch gears a bit and go into the Invest in Yourself story. Tell us more about the business.
I am the founder of my after-school program called Invest in Yourself. The program focuses on teaching youth financial literacy. In the program, my middle school and high school students learn lessons about saving, credit, banking, and investing in the stock market. I want our youth to become financially literate so that as they enter adulthood, they will not build debt, take out tremendous amounts of student loans, or live from check to check. The goal is for them to build generational wealth, which will ultimately change the family dynamic and positively affect our communities. Each Invest in Yourself student earns a stipend, opens a bank accounts, and purchases stocks to become shareholders in Fortune 500 companies. In September 2016, State Farm awarded me with a $45,000 service-learning grant that would help my program affect the community. This grant is what helped take the program to the next level.
Over 80 students have completed the program over the last four years. I have taken four students and their parents to New York City to visit Wall Street and the Financial District. The goal is to bring learning to life! In May 2018, two of my students won 1st place out of 446 teams in the middle school division of the Houston-area SIFMA Stock Market Game held by the Texas Council for Economic Education. They turned $100,000 into $147,000 in nine months https://www.youtube.com/watch?v=u1c0UGK1I2Q. Over the past two years, my students have facilitated three community stock market workshops where they taught over two hundred adults and peers in the community how to invest https://www.youtube.com/watch?v=2S7NqaNLu5A&t=51s. To date, over one hundred of those participants have opened investment accounts. This spring, my students went on a financial literacy tour. We traveled to different schools so that we could educate their peers on the importance of financial literacy (https://www.youtube.com/watch?v=ZAyiWEEZkc4). They also conducted a financial literacy workshop for all of the assistant principals in our school district (Fort Bend ISD). https://www.youtube.com/watch?v=xsy528-HZUE
My Invest in Yourself students education also transcended the classroom when they conducted a social media workshop for Keller Williams Realty agents https://www.youtube.com/watch?v=mW2XCTifw1o. They taught a group of 15-20 agents how to use social media to increase their business. The students prepared their own PowerPoint presentations and created engaging activities for the adults.
Entrepreneurship is also a huge part of our program. Last year Invest in Yourself awarded $2,000 to help fund the business ideas of our students https://vimeo.com/282296067. It is important that we put action behind their work and ideas so that they are inspired to become young entrepreneurs. This year, one of our 8th-grade students Christian, launched his clothing line that has really taken off. His company is New Wavez Clothing https://www.youtube.com/watch?v=9Zfdf2lOdY0. It is amazing for us to help students find their passion early and then start to make it a reality.
What I am most proud of is that our students are paying it forward. Once they learn their lessons on financial literacy, they are taking the information and educating their friends, family, and community. Through financial literacy and economic empowerment, our youth can help change the dynamic of our communities. Ultimately, my goal is to expand the program nationwide to influence as many students as I can.
Has luck played a meaningful role in your life and business?
God has truly been blessing me. I say this because he has allowed me to find my passion and has given me clear vision on what it is I want to accomplish. I believe luck is preparation meets opportunity. Also, an important part of my success is due to the positive relationships I have with my family (especially my mom, sister, and wife), friends and community leaders and their belief in my mission to educate the youth and my community. Without their support, none of my success would be possible. Lastly, there is a quote that I live by that I believe plays a huge part in my life and business. My dad told me years ago, "never rest on your laurels son." When I worked for him, I thought I was doing an amazing job, but he wanted more from me. I could have invented the light bulb yesterday and today he would say, "That is cool but that was yesterday. What have you done for me today?" That was his way of pushing me to be the best every day and that is what drives me. I want to continue to work hard and always be prepared so that when opportunity presents itself, "Luck" will follow.
Awards/Recognition
• Mr. Shaughn Thomas 2018-2019 End of School Year Wrap Up: https://www.youtube.com/watch?v=rU-U57z60Po
•Henry Ford Teacher Innovator Award – Grand Prize Recipient https://www.thehenryford.org/education/competitions-and-events/teacher-innovator-awards/
• Featured on ABC 13 https://abc13.com/education/fort-bend-teacher-gives-students-financial-tools-for-success-/4099352/
• 2019 Norwegian Cruise "Giving Joy" Award https://twitter.com/MrThomasInvest/status/1124653599886270464
• 2019 HEB "Excellence in Education" Award – Semi-Finalist https://twitter.com/MrThomasInvest/status/1116135662791593986
• 2019 Mister Car Wash "Teachers Who Shine" Award https://twitter.com/MrThomasInvest/status/1116135662791593986
• 2018 NABSE (National Alliance of Black School Educators) Mary McLeod Outstanding Teacher Award https://twitter.com/MrThomasInvest/status/1061584664442404864
• 2018 Texas Region 4 Teacher of the Year Finalists https://www.youtube.com/watch?v=LrLeorEEl2Q
• 2018 Fort Bend ISD Secondary District Teacher of the Year https://twitter.com/MrThomasInvest/status/987799824971042816
• 2018 HAABSE (Houston Area Alliance of Black School Educators) Secondary Teacher of the Year https://twitter.com/MrThomasInvest/status/962309044005416960
• Sugar Land Masonic Lodge 2018 Fort Bend ISD Teacher of the Year https://twitter.com/MrThomasInvest/status/996928896389079040
• 2017 Houston Texans "Stars in the Classroom" Award https://www.facebook.com/watch/?v=10155166886806314
• 2016 State Farm Youth Advisory Board Grant Recipient ($45,000) https://www.fortbendisd.com/site/default.aspx?PageType=3&DomainID=4&ModuleInstanceID=12&ViewID=047E6BE3-6D87-4130-8424-D8E4E9ED6C2A&RenderLoc=0&FlexDataID=67395&PageID=1&GroupByField=DisplayDate&GroupYear=2016&GroupMonth=9&Tag=
• 2016 Xavier University of Louisiana 40 Under 40 Award Recipient https://vimeo.com/188904071
• Sunny 99.1 Teacher of the Month (April 2016) https://www.youtube.com/watch?v=HI9nQdARhxA
• 2016 NY Emmy Nominated in Children/Youth Category https://www.youtube.com/watch?v=v2kc0WxC_x8
• 2015-16 Lake Olympia Middle School "Millionaire Teacher" Award Recipient
Contact Info:
Getting in touch: VoyageHouston is built on recommendations from the community; it's how we uncover hidden gems, so if you know someone who deserves recognition please let us know here.