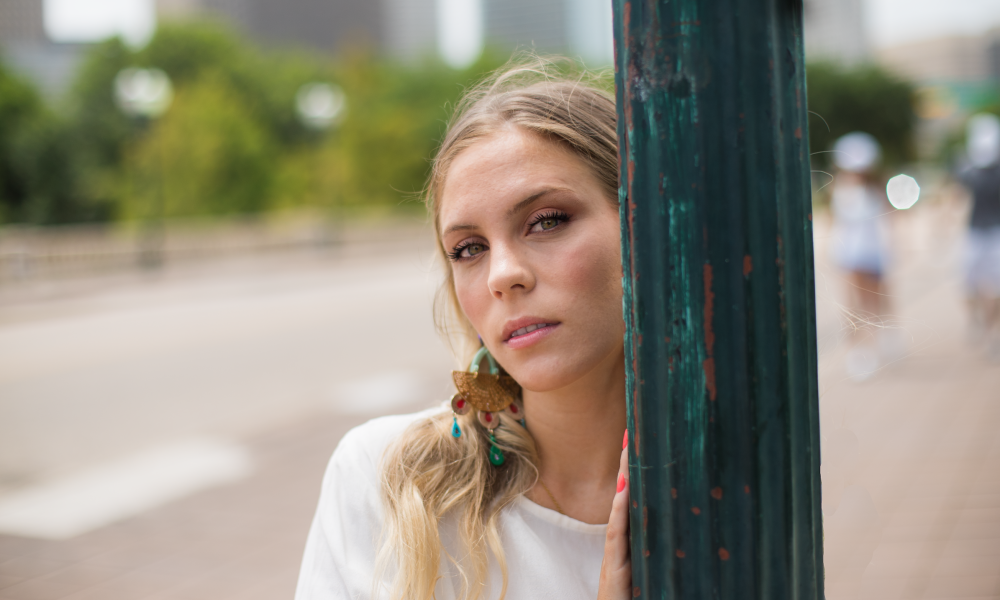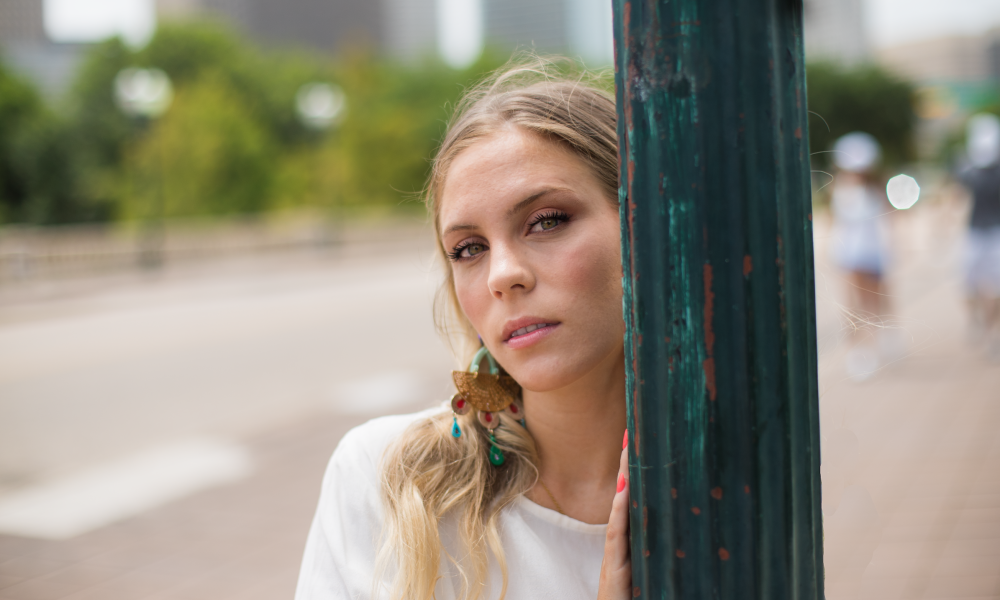 Today we'd like to introduce you to Teresa Zimmermann.
Teresa, let's start with your story. We'd love to hear how you got started and how the journey has been so far.
My parents met at Ballet Austin, or what used to be the Austin Civic Ballet, in the early 80's. After deciding to elope to my father's birth-country of Switzerland, they married, and continued to perform in Germany (Pfalztheatre Kaiserslautern, Staatstheatre Karlsruhe, Theater Lübeck, to name a few) and Switzerland (Stadttheatre St Gallen, and Städtische Bühne Bern).
They continued to perform while they had children, and in all four of us, imbued a deep appreciation for the performing arts. My oldest sister is a pianist, my brother is a drummer and doctor, and my second brother a is a musician that can seemingly figure out any instrument in a matter of hours. While I tried my hand at trumpet, ballet, and piano, I finally found "the one" in middle school. The drama team was holding auditions. I went, and even though my legs were shaking, it felt right. I felt like I was saying something and people were actually listening! Every youngest child's dream, right?
I continued to attend speech competitions and perform in musicals and plays during my time at Klein High School. At around the age of fifteen, I began taking voice lessons. I was intent on quitting theatre to pursue makeup artistry and hair, but my voice teacher talked me out of it the summer before my senior year. He convinced me to audition for at least one musical theatre program- Sam Houston State University. I auditioned. I got my acceptance letter into the program in the spring of 2009. I don't know where I would have been if I had missed that opportunity. The internships with Stages Repertory Theatre, the beautiful connections I made with some of the greatest people I've ever met, and the self-exploration those four years in Huntsville offered me were not by any means easy, but they taught me so much. Bonus- I still get to do hair and makeup, depending on the show!
After leaving SHSU, I was cast as "Girl" in Veronica's Room at Stages Repertory Theatre. I then graduated the following spring and spent about a year and a half singing on two cruise ships with Royal Caribbean. I returned in December of 2015, took some time to go to Costa Rica and earned my Yoga Teacher Certification. When I returned, I was fortunate enough to portray a dream role of mine: Honey in Fourth Wall Theatre Company's production of Who's Afraid of Virginia Woolf? Later that year, I was the swing in the Alley's production of A Christmas Carol, and then returned the next year as one of the roles I understudied, while also understudying Belle.
Throughout the past two and a half years on land, I performed in a world-premiere staged reading of Josh Inocencio's play, The Little Edelweiss. I've also worked with Houston Grand Opera, Black Lab Theatre Company, and AD Players. Currently, I'm back at Stages with the company of the Great American Trailer Park Musical, as one of my favorite characters to date- Pickles. I am a proud member of the Actor's Equity Association, having earned my card last fall.
When I'm not working in the theatre, I'm a vocal coach, and I utilize my training in Yoga to help my students achieve their goals. I also host karaoke on the side, every Sunday at Guava Lamp. Where else can you practice your audition without annoying your neighbors? I recently started singing with Danny Ray and the Acoustic Production, an awesome wedding band that also does corporate gigs and other parties. It's an excellent way to stay in shape, vocally, and the whole crew is so talented. I love my jobs. Every single one of them. I've been cubicle free since 2014, and to be honest, I think any office is better off without me.
I crave movement and music, and I'm pretty sure I'm allergic to fluorescent lights. I did my time working at a restaurant, and while slinging steaks made me feel that much more like an actor, I took it as a sign that the restaurant I'd been working at was closing for good. Deciding to make money doing only what I love to do has changed my life. Now, I love every single job I have.
Great, so let's dig a little deeper into the story – has it been an easy path overall and if not, what were the challenges you've had to overcome?
The road hasn't always been smooth, no, but I'm thankful it was there when I thought I didn't know where I was going.
I lost my mother when I was eight. Grief is difficult at that age because we haven't learned to identify or de-stigmatize the emotions that often accompany it. And losing a parent, in whatever context, no matter what the circumstances are, is a traumatic experience. I am also a sexual abuse survivor, like so many others, and I have seen the effects of alcoholism on family first hand. Thankfully, I learned to shine a floodlight on those obstacles so I could work through them. And while my personal life saw its fair share of obstacles early on, I realized they were probably what pushed me to pursue theatre.
Now I use those obstacles as tools with which I can create, and hopefully, heal someone else the way theatre healed me. Theatre elicits empathy freely. In that way, I found that, five years after my mother's death, throughout episodic abuse, and being an audience member to alcoholism, I could -through theatre-experience situations by proxy that commanded my sifting through as an actor and human, and required me to understand from an outside perspective.
Passively, I could sit, watch and heal through empathizing with another story happening on a stage in front of me. On a side note: This empathy is also why it's so important to have diversity and inclusivity in the theatre; so that everyone can benefit from that experience. Theatre isn't just for one type of person. There are so many different stories that need to be told, that deserve to be heard and healed from.
To quote Yasmina Reza, "Theatre is a mirror, a sharp reflection of society."
Alright – so let's talk business. Tell us about Teresa Zimmermann – what should we know?
As a singer and actor, I am my own business. On a larger scale, I work for and with Houston's theatre community. I try to bring my whole self to everything I do because it's not worth doing if I'm doing it half-heartedly. Seriously, nobody wants to pay to see a half-committed actor doing the bare minimum. And I don't want to be that actor. While a lot of what I do requires that it looks effortless, it's all a ruse! Performing is hard work. Gratifying? Yes. But it's no walk in the park.
Becoming an Equity actor was a milestone for me. Knowing I had put in the fifty weeks' worth of work (then) required to join, in theaters I respect and enjoy working for, was an immense comfort. Shows don't last forever, and we're likely experiencing a bit of anxiety when it comes to finding the next job (as I write this, I am tearing through a tub of hummus and rice chips and laughing at how much of an understatement "bit of anxiety" is). My Equity card is a nice reminder of the work I have done, and the work I want to continue doing. But by no means was it an "ahhh, now I can relax!" kind of moment.
Texas is a right to work state, and I understand that I can lose some opportunities in Houston because of it, but I know that many Equity actors have made it work, and I feel like just earning that card over fifty weeks is proof that I can continue to do good work in the city I love, and elsewhere, if I choose. I also feel like it's the right thing to do, personally, considering the incredible insurance benefits I am eligible to receive as a Union member. Not everyone feels the same way about the union, but that's ok. Nobody is obligated to join. I, however, am still working! That's what matters to me. That's what I'm proud of.
Is there a characteristic or quality that you feel is essential to success?
Success is defined in so many ways for so many people. To some, it's booking gigs. For others, having a confident audition. Some people celebrate just showing up for the audition! All of these are valid, and at any given moment, either of those helps me define success. And while its definition changes every week, I do rely on a few general rules I've learned along the way that help eliminate unnecessary negativity and distractions and allow me to focus on what's ahead of me.
The short version:
1. Do the work
2. Release expectation
3. Release attachment
The long version:
If I don't start at square one- preparation- how can I possibly bank on succeeding? And if I only identify success with booking a show, then I'm in for a rude awakening. Full disclosure, I usually get over the rude awakening approximately one "sharing-size" container of hummus and a season of Real Housewives later, but that doesn't make them sting any less (How many times have I mentioned hummus now? Hopefully enough to let you know it's audition season).
I've started, in baby steps, to define success by just doing the work for myself and not getting hung up on validation. That way, I can be accountable for my own failures or successes. And by releasing the attachment to the things I want, I can see them clearly as just that- things I want- instead of being clouded by my own thoughts about how badly I want them.
Now, of course, all of this sounds very lovely, and easy to remember… when things are going well. The challenge is trusting one's self in the muckiest, darkest, most barren times (dramatic, no?). It's all part of the process though. I am constantly realizing it again and again: just because it doesn't feel good doesn't mean I'm not still doing necessary work.
Contact Info:
Website: www.teresaz.net
Email: teresa.zimmermann@icloud.com
Instagram: @tereereeree

Image Credit:
Will Mack, Amitava Sarkar, Carson Hollier, Bruce Bennett
Getting in touch: VoyageHouston is built on recommendations from the community; it's how we uncover hidden gems, so if you know someone who deserves recognition please let us know here.