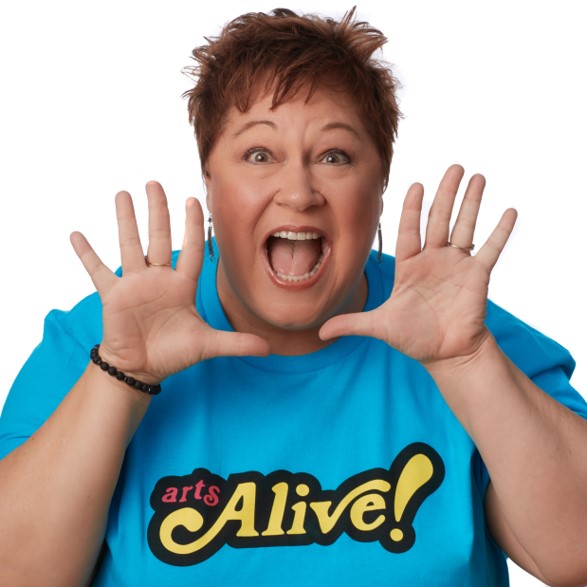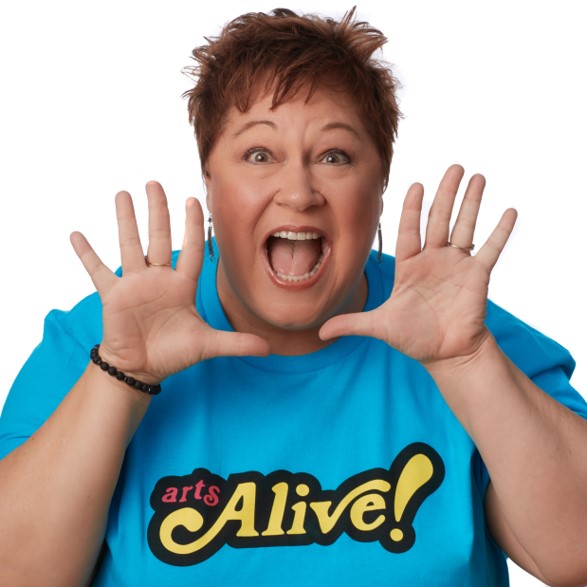 Today we'd like to introduce you to Tina Sabuco.
Tina, can you briefly walk us through your story – how you started and how you got to where you are today.
I always laugh when I start to tell my story with "When I was three years old…" – – but that really is where it starts! So……………. when I was three years old, I started taking dance lessons. I loved dancing! I ate, slept and breathed dance. When I was in 5th grade, I had a wonderful teacher who encouraged me to let my creativity flow. I feel that it was at that time that I really began to spread my "creative wings."  I continued dancing and also became interested in the theatre. There weren't a lot of opportunities in my little town of Escanaba, Michigan, so I would write plays and then direct and choreograph my friends in them. By the time I was in high school, I was teaching dance and choreographing and assistant directing our high school and community theatre musicals.
After high school, I majored in drama at Northern Michigan University and took a class in Creative Drama. I felt like I really found my home in this class which combined education and drama. I decided to find the best school for graduate studies in Creative Drama and Children's Theatre and that's what brought me to Texas!
I received my Master's Degree in Creative Drama and Children's Theatre from The University of Texas at Austin in 1991. During that time, my deep passion for utilizing the expressive arts in early childhood education grew even more! I moved to Houston and began working in preschools and I noticed that children were continually told to be quiet, sit still, hold their hands behind their back, walk in straight lines, etc. etc. etc. The problematic nature of trying to make children learn by stifling their beautiful energy inspired me to find a way to bring creativity and freedom to the classroom!
As I started to implement all the wonderful things I had learned along the way, I was thrilled to see my students bloom and grow! I decided to dedicate my efforts to create a curriculum that tapped into the power of the expressive arts to ignite the joy in children, instead of stifling it – – and THIS was the birth of Arts Alive!
I started teaching what I called "Integrated Arts" classes, which incorporated creative movement, dance, music, creative drama, and visual art – – all taught through fun themes like Mermaid Mania, Insect Invasion or Superhero Summit. I started with just 2 classes at one school. Throughout the first two years, I kept adding more schools and more classes until I found myself needing to hire other teachers to teach my curriculum.
25 years later, Arts Alive! has a staff of 11, teaching our thematic curriculum in over 40 schools each week. We've expanded our offerings to include music and yoga classes, which are also taught through the expressive arts. Over the years, we've taught classes and workshops at over 400 locations throughout Houston and the surrounding areas with our students numbering in the tens of thousands! It makes me so happy to be igniting the joy in so many lives – – directly and indirectly!!
Overall, has it been relatively smooth? If not, what were some of the struggles along the way?
I am the kind of person who wears rose-colored glasses to view my glass that is not only half full but usually bubbling over the sides. And, of course, the glass is filled with pink lemonade, because when I'm given lemons, I always make them into PINK lemonade! If there are any bumps in the road, I say "wheeeeee" while sailing over them – – holding my glass of pink lemonade which is spilling on me because of the bumps, but that's okay because I can always wash it out. I think that about sums up how I tickle obstacles. That's not a typo. No need to tackle them, obstacles just need a little tickling!
Please tell us about Arts Alive!
I'm most proud of two things – – the first is that I had an idea for something and I just went for it. I dove in with the attitude that I usually have about most things, which is "just do it." (I think Nike stole that from me.) Don't sit around and dream and plan and plan and dream. Just DO it! Take a risk. I've been asked many times over the years about the business plan I had to start my business. I didn't even know what a business plan was!!! I just knew that I wanted children to have fun and be happy while learning, so I just dove in head first.
The second thing that makes me proud is the wonderful employees I have. It's hard to say "employees" because we are such a family. Four of my teachers have been with me for over 20 years. Wonderful Wendy Haardt and amazing Anissa Dwiggins are extraordinary teachers AND run the business part of everything for me. Anissa also created our fantastic Yoga Curriculum. Janet Snider teaches a huge percentage of our students every week. She is tireless in her attention to detail and everyone enjoys her colorful personality and over the top thematic outfits. Sue Shefman specializes in leading seniors who are in memory care facilities. Two of our other teachers, Jenny Wilkerson and Stacey Hall, are celebrating eight years with Arts Alive!. Jenny's positive attitude and beautiful smile are a constant and Stacey, who created our rockin' Music Curriculum, get's the prize for having the sweetest teaching style. Also, behind the scenes is Julia Claire who is our Creative Consultant and Social Media Maven. Arts Alive! definitely would not have come as far as it has without these amazing women who give their hearts and souls to my company.
Another behind the scenes wonder woman is my wife, Shellye Arnold. We met while in Austin while I was in grad school and have been together ever since. January marked 30 years for us! Shellye has been and continues to be super supportive in every way possible re: Arts Alive! (and in me, in general.) We call her the Arts Alive! "cheerleader." I think that it helps so much to have someone who is there for you every step of the way, and my lovely wife always is!!!
But back to what it is that we actually DO at Arts Alive! We've found that the best way to understand what we do is to see us in action. On our website are videos of us teaching children and seniors, which will give you a little taste of how we ignite the joy through our classes. Also, I invite you to visit a class and play with us! There is nothing like getting to slither like a snake, jump like a kangaroo and fly like an eagle to make you feel like you can do anything! Our special brand of "Education through Imagination" classes are offered throughout the Houston area. And, of course, if you have preschool or early elementary children in your life and your school is not offering Arts Alive! yet, please connect us with the director or principal so we can bring our "Out of the Box" curriculum to YOUR child!
At Arts Alive! we specialize in utilizing the magic of the expressive arts to effectively educate and benefit the whole child. Each themed lesson plan holds an incredible adventure. As children joyfully move their bodies in a myriad of ways, handle an eclectic assortment of interactive props, and embark on a journey of the imagination – participants unlock parts of the brain and expand their potential for academic success as well as success in life. In other words, we let kids be kids so they can have fun and learn at the same time.
One of the things that Arts Alive! is known for is our dedication to professionalism, while at the same time, making sure that every single one of our clients feels like family. Many of our clients have been with us since those first few years. They know us and trust us to be a part of THEIR family, too.
We would LOVE to a part of YOUR family.  Please contact us if you are a teacher or administrator who works in the field of early childhood.  We offer extra curricular classes (paid for by families,) curriculum enrichment classes (paid for by the school,) workshops and professional development.
AND, if all of this sounds like it is up YOUR alley, we are always looking to add creative educators to our Arts Alive! family, so make sure you check out our website and contact us. Also, if you are an educator who wants to connect with other creatives, we have a special Facebook page set up to help you do exactly that. Search on Arts Alive! Community of Creative Educators.
Contact Info:
Image Credit:
group photo by Lot Five Studios, little girl's photo by Only Once Images
Getting in touch: VoyageHouston is built on recommendations from the community; it's how we uncover hidden gems, so if you know someone who deserves recognition please let us know here.