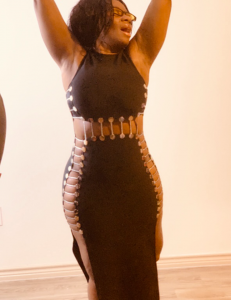 Today we'd like to introduce you to Tracey Ellerbee.
Tracey, can you briefly walk us through your story – how you started and how you got to where you are today.
Qouponz.com was formed because other online platforms did not have the quality and merchant support, I was looking for my parent company Flawless Formation BodySculpting Store. Flawless BodySculpting is an Alternative Coolsculpting or fat freeze med spa, where we freeze fat so it does not come back.
The fat is destroyed in that area that we freeze, it continues to leave the body up to six months and it is permanent. Your body gets rid of toxins through your own body waste system. You may learn more about this treatment and view our thousands of Same Day Results before and after photos at our parent company website FFBS.
To tell you a little bit about myself, my name is Tracey before I started FFBS, I was in the mortgage industry for over 25 years as a mortgage underwriter, in addition I opened my own business as a licensed mortgage broker and licensed loan officer twice for a number of years. My degrees are AABA in Business, BBA Business Management, and MBA Project Management.
While working on my graduate degree, I decided to do one of my thesis research paper on body sculpting, this was after my recent experience with radiofrequency and lipo-cavitation at a med spa here in Houston Texas. Once I saw that treatment worked, I decided to open up my own medspa. During my research, I found out that it takes very little upfront money to start this type of business, plus performing the treatments on customers seemed pretty simple as well. So, I depleted my 401k to start my Fat Freeze/Alternative Coolsculpting business called Flawless Formation Bodysculpting Store. Soon after I opened my store, I helped one of my friends open up her store. I spent an entire year teaching and guiding her the ends and outs of the business and kept her from making some of the mistakes I made previously. Her store in Atlanta is another one of my success stories.
Starting this type of business was the easy part but trying to find the right advertising company was the hardest part. The advertising company I choose I found out later on, mid-way through my contract that the company was not conducive to my ethical standards or beliefs. Lesson one never sign the dotted line until you read and fully understand your contract thoroughly. My contract stated if too many refunds are issued this could disqualify remove your campaign. This advertising company was only interested in production and increasing their bottom line. But my interest and moral compass was doing what was best for my customers.
Since I had already signed a contract to do a campaign with this company, I band-aided the problem, by giving my non-qualifying customers free freezes instead of issuing them a refund. This kept my customers and my advertising company happy. Because of my dedication and hard work, my advertising company gave me the award The Best of their company (their company name redacted). This prestigious award granted my company access to even more social media advertising. Customers traveled all over the US and as well as from countries to get our award-winning Fat Freeze. Our stores are located in Houston TX, Cary and Charlotte NC.
Second lesson always be prepared and ready for anything your competitor throws at your company. Because of our great prices and fat freeze results, this infuriated our competitors. Our competitors sent fake customers to our stores to take photos of my machines and to receive the freezing treatment and then would ask the fake customer to write a fake review in a day or so. The reviews were fake because with any fat freezing procedure, it takes a full six months to see full results from the freezing treatment.
Lessons three and four never let your competitors bully you down or make you close your business and don't respond to foolishness. Angry competitors sent my company a fake cease and desist letter from a fake attorney that stated that I need to cease working and turn all freezing equipment over to them or they would take me to court. Not only did my competitors attack my business but they attacked my friends freezing company that I helped start in Atlanta GA, so we knew then that this was a deliberate but failed attempt to bully small businesses out of the freezing industry.
Early on in the business FFBS started taking same day before and after photos this is when I notice that the majority of our customers were receiving Same Day Results. So, if time allows before the customer left the office, we sit down to review the before and after photo results together and then I immediately send these photos to their phone via text. Regardless each customer can go to FFBS website to see and retrieve their before and photo result. This was one of our tactics that helps us to debunk our competitors fake reviews.
We did ask our advertising company to remove these fake reviews but of course they said they would not. How can you the customer spot a fake review? In this day and time, it is hard to decipher the truth from fake or fact from fiction reviews on the internet. One way you can figure out fake reviews from real ones is when you have just a couple of negative reviews out of 100s of good reviews or the competitor pays a person to put a review on map quest and this and this may be the only review present, who uses the yellow pages to make a review? As a company, we took a stand and called out the fake reviews, we responded in depth, with a link to our Same Day before and after results photos.
Fifth lesson finds a way to make your company stand out more than your competitors. By posting my customers before and photos results on my website ignites my customer base and continues company growth. There is no other freezing company out there that has more Same Day before and after photos results on their website than FFBS. In business school was taught you cannot let you competitor bully, scare or continue to harass your company. We installed cameras, put up signs about harassment, lawsuits, and jail time in each store to combat this competitor problem. In addition, my customer sign disclosures stating we will use their photos, videos, etc. for legit business or advertising purposes.
When you stay one step ahead of your competitors, your company will always be a winner. If you want to stay on top purchase new or upgraded equipment, stay current on the new innovative technologies, and constantly create new marketing strategies to keep your competition on their feet and toes. Lastly, stay focused and diligent until your brand becomes a household name.
Even though my company took some deep loses, we also walked away with some healthy gains. How and why we came out on top because we did not let this experience break us, we let it make us into a stronger and more powerful company. What we took from these tough moments, we turned our negatives into positives by being proactive not reactive. Gods' word says in Ephesians 6:11: "Put on the whole armour of God, that ye may be able to stand against the wiles of the devil. His word says he will not put more on me than I can bare, what the devil meant for evil God turn it around and meant it for my good, weeping may endure for a night but joy comes in the morning, though they slay me yet will I trust him. In the Bible also tells us it is much better to give than to receive.
My parents taught me that my name will travel further than I will ever go, so keep your name good. It was eight of us, with me being the baby and we were all raised in a very strict religious background. It seems like we went to church 24/7. By hearing the word almost every day, helped me to learn and retain entire bible verses. This particular scripture I memorized as a child stuck with me throughout the adult years, a good name is to be chosen over riches and favor is better than silver and gold Proverbs 22:1. This is my company's philosophy.
I listed many of my company struggles in the beginning of this article on purpose so at the end you can now see how far God has bought my company. Because we had sown seeds into our customers early on, by giving freely, endlessly, tirelessly, mercifully and beyond measure. These seeds have now manifested so much that I was able to generate an overflow of money to build my own Advertising Platform that is conducive to my ethical standards and Christian beliefs called Qouponz.com.
Qouponz.com is an online marketplace website where you can buy and/or sell products and services, start free public or private groups or take free online courses and so much more. When you sell on Qouponz.com we also have various packages to choose from so that you can sell your products as quickly as possible. Our various packages that we offer you can choose to advertise on different platforms such as Amazon, Facebook, Google and more to come in the future. In addition, you can put your own social media icons in your own store, to showcase your products and services with your customers, friends and family to generate even more business. Glory be to God; I can now sell my fat freezes on my own advertising platform.
Qouponz.com will not be a place for online trolling, bullying, customers or competitor's harassment for fake reviews. What is also important we have taken all those extra layers of stress from the merchant/vendor, so that they can run their business with a peace of mind, ease, control, confidence, and support, without being pressured into giving customers services and products that won't be beneficial for their customers.
Why is this important first because this saves the customer thousands of dollars each year from buying unnecessary products and services they don't need or will never use. Second Qouponz.com customers can privately and confidentially email any merchant on before they purchase to ask questions like, "Since I am a little overweight because I just had a baby before I purchase your freezing treatment will your freezing service benefit me"? The merchant can feel free do a Live Phone consultation such as Facetime, or regular phone consultation, but the merchant will be free to answer this question or many other questions respectfully, truthfully, and honestly, so that our customers are not wasting their time or money on products and services they don't need.
This is a win-win situation for both the customers and the merchants because now the merchants are able to build a true and honest rapport with the customer right from the start. The merchant does not have to worry about giving unnecessary products and services away just to appease Qouponz.com profits. A merchant can give freely to the customer at his or her own free will. Qouponz.com will never harass, threaten, or bully any of their merchants or customers. Because we have personally experienced these types of volatile issues, we purposely have our policies set up so every human being can achieve a positive experience and be treated with dignity and respect they deserve. The Merchants control their future and how much they want to make and when they want to make it, not Qouponz.com.
We want to give each merchant the resources to be successful so they can be fruitful and multiply. We want to give everyone free range to enjoy our website without the added stress of fake reviews, nor can any of the staff members bully or threatened customers or merchants. This is not who we are and this is not who we want to ever be.
At Qouponz.com we build relationships by showing respect, trust, honesty, and integrity and this is what we give each vendor or merchant, person, customer, and or individual each and every day.
Qouponz.com has a Merchant and Customer Code of Conduct we do not allow these behaviors fester we nip them in the bud immediately. We remove the perpetrator through the IP address because we aim to keep the morale of our company positive and happy. Reddit and other companies are taking a stand and joining an online movement to stop cyberbullying, cyberstalking, and online harassment trolling.
What we have new at Flawless Formation is our monthly freezing events. Freezing events helps us keep the cost down because we don't have the high costly overhead of renting monthly office spaces. Go to theflawlessbody.store, to find out when our freezing event is coming to your state.
As the owner of all these wonderful businesses, I am now in the process of writing a book with Full Details and photos, how to start your business under 5k, what pitfalls to avoid, and how to set yourself up for success. We have many details to share that we could not mention here in this article but I am quite sure you will enjoy the book that is coming soon. Look for our book at the bottom of Qouponz.com which states press. This book will give you more details on all our businesses, even the ones that we did not address here today in VoyageHouston.
If you love writing Apply here for Onyx Powerful News. We are looking for writers for our online newspapers. If you are a passionate writer or love writing about things that matters to you, you want to bring attention to your community issues and your brand email onyxpowerful.news@gmail.com or for more information visit Official site – OnyxPowerful.news.
Great, so let's dig a little deeper into the story – has it been an easy path overall and if not, what were the challenges you've had to overcome?
Our challenges and struggles we're dealing with angry and jealous competitors. The advertising platform I choose was so wrong for my company on many levels. They did not treat us with dignity and respect we deserve; we were bullied, intimidated, threatened, and harassed by our own advertising agency. I still had the emails today. At one time, my campaign was removed because my refund too many customers who did not qualify. I am not in the business of lying. I am in the business of building integrity and respect with my customers.
In addition, I called the police on a few of their customers that harassed my staff and myself. When we bought this to our advertising company's attention, they advised me that my campaign would be removed if this got back to their legal team, so I am like huh. I never said a mumblin word back to my account rep, but my experience was a total nightmare.
During all this ruckus, I was slowly building my very own online campaign and advertising company called Qoouponz.com. We no longer have to deal with companies that refuse to recognize our grievances and punish us for doing the right thing for our customers.
Please purchase the book when it comes out. You will be in shock and left with your mouths hanging wide open once you read the book, you will not be able to put this book down, you will want to read it over and over again. In this book, I will release full and raw details including emails, photos and videos with redacted names but unfortunately, I can not say everything I desire on VoyageHouston.
Another one of our challenges are customers who ditch and dodge or split and dip to keep from paying their bill. The website is called CustomerExposed. CustomerExposed was developed early at the start of the business to deter customers who try to ditch and dodge or split and dip to keep from paying their bill. In addition, we installed cameras and a sign about our new company policy. When a customer comes in for service, each customer will fill out an information consent disclosure to consent to our treatment, plus we make a copy of each customer's current ID front and back to deter this type of criminal behavior. Customers have even tried to come up with scams after their bill is paid. So, this pretty much solved our company problem and we never had to worry about these types of scammers anymore. As employers perform their background checks if they have been caught at Flawless Formation or any other of my businesses, the scammer information will come in the Google searches as names are places in our criminal database directory at https://customerexposed.com What a great solution for other businesses who have this same problem with customer payment scams. Any company or individual is able to buy one of our packages that best fit their business needs.
Another challenge that we had was some customers felt they were not receiving enough results from their first initial freeze treatment. I do agree that sometimes the fat is stubborn and it may take a few times to break down those stubborn fat cells in that one particular area. So, I came up with this wonderful solution called Fat Freeze Warranty packages. My customers or any person who have purchased fat freezes from another company besides Flawless are also welcome to purchase our warranty packages and receive freeze services from us. The customer is able to purchase their warranty any time before their freezing treatment or sixty days after their freezing treatment. This Warranty is valid up to six months after the customer's first initial treatment. At Flawless Formation we are all about customer service. Keeping our customers happy and listening to our customers is our first priority. There is no other freezing company that has this warranty, Flawless is the first company to offer such a unique service. What an innovative idea to keep each customer happy by giving them a fat freeze warranty. Additional information about our warranties are on Flawless Formation or Qouponz.com.
We'd love to hear more about your business.
What we do at Qouponz.com are many things we have fat freeze events, you sell or buy almost anything at our Online Marketplace. We specialize in so many things we have our free podcast classes, we teach you how to start your own fat freeze company, we teach mortgage underwriting, business ownership, etc.
What I am most proud of is that we at Qouponz.com take a stand against online bullying and harassment with our policies. Every can feel free to express themselves no matter what color, race, creed, group, etc. they are from. It doesn't matter if you are mobile mechanic, sale Avon, singer, dancer, realtor, we have a place for everyone at Qouponz.com.
What makes us stand out above all other companies because we have so much to offer to almost every individual, children are free to start their online business with parent ownership and supervision. We have own newspaper company Onyx Powerful News for passionate writers, we produce short films and documentaries, you can download our app at Google Play Store and Apple is coming soon.
Is there a characteristic or quality that you feel is essential to success?
Our quality that is greatest success our rapport with our customers and merchants. We put ethical standards, honesty, integrity, mutual respect first before profits. Our motto is people first before profits.
Pricing:
Qouponz.com Merchant packages can cost anywhere from $9 to $49.
Flawless Formation Fat Freeze Events are $300 for a two area fat freeze example upper & lower tummy.
Podcast are Free you may take notes for free or you may buy for the materials for each class for $19.99.
Customer Exposed our packages cost anywhere form $9.99 to $39.99,
Contact Info:
Image Credit:
Tracey Ellerbee, Flawless Formation BodySculpting Store, Qouponz.com, CustomerExposed, Onyx Powerful News
Suggest a story: VoyageHouston is built on recommendations from the community; it's how we uncover hidden gems, so if you or someone you know deserves recognition please let us know here.